You never want to lose depth.
Ever.
That was my immediate reaction to Iowa State's Wednesday morning announcement that senior wide receiver D'Vario Montgomery had been removed from the team and running back Joshua Thomas had decided to transfer. 
This is quality depth too.
Based off of how he ended 2014, Montgomery had a rather disappointing 2015 season with 27 catches for 335 yards and three touchdowns. There were always behind-the-scenes issues with him though. It seemed like he was always in Paul Rhoads' doghouse.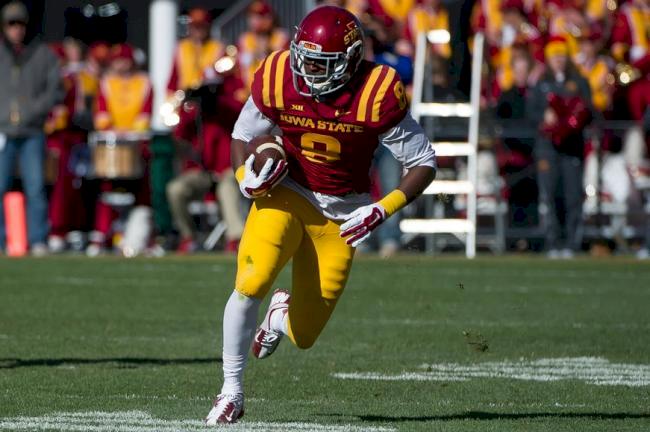 Joshua Thomas is the big surprise here and in my opinion, the much bigger blow of the two.
As a true freshman, he ran for 295 yards but seven touchdowns on 75 carries. As his rookie season went on, Thomas got more and more confident and developed a pretty impressive twitch for a guy who started the season as strictly a short-yardage back. 
But Iowa State has Mike Warren, the leading freshman running back of all of college football (1,339 yards and five touchdowns in 2015), you say.
Correct.
But Warren isn't immortal. The last time I checked, Iowa State's offensive line isn't exactly the strongest unit on the team heading into spring ball either. He's going to get hit a lot next season and Thomas is good enough to be the featured back should Warren ever go down. 
As for the Montgomery situation, Iowa State is deep at wide receiver and frankly, my educated guess is that this is some housekeeping that the new staff did and likely would have occurred under the Rhoads regime too.
This Thomas news hurts though. Program insiders believed that he was going to be really, really good.
Projecting the running back depth chart
Mike Warren and Trever Ryen each have their spots.
It will be interesting to see how Sheldon Croney, who sat out last season with an injury and a redshirt, will look this spring. You might remember that Croney, like Thomas, was a signing day surprise in 2015. At 5-foot-11, 212-pounds, Croney is a big kid who has the body to play right away.
How he has developed over the last year is the big question.
My guess though is that David Montgomery, a 5-foot-11, 225-pound running back who signed with Iowa State last week, will play right away. He's known for his physicality as a back and I'm assuming that he was targeted heavily with the staff having knowledge that Thomas was going to leave. It sounds like Iowa State has plans to use him in multiple areas too – meaning he is more than just a bruiser.