TUESDAY, FEBRUARY 9
10:15 a.m. —
I'm not one to grandstand very often. Occasionally, there will be something I'm passionate about and I'll make my voice heard. Today is one of those occasions. 
I'm here to throw my weight behind Texas' Shaka Smart as the Big 12 Coach of the Year. 
Shaka Smart, you say? The coach that's led his team to a 16-8 record and a 7-4 mark in conference play (which is good for fourth)? 
You're damn right.
This season the Longhorns have been much improved while playing a faster pace, higher pressure system that has helped them pick up some huge wins already this year, and almost another one last night. Sure, last night's loss to Oklahoma was painful after the Longhorns were in control a lot of the game.
Sure, they lost to Texas Tech and TCU during their 1-2 conference start. They've also won seven of nine games. In that span they've defeated three ranked teams, two of which were on the road.
His squad played to within 10 of the Kansas Jayhawks at Allen Fieldhouse then came within a Buddy Hield "Superman" play of beating Oklahoma in Norman. 
All of this has been done after they lost their best front court player, who doubled as their second leading scorer, leading rebounder and one of their most experienced players. 
They're scoring more points than they were a year ago, they're getting more steals, they have a 12-1 home record, senior guard Isaiah Taylor has flourished and is even better than he was a year ago. Prince Ibeh went from being a role playing big man to one of the biggest stat sheet stuffers in the Big 12, and he's slowly working his way up in NBA draft talks.
This isn't the same old Texas it was under Rick Barnes. Shaka has put his imprint on this program in a short amount of time. 
They still have games with Iowa State, West Virginia, Baylor, Oklahoma and Kansas giving them one of the toughest schedules in the nation to finish out the regular season. That's five ranked teams (three of which are in the top 10) in seven games.
If the Longhorns make it out of that with a winning record, I'd say my case will be made. I don't usually like to grandstand, but sometimes you just have to do. 
Smart has already taken over for a legendary coach in a weird position, lost arguably his best player, brought in a good recruiting class, beat the nation's No. 1 team in non-conference play, beat a bunch of ranked teams during conference play and developed some future NBA players. 
I know Bob Huggins and Lon Kruger have killed it this season, but neither one of them entered the year with as many questions or as much pressure as Shaka Smart.
Shaka Smart should be the Big 12 coach of the year, and the next seven games are going to prove it.
MONDAY, FEBRUARY 8
10:45 a.m. —
We're now more than halfway through the Big 12 conference season and it doesn't seem like we're any closer to choosing a champion than we were on Christmas Day. 
The West Virginia Mountaineers enter the week with a one-game lead atop the standings but I'm not sure anyone would really back them up as the conference's best team. Oklahoma, Kansas and Texas all hold the inside track to catch WVU with 7-3 records and they still have one more match up with the Mountaineers on their schedules. 
Iowa State and Baylor both have an outside chance at making a run with 6-4 records but they will need the ball to bounce their way a few times. It's hard to believe there is any possibility that with some bad breaks the Cyclones could end up playing on the first day of the Big 12 tournament.
The Big 12 is weird, it's fun and it's powerful.
Here are my Big 12 power rankings as we start the week.
1. Oklahoma – The Sooners lost Saturday in Manhattan but I still have them as the favorite to run the table and end up on top. (Next up: Texas, Tonight, 8 p.m. on ESPN)
2. West Virginia – Nobody thought Bob Huggins' crew would be here but they just keep on winning. (Next up: @ Kansas, Tuesday, 6 p.m. on ESPN2)
3. Kansas – The Jayhawks have been dominant in their two Big 12 wins since losing to Iowa State and they have a big opportunity Tuesday night. (Next up: West Virginia, Tuesday, 6 p.m. on ESPN2)
4. Texas – How are people going to pick between Bob Huggins, Lon Kruger and Shaka Smart for Big 12 coach of the year? (Next up: @ Oklahoma, Tonight, 8 p.m. on ESPN)
5. Iowa State – A couple good breaks this week and they could find themselves one-game out of first place or back in a tie at the top. (Next up: @ Texas Tech, Wednesday, 8 p.m. on ESPNU)
6. Baylor – Bears have lost three of their last four Big 12 games after starting 5-1 in conference play. (Next up: @ Kansas State, Wednesday, 7:15 p.m. on ESPNews)
7. Kansas State – Talk about a huge win for Bruce Weber and his squad Saturday over Oklahoma. (Next up: Baylor, Wednesday, 7:15 p.m. on ESPNews)
8. Texas Tech – The Red Raiders have lost seven of their last nine Big 12 games. Man, do I feel stupid for the things I said about this team. (Next up: Iowa State, Wednesday, 8 p.m. on ESPNU)
9. Oklahoma State – Without Juwan Evans it will be tough for the Cowboys to win but they still have the ability to hang with every team in the conference. (@ TCU, Tonight, 6 p.m. on ESPNU)
10. TCU – I have no idea how Trent Johnson will be able to keep his job. (Oklahoma State, Tonight, 6 p.m. on ESPNU)
THURSDAY, FEBRUARY 4
10:15 a.m. —
Last night one of the Big 12's most explosive players got hit with the injury bug. Oklahoma State's freshamn phenom point guard Juwan Evans injured his right shoulder in Wednesday's overtime loss to Texas Tech.
The injury kept him out the whole second half of Wednesday's game and his status for Saturday's contest with Iowa State is unknown. Evans is the likely front-runner for Big 12 Freshman of the Year averaing 12.9 points and 4.9 assists this season for Travis Ford's squad. 
The news is twice as disappointing when combined with the fact that he was going to be the focus of my next film room column. 
FRIDAY, JANUARY 29
11:30 a.m. —
Here are some afternoon college basketball links for your viewing pleasure. 
– SBNation has Iowa State has a three seed and Iowa as a one seed in their most recent bracketology. 
– CBS Sports' Matt Norlander gave a great behind-the-scenes look at the nine teams to beat Kansas in Allen Fieldhouse since Bill Self took over.
– ESPN.com's Eamonn Brennan calls Iowa State-Texas A&M the best college hoops game of the weekend. 
– SI Campus Rush's Dan Greene with a great story on how Baylor's Rico Gathers became one of the best rebounders in college basketball. 
– Rob Dauster from College Basketball Talk calls Iowa State-Texas A&M the other game of the week behind Oklahoma-LSU.
– Sports Ilustrated's Luke Winn writes that LSU star Ben Simmons is hard to understand but easy to appreciate.
10:00 a.m. —
Even though the Kansas Jayhawks have hit some struggles on the court, they're still far from struggling on the recruiting trail. Yesterday, Bill Self and his crew picked up a commitment from five-star 2016 center Udoka Azubuike.
Azubuike is considered the No. 27 recruit in the class of 2016 by rivals.com. He was also recently named to the Jordan Brand Classic and McDonald's All-American teams. 
The 6-foot-11, 270-pound Azubuike picked the Jayhawks over Florida State, North Carolina State and North Carolina. He's Kansas' second commitment in the 2016 class. 
Some people could have questions about Self's ability to develop another high-level front court recruit after the apparent struggles of freshmen Cheick Diallo and Carleton Bragg. Azubuike will step into a good position after the Jayhawks lose a lot of their currently loaded front line. 
THURSDAY, JANUARY 28
10:14 p.m. — 
Huge news out of West Virginia tonight. 
Jonathan Holton, a forward who is averaging 9.7 points and 7.5 rebounds per game for the Mountaineers, was suspended indefinitely by head coach Bob Huggins. 
West Virginia will play at Florida on Saturday in the SEC/Big 12 Challenge and then travel to Ames on Tuesday night to face the Cyclones. — CW
WEDNESDAY, JANUARY 27
3:08 p.m. — 
Here are some college basketball links for your viewing pleasure:
– Gary Parrish from CBSSports.com has Iowa State No. 7 in his new Top 25 plus one.
– The Cyclones are up to No. 6 in Fox Sports' college basketball power rankings. 
– Every weekday some of ESPN's college basketball experts give their opinions on college hoops questions. Today they were asked about what makes Texas A&M so good. 
– Also on ESPN.com Eammon Brennan writes that A&M's Tyler Davis is one of the best freshmen in the country. 
I'll have a lot more on Davis in my film room column that will run tomorrow.
11:10 a.m. —
Last night's Big 12 action wasn't quite as weird as we're starting to get used to around this league. Buddy Hield scored 30, Bob Huggins and his crew got some technical fouls and TCU didn't win a game. 
All of those are things that happen all the time! What the hell, Tuesday? 
Wednesday's slate doesn't set us up for anything much better with just one Big 12 game on the schedule and zero match ups between teams in the top 25. I suppose it gives us a chance to rest up for Thursday's top 10 match up in the Big 10 and top 25 match up in the Pac-12. 
One last note before tonight's games, I'm hitting the film room again to preview the Texas A&M Aggies before Iowa State rolls into College Station on Saturday. If there's anything in particular you'd like to see in my column, hit me up on Twitter and let me know. 
I'll do my best to show you guys the stuff you want to see. 
Here are tonight's Big 12 games plus two: 
No. 17 Baylor (15-4, 5-2 Big 12) @ Oklahoma State (10-9, 2-5 Big 12) – 8 p.m. on ESPNU – Kansas learned last week how hard it is to win in Stillwater but the Bears need a win to keep pace with West Virginia and Oklahoma atop the Big 12 standings. 
No. 5 Texas A&M (17-2, 7-0 SEC) @ Arkansas (9-10, 3-4 SEC) – 6 p.m. on ESPNU – Speaking of the Aggies they still have one test before Iowa State rolls into town on Saturday. The Hogs aren't as good as they've been in past seasons but Fayetteville is always a tough place to play. 
California (14-6, 4-3 Pac-12) @ Utah (15-5, 4-3 Pac-12) – 10 p.m. on ESPNU – Both teams had high expectations coming into the season but they've struggled to start Pac-12 play. They both needs a win to keep pace with the second pac in the conference race.
TUESDAY, JANUARY 26
10:30 a.m. —
A few weeks ago when I rewatched Iowa State's loss to Texas to write a film room blog, it was tough to even narrow down the Cyclones' defensive mistakes. There were so many instances that could be used that it became a nearly impossible task.
Last night in Hilton Coliseum, we saw the exact opposite of that group that got exposed by the Longhorns. Iowa State's defensive performance against Kansas wasn't just improved, it was flat out dominant at times.
Once Kansas got through their spell in which they couldn't miss, the Cyclones were as close to lock down as they've been all season. 
Defensive effort like that is what is going carry this team if they have any hope of winning the Big 12. They are capable and the door is starting to open. 
This is going to get interesting. 
One last note: What's up with Bill Self's crew? It seemed like they (including their coach) gave up with over a minute left to play. The people calling for Self to be fired are insane but there is definitely something up in Lawrence.
Here are tonight's Big 12 games plus one:
Texas Tech (12-6, 2-5 Big 12) @ No. 1 Oklahoma (16-2, 5-2 Big 12) – 6 p.m. on ESPN2 – Buddy Hield is just 4-for-22 from 3-point range in Oklahoma's last three games with the Red Raiders.
Kansas State (12-7, 2-5 Big 12) @ No. 9 West Virginia (16-3, 5-2 Big 12) – 6 p.m. on ESPNews – West Virginia barely escaped in Lubbock on Saturday and this is a win they need in order to keep pace with the top tier of the conference.
TCU (9-10, 1-6 Big 12) @ Texas (12-7, 4-3 Big 12) – 7 p.m. on Longhorn Network – Texas will try to keep pace with Iowa State and Kansas in the Big 12 standings while the Horned Frogs look to do… anything. 
No. 7 Xavier (17-2, 7-1 Big East) @ No. 10 Providence (17-3, 5-2 Big East) – 7:30 p.m. on FS1 – Two of the three top 10 teams in the Big East do battle with big ramifications for the league standings. Providence's Ben Bentil could be the X-Factor. He's averaged 23 points and 9 boards in the last eight games.
MONDAY, JANUARY 25
10:40 a.m. —
Tonight, one of college basketball's most underrated rivalries will return to the floor inside Hilton Coliseum. Kansas and Iowa State have done battle on the basketball court 238 times over the past century-plus and there is little love lost between the two teams. 
As time has gone on and we've moved into a new generation of fan interaction, that battle has made it's way to Twitter.
#JayhawkTears has become a common thing floating around in Cyclone Twitter and @TedFlintKansas retweeting Kansas fans is essentially an annual event.
Over the past several seasons Ted has taken his battle with Kansas fans a step further. 
He's turned his popular Cyclone Bingo card into a Jayhawk special. He calls it "Bizzaro Bingo."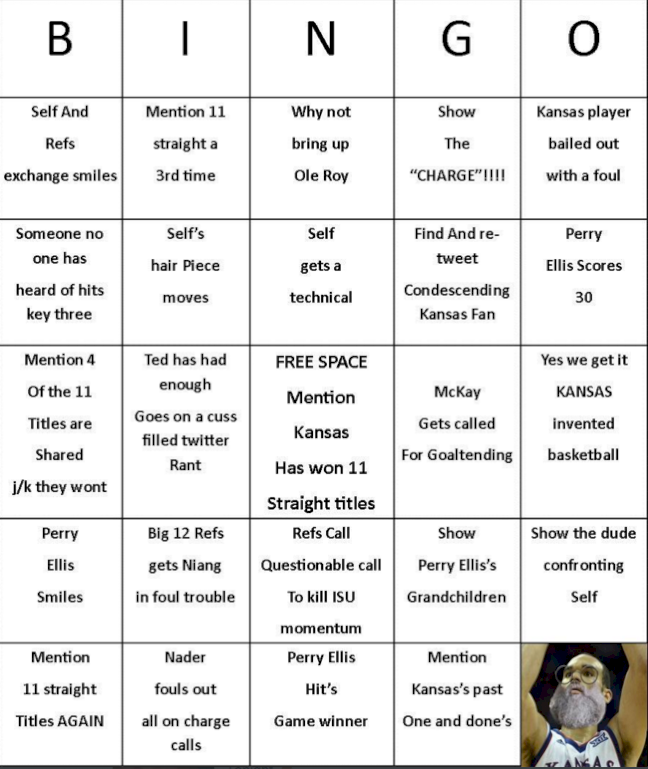 Obviously, the card is pretty spectacular. As always if you're a person that's into technology you can play on CycloneBingo.com. 
I don't know if Ted has released his first percentage chance for #JayhawkTears but I'm sure "Bizarro Bingo" could increase the number a bit. Also, make sure to join Garrett Kroeger for our game chat starting at 7:45.
That is far from the only business there is to take care of this morning. Last week was a wild week in the Big 12 and that led to some movement in my power rankings. 
Obviously these could change dramatically after Monday's games and I fully expect them to. 
Here are my Big 12 power rankings leading into tonight's games:
1. Oklahoma – 16-2, 5-2 Big 12 – Even though the Sooners lost at Hilton Coliseum, they did enough against Baylor to prove they should stay in the No. 1 spot. I wouldn't even be surprised to see them still No. 1 in the polls later today. (Up next: Texas Tech, Tuesday, Jan. 26)
2. Kansas – 16-3, 5-2 Big 12 –  The Jayhawks got off to a slow start Saturday against Texas but it was a solid bounce back win after losing in Stillwater. (Up next: @ Iowa State, tonight)
3. Baylor – 15-4, 5-2 Big 12 – The Bears have solidified themselves as one of the Big 12's best despite their loss to Oklahoma on Saturday. (Up next: @ Texas Tech, Wednesday, Jan. 27)
4. West Virginia – 16-3, 5-2 Big 12 – The Mountaineers will likely drop out of the top 10 after their loss to Texas last week but this is another team that has solidified themselves in the upper tier. (Up next: Kansas State, Tuesday, Jan. 26)
5. Iowa State – 15-4, 4-3 Big 12 – The Cyclones have a lot of room to move up tonight but it's hard to justify putting them higher than this even with their win over Oklahoma. (Up next: Kansas, Tonight)
6. Texas – 12-7, 4-3 Big 12 – Shaka Smart's group seems to be finding itself without Cameron Ridley and that is scary for the rest of the league. (Up next: TCU, Tuesday, Jan. 26)
7. Kansas State – 12-7, 2-5 Big 12 – They've only won two conference games but Bruce Weber has done a nice job with this team. (Up next: @ West Virginia, Tuesday, Jan. 26)
8. Oklahoma State – 10-9, 2-5 Big 12 – Oklahoma State's young pieces impressed me against Kansas. Maybe they aren't the conference's worst team. (Up next: Baylor, Wednesday, Jan. 27)
9. Texas Tech – 12-6, 2-5 Big 12 – Okay, maybe I jumped the gun on the Red Raiders. (Up next: @ Oklahoma, Tuesday, Jan. 26)
10. TCU – 9-10, 1-6 Big 12 – I'm really scared Trent Johnson is going to get fired, guys. (Up next: @ Texas, Tuesday, Jan. 26)
THURSDAY, JANUARY 21
8:20 a.m. —
Just when we thought the Big 12 couldn't get any crazier, last night happened. All of a sudden, there is only one team remaining with just one loss and the conference race is almost as wide open as it was before conference play began. 
It all started when the Texas Longhorns rolled into Morgantown to take on the conference leading No. 6 West Virginia Mountaineers. When you look at the stats from the game, there are several numbers that really jump out at you. 
The Mountaineers attempted 20 more field goals in the game (61-to-41) but they shot just 31 percent from the field, 14 percent from behind the arc, and possibly the worst one, an abysmal 35 percent from the free throw line. 
Not even Bob Huggins' crew can grind out a win that ugly. 
The craziness didn't end there.
The second game of the night's Big 12 doubleheader was even better. Kansas State was able to push Baylor to overtime on the road before the Bears were able to close a win and take over sole possession of first place in the conference.
Just like that Baylor is the only team left with only one loss. This is the same team that lost to Kansas by 29 points. 
They have a chance to make another statement Saturday when the Oklahoma Sooners roll into Waco. Until then, we can continue to talk about how weird this conference is.
By the way, these Baylor emoji signs have to be some kind of cheating. Nobody wants Scott Drew staring at them with big Toy Story alien eyes. Someone needs to look into this.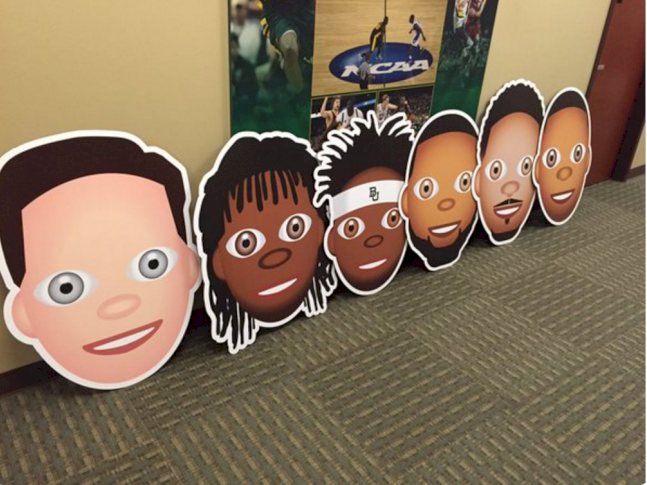 Absolutely terrifying.
WEDNESDAY, JANUARY 20
9:00 a.m. —
The college basketball season just continues to get even weirder. It's been so crazy it even drove our Brent Blum to write a column comparing the college basketball season to '90's music (it's a must read).
Tuesday night down in Stillwater, the Big 12 hit a new level. The Oklahoma State Cowboys handed the Kansas Jayhawks their second conference loss, and effectively reopened the door for every other team in the conference. 
I mean, who didn't have the Big 12 running through Waco and Morgantown after two and a half weeks of play? It feels weird to even type that sentence.
One of the biggest driving forces for OSU's win last night gets us to the point of today's blog. This is the first official Big 12 stock risers and fallers for the 2016 Big 12 season.
Players that are on the rise are guys that have been better than could have been expected, or, like in the case of Buddy Hield, they started out really good and became REALLY, REALLY good. 
Guys like Hield and Iowa State's Georges Niang will be left off this list, because their stock was already pretty dang high before this season started.
Fallers are the guys that haven't lived up to expectations so far. That doesn't mean they can't rebound to have a great year, because there is still a lot of basketball to be played this season, but they haven't quite been what everybody was looking for before the season.
One last note on fallers, I don't think I can put into words how difficult it is to find players that haven't performed up to expectations this season. The Big 12 has barely any players that haven't been as good, or better, than advertised. In other words, the Big 12 is really damn good and the players live up to the hype more often than not.
With all that said, here are the first Big 12 stock risers and fallers.
Risers
Juwan Evans, Oklahoma State — If you don't know this name yet, it's a good thing I'm here to tell you about him. The true freshman, former McDonald's All-American, point guard for Travis Ford's squad has been electric to start the season averaging 12.9 points (16th in Big 12) and 5.1 assists per game (3rd in Big 12). Tuesday night he tallied 22 points, eight assists and six rebounds in 32 minutes in OSU's win over Kansas. This kid is damn good, and he has a lot of basketball left to play in this league. His stock could shoot through the roof before this season ends.
Matt Thomas, Iowa State — He might be the biggest surprise Iowa State's season so far, and obviously it was a pleasant surprise. The junior is averaging a career-high 9.7 points and his 5.1 rebounds per game more than doubles his previous bests. Also, he is just two made 3-pointers away from tying his career-high for a season with 44, and there's still close to 20 games left to be played. Add into all this that he has become one of the Big 12's best perimeter defender and you have a guy whose stock is skyrocketing.
Jordan Woodard, Oklahoma — Coming into the season everybody knew Woodard was going to be good, and would played a huge role in this season's Oklahoma team. Well, he's been that good and more this season averaging a career-high 14.6 points (7th in the Big 12) and shooting 53.2 percent from behind the arc (1st in the Big 12). The junior has been overshadowed by Buddy Hield at times, but there is no questions he is one of the best guards in the Big 12. 
Jaysean Paige, West Virginia — Not many people knew what to expect from the Mountaineers coming into the season, and that's what makes their run to the top of the Big 12 standings a surprise. Paige has been a key part in that averaging a career-high 13.7 points (10th in the Big 12), while grabbing 1.5 steals per game and shooting 38 percent from behind the arc. The senior has teamed up with Devin Williams to create the fourth best scoring tandem in the Big 12. 
Al Freeman, Baylor — After averaging 4.8 points per game as a freshman the former consensus top-100 recruit has elevated his game to a new level during his sophomore campaign. Freeman is averaging 12.7 points (18th in the Big 12), shooting 87 percent from the free throw line (2nd in the Big 12) and 42 percent from behind the arc (7th in the Big 12) this season. His 32 3-pointers is the team-high for the Bears.
Fallers
Jameel McKay, Iowa State — It's really hard to say someone who is averaging 13.5 points and 9.2 rebounds per game has had their stock fall, but that is likely the case for McKay. He has struggled at times with hitting shots that aren't dunks over the past several weeks, and his once intimidating shot blocking seemed like a thing of the past before his four block performance against Oklahoma. I've been on the McKay bandwagon from day one, and I've never made that a secret. It has been far from a poor year for McKay, and he still has the ability to make his stock rise again, but this is a guy that was getting quite a bit of NBA buzz before the season. That doesn't seem to be the case much anymore. 
Cheick Diallo, Kansas — The former McDonald's All-American has been coming on of late, but has been far from the dominant big people were expecting before the season started. In fact, once he returned from his NCAA issues, he hardly even played averaging just 9.8 minutes per game. He did make his first start of the season Tuesday night in Stillwater, but 4.8 points and 2.9 rebounds per game was not what Kansas fans had in mind before the start of the season.
Jamari Traylor, Kansas — I think people expected to see Traylor's numbers take a dip in 2015-16 with the influx of front court talent for the Jayhawks, but I'm not sure anybody saw this coming. Traylor is playing just 13.5 minutes per game and scoring 2.8 points per game. Neither of those numbers are career-lows, but they're close.
Demarcus Hollard, Texas — Another guy that seemed like he could be poised for a big jump before the season, Holland has seen his points per game average cut in half to 3.8 per game. He has always been known more as a defensive player, but entering the season it seemed reasonable to see the senior take a step forward offensively in his last season in Austin.
WEDNESDAY, JANUARY 13
10:00 a.m. — 
Tonight's a slow night in college basketball compared to last night's plethora of upsets. All three of the games on my list yesterday ended in wins for the underdogs. 
Add in the Iowa State game and you have a crazy night of college hoops. I'll get my full thoughts about Iowa State out there in writing later in the day (I'm planning to write about defense), and in podcast form as I'll be recording with Chris Williams here shortly.
I plan to have a full-day of stuff on the blog too with lunch time links and some reaction from the games late tonight.
That's all I got, well, besides tonight's top games.
No. 9 Duke (14-2, 3-0 ACC) @ Clemson (10-6, 3-1 ACC) – 7:00 p.m. on ESPN2 – Clemson showed they have the ability to play with ranked squads in their win over Louisville this past weekend, but the Blue Devils will be a different kind of beast. This one could be interesting, or it could be really ugly.
Marquette (12-4, 2-2 Big East) @ No. 6 Villanova (14-2, 4-0 Big East) – 7:30 p.m. on FS1 – Villanova picked up a solid win over Butler Sunday night to put them in position for their second 5-0 conference start in three seasons. Marquette is looking to end a six-game losing streak in the series, and last week's upset win over Providence makes it look like that could be a possibility. Marquette's Henry Ellenson is one of the best young bigs in the game. 
No. 2 Oklahoma (13-1, 2-1 Big 12) @ Oklahoma State (9-6, 1-2 Big 12) – 8:00 p.m. on ESPNU – Don't be surprised to see the Sooners roll here, but it's a rivalry game on OSU's home court. Who knows what could happen. 
Big 12 Schedule
TCU @ No. 22 Baylor – 7:15 p.m. on ESPNews 
TUESDAY, JANUARY 12
10:30 —
I was slightly disappointed in the lack of college basketball games last night leading into the college football national championship. 
After watching the game I can't say I'm too mad about it anymore. That was a tremendous football game. 
There are some tremendous basketball games on tonight, too. Once again, I left Iowa State visiting Texas off the list, but the 8:00 p.m. tip on ESPN2 should be a lot of fun. 
Don't forget to check out our game chat tonight getting underway around 7:30. With that said, here are tonight's top games. 
No. 8 Miami (Fla.) (13-1, 2-0 ACC) @ No. 13 Virginia (12-3, 1-2 ACC) – 6:00 p.m. on ESPNU – The Cavaliers return home after losing two in a row, and look to avoid their first three game losing streak in close to five seasons. Miami has won seven straight, but Virginia has won 33 of their last 34 at home.
No. 1 Kansas (14-1, 3-0 Big 12) @ No. 11 West Virginia (14-1, 3-0 Big 12) – 6:00 P.M. on ESPN2 – West Virginia looks to solidify themselves as a top tier team in the conference, while Kansas tries to take another step towards running the table. The Jayhawks' experience in the backcourt should nullify West Virginia's press, but crazy stuff can happen in Morgantown.
No. 3 Maryland (15-1, 4-0 Big 10) @ Michigan (12-4, 2-1 Big 10) – 8 p.m. on ESPN – The Wolverines will likely still be without their star Caris Lavert, but who knows when you get a ranked team on your home court. It took a last second shot for the Terrapins to get passed Wisconsin on the road Saturday afternoon. 
Other Big 12 schedule
Texas Tech @ Kansas State – 8 p.m. on ESPN3
MONDAY, JANUARY 11
10:45 a.m. —
This morning I woke up with a smile on my face. Today is the day I officially begin life without class. While all the young, poor college kids were waking up to stuff their skulls with facts, I woke up knowing I would spend my day thinking about basketball and this great site. 
On last week's Cyclone Fanatic Radio Show, Brent Blum ate my first ever Big 12 power rankings alive. I'm here to redeem myself. 
I want to stress that these rankings are based on what has happened on the court so far, not what could potentially happen or how I think the league will shake out at the end of the season.
There are some shakeups in the rankings this week so let's get started. 
1. Kansas – Last week: #1 – Another week, another No. 1 ranking for the Jayhawks. They haven't done anything to keep themselves from this spot. (Next up: @ West Virginia, Tuesday)
2. Oklahoma – Last week: #2 – Like Kansas, the Sooners handled business and there's no reason to see them drop. (On tap this week: @ Oklahoma State, Wednesday)
3. West Virginia – Last week: #4 – Iowa State's loss to Baylor opened the door for the Mountaineers to move up, this week will be a big one for them to prove themselves. (On tap this week: Kansas, Tuesday)
4. Baylor – Last week: #6 – I'll admit I jumped the gun putting Texas Tech ahead of Baylor last week. With the emergence of Johnathan Motley this team got a lot more dangerous. (On tap this week: TCU, Wednesday)
5. Iowa State – Last week: #3 – Losing at home makes the Cyclones' drop kind of self explanatory. (On tap this week: @ Texas, Tuesday)
6. Texas Tech: – Last week: #5 – I might be the only one of the Red Raider bandwagon, but I don't care. I like this team, their energy and their defense. (On tap this week: @ Kansas State, Tuesday)
7. TCU – Last week: #10 – The Horned Frogs showed they have the potential to sneak up on some teams with their win over Texas on Saturday. (On tap this week: @ Baylor, Wednesday)
8. Texas – Last week: #7 – I wrote it last week, but the Longhorns just aren't close to the same with Cameron Ridley. (On tap this week: Iowa State, Tuesday)
9. Oklahoma State – Last week: #8 – They proved they can play with the lower-tier Big 12 teams by beating TCU, but blowout losses to Baylor and West Virginia show how far below the top they are. (On tap this week: Oklahoma, Wednesday)
10. Kansas State – Last week: #9 – The Wildcats have some pieces, but their 0-3 start makes them the clear choice for the bottom spot. (On tap this week: Texas Tech, Tuesday)
SATURDAY, JANUARY 9
6:30 —
I'm here to eat crow. 
Earlier this week I put the Baylor Bears sixth in my first ever Big 12 power rankings, and, man, do I feel like an idiot. While the Bears did show some of the struggles that caused me to rank them below Texas Tech during their visit to Hilton Coliseum Saturday afternoon, they also showed what made them a borderline Top 15 team a few weeks ago in the 94-89 win.
It seemed highly unlikely Baylor big man Johnathan Motley would be the one to kill the Cyclones, but he was. The sophomore was nearly automatic all afternoon scoring 27 points, on a ridiculous 13-of-15 shooting, and grabbed 13 rebounds. 
This was the same guy that came into the game averaging less than 10 points per game and shooting 45 percent from the floor. He's only attempted double-digit field goals four other times, and they weren't against quality opponents. 
While the Bears did get their usual solid contributions from Lester Medford, 16 points and 11 assists, and Taurean Prince, 18 points and 10 rebounds, it was Motley that was the absolute difference in the game. Heck, he could be the difference for the season. 
This team suddenly looks like one that is primed to make a serious run in the Big 12. 
The Bears are good. Maybe even very good. I undersold them.
Somebody fire up the barbecue and throw on some crow. I'm ready to eat.
9:45 —
Every Saturday Austin Narber brings you the day's schedule of top games in the Cyclone Fanatic Viewer's Guide, but sometimes life takes the front seat. 
With Austin off in Jamaica getting engaged and having fun, that leaves it up to me to fill you in on the top games for your Saturday. It would be too easy to put this afternoon's 2 p.m. tip on ESPN2 at Hilton Coliseum between Baylor and Iowa State on this list.
Once I took a look at today's schedule I found myself underwhelmed. There aren't any matchups between ranked teams, and there are only a few games I think deserve the billing as today's top slate. 
Here are the day's best games (excluding Iowa State/Baylor).
Virginia Tech (10-5, 2-0 ACC) @ Duke (13-2, 2-0 ACC) – 11 a.m. on ESPN3 –The Blue Devils have been one of the nation's top teams once again this season led by point guard Grayson Allen (20.8 points and 3.5 assists per game). Duke enters with a four-game winning streak while the Hokies have won two straight, including an upset of No. 4 Virginia earlier this week.
Vanderbilt (8-6, 0-2 SEC) @ No. 22 South Carolina (14-0, 1-0 SEC) – 2 p.m. on ESPNU –The Gamecocks are one of only two undefeated teams left in college basketball, and that makes them an easy selection for this list. Vanderbilt has struggled after starting the season strong, but lost their first two SEC games by just 13 combined points.
No. 6 North Carolina (14-2, 3-0 ACC) @ Syracuse (10-6, 0-3 ACC) – 7 p.m. on ESPN –Two seasons ago this game likely would've been the talk of college basketball. Tonight, it's one of the men on the sidelines that makes this a big one. Legendary Syracuse head coach Jim Boeheim is back after serving his nine-game suspension related to the sanctions passed on the program by the NCAA. UNC comes into this one highly ranked, but this has Carrier Dome magic written all over it. 
FRIDAY, JANUARY 8
9:30 —
My favorite part about writing this blog is it will force me to watch and learn about teams that I usually wouldn't. This first came into play last night with Cincinnati and SMU. 
The Mustangs trailed 55-48 at the final media timeout, but they were able to claw their way back in before a Jordan Tolbert tip-in with three seconds left completed a comeback and victory despite the fact that the Mustangs had only six scholarship players available. 
SMU, and their soon-to-be All-American guard Nic Moore, have proven they have the ability to beat some really good teams this season and it's a shame they won't be able to make a mark in postseason play. 
One other note on SMU: The Mustangs and No. 22 South Carolina are the only undefeated teams left in college basketball.
Tonight's slate of games will force me to watch some teams I usually wouldn't once again. There is only one matchup between Power 5 schools, but there are still some really good mid-major games on the schedule. 
Valparaiso(11-3, 1-0 Horizon)@Oakland(9-6, 1-1 Horizon)-6 p.m. on ESPN2- Oakland has one of the nation's best players in Kahlil Felder (26.1 points and 9.2 assists per game), as well as, former Cyclones Percy Gibson (12.9 points, 7.3 rebounds) and Sherron Dorsey-Walker (9.5 points). This should be a good matchup between two really solid mid-majors. 
Western Michigan (6-8, 0-1 MAC) @ Akron (12-2, 1-0 MAC) – 6 p.m. on ESPNU –The Zips have won nine straight entering tonight's game under the direction of Lebron James' high school coach Keith Dambrot. Western Michigan has struggled so far this season but has played close with almost everyone they've played. 
Utah (11-4, 0-2 Pac-12) @ Colorado (12-3, 1-1 Pac-12) – 8 p.m. on FS1 –The Utes have really struggled when going out on the road this season as their 0-3 in their three chances. They're also coming off back-to-back losses to Stanford and Cal to start Pac-12 play. Colorado has lost two of their last three after winning 11 straight following their loss to Iowa State. 
THURSDAY, JANUARY 7
10 p.m. —
"Show it again, little Timmy." — Bill Walton. 
Yes, the UCLA legend and Grateful Dead enthusiast was part of the call for a highly entertaining Arizona-UCLA game this evening.
The No. 7 Wildcats mounted a furious comeback in the final minutes, closing within three, at 83-80, with a little over a minute left on a Kadeem Allen two-handed dunk. Then Allen converted a 3-point play with 42.1 seconds left. Oof, Alfords (head coach Steve and stud shooter Bryce).
Isaac Hamilton then hit one of two free throws for the Bruins to make it 84-83 with 21.7 seconds left. TImeout, Sean Miller. UCLA was trying to avert it's first 0-3 Pac-12 start in more than 30 years. Walton was amped up. "Kadeem Allen, without him, the Wildcats are not even within 10 points," he said.
Play resumed. Ryan Anderson took the inbounds pass and unguarded, took it the rim and was fouled. He hit one of two free throws. 84-all with 14.8 left. Again, highly entertaining. Former U of A (and Iowa) coach Lute Olson was in the house. So was Russell Westbrook.
Then, boom. Bryce Alford nails a step back three with under two seconds left. 87-84 final. He finishes with 25 points. Westbrook exults. Crazy, crazy game. It's only January — and a team ranked ahead of ISU falls. 
"Wow," Walton said. "What a finish." — Rob Gray 
9:00 a.m. —
Every morning throughout the rest of the college basketball season I'll breakdown the night's college basketball schedule. Some days, it will be dominated by the Big 12, but others (like today since there are no Big 12 games) will be about the other conferences. 
The games featured here might not be the games of the night, but they could feature a good up-and-coming player, or a mid-major team to watch. I'll also try to include teams with Iowa State ties as often as possible. 
With that said, let's get started with tonight's top slate. 
Cincinnati (11-4, 1-1 AAC) @ #15 SMU (13-0, 2-0 AAC) – 6 p.m. on ESPN – The Bearcats have struggled since their loss to Iowa State a couple weeks ago, but tonight they get an opportunity to get back on track when they travel to Moody Coliseum. The Mustangs are one of the nation's last undefeated teams, but they are still banned from postseason play in 2016. 
Michigan (12-3, 2-0 Big 10) @ #20 Purdue (13-2, 1-1 Big 10) – 6 p.m. on ESPNU – It's still uncertain if Michigan star Caris Lavert will be in the lineup tonight for the Wolverines, but Big Blue rolls in on a six-game losing streak since losing to SMU. Purdue will look to bounce back after their loss to Iowa on Saturday and extend Michigan's losing streak against Top 25 teams to five. 
#7 Arizona (13-1, 1-0 Pac-12) @ UCLA (9-6, 0-2 Pac-12) – 8 p.m. on ESPN2 – The Wildcats have won eight in a row and lead the Pac-12 in scoring defense (63.3 points per game). Defense always travels so that should help them on the road at Pauley Pavilion. The Bruins will be looking to avoid their first 0-3 conference start since 1981-82.
One other thing I'll be adding to this blog is good college basketball links I find from around the internet. Here's one from ESPN.com's Myron Medcalf on 10 teams you shouldn't trust yet. 
WEDNESDAY, JANUARY 6 
10:00 p.m. —
I wasn't sure what to expect from the Texas Tech Red Raiders when they rolled into Hilton Coliseum Monday night. They'd played well throughout a so-so non-conference schedule in which their only loss came to a ranked Utah team. 
My eyes were opened to how good this team could be when they beat Texas on Saturday, but after their performance in a 76-69 loss to Iowa State at Hilton Coliseum, I'm 100 percent behind calling them the Big 12's fifth best team.
On top of that, I think this team has a serious chance to make a run at an NCAA tournament berth.
Who would have thought that sentence wouldn't seem so crazy before the season started? I know I would've called it crazy. 
Tubby Smith's club isn't going to light up the scoreboard every single night, but this team can flat out defend. Texas Tech hasn't even allowed 80 points yet. KenPom has them No. 25 in Adjusted Defense.
Tuesday night in Ames they held one of the nation's most efficient offenses to just 39 percent shooting from the field. If it hadn't been for a Herculean effort from Iowa State's Matt Thomas, the game could've had a different outcome. 
On this week's Big 12 teleconference, Smith pumped up the defensive abilities of Zach Smith and they were on full display Tuesday night. Smith drew the tall-task of guarding all-American Georges Niang, and it's safe to say he was up to the task holding Niang to 14 points on 5-of-12 shooting.
Tech's occasional lack of scoring could hold them back at times during conference play, but when you can defend at an elite level, you put yourself into a position to win every night. 
In my mind, the Texas Tech Red Raiders are firmly on the bubble. 
3:15 p.m. —
College basketball has been one of my passions since I was very young. I was the seven-year-old following Maryland's run to a national championship in 2002. 
I remember sleeping on the floor of my family living room when Sean May and North Carolina won Roy Williams' first title in 2005. I cried when Adam Morrison's Gonzaga squad was knocked out in the 2006 Sweet 16 by UCLA. 
I cheered when my favorite college basketball of this generation, Anthony Davis, and his Kentucky Wildcats ran their way to a title, even though they had to beat Iowa State to do it. 
I can nearly base the timeline of my life on events that happened in college basketball. Everything from Acie Law's dominant performance on a Saturday night at Allen Fieldhouse to "Watford for the win," at Assembly Hall in 2011. 
I love college basketball. 
That is why today, I am happy to present the Cyclone Fanatic running college basketball blog. Our publisher, Chris Williams, asked me what we could do to help take my internship to the next level. This was our idea and it will be my baby. This is where every morning you'll find a schedule of the Big 12's games and the top games from across the country. 
Monday mornings will be for Big 12 power rankings, Tuesday's for a ranking of the Big 12's best players and a whole lot more great stuff throughout the rest of the week. The best part is, I'm hoping that I won't be the only one to contribute.
If Brent Blum wants to write 100 words about the Oklahoma Sooners, this will be the place. If Rob Gray has a college basketball thought that he has to share, this will be the place. If Garrett Kroeger gets tired of writing about any of the other 1,000 topics he already covers, this will the place. 
I love college basketball. I love writing for this site, and I already know I'm going to love writing in this blog. 
I hope you enjoy it too.
Now, let's get started with the first Big 12 power rankings. 
1. Kansas – An easy selection considering the Jayhawks are 2-0 in conference play and the nation's No. 1 team. Next up: @ Texas Tech, Saturday, January 9
2. Oklahoma – Another easy one after the show the Sooners and Jayhawks put on Monday night. Next up: Kansas State, Saturday, January 9
3. Iowa State – The Cyclones are the clear third-best team in the conference, and in my mind it's not close. They'll make that clear tonight against Texas Tech. Next up: Texas Tech, tonight
4. West Viriginia – The Mountaineers didn't play a very tough non-conference schedule but there's something to be said for getting the job done, and Bob Huggins' team does just that. Next up: Oklahoma State, Saturday, January 9
5. Texas Tech – Tech is probably the biggest surprise of the conference so far. They might not stay here for long, but Tubby Smith's group is definitely much improved. Next up: @ Iowa State, tonight
6. Baylor – Baylor and Texas Tech are pretty interchangable as of now, but I think the Bears have a lot of potential to make some noise as conference play goes on. Next up: Iowa State, Saturday, January 9
7. Texas – I saw the Longhorns as the clear favorite to be the No. 4 in the conference entering the season, but the loss of Cameron Ridley is huge (literally). Next up: @ TCU, Saturday, January 9
8. Oklahoma State – The Cowboys are going to struggle without senior leader Phil Forte, but it's hard to overlook the beating they put on TCU on Saturday. Next up: @ West Viriginia, Saturday, January 9
9. Kansas State – Another team that I don't expect to win a ton of games in the Big 12, but they will push teams every single night. Next up: @ Oklahoma, Saturday, January 9
10. TCU – Trent Johnson's team has some pieces to sneak up and beat a few people this season. Playing TCU isn't an automatic win anymore. Next up: Texas, Saturday, January 9