There's a lot going on in my head right now and I apologize in advance for this column being all over the place. 
The latest on Iowa State's football coaching search starts…..NOW. 
The Pollard profile 
Based off of his comments yesterday and other conversations I have had with multiple sources, my guess is that Jamie Pollard is going to go with more of a clean-cut and experienced type of candidate compared to the young, up and comer who doesn't have much hair on his chin. 
Look at what he did by hiring Steve Prohm to replace Fred Hoiberg. That's the route I see Iowa State going. Pollard said it himself yesterday that there is more talent within Iowa State's football roster now than in the last 10 years since he arrived in Ames. 
A guy like Troy Calhoun from Air Force would fit the mold that I'm describing. Bo Pelini would not.
We'll see.
— Also, I'm hearing that this search is expected to wrap up sooner rather than later, perhaps as early as next week. 
If it goes longer, I'd imagine that the market is even more difficult to navigate than Iowa State had originally thought it would be.
For the record…
I still like Scott Frost. That's my guy.
He's from the Midwest. He's been at a "hip" program for years now. He's an energetic recruiter.
To me, this would be the home run hire that Iowa State could make.
Moving on…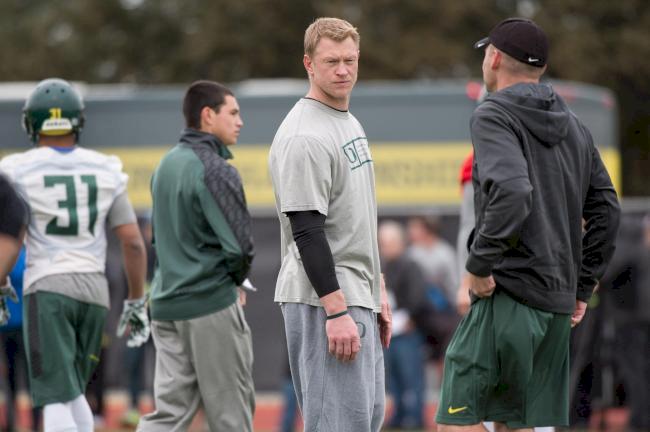 Willie Fritz wants the gig? 
That's according to a very well connected national columnist, Dennis Dodd from CBSSports.com. 
Fritz (pictured above), has gone 16-6 in two seasons at Georgia Southern, runs a run option scheme that would be interesting with Iowa State's current personnel. Georgia Southern is currently the second-ranked rushing offense in college football at over 360 yards per game on the ground. 
The fact that Dodd wrote this column is interesting.
Often times during coaches searches, agents will use media to get their clients names out there, much like what happened with Jeff Hornacek (who never had any real interest in the Iowa State job) this past summer.
Does Fritz really want to be at Iowa State or is an agent using the media to get his name out there for other jobs too?
Fritz is a guy who is familiar with Midwest JUCO's and on the surface it seems like a good match. I'm intrigued. 
Give Bob Stitt a call
Before the start of our 2015 Iowa State football kickoff party at BenchWarmers, I arrived early so that I didn't miss the second half of an incredibly entertaining FCS game between North Dakota State and Montana.
It was on that day that I fell in love with Montana head coach Bob Stitt and his "Moneyball" style of football that is admired by the likes of Mike Leach and Dana Holgerson to name a few. 
Stitt, who spent 14 years at D II Colorado School of Mines, recently led Montana to the FCS playoffs in his first season at that level. 
The plus here is he would be an outside-the-box hire and stylistically, Iowa State would be doing something different.
The negative? Can Bob Stitt put together a staff that could recruit Big 12 players? Also, I'm not sure how crazy I am about going all spread crazy. I'd prefer Iowa State to go with more of a power running scheme (like Fritz) and of course, have the ability to pass too. 
I think Stitt is worth a call though.
For a taste of who Bob Stitt the man is, here's a video of his introductory press conference at Montana last winter. 
I really like the idea of Tony Alford
Tony Alford is a candidate that possesses every trait that Iowa State should be looking for except one – head coaching experience. 
The good: He's known as an elite recruiter. Alford, who has spent time at Notre Dame and Ohio State (where he's at now), has coached under two of the best leaders in the business (Brian Kelly and Urban Meyer). Nothing at Iowa State would shock Alford, who somehow got players here back when the current facility situation was nothing but a dream. He is a charismatic guy who still has booster support in Ames. The more I look into Alford, the more I like this very realistic option.  
My Kendall Briles conundrum 
He would make Iowa State "cool," there's no doubt about that.
You all know how much I love Art Briles so this would be awesome for me, however, I do think this is too big of a job for a guy with the experience level of Kendall. The same goes for Lincoln Riley, who my friend Randy Peterson at the Des Moines Register really likes.
Having said that, you know if Briles took over he would go all Tom Herman and freshen up this program. There's no doubt about that. 
Should have included…
I don't know why I forgot but I should have included Toledo coach Matt Campbell on the list that I published on Sunday.
He's legit.
Keep these guys
I'd love to see the new Iowa State coach keep Todd Sturdy on staff as the next offensive coordinator.
Why?
Because I don't want to ruin Joel Lanning like four coordinators in five seasons did to Sam Richardson.
Sturdy is a really solid football coach and some carryover from the last staff would be a good thing.
I'd really love to see Louis Ayeni be retained as well.
The most underrated member of the Rhoads staff was Shane Burnham. He's a keeper as well.
Tonight on 1460 KXnO
Craving more coaching search information?
Randy Peterson and Tommy Birch from the Des Moines Register will join me tonight from 6-7 tonight on 1460 KXnO. That's pretty much all we will talk about. Tune in, if that's your sort of thing.