I've never been a big "hire the former player" guy.
That's overrated most of the time. Fans have sentimental feelings for these guys and just assume that bringing them on staff will take things back to the glory days when most of the time (there are exceptions obviously), the former players aren't properly qualified to coach in the Big 12. 
Perhaps the two most accomplished and beloved quarterbacks in Iowa State history are indeed qualified and both are on the record stating that they would love to come back and coach at their alma-mater. 
"I actually would not mind coming back and doing something at Iowa State," 10 year NFL veteran Seneca Wallace told Heather Burnside and Travis Justice on 1460 KXnO's "Morning Rush" earlier this week. "Not as the head coach but maybe as a quarterback coach of some sort." 
Wallace's NFL career is winding down. He isn't currently on a roster and lives in Dallas. He has previously mentioned an interest in coaching down the road and gave reasons as to why he would be a solid candidate for Iowa State's next head coach to place on his staff.
"I have to pay my dues and work my way up but obviously being down here in Dallas I'm enjoying it but with my alma-mater being Iowa State, I just want to see it turned around a little bit and see if we could be a team where possibly down the road, we could maybe be a contender in the Big 12," Wallace said. 
Sage Rosenfels would likely be "in" too. 
"It probably goes my children and immediate family and then Iowa State University," Rosenfels told me last night on 1460 KXnO's "Sports Fanatics" program. "I would love to get a crack at it and to get that football team back into bowl games."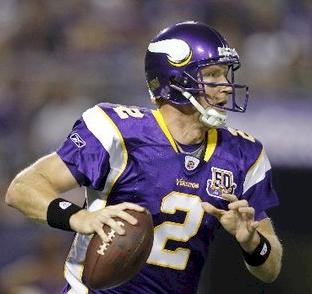 Both of these guys obviously know the game of football. But with that knowledge comes a passion and understanding for what it takes to win at Iowa State, which the new coach is going to need on staff.
I'm banking on their backgrounds in the NFL, youthful energy and passion for Iowa State paying off on the recruiting trail too. 
"Recruiting is huge. That's what it's about now days," Wallace said. "Iowa State has done the correct things and Jamie has done the correct things to change around the culture and the new facilities and things like that to get people where they can compete and recruit. If you can convince a kid to go to Iowa State, the sky is the limit. You can turn it around." 
Wallace threw for 5,289 yards and 26 touchdowns during his two seasons at Iowa State and was the 110thoverall pick in the 2003 NFL Draft. He has since spent 10 years as a backup quarterback in the NFL for various teams.
After throwing for 4164 yards and 18 touchdowns during his four seasons at Iowa State, Rosenfels played in the league for 11 years and was a fourth round pick in the 2001 NFL Draft. He currently resides in Omaha with his family.