With the Kansas loss in Stillwater, the Big 12 title race for non-Kansas Big 12 teams seems to be back on and it gets new life tonight for Iowa State as they travel to Norman to take on the third place team in the league, Oklahoma.
The Sooners are a very tough team that is probably better than their record, ranking, and conference record. Their 16-7 mark overall and 7-4 league record is highlighted to me by the fact that every win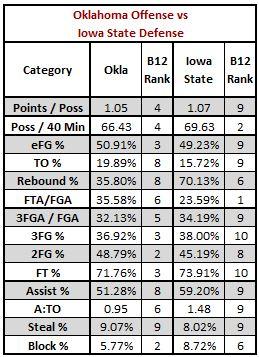 they have notched has been by at least 10 points. That is crazy to me.
It is a game that Iowa State could use as a win to help make up for the disappointment in Lubbock to elevate their place in the conference standings. Kansas still has to travel there and could very well lose. This is the pivotal matchup that both Kansas and Iowa State have left that could get that swing for ISU in the standings…if they can win.
When the Sooners have the ball…
The Oklahoma offense does one thing very, very well and that is their place as a top Big 12 shooting team. They have scored at the fourth best rate in Big 12 play and they're fourth in possessions per game but they do tend to get up and down the court even more than that number shows. They certainly won't worry much about slowing the game down.
They have been susceptible to turnovers and they don't chase down many offensive rebounds. It will seemingly be the first opponent in a long while that hasn't feasted off of second chances off the glass for Iowa State. Though, they are obviously still capable with a guy that just doesn't stop working like Ryan Spangler.
They hit on 3-point shots nearly 37 percent of the time and the Cyclones will have to continue the focus on the perimeter that they showed against Texas Tech. Tech is a terrible shooting team but they performed much better with their closeouts and chasing shooters off of the 3-point line. In Lawrence, there were many times when nobody closed out on a shooter but against Tech it was more often that two guys were flying out to cover up on the 3-ball. That isn't the preferred method but it is better than nobody.
The Sooners do have a surprisingly low assist rate in league play and I think that may be a key to watch. Are they relying on isolations to create jump shots or use the flow of the offense to get their open looks?
When the Cyclones have the ball…
The Cyclones still lead the way in scoring in the league and they're shooting the ball at a better rate than anyone while taking care of the ball at the best rate in the league. That turnover number is a bit of a surprise because in the last three games, the Cyclones have had stretches with constant turnovers, usually at the beginning of the game. At Kansas, those turnovers kept ISU from building a bigger lead early when their defense was slowing Kansas. They just didn't capitalize on the situation because of turnovers. Avoiding a run of turnovers will be key in Norman tonight.
The Sooner defense has been one of the bigger surprises of the season to me. They're fourth in conference play among Big 12 teams but Ken Pomeroy has them as the third best defense in the country when their scoring efficiency is adjusted for schedule and the location of games.
A lot of that has been closely tied to keeping opponents from making shots. They aren't a team with great height by any means, but they've really been able to limit team's success shooting the ball inside the arc. That is a strength of Iowa State and a key matchup if the Cyclones can come away with a victory.
The Sooner defense isn't one that pressures and forces turnovers all over the place but they do force enough and rebound well enough to be a really good defensive team.
The players report…
When you look at the Oklahoma players, it starts offensively with Buddy Hield that makes the whole Sooner engine go. He scores at an elite level and he can get to the rim and convert or pull up and knock down 3-point shots where he's hitting at 40 percent in league play.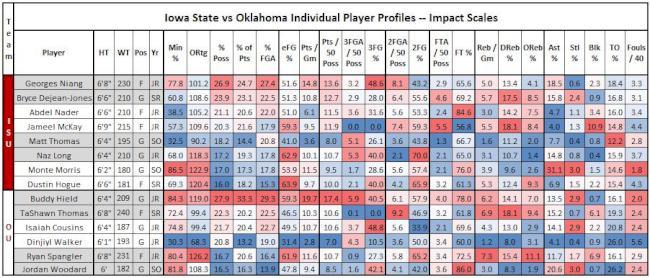 His back court running mates include Isaiah Cousins, who is hitting on nearly 50 percent of his 3-point shots and Jordan Woodard, who is hitting on 42 percent of his 3-point shots. They are both capable creators on offense but Woodard is more in that role of setting up his teammates. Woodard has had some turnover issues with a turnover rate of 26 percent.
In the paint it is TaShawn Thomas and Ryan Spangler. They're both 6'8" big bodies that are very active and athletic. They finish what their teammates create and Thomas has a strong ability to create his own shot on post ups. I suspect if there is limited doubling due to Oklahoma's great 3-point shooting that Thomas will see the majority of that focus. They are both elite rebounders that will need to get a body put on them to keep off the glass, especially the offensive glass.
(Note that it has been reported that TaShawn Thomas is questionable for tonight's game.)
What I think will happen…
Oklahoma is a really good team and a very tough out, though Kansas State was able to win in Norman early in Big 12 play. With the Kansas loss on Saturday, the Cyclones should have renewed life in their chase for a title and this game is pivotal in creating that swing. All of that said, bringing defensive urgency to the perimeter shouldn't take much convincing to do. The Sooners are mostly a jump shooting team so that defense will be a big deal in limiting their success in an area where Iowa State has struggled more often than not.
One big question for the Cyclones is who will Georges Niang guard? Thomas would be a tougher cover for him and Spangler would be difficult for him to keep off the glass. I wouldn't suspect zone but Niang will probably draw Thomas and that matchup on defense will be crucial in winning the game.
At the same time, while I think Spangler could do a decent job on Niang because of how physical he plays, the rest of the Sooners will have to figure out how to guard Bryce Dejean-Jones and Dustin Hogue. Hield and Cousins are both 6'4" but defending guys on the block isn't something they're accustomed to. Getting post up isolations against them or even at the high post to attack off the bounce could be defensive weakness for the Cyclones to try and exploit.
Maybe I'm just crazy, or maybe I just can't help but think that an opponent will have down shooting night eventually but I think this game may be there for the taking. Surely, Oklahoma sees it as a chance to climb back into second place in the league but I think ISU sees it as more than that.
They'll have to contest on the perimeter, rotate to the second and third shooters, keep Spangler and Thomas off the glass on defense and hit some shots at the other end. Avoiding turnovers for the entire game and maybe sneaking in some second looks from the offensive glass could provide pivotal extra shots for the ISU offense.
Just nine times this year have teams ended a game with an effective field goal percentage of better than 44 percent against the Sooners and in those games OU is 2-7. The lone wins came against Tulsa and Missouri. Meanwhile, Iowa State has shot below 44 percent for an effective field goal percentage just twice (Maryland and South Carolina). When the Cyclones have shot 50 percent or better they are 16-1 with the lone loss at Baylor.
I think Iowa State will do most of that and find matchups to succeed on offense while limiting just enough on defense to get out of Norman with a win.