We're hitting the closing stretch of the regular season (crazy!) and Iowa State still almost has but a glimmer of hope to earn a share of a conference title. The Cyclones are a game behind Kansas in the loss column and four of their last six games are on the road.
If you haven't heard, anyone that talks about Iowa State basketball has been spending some time talking about the struggles the Cyclones have had on the road this season. In reality, I'm not real sure if Iowa State is actually a bad road team or if they just dropped a super clunker in Lubbock. Winning in Lawrence or Norman isn't easy and the Cyclones had a chance at Baylor after digging a deep early hole. Those are three road losses to ranked teams. Though ISU also beat a ranked West Virginia in Morgantown and thumped Iowa in Iowa City.
Either way, that is the national perception of the Cyclones by many right now but this week provides an opportunity to erase a lot of that. The Cyclones played probably their most complete game in terms of scoring offense and scoring defense in games against a legitimate opponent this past Saturday and hopefully they see a small opening of opportunity to rise up the standings.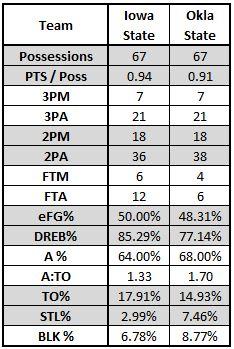 Honestly, getting two of the last four road games and winning out at home would be a good finish to a 12-6 record but if they somehow find a way to get to 3-1 in those road games then things could get really interesting. The standings are there, but finish 4-2 or 5-1 and let the chips fall where they may and I'd be very happy with that result regardless of Big 12 placement.
The Oklahoma State Cowobys are 17-8 on the season with a 7-6 record in Big 12 play. The last time out they folded like a lawn chair at TCU to lose 70-55 when in their previous three games they beat three ranked teams with two of them on the road (Texas and Baylor, plus Kansas at home).
The first time these two teams met was the opener to conference play and the Cyclones emerged with a difficult and close victory that was sealed with two blocks by the Cyclones in the final few seconds of the game. The rematch report is to the left and the stats are amazingly similar for each team. ISU was slightly better on the glass while OSU forced a smidge more turnovers.

When the Cowboys have the ball…
Oklahoma State is largely a mediocre offensive basketball team. They score just under one point per possession in league play and they do it at one of the slower tempos in the league at just under 63 possessions per 40 minutes played.
They shoot a decent percentage from the floor but with a mediocre turnover rate, an offensive rebounding rate that is mostly punted and they rarely get to the free throw line so their methods of creating chances are limited.
Oklahoma State launches more 3-point shots than any other Big 12 team while shooting the sixth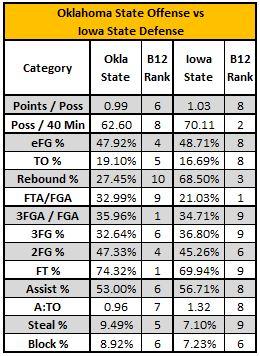 best percentage from the 3-point line. They do convert at a decent rate inside the arc with the fourth best accuracy of 47 percent.
While their numbers are mediocre, they are still mostly better than Iowa State's defensive numbers. The Cyclones are still leading the way in defensive free throw rate and rebounding at a solid clip of right near 70 percent on defense.
The one spot where ISU will need to compete with Oklahoma State is shooting defense inside the arc. They allow an average of 45 percent inside the arc which is okay, but, that will be a key in the defensive game plan against the Cowboys.
When the Cyclones have the ball…
Hey, look, the Cyclone offense is still really, really good. The Cyclones have the best turnover rate but most importantly they are the best shooting team in the conference with an effective field goal percentage of just over 55 percent.
Iowa State does it with the best shooting accuracy inside the arc at just under 55 percent and a 3-point percentage approaching 35 percent as a team. I mentioned it for the last preview but the one area for the offense to improve that has been better in previous years is the assist rate. Fifth in the league at 56 percent is okay but it's preferred to be up around 60 percent.
The Cowboy defense has the third best scoring rate in the league holding teams to 0.97 points per possession on average.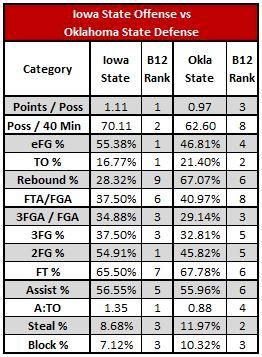 They do well to limit teams in shooting percentages but the key to their defense may be chasing teams off of the 3-point line. Opponents are taking less than 30 percent of shots from beyond the 3-point arc. They're largely middle of the pack the rest of the way across the board except for one area. They force the second most turnovers in the Big 12 at 21 percent. West Virginia is obviously leading the way by a wide margin up near 30 percent but that is a really tough number for an offense to overcome.
One other thing to watch for is that Oklahoma State has the third best defensive block rate in the league by swatting over ten percent of two-point field goal attempts.
The players report…
The Cowboy offense pretty well starts and stops with the success of Le'Bryan Nash and Phil Forte and it is quite obvious with how their two rows are dominated with the most and darkest red cells. They each score over 32 percent of OSU's points when they're on the floor—which by the way, is pretty much all of the time as Forte plays almost 88 percent of available minutes and Nash plays almost 81 percent of available minutes. They are the driving force of the offense and they each score over 15 points per 50 possessions played to double up the next closest scorer on the roster.
We all know about Forte's prowess outside the arc but he actually doesn't launch as many as expected, in part because he's so respected and so much attention is paid to him. But when he does get them off, he's hitting on nearly 47 percent in conference play.
Nash on the other hand does all of his work inside the arc and he's made just two out of 18 3-point attempts this season (yes, one of the makes was in Ames).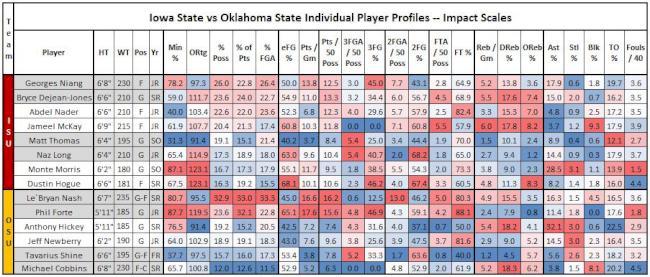 Michael Cobbins is the primary rebounder for the Cowboys while being pushed surprisingly by the point guard, Anthony Hickey, on their defensive rebound rates.
Hickey has a very impressive assist rate above 32 percent and easily leads the way there while being followed up by Nash.
The keys to the game…
The game with Oklahoma State in Ames was one of Iowa State's better defensive performances in my mind. Forte got loose in transition a couple of times but Jameel McKay made things very difficult for Nash but he just hit a bunch of tough shots en route to his 19 points on 7-15 shooting from the floor.
Containing Nash is a big deal and he'll draw some double teams but McKay will be left all alone on him at times too. The biggest key in his defense is to stay down and make Nash shoot over him. This isn't the game to try and block a bunch of shots, especially when Nash has the ball. McKay isn't giving up much weight and he has the athletic ability to move his feet and make his life difficult. But, he HAS TO STAY down which can be a struggle for McKay on occasion and he can't get beat to spots and give up early position to him.
Forte is a pain to guard running off screens but he does have a bit of ability to get to the rim. Not much, but enough to keep guys honest. Naz Long will chase him off a zillion screens but everyone will have to be aware and help out when they can. Monte Morris does an especially good job of helping off of his man as Forte curls to the middle off of screens on the wing. It is worth noting that Forte has made 18 of 32 3-point shots in Stillwater (56.3 percent) and 11 of 34 away from home (32.4 percent).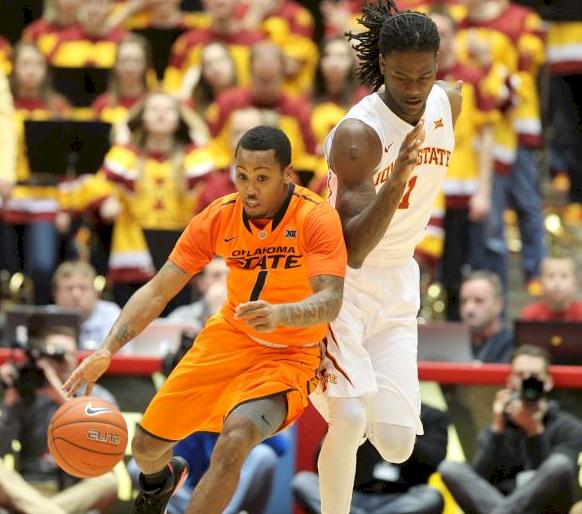 While those two guys are the driving force, they may not be the biggest key to Oklahoma State's success. Most offenses need a third guy to find real success and Anthony Hickey is that guy that has been crucial to the best scoring games for the Cowboys. Seven times in conference play the Cowboys have surpassed one point per possession (all wins) and in those games Hickey has combined to make 15 of his 30 3-point attempts and in the other six games (all losses) he has made just six out of 28 attempts from the 3-point line.
Further, in those seven best scoring games for the Cowboys, Hickey has had an Offensive Rating of better than 100 in six of them and in the other six scoring games he has only surpassed an Offensive Rating of 100 once. And it is a similar deal with his scoring rate per 50 possessions where he has reached 10 or more on six occasions and five of them have been in the seven best scoring games in Big 12 games. The split for his best offensive games is basically exactly even between home and road games.
While there aren't any huge offensive threats for Oklahoma State after those guys, there is one other note to make. They have three guys (Jeff Newberry, Leyton Hammonds, and Tavarius Shine) that all shoot right around 30 percent from the 3-point line. That isn't all that great but guys like that are the ones that can rise up to make two or three in a game and cause a defense fits. The Cyclone defense can't let them get going.
I imagine that Morris will draw Hickey for most of the game and keeping him out of the lane and helping to Forte are his biggest keys. Georges Niang should get Cobbins in what is a good matchup for him so long as he doesn't lose sight of him and keeps him off the offensive glass.
Dustin Hogue will be in full help mode off of Newberry for a majority of the game but he can't completely lose sight of him and let him get going.
On offense, I think Nash may have to guard Niang and he can be susceptible to foul trouble. If Niang can get some isolations on the block and get going he'll likely draw some fouls on Nash which would pose a huge problem to the Cowboys.
I don't think the Cowboys have anyone to guard Bryce Dejean-Jones or Abdel Nader off the bench and hopefully Iowa State can make some shots.
I know I called for a victory the last time the team was in Oklahoma but I really like this matchup and I think defensively the Cyclones can handle a lot of what the Cowboys will try to do. The defense will have to be alert and they need to rebound as they should and avoid giving up turnovers but I think Iowa State gets another win on the road against a ranked team this season.