Big 12 play has finally arrived for us in Ames and regardless of the poor shooting that led to a loss in Brooklyn against Frank Martin's improving South Carolina team, it wasn't a loss to unleash a fireball of concern. It could largely be attributed to the worst 3-point shooting percentage for a Fred Hoiberg coached team in the last three and a half seasons. Add in the 16th worst free throw percentage in that same time frame and it comes together even more, especially when the Cyclones got to the line 33 times.
The Cowboys ride into Ames with a somewhat surprising 11-2 (1-0) record with – and stop me if you've heard this before – their two losses are to Maryland and South Carolina (though South Carolina was a road game and Maryland was a home tilt).
When the Cowboys have the ball…
Oklahoma State is scoring the ball pretty well with their 1.08 points per possession that is largely done by a solid effective field goal percentage and a pretty low turnover rate. They also get to the free throw line the fourth most often in the league and cash in on 70 percent of those attempts.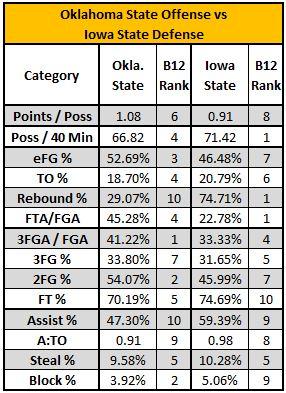 The Cowboys lead the league in frequency of long ball attempts with over 41 percent of their shots being 3-point tries though they have just the seventh best accuracy rate. They're second in the league with their shooting percentage inside the arc and it is then that you begin to realize how similar they are to Iowa State.
Hoist some threes, shoot well inside the arc (mostly in the paint), avoid turnovers and pretty much wave the white flag on offensive rebounding. The main difference is that their assist rate is much, much lower than the Cyclones.
Matching them up with the Cyclone defense should be a solid matchup. Iowa State will probably do a good job in keeping them off the free throw line and should dominate that rebounding battle on the defensive end. The turnover battle here could be one of the key components of how the game plays out other than the obvious "putting the ball in the basket to score points" thing.
If the Cowboys launch that many 3-point shots and hit on their season average, the game will most certainly be in question in the final minutes. In their two losses to Maryland and South Carolina, the Cowboys shot 29 percent and 21 percent respectively from the 3-point line, two of their three worst outings of the season.
When the Cyclones have the ball…
In a day and age where the latest happening can so dramatically impact our big picture view, it's hard for some to believe that the Cyclones have an elite offense after the shooting performance against South Carolina in the last game. Many even believe there is now a blueprint to beat Iowa State. Which, there is some truth to, but despite the poor shooting performances in the two losses both games appeared to be getting good looks at the rim. Especially against the Gamecocks, where ISU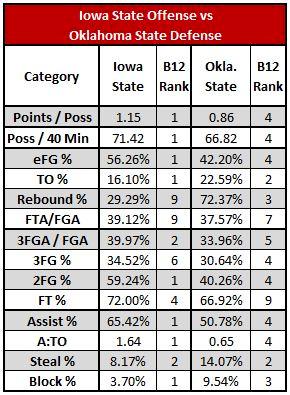 shot 48 percent on two point field goals. The problem was that many of the point blank shots resulted in fouls and the free throws from those fouls netted a 57 percent performance at the free throw line.
When you combine that scenario with the worst 3-point percentage in the last three and a half years (and likely even further back), it's hard to score enough points to win. Shoot an average number from either the free throw line or 3-point line and suddenly everything is a little less gloomy on Cyclone Fanatic Island.
Iowa State is still the best shooting team in the league and turns it over the least while sporting the best assist numbers in the conference. Similar to OSU, they launch a lot of 3-pointers even if they only make them the sixth most often in the Big 12.
The Cowboy scoring defense has been very good thus far and is largely due to their shooting defense, forcing turnovers, and cleaning up on the glass. Granted, these numbers aren't adjusted for their schedule (neither are Iowa State's but I'm just trying to frame your perspective) and the only two top 100 Pomeroy teams they've beaten are Memphis and Tulsa to match with their big conference wins against Oregon State, Missouri, and Big 12 opening win against Kansas State.
I'm curious to if the Cyclones can sneak in a few more chance on the offensive glass with Jameel McKay now contributing and another key will be the Cyclones avoiding turnovers like they have for most of the season. They should be able to get shots from the 3-point line and as the Cowboys are mediocre by the numbers in chasing opposing offenses off of the line.
The players…
If you haven't seen this before, below is the player impact chart for each team depicting the contributors that have played at least 30 percent of available minutes so far this season with offensive stats plus steals, blocks, and fouls. All rate stats are dependent upon availability of the event occurring on the floor and the percentage of time that the player is on the court given their average minutes played.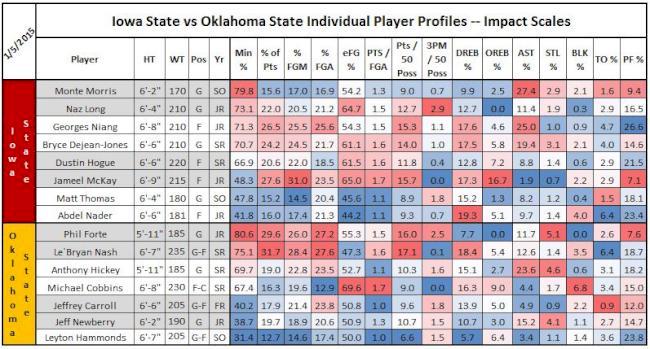 The biggest surprise to me on the whole chart may be that Georges Niang is nearly pacing the Cyclones in defensive rebounding percentage. I also never really gave it too much thought, but Niang is committing fouls at a somewhat alarming rate. McKay has made a huge impact, especially on the offensive glass.
The Cowboys are led by Le'Bryan Nash who is STILL at Oklahoma State. Over the past few years, he's transitioned well to focus more on scoring on the interior and wasting fewer possessions with shots from the perimeter.
Phil Forte is a bit of a surprise in the league in just how much he has been able to do for the Cowboys as a second scorer instead of the fourth or fifth option that is just deadly from the 3-point line. Anthony Hickey has been a decent option in the backcourt all around but he is committing turnovers at a breakneck pace. Michael Cobbins is back from injury from last year and contributing across the board on defense while being efficient when he gets the chance on offense.
As far as matchups go, one would think that Georges and Nash would be put on each other but given the foul issues and Nash's ability around the rim, I'm not sure that would be wise for long stretches. Dustin Hogue is the next obvious candidate but I'm still not sold on his post defense because he has so rarely been put in that spot. He was forced into it in Stillwater against Nash last year and aside from one blocked shot he mostly struggled to keep Nash in check. I think Iowa State's best option to guard Nash is McKay but Abdel Nader could also pitch in with his size.
The other primary question is who will chase Phil Forte through screens? Monte Morris is the first choice here and he did well last season on Forte. But guys like Naz Long or even Bryce Dejean-Jones or Matt Thomas could get a crack at him. Dejean-Jones showed the ability to recover well with length against R.J. Hunter earlier in the season and with Long and Thomas you know you'll always get maximum effort chasing and fighting through screens.
The only other matchup really worth noting is that I think Cobbins is a perfect matchup for Niang. They're roughly the same size and Cobbins isn't a big offensive threat. I wouldn't be surprised to see him guard Niang as well and I think Georges should flourish if that is the case.
What I think will happen…
Two times this year the Cowboys have been held below one point per possession and in both instances they lost and both times the score wasn't particularly close. They are not a fast paced team at 66 possessions per game but they certainly aren't the slowest, either (I'm looking at you Scott Drew).
I think defensively the Cyclones will work very hard to remove either Nash or Forte from the offensive equation. Either of them alone isn't good enough to carry their team to victory and I don't think any of the supporting guys can rise up to fill a void from either guy. Knowing what I do about each, I would focus on keeping Forte from getting looks. Given the demeanor of each of them and style of play I think it is a lot more likely that Forte could feed off of Nash than the other way around.
The Cyclones can still double Nash if they choose but you certainly can't do it from Forte's defender. The opposite big would maybe be the best option and/or have Niang shading toward Nash all along (assuming that Niang is guarding Cobbins).
The last six games the Cyclones have held opponents to 0.84 points per possession and even if that is fueled from some bad competition the Cyclones did hold Iowa to 1.01 and South Carolina to 0.88. The most impressive part about both of those is that the games were away from Hilton Coliseum.
Home is where the heart is, or so they say, and it is also where Iowa State plays much better. I can't see a similar shooting performance as their last or even struggles against the Cowboy defense. Nash and Cobbins are going to be busy with Niang and Hogue plus trying to keep up with Nader and McKay. If Leyton Hammonds doesn't foul out I'll be a little surprised.
I think the biggest key for the Cyclones may be Dejean-Jones. He's kind of disappeared in the last few games somewhat due to competition and somewhat to an off game against South Carolina. If the Cowboys play man defense, I don't think they have a soul that can guard him if his head is on straight. That is without even considering Niang and Morris to worry about and Naz Long and Matt Thomas to stretch the defense.
I think we'll see Iowa State get back on track offensively and do enough on defense to win. I envision a close game throughout the first half before the Cyclones pull away to a double digit lead. From there given recent history, the game will likely get uncomfortably close before Iowa State wins by seven to nine points or so.