AMES — It has been since Friday since I've written anything substantial here on the site so obviously, I've got a lot on my mind today, Fanatics.
How about starting with the hottest topic of them all…
1 – Thanks but no thanks, Big 12
Every fan that was inside of Jack Trice Stadium's sold out crowd on Saturday knew it. Mike Pereira, Fox's officiating specialist, knew it. My guess is that even the officials on the field knew it. An animated Paul Rhoads absolutely knew it. 
When Jake Waters hit Tyler Lockett for a controversial 15-yard gain that put the Wildcats on Iowa State's one-yard line, EVERYBODY KNEW that the call on the field – that Lockett made the catch inbounds – was iffy, at best.
Other than drinking crappy coffee and eating free press box food, replay officials have one job. If something is questionable on the field, press the dadgum button and take another look. That's it! But of course, this mystery button was not pressed on Saturday and as a result, the Big 12's director of officials, Walt Anderson, issued the following statement on Sunday afternoon.
During Saturday's Kansas State vs. Iowa State football game, with K-State in possession of the ball just prior to the half, an on-field ruling of a completed pass occurred near the pylon at the front of the ISU end zone.  By rule, once the ball is legally snapped, review of the previous play is not allowed. 
After internal review it has been determined that the video evidence of the play was inconclusive.  However, the replay official failed to follow established procedures in a timely manner, which prevented the play from being stopped for review prior to the next snap.
Because of the video review process breach, the Replay Official and Communicator are receiving reprimands and each will receive a one-game suspension for failing to follow proper replay procedures and mechanics.
According to the statement, even if the play had been reviewed, it wouldn't have been reversed. That's fair. So now I ask, why even release the worthless statement then?
Here's a novel concept. Make officials available to the media after games. From millionaire coaches to 18-year old "amateurs", everybody else has to talk. These officials are getting paid, right?
Don't get me wrong. Iowa State had plenty of opportunities to win this game on its own, despite the controversial call.Of course, there was the walk-on linebacker named "Lazard" receiving a rare and foolish sideline unsportsmanlike conduct penalty.
There was this "interception."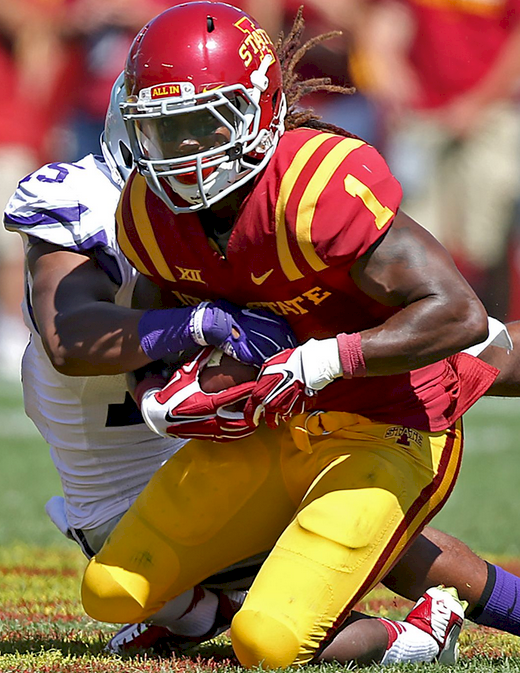 Yo, Clones. Can you please just pick up a second half 3 & 1 already?
This is by no means an attempt to blame officiating for Iowa State's lack of being able to finish out a game, but I do blame the Big 12 for the all-too-familiar lame apology letters after the fact that do nothing but make a jaded fan base even more upset. 
I want to know why the play wasn't reviewed? Human error? Mechanical error? I know that the guy didn't do his job and respect that he is being suspended, but what happened up there?
You have instant replay for a reason. Use it. 
2 – Cyclones catching multiple breaks?
Toledo, Oklahoma State and Texas might play Iowa State without their starting quarterbacks in the coming months?
In Saturday's 49-24 loss to Missouri, Toledo quarterback (an Alabama transfer) Phillip Ely tore his ACL. He of course is out for the season. The Cyclones will host the Rockets on Oct. 11. 
Meanwhile in Stillwater, after giving the defending national champs Florida State everything that they wanted and more in week one, Oklahoma State quarterback J.W. Walsh left Saturday's win over Missouri State in the first quarter due to an apparent foot or ankle injury. Rumors of a broken foot hit Twitter on Sunday but during his Monday teleconference, OSU head coach Mike Gundy said that Walsh would be in a boot until Tuesday and then a decision would be made for his status vs. UTSA this weekend. Stay tuned. My gut tells me that this one is likely worse than what Gundy is leading on. The Cyclones will travel to OSU on Oct. 4.
And then there is the always-ongoing drama that is the health situation surrounding Texas quarterback David Ash. On Monday morning, Texas coach Charlie Strong announced that Ash is "out indefinitely" following yet another concussion in week one against North Texas. Iowa State will travel to Austin on Oct. 18. 
3 – Jordan Harris to redshirt?
He was brought in to be Iowa State's quick fix replacement of Jeremiah George but of course, it isn't that easy.
While gazing at Iowa State's participating charts for the first two games, I noticed that junior MIKE linebacker Jordan Harris has yet to play a down this season for the Cyclones. Harris, a 6-foot, 244-pound JUCO transfer, is currently listed as Iowa State's third-string MIKE linebacker.
So the spring JUCO has yet to see the field in two games?
"Jordan is not quite ready to break into any kind of a lineup for us," Rhoads said on Monday. 
Rhoads also noted that Jevohn Miller, who started at MIKE (instead of WILL) on Saturday, is staying there for good.
This has redshirt written all over it, does it not?
4 – My bad, Robby
With all due respect to Iowa State's redshirt freshman defensive tackle Robby Garcia but at the start of fall camp, I didn't see any way he could be a consistent contributor at this level at this point in his career.
Garcia, a 6-foot-4, 283-pound scrapper, has recorded two sacks in two games.
"He has been a pleasant surprise," Rhoads said. "He is a guy that will keep getting better and as the turntable spins, you're going to keep hearing me say that about a number of our guys because they don't have reps and experience yet. Robby is moving better. He will start to play even faster as he really understands the speed that it takes to be successful."
5 – Big week for the Big 12
Last week, the Big Ten had a chance to make a statement to the rest of the country. Obviously, the "B1G" failed miserably (but think about how bad things would be had Iowa and Nebraska had lost to Ball State and McNeese State?).
This week, the Big 12 will have its opportunity to make some significant noise. Take a look at the upcoming schedule:
Baylor @ Buffalo (Friday)
West Virginia @ Maryland
Arkansas @ Texas Tech
Iowa State @ Iowa
Kansas @ Duke
UTSA @ Oklahoma State
UCLA vs. Texas
Tennessee @ Oklahoma
Baylor and Oklahoma State are the only teams in the league not playing other "Power 5" programs and even so, the Bears are on the road while OSU's opponent, UTSA, almost beat Arizona last Thursday.
This should be a fun weekend for Big 12 fans. 
EXTRA POINTS 
*** I'm not sure how any right-minded human being can blame Iowa State's defense for Saturday's loss to Kansas State. That's two weeks now where Mark Mangino's offense has been shut out in the second half. If it weren't for the defense forcing two first quarter Kansas State field goals, the Cyclones would have been down 21-0 early and from there, it's hard telling what the final score would have been. 
*** Kamari Cotton-Moya is already a stud but he is going to be a star. T.J. Mutcherson impressed me a lot against Kansas State too. Add Nigel Tribune to the mix and Iowa State's secondary should be fun to watch over the next few years. When you consider the amount of man coverage the Cyclones played against Kansas State, Wally Burnham obviously has a lot of confidence in this group too.
*** Some quick analysis of the Sam Richardson/Ken Lynn combo at Iowa State's cornerback position opposite of Nigel Tribune: Richardson is clearly the better tackler of the two, but Lynn's coverage skills appear to have an edge.
***Jarvis West had a big day against the Wildcats and you better believe that he'll have the opportunity to the same against Iowa. Expect the Cyclones to try and spread the Hawkeyes out and attack the middle of the field. Keep en eye on tight end E.J. Bibbs, too. He's been quiet this year (five catches for 39 yards) but it is only a matter of time before Bibbs ends up in the endzone.
*** The legend of Levi Peters continues to grow.
 "(He) battled a defender 15 yards on an Achilles tendon rupture and then threw him off him to help try to get involved in the play," Rhoads said on Monday. "That's courage and toughness."
***Sam Richardson has completed 67.2 percent of his passes in the first two weeks. That's encouraging.
*** To wrap things up, is it me or are things unusually quiet considering it is Cy-Hawk week? My Twitter feed is normally full of Hawk trolls running their mouths by this point in time but so far, I've heard next to nothing.
On Sunday, Iowa opened as a 14-point favorite but after a scare against Ball State, the Hawkeye Nation isn't exactly oozing with confidence.
At 0-2, Iowa State fans are even less confident.
Regardless, Saturday should be fun. Iowa State might have lost to Kansas State, but the Cy-Hawk game is at least interesting due to the fight that the Cyclones put up.