Ten thoughts on your Monday morning…
1 – Despite Saturday's 31-17 loss to Iowa, if healthy, Iowa State's defense is still a heck of a lot better than it was a year ago. That alone isn't saying much but through the first six quarters of the season, this group was actually very impressive. 
Losing Demond Tucker late in the second quarter of that game was devastating. He is the sole reason that Iowa State's new 3-4 defense works. Take him out of the equation and well – we all saw what happened.
Here's one more reason to have some optimism about Iowa State's D going forward – for really the first time in the Rhoads era, this group has been built to stop Big 12 offenses. Iowa is not a prototypical Big 12 offense.
As disappointed as I was in the offense on Saturday, I still say that the defense has vastly overachieved through the first two games of the season. Make no mistake about it though. Iowa State desperately needs a healthy Demond Tucker in the lineup.
We should learn more about Tucker's status today during Paul Rhoads' weekly press conference that is scheduled to begin at 11:30 on Cyclones.tv.
2 – Toledo, who beat Arkansas 16-12 on Saturday, opened as a 6.5-point favorite over the Cyclones on Sunday. Frankly, I was floored as to how many tweets I got from peeps who were surprised by this. 
Dudes, this Toledo team is no joke. In fact, I picked Iowa State to lose this game before the season began.
Here's a stat for you: According to ESPN's Ivan Maisel, MAC schools have won 24 games over Power 5 teams since the year 2010. In addition to Toledo, Bowling Green spanked Maryland on Saturday too.
3 – I haven't had time to go back and watch the Toledo/Arkansas game but by looking at the box score, it was a weird one. In the win, Toledo gave up 412 passing yards. Considering Iowa State's inability to run the football during the first two weeks of the season, that's an important note heading into Saturday's 7 p.m. kick (ESPNews).
4 – Here is your Cyclone Fanatic homework for the week.
It's an essay that was recently written by former Iowa State offensive coordinator and now Houston head coach, Tom Herman. Houston upset Louisville over the weekend and Herman – who many on this board wanted fired in Ames a few years ago – is now one of the single hottest names in the world of college football. 
Here are two of my favorite excerpts. The one about social media – for years – has been my sharpest criticism of the Rhoads regime in Ames.  

And this one – well – is just awesome.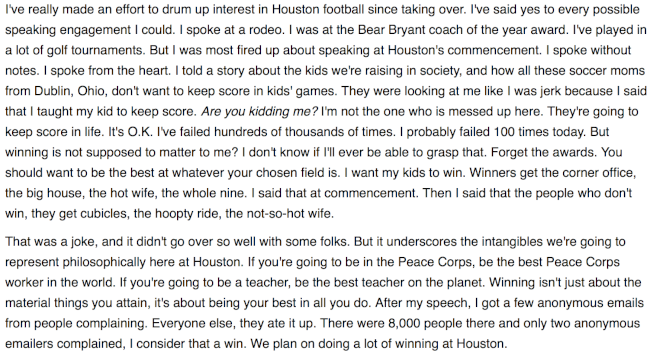 5 – Last week, I was blessed to represent Cyclone Fanatic on WHO-TV's "RVTV" event that covered five towns in our awesome state. I'm dog-tired today, but can honestly say that was one of the coolest experiences of my life. Clones and Hawks, I was blessed to meet so many awesome people last week. For those of you who came out to say hi in Greenfield, Carroll, Humboldt, Webster City and Ames, thank you very much. 
BELOW: Our "RVTV" stop in Greenfield.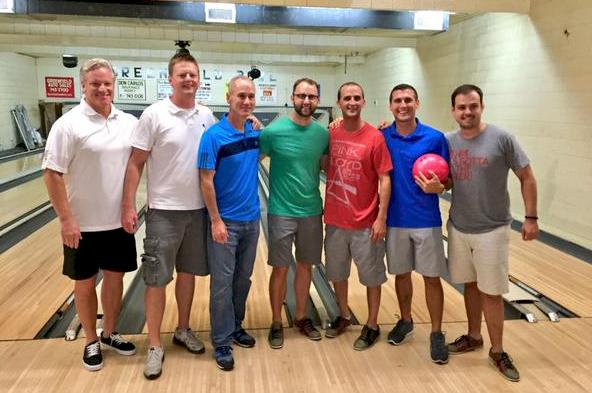 6 – On a no-so positive note, it looks like third-year Texas athletics director Steve Patterson could be on the verge of getting fired. That's what Chip Brown from Scout.com is reporting today at least.
Should that go down, it'd just be another wrinkle in the question on if Charlie Strong will be roaming the sidelines next season. My guess is no and that a fella named Nick Saban will be in his place.
7 – Thinking about Demond Tucker's ankle injury, it sure would be nice to have Devlyn Cousins on the roster right about now, no?
8 – My Big 12 power rankings through two weeks of the season: 1) Oklahoma, 2) TCU, 3) Baylor, 4) Oklahoma State, 5) West Virginia, 6) Kansas State, 7) Texas (I guess), 8), Texas Tech, 9) Iowa State, 10) Kansas.
Oklahoma's win at Tennessee was convincing to me that right now, the Sooners are the best team in the conference. Despite being 2-0, Baylor has been underwhelming against two awful opponents. TCU's entire defense seems to be hurt. Honestly, five through 10 in the Big 12 really doesn't appear to be that good this year. There are wins out there for Iowa State – I truly believe that. 
9 – What a day for Iowa State birthdays: Sept. 14 belongs to Cyclone Fanatic columnist Brent Blum, Jameel McKay and the great Troy Davis. 
10 – Oh by the way … If you guys see me looking odd for the next few months, it's because I'm a man of my word. On last Friday's installment of "Sports Fanatics" on 1460 KXnO, my co-host Ross Peterson and I made a bet on this year's Cy-Hawk game. The loser has to shave his head and not shave his face until Dec. 1. My wife is not pleased with my stupidity.
Oh, and I also have to change my Twitter avatar to a Tiger Hawk for a week, so don't freak out when you see it.