The first week of Iowa State's fall camp is in the books.
Over the seven days, I've attended an open practice, interviewed at least half of the coaching staff and a dozen players. 
Now, it is time to empty out the notebook. Here are some raw observations from week one in quick hit form. 
Rohach better be ready
All of the praise that sophomore quarterback Sam Richardson has received over the last month or so is encouraging. At Sunday's media day, I truly believed Paul Rhoads when he said that his program is in a better position today at quarterback than it has been in any of the last four seasons.
With that being said, a Rhoads team has never gone through a 12-game season with one primary quarterback. Competition between Steele Jantz and Jared Barnett dominated the conversation in each of the past two seasons while Austen Arnaud went down with an injury in 2010. In 2009, Rhoads made sure that then-backup Jerome Tiller saw action as well.
I brought this trend up to offensive coordinator Courtney Messingham after Monday's camp opener.
"That's why I think it is very important to have great competition all of the time," Messingham said. "It's very important for Grant to realize that he has got to stay urgent. He has got to stay on edge because you are one play away." 
Messingham didn't need a hack-blogger to point out the obvious to him. He knows this from first-hand experience.
"A few years back, I was coaching at another school and we had two guys get hurt," Messingham said. "Our third-string guy started and broke his leg on the third play of the game. All of the sudden you are at your fourth quarterback. We're talking just a starter and a backup right here. We need to make sure that our backup feels like he is truly just one play away."
So as good as Richardson has looked, history shows us that Iowa State will play another quarterback for one reason or another in 2013.
Another reason for concern…Did you watch Richardson run in the last three games of 2012? The sophomore ran the football, a lot. He told me last Monday that he intends to do the same this season. 
I'm not trying to stir up any controversy here. It's clear that Richardson is the guy and for good reason, he's owned the majority of the quarterback conversation this summer.
However, history shows us that Grant Rohach (pictured below) better be ready.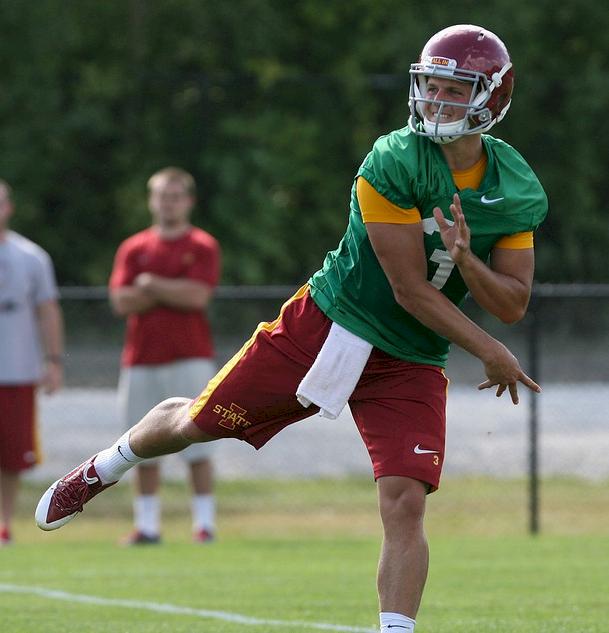 Group I'm encouraged by for the future
Iowa State has some impressive young talent at wide receiver.
Quenton Bundrage just might have the talent to be one of the Big 12's top receivers during his upperclassmen years in Ames. Heck, he might be that guy in 2013, depending on how often Iowa State gets him the football, of course. 
The guy I keep hearing more and more about though is Dondre Daley. At 6-foot-1, 191 pounds, Daley appears to be in the exact same position that Bundrage was a season ago. The talent is obviously there and Rhoads noted that during his press conference on Sunday.
Having said that, I'm not expecting Daley to be one of Iowa State's top targets this fall. There are guys ahead of him on the depth chart who he'd have to jump. But looking ahead, a 2014 receiving group of Bundrage, Daley and Allen Lazard could be scary-good, and that's not even mentioning others who have shown early promise, like Tad Ecby, P.J. Harris and the specialist veteran Jarvis West.
For the first four years of the Rhoads era, wide receiver has been a glaring weakness within this program. Going forward, it could be its biggest strength. 
Early rumblings…
…Say that Iowa State's offensive line is vastly improved from that of a year ago.
To me, it was telling when last week, junior center Tom Farniok said that the group doesn't even study film from a year ago because the schemes are so different. 
Regarding the starting combination for Aug. 31, I'm high on Brock Dagel but think it will be best for the team if Jacob Gannon can play tackle. That's his natural spot and I feel like the Cyclones might have a few more options to split snaps at guard than the tackle spot.
However, Ethan Tuftee's durability is always a concern so chances are, Gannon will play multiple positions this fall regardless of how Iowa State rolls out against UNI.
Another reason to be optimistic about Iowa State's offensive line comes straight from the mouth of Paul Rhoads regarding a guy I've already mentioned, Tom Farniok. 
"It strange to say but Tom is a guy who could be one of our most improved players at the end of this season," Rhoads said on Sunday. "Not that he underachieved, but there was a lot more physically that he could get out of himself. I think we are getting that right now. Part of that probably is that he is a year older and sees that picture and I think Chris (Klenakis) is pushing him to do that." 
Early last week, Farniok told the media that he is now up to 295 pounds. He started as a redshirt freshman two years ago at 270 pounds. 
…Say that junior defensive end Cory Morrissey has been impressive throughout week one. My assumption heading into camp was that David Irving would win that spot but now, I'm not so sure. It probably won't matter though for week one, depending on what kind of a decision Rhoads makes with Willie Scott's status.
…Say that even though he will not play as a true freshman, Jake Campos has made his mark on the offensive line. He'll be a good one with a chance to be a four-year starter at tackle.
…Say that defensive tackle Brandon Jensen could be a surprise to the casual fan this season. I found this quote from defensive tackles coach Shane Burnham especially encouraging last Wednesday:
"Brandon is farther along than Jake McDonough was at the same point in his career," Burnham said. "He's played more football. He's got a little more athletic ability. I've been really pleased. He's got that nasty side that I kind of always talk about." 
JOTTINGS
— Rhoads has noted that there is an open kicker competition going on right now between senior Edwin Arceo and redshirt freshman Cole Netten. While I'm sure that is the case, I find it hard to believe that Netten will win the job in the fall. Now seeing his way onto the field should Arceo struggle early is a whole different story. That is a very real possibility.
—Rodney Coe has the body of an NFL defensive lineman. Now let's see how he does on Saturdays this fall.
— Just imagine how good that defensive line could potentially be if Coe and David Irving both clicked this season…
— That's a pretty big if.
— Keep checking out CF all week long for more on the 2013 Cyclones and fall camp updates.