Chris Williams' game previews and predictions are proudly brought to you by our friends at Fareway. 
What: Iowa State (0-1) vs. Iowa (1-1)
When: Saturday, Sept. 14 at 5 p.m.
Where: Jack Trice Stadium
TV: Fox Sports 1
Iowa lost its season opener to a MAC team (a good one, which is worth noting). Iowa State lost its season opener to an FCS team (a good one, but Big 12 programs should never lose to FCS programs). You would think that under this scenario, a little bit of impetus would be sucked out of the 2013 Cy-Hawk game right?
That is anything but the case leading up to Saturday. When it comes to postseason fate, this actually might be one of the more important Cy-Hawk games ever. If Iowa State starts the season at 0-2, it's hard to imagine any sort of a scenario in which the Cyclones could rattle off five wins in the Big 12. Iowa's lackluster Big Ten schedule would still give the Hawkeyes a chance to get to six, but climbing out of a 1-2 hole would be tricky.
Fans certainly won't see two top 25 teams go at it on Saturday night, but that won't dilute a sold out Jack Trice Stadium atmosphere at all.
For Iowa State, this is as close to a must win as you can get for being the second game of the season (if the goal is playing in the postseason). The Hawkeyes are nearly in the same boat.
Here's your preview. 
The Hawkeyes will win if…
You don't have to be Urban Meyer to come to this simple conclusion after watching Iowa State's 28-20 loss to UNI. The Cyclones struggled, no, the Cyclones could not stop the run. UNI's David Johnson looked like Reggie Bush while accumulating 199 yards on the ground on only 21 carries.
Offensively, Iowa's strength is its mammoth offensive line. The Hawkeyes also boast a mammoth running back in big Mark Weisman.
Without question, this is the most important match-up to discuss heading into Saturday. It's a match-up that has had the full attention of Iowa State head coach Paul Rhoads throughout the off week.
"They (Iowa) ran what we refer to as a weak-zone lead, which is an isolation play (against Missouri State)," Rhoads said. "One fullback leading through a gap on a linebacker and just pushed up with the o-line trying not to let the other linebacker get there. The line-of-scrimmage moved forward four yards. That's great push. That's a group that knows how to finish blocks and physically can do it. This is a very impressive offensive line."
Make no mistake about it. If Iowa State's defensive line shows up and plays the way that it did in week one, Iowa will win this football game. Since Rhoads arrived in Ames, the team that ran for the most yards has won this football game. 
Iowa's line is solid, but Weisman is no slouch. The 236-pound bulldozer tallied up 180 yards last week in a 28-14 win over Missouri State. He's obviously a different style of runner in comparison to UNI's Johnson, but is still very effective.
"There's not as many moves that you're dealing with when it comes to tackling," Rhoads said. "He does that to just under 200 yards a game so obviously it is a good thing and a very successful thing for him and them but you better be strong and you better be aggressive and you better be ready to tackle as a group if you are going to have success against him."
Iowa's passing attack, led by sophomore quarterback Jake Rudock who has never started a game on the road, hardly puts fear into the mind of a defensive coordinator. It's that running game that is impressive. If Iowa gets it going, the Hawkeyes will take the hardware back to Iowa City until next September. 
Quotable
Paul Rhoads scouts Iowa's sophomore quarterback Jake Rudock…
"He threw a ball from far-hash to sideline that looked like an RG3 ball. My son was watching that game last night and said, 'Man, that was a line drive.' That's the kind of ball that he threw in that game against Missouri State on Saturday. He sprints out. He throws the ball on the run well. He sprints out and makes a decision to go and run away from people and drops his shoulder to run through people. This is a guy that is not playing like a first-year starter and a young quarterback. He plays composed beyond his years."
The Cyclones will win if…
Nothing sucks the life out of a defense, or even an entire football team for that matter, like awful tackling. Just use last Saturday's BYU victory over Texas as an example. The Longhorns were whiffing up and down the field, which eventually led to an embarrassing loss and the firing of defensive coordinator Manny Diaz. 
Iowa State's season opener wasn't that bad, but the Cyclones sure did miss a lot of tackles in the open field. As we've already covered, the Hawkeyes clearly hold an advantage (on paper) when stacking up that offensive line with Iowa State's defensive front four. Because of that, the play of Iowa State's linebackers might be the most important position group to consider on the field heading into Saturday.
The new-age Cyclone linebackers are smaller than the Knott-Klein combo of the past. How will they handle tackling a back like Weisman and also, defending Iowa's top threat in the passing game, tight end C.J. Fiedorowicz?
According to Rhoads, it all begins with gap control.
"There are only so many gaps on a football field, a gap being the space in between two offensive players. You have to be in that space," Rhoads said. "We're working hard to make sure everybody is in one of those gaps."
Then comes tackling…
"It is the most important thing that you do defensively is tackling," Rhoads said. "On two particular touchdowns during the UNI game, we had eight missed tackles. Eight missed tackles on two particular plays for 62 total yards of offense. You can't do that and play good defense."
So much attention is being paid to Iowa State's defensive front-seven, and rightfully so. But consistent offensive production might even be more important. After all, the best defense is one that is rarely on the field. That is the best way to make Iowa's running game irrelevant.
Iowa will likely get its rushing yards on Saturday and that's okay. It just can't be as easy for the Hawkeyes as it was for UNI.
Quotable
Iowa State linebacker Luke Knott on stopping Iowa's run…
"You've got to be physical and you've got to be fast. At the same time, you've got to know where you're going. Everybody has a responsibility on the defense. You have to fit your gap. Not necessarily are you going to make every play out there but you've got to be in a position to help somebody else make a play."
Below: Luke Knott will start the first game of his career on Saturday night.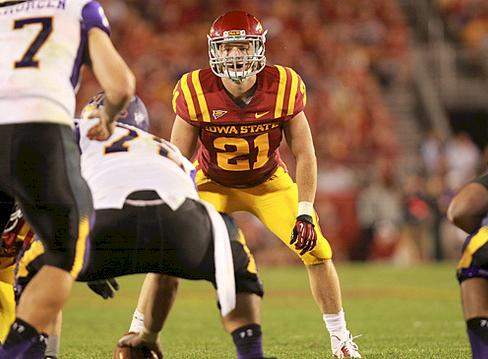 Three key storylines to watch for…
Sam Richardson's health – He was in a boot during the bye week for "precautionary reasons," according to Rhoads. We haven't seen or heard from Richardson all week leading up to the big game. Is he 100 percent? All indications point to yes but until we see him on the field, this will be a significant question.
Fast start – So much talk about Iowa's rushing attack and rightfully so. But the Hawkeyes haven't proven to be much of a threat through the air in quite some time. If Iowa State can get up early in this game, the Hawks will have no choice but to make Jake Rudock throw the football in the first road start of his career. I look for offensive coordinator Courtney Messingham to take some shots downfield early for Iowa State against an Iowa secondary that has a lot of question marks around it.
Special teams – Both of these teams have had issues finishing out drives. One can only assume that will be the case on Saturday as well. Iowa has a proven kicker in Mike Meyer. Iowa State has two shaky options at the position. Cole Netten went 2-for-2 on field goal attempts vs. UNI but it's too early in his career to have much confidence in the freshman. Sure, Iowa State wants and needs to score touchdowns when it gets in the redzone. But when it doesn't, those field goals have to go through the uprights. Missed field goals/PAT's will suck the momentum out of an offense like lousy tackling does on defense.
Notebook 
*** Iowa State will be wearing throwback uniforms on Saturday that are similar to what Jack Trice wore back in 1923. The last time that Iowa State wore throwbacks was in 2007 in a 15-13 win over Iowa.
*** Iowa leads the all-time series vs. Iowa State 39-21. Iowa State has won nine of the last 15 games and the last two.
*** Iowa State has had a 100-yard rusher in three of its last four home games vs. the Hawkeyes (Stevie Hicks in 2005, Alexander Robinson in 2009 and Shontrelle Johnson in 2011).
*** Iowa State and Iowa have played 61 times, however Saturday's game will mark only the third time in history that the schools have kicked off at 5 p.m. or later.
*** Both Iowa State's and Iowa's depth charts feature eight native Iowans.
Prediction
I see that my buddy Jon Miller over at HawkeyeNation.com picked Iowa State to win this one 24-23. That's interesting. I've spoken to a lot of people this week who work in the media all across the state. It seems like the folks who cover Iowa State think that Iowa will win. The folks who cover Iowa think Iowa State will win. The fan bases appear to be the same way. 
Full disclosure: I have no freaking clue what is going to happen on Saturday night.
On paper, Iowa should win. The Hawkeyes are better in the trenches based off of what Iowa State showed in week one, should dominate up front. But we've all been to this rodeo before. Whatever happens leading up to the Cy-Hawk game in general, means absolutely nothing.
Over the last two years, Iowa State's game plan against Iowa has been fairly simple. Stack the box, take away the run and make the Hawkeyes beat you through the air. But that was when Iowa State had Jake Knott and A.J. Klein. Over the last two years, Iowa State's defense would have fit in perfectly in the Big Ten. When at 100 percent, buckling down and stopping the run was a strength. This is a different defense, which concerns me. 
There's no doubt in my mind that Iowa State will look like an entirely different team on Saturday than it did two weeks ago. Wally Burnham's game plan will be superb and the Cyclones will play with fire. But will that be enough?
The majority of this preview has focused on Iowa State's defense shutting down Iowa's rushing attack, because I see that as the most important match-up in this game. But on both sides, execution of offense will also be key. Which team can make more big plays? Which team will turn the ball over less?
This game is truly a toss-up. I'm taking Iowa State to win but am admittedly not confident about it. If this game were being played in Iowa City, I'd go the other way. I'm picking more of a high-scoring affair than most and wouldn't be shocked to see an extra period or two, much like we saw in 2011. 
The Pick 
Iowa State 31, Iowa 28