Chris Williams' game previews and predictions are brought to you by our good friends at Fareway Food Stores. Click on the ad below for creative and tasty tailgating ideas. 
What: Iowa State (1-3, 0-1) at Texas Tech (5-0, 2-0)
When: Saturday, Oct. 12 at 11 a.m.
Where: Jones AT&T Stadium in Lubbock, Texas
TV: Fox Sports 1
When the casual college football fan thinks of Texas Tech, they think of the Air Raid offense that Mike Leach made famous. They think of passing yards, points (lots of them) and little to no defense at all.
The 2013 version of Texas Tech football features all of the above, minus that one little negative at the end. First-year head coach Kliff Kingsbury's Red Raiders enter Saturday's game vs. Iowa State as America's third-ranked passing offense (407.60 yards per game). As a whole, Texas Tech is completing 62 percent of its passes and 17.9 percent of its offensive possessions have ended in a passing touchdown so far this season.
The Red Raiders boast America's 19th ranked scoring offense (41.89 points per game) so for those out there who for some reason might be longing for the days of old school Texas Tech football, you've got it here. No worries. They are who you thought they were – high-powered, high-flying and high scoring.
But this 2013 team is so much more – through five games at least. The Red Raiders are only giving up 107.60 yards per game and 2.97 yards per rushing attempt. Its scoring defense is the eighth-best in the game at 13.80 points per game.
My analysis: Texas Tech's defense is the reason why folks in Lubbock are jubilant about a 5-0 start to the season – the offense has just been a nice bonus on the side.  
You know the saying, "This isn't your father's Iowa State?"
The same can be said for this Texas Tech team. While it is still way too early to write the book on how Kliff Kingsbury's career as a coach will go, it is safe to say that the charismatic young leader is off to as hot of a start as anyone could have ever imagined. Offensively, he is a spitting image of a young Mike Leach (for those of you who have read my writing over the years, you know how large of a compliment that is due to my admiration for Coach Leach) and he is coaching up a supremely talented Tommy Tuberville-recruited defense.
Will Paul Rhoads' Cyclones play spoiler on Saturday morning? Here's your preview.
The Red Raiders will win if…
…Texas Tech's defensive front-seven is as dominant against Iowa State as it has been vs. its first five opponents.
Over the past two weeks, Iowa State fans have witnessed a resurgence in their team's running game. Aaron Wimberly has notched two straight 100-yard rushing games – the first Cyclone (running back) to do so since Alexander Robinson in 2010. As the running game has improved, so has the offense as a whole, scoring 68 points in its last two games compared to only 41 in the first pair. That's obviously a big key to this match-up, but it is also where the Red Raiders thrive defensively.
A few noteworthy items regarding Texas Tech's defense…
— Texas Tech boasts the Big 12's top-ranked rush defense.
— Texas Tech has held its first two Big 12 opponents under 20 points for the first time since 1997. Texas Tech has only accomplished this feat twice in the history of its play in the Big 12 Conference.
— The Red Raiders rank second in the Big 12 with 14 sacks.
— The most impressive stat of all: When reaching the red-zone, opponents have only scored against this defense 54 percent of the time. The Red Raiders have only given up two red-zone touchdowns all season long.
I'm confident that the above statistics prove my point fairly clearly. This is a defense that needs to be taken very seriously by an Iowa State offense that is on the rise but is far from being a unit that fans should feel comfortable with as the calendar reaches mid-October.
The return of a Tom Farniok who is near 100 percent should help. Iowa State will also welcome guard Jamison Lalk back into the fold (he'll play sparingly) as well. That's the good news. Iowa State's offensive line is finally getting healthy at the right time. 
Quotable: Paul Rhoads on Kliff Kingsbury…
"His football team is one that plays with great calmness and poise. They went on the road and found themselves down quickly to a team (Kansas) that was playing very inspired and emotional football. They just kept doing what they do. The next thing you know, they had 50-some unanswered points in route to victory. Winning on the road is hard. It is especially hard in this league. They did it with a great sense of poise and I think that comes from the very top."
The Cyclones will win if…
…They can effectively put pressure on whoever is playing quarterback for Texas Tech and right now, that is still a mystery.
Walk-on true freshman quarterback Baker Mayfield is clearly Tech's preferred option here but he went down with a knee injury in the third quarter last Saturday vs. Kansas. Mayfield had thrown for 368 yards at the time that he went down. Mayfield notably chucked four touchdowns for 413 yards (while running for a touchdown) in Tech's 41-23 season opening win at SMU.
If Mayfield can't go, backup Davis Webb will likely be the man as Michael Brewer has sat out the entire season due to a lower back injury. Webb's resume against quality competition is sketchy to say the least. He's 36-for-70 on the season with six touchdowns to four interceptions. The most important stat is that subpar 51.4 completion percentage. Against an offensive line that features three sophomores, a junior and a senior, Iowa State's improving defensive line has a real chance to make some noise here.
"We have to shut down anyone's run game and make them one dimensional," junior defensive tackle David Irving said. "With Texas Tech, they don't have a problem with that because they do pass so much. We have to get pressure on the quarterback and slow them down. It's such a fast offense. We have to do what we can do disrupt passes."
Four Red Raiders, including Mayfield, have attempted 40 or more runs on the season. This is far from being a run-first football team, but the ground game is still an important part of Tech's offense. It's what spurred the turnaround in last weekend's win over Kansas, where Texas Tech actually trailed the Jayhawks 10-0 early in the first half.
"They are going to effectively take what you give them," Rhoads said. "It becomes a matter of having your guys lined up with enough people to stop the run when you should be stopping the run and then playing effectively to control the passing game and having enough people where they should be to stop the pass and be able to respond to the run game if they give it to you on those downs and distances."
Three key storylines to watch for…
Matching up with Jace Amaro – This 6-foot-5, 260 pound tight end (and matchup nightmare) is Mayfield's favorite target. The junior has caught a team-high 38 receptions on the year for 463 yards and a touchdown. 
"That tight end is more like a slot receiver," Iowa State safety Deon Broomfield said. "He is a big and aggressive dude."
Special teams – This could be a spot where Tech has a distinct advantage over Iowa State. Tech's kicker, Ryan Bustin, is 13-for-15 on the season in field goal attempts and has been automatic (8-for-8) from 20-29 yards. He's 4-for-5 from 30-39 and 1-2 from 40-49. So unlike Cole Netten (6-for-8 on the season), Bustin hasn't been asked to go into that "uncomfortable" range but the point is, this guy is the Big 12's best kicker so far this season. Iowa State probably wants to avoid a kicker's duel at all cost on Saturday.
Red-zone play – Something has to give here. Iowa State has been perfect in the red-zone this season, scoring on all 13 trips inside the 20 (9 TD's, 4 FG's). Meanwhile, Texas Tech has converted on 27 of its 30 trips inside the 20. Beside turnovers, this might be the most important stat to at the end of Saturday's game when determining the winner. 
BONUS – The health of Iowa State quarterback Sam Richardson, but this doesn't need to be written every week right? By now, you should all realize how tender his ankle actually is.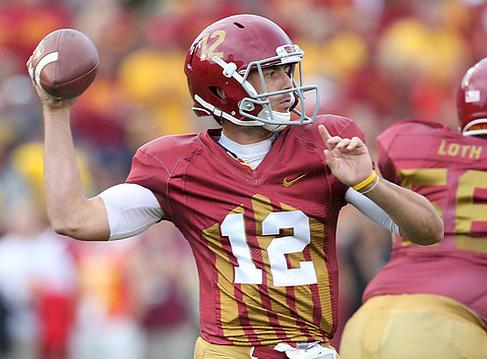 Prediction 
Across the board, Texas Tech looks better than Iowa State on paper. Toss in the intangibles of the game of football though and as I've said since Sunday, I like Iowa State to win this game. 
The Cyclones enter Saturday as a 16-point underdog after suffering one of the most painful losses in program history. Iowa State is one of four schools that has gone on the road and beaten a top-25 opponent in each of the last three seasons. 
As of now, Iowa State's offense is trending up and we've yet to see it reach its full potential. For the most part, its defense is too. The Cyclones have consistently gotten pressure on opposing quarterbacks in its last two games.
When Iowa State has pulled off these "Paul Rhoads Specials" over the years, the scenarios have been similar to this one. On paper, Iowa State didn't have much of a chance at all. But for those who follow the program closely, they saw signs of everything coming together on one Saturday.
This is when Paul Rhoads is at his best. The Cyclones have gotten past that slump they were in to start the season. Iowa State should at the very least be 2-2 right now.
Texas Tech's injury issue at quarterback is impossible to ignore and here's why I think that the Red Raiders are ripe for an upset. Texas Tech put up 500 yards of total offense or more in games vs. Stephen F. Austin, Texas State and Kansas. The Red Raiders accumulated 461 against SMU. Against TCU on Sept. 12, the Red Raiders struggled, tabulating only 336 yards while turning the football over three times along the way. It's also notable that TCU's hapless offense actually outgained Texas Tech in that game. 
This is an offense that has done it should do vs. lesser opponents but against a legit defense, has only proven to be average so far this season. 
For all of the reasons mentioned above, I'm calling for this year's "upset special" on Saturday in Lubbock.
The pick
Iowa State 30, Texas Tech 27