How will ISU use its running backs vs. Iowa?
Against UNI, three Iowa State running backs received five carries or more but none more than eight. Aaron Wimberly, James White and Shontrelle Johnson averaged 4.4, 4.9 and 4.4 yards per carry in those attempts.
When you look at Iowa State's depth chart at running back, you see a bunch of "ors." That didn't change a bit from game one to game two. Why?
"Until somebody steps forward and takes the job, there should be ors," offensive coordinator Courtney Messingham said. "The thing that they all have to do is they all have to understand that when they get their opportunity, they need to make plays."
In defense of the running backs, I can only assume (believe it or not but I was never a Big 12 running back; shocking huh?) that can be a difficult thing to do if you never receive enough carries to get into any sort of a groove. Having said that, Messingham has been very clear about what he is looking for from the group. The expectations have been set. 
"As a tailback, getting tackled in space one-on-one means that you didn't make that play," Messingham said. "Your quarterback can't have the longest runs on any given game. It's going to happen at times but in general, your quarterback shouldn't have your longest runs."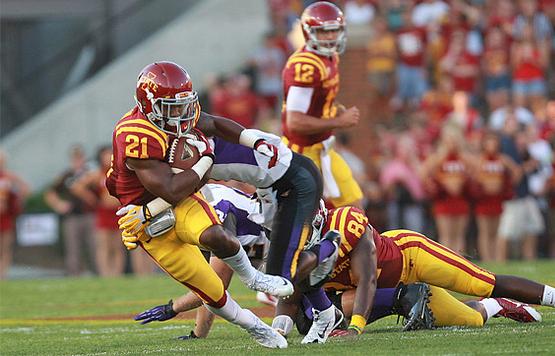 That is exactly what happened vs. UNI. Sophomore quarterback Sam Richardson ran the ball 21 times for 74 yards. His 24-yard scamper was the longest of the game for Iowa State. Wimberly and Johnson each recorded 10-yard carries to top the running backs.
Fact: Iowa State's offensive line needs to play drastically better against Iowa than it did vs. UNI if the Cyclones are going to stand a chance. But…
"When you see those highlights on ESPN, you see those running backs making people miss, running through arm tackles, finishing, exploding through a hole and not letting a safety tackle you one-on-one or a corner tackle you," Messingham said. "Those are the guys who are getting their highlights on TV. We need to put ourselves in that position where our highlights are on there."
During the bye week, a challenge was clearly issued to Iowa State's deep crop of running backs. Their job is to make defenders miss and whoever does that the will likely be Iowa State's "primary" running back in the future.
Why not offer this kid?
I'm no Mel Kiper Jr. But even so, after watching UNI's 28-20 win over the Cyclones in week one, I can't help but wonder why Iowa State hasn't offered a kid like Rico Gafford of Dowling Catholic in West Des Moines?
He's only 5-foot-9, but that sure hasn't kept Iowa State from offering defensive backs of that size from Florida or Texas over the years. Gafford, who Rivals.com lists as an "athlete," currently doesn't have any BCS offers. The recruiting website lists one offer for him: UNI.
Gafford's clutch performance in Dowling Catholic's week two win vs. West Des Moines Valley is what got this topic on my mind. If you watched ABC 5's Friday Night Blitz, his play dominated the highlights.
Will Rico Gafford be the next Ellis Hobbs?
I have no clue.
But if you're going to roll the dice on a guy, why not give the Iowan a shot? If not, he'll probably end up at UNI, and we all know what those games have been like over the last two years.
For the record, Gafford camped at Iowa State over the summer. Dowling Catholic will travel to Ankeny on Friday night. 
The picks are in…
My predictions for the upcoming Big 12 football weekend…
No. 24 TCU @ Texas Tech (Thursday) – The Horned Frogs opened as a six-point favorite but that number has shrunk to three. Kliff Kingsbury's young quarterback, Baker Mayfield, has been a media darling over the first two weeks of the season (and rightfully so) but he's never seen a defense like the one Gary Patterson will bring into Lubbock this evening. TCU scores a defensive touchdown and escapes a dangerous early road game. TCU 27, Texas Tech 23
Georgia State @ West Virginia – A fading Dana Holgerson will run up the score here if possible. Key words, if possible. West Virginia 49, Georgia State 13
Tulsa @ No. 14 Oklahoma – A tricky game to pick against the 24.5 point spread. When I saw this number open at 28, my mind immediately screamed to take the points. But Tulsa recently gave up 233 yards on the ground to Bowling Green? The Golden Hurricane will see a large dose of the "Belldozer" and the Sooners should win comfortably. But they won't cover. Oklahoma 27, Tulsa 7
UMass @ Kansas State – Nice non-con schedule SnyderCats. Kansas State 40, UMass 7
Kansas @ Rice – An insanely important non-conference game for Charlie Weis, who needs to build some confidence up within his program. Ain't happening on Saturday though. Rice 24, Kansas 20
Lamar @ No. 12 Oklahoma State – Oklahoma State 99, Lamar 3
No. 25 Ole Miss @ Texas – The trickiest Big 12 game to pick (other than Iowa State/Iowa) this weekend. After giving up over 500 yards to BYU and firing defensive coordinator Manny Diaz over the weekend, how will Mack Brown's Longhorns respond? Conventional wisdom says to pick the decent SEC team in this one, but part of me wants to give Texas one last chance. But then again, why the heck should I? They've fooled us time and time again over the last two seasons. Not anymore. I'm over you Texas. Ole Miss 38, Texas 24
Iowa @ Iowa State – Stay tuned for my preview this afternoon.