AMES — It wasn't horrible, but Paul Rhoads wasn't especially pleased with his football team's first day of hitting in preparation for the 2013 season that will kick off on Aug. 31 vs. the Northern Iowa Panthers. 
"I was not happy with the overall tempo of our practice," Rhoads told the media at the conclusion of Iowa State's third practice of the season. "Too many peaks and valleys at different position groups, different sides of the ball and so forth. There was a lot of good. There was too much not good enough mixed in with it." 
This has more to do with youth than anything. After all, Iowa State's depth chart is littered with newcomers and guys who have never played significant minutes at this level. It's a process.
"I fully expect to have a better football practice because of it," Rhoads said. "We did not have near enough attention to detail and for a team that as youthful as we are, we have to have attention to detail if we are going to have an opportunity to execute. We didn't have it today." 
Coaching up a young football team in August is a bit like parenting. Sometimes you just have to let your kids make their own mistakes.
"There is a time to teach and a time to just physically do," Rhoads said. "Right now on the practice field, we need to physically do more so than we need to stand there and teach and coach. You've got to coach on the run and get more reps, more reps, more reps."
How did Rodney Coe look in pads?
The Rodney Coe hype machine is in full effect. So how did the JuCo transfer defensive tackle perform in pads for the first time?
"I was pleased that he wasn't shy," defensive tackles coach Shane Burnham said. "It's just that we really have a steep learning curve and a short time to get him there."
A few weeks ago at the Big 12's annual media day in Dallas, Rhoads noted how important Coe's production would be to the Cyclones in 2013. Burnham reiterated that point on Wednesday evening.
"With where we are depth wise or lack of depth maybe, proven depth, and where we are with the fact that we have young depth, he is a guy who is physically mature," Burnham said. "With those JuCo guys, sometimes you get them in here and you're not sure how they will take to hard coaching, he has been great. I've been really happy with the first three days." 
How is Coe handling these expectations? 
"I like to hear that but really, I don't want to put any pressure on myself," Coe said. "I really don't want to let anyone down but at the same time, I've got that in the back of my head. I want to do as much as I can for my team and I want to help the team as much as I can and I will do everything I can to help the team out so you know, I don't want to pressure myself by having that in the back of my team and knowing that is my role on the team and knowing that is what they expect out of me."
Joel Lanning is a quarterback
Rhoads was asked if freshman Joel Lanning (pictured below, No. 7 on the right) was a quarterback. His response left little doubt as to where the Ankeny product would play in a Cyclone uniform.
"There is no question about it. He has got a cannon," Rhoads said. "He has always been recruited as a quarterback." 
Then, it was story time.
"When we had him at 7-on-7 before his senior year, he was the only quarterback out there on the field that threw a ball that cut through the wind," Rhoads said. "That's a strong-armed guy and he's done nothing to disappoint in the first three days."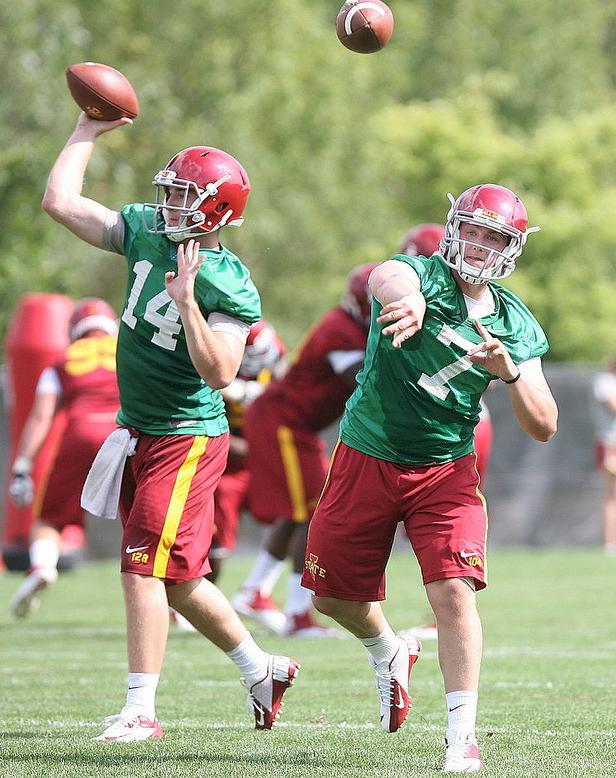 Quote of the day
 Rhoads on senior punter Kirby Van Der Kamp…
"I think that Kirby Van Der Kamp is the best punter that there is in the country."
Injury report
The Cyclones made it through day one of padded football without any injuries. However, Rhoads did note that junior offensive lineman Bob Graham would miss the 2013 season due to a disc injury. Rhoads said that Graham, who is listed as Iowa State's third-string left guard, is scheduled for surgery on Aug. 18.
"Bob Graham did not get to camp," Rhoads said. "A summer injury. Nothing that happened in the springtime or nothing he has had before." 
JOTTINGS
*** Rodney Coe is a 6-foot-3, 300-pound defensive tackle. So why in the world is he wearing No. 9 for the Cyclones?
"Really No. 9 just came from, I want to do something different," Coe said. "I knew that I had to come in and have a big impact. It's kind of that I wanted to stand out but also make a name for a different number instead of having a usual d-tackle number, some big number. No. 9 was just me going out and doing something different." 
*** I asked Rhoads when the staff could start messing around with some of the freshmen when it comes to possible position changes. His answer surprised me. 
"With the change in rules and not having the freshmen in early and not having a chance to experiment with them so to speak, they are where they are and you are getting people through the fall and getting them acclimated and getting them through the transition," Rhoads said. "That will be a semester away, a year away before you start examining that."