AMES — Better endurance and overall improvement. Those are the two things that Paul Rhoads wants to see out of his Cyclones on Saturday night when the Iowa State football team holds its second official scrimmage of fall camp. The Cyclones will kick off under the lights of Jack Trice Stadium at 7 p.m., the same time as their season opener vs. Northern Iowa on Aug. 31.
"With a decent amount of rest, I'd like to see us practice harder and longer getting closer to game shape," Rhoads said after Friday's morning practice session. "We're still not going to be anywhere close to where we need to be on the 31st but I want to be a step closer to that. Less fundamental mistakes. Simple things."
Saturday's scrimmage is closed to the public and media as well. However, Rhoads and his two coordinators will be made available to the media afterwards on Saturday night. Check out CycloneFanatic.com for complete coverage later in the evening.
Rodney Coe update
According to defensive tackles coach Shane Burnham, junior Rodney Coe recorded five tackles in last Saturday's scrimmage. 
"Rodney had a great scrimmage last Saturday with five tackles but he played terrible in my opinion," Burnham said. "But he had production. So I'm looking for better technique and the production hopefully comes with it as well."
The first two weeks of camp have served as an adjustment period for Coe, who played defensive end the past two seasons at Iowa Western Community College. On Friday morning, I asked Coe what has been the biggest surprise to him throughout the first two weeks of camp. 
"For one, just the speed," Coe said. "I always thought of JuCo as like an upper level of high school. When I came here, just the speed and reaction time. Play defensive tackles is just way more physical. You have to think more. You have to react more. You just have to be way smarter of a player to get down inside and be a good player."
The good news is that compared to two weeks ago, Coe feels like a brand new man on the football field.
"I do feel myself being in a lot better shape. That's for sure," Coe said. "Now I'm just trying to focus on like Coach Burnham always says, to push through. Your mind tells you that you are tired but your body isn't. I'm trying to push through the pain and push through the mental aspect of thinking I am tired."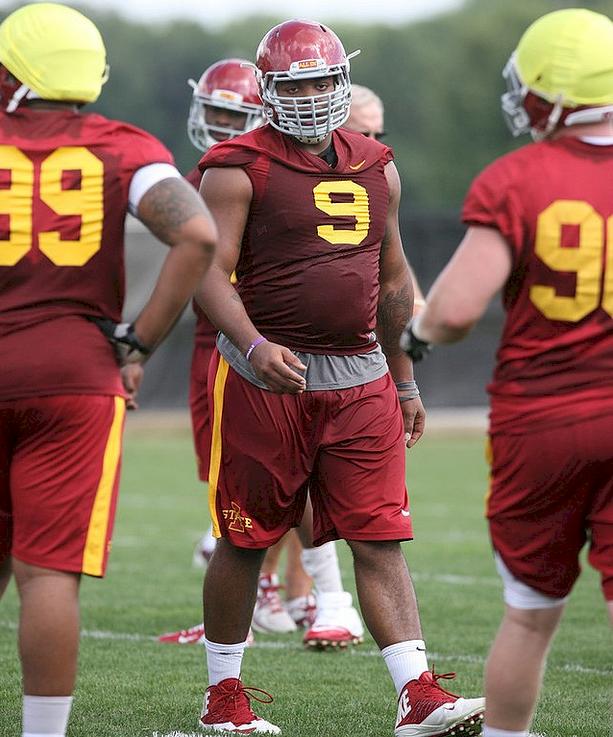 Pad level
No topic was covered more during Friday's interviews than pad-level for Iowa State's defensive tackles. Shane Burnham is borderline obsessed with it. 
"I want pad-level. That's the thing that we're still struggling with," Burnham said. "If you come off of the ball with high pads up front, you're going to have a hard time surviving."
Burnham constantly preaches two things to his group. Pad level and effort.
"You can survive playing with a bad pad level if you play hard," Burnham said. "I told my guys today that I want pad level and effort. We will coach them from there."
The good news is that on Thursday, Burnham had a little chat with Coe and David Irving, a 6-foot-7, 272-pound tackle who was recently moved inside from defensive end.
"I told David and Rodney yesterday that I thought we put two in a row together – two padded practices together," Burnham said. "I thought they improved their hands. It's still a process but we'll watch today's film and see how it went this morning. But I thought they last two days leading into today were positive and we gained some ground."
Quote of the day
Shane Burnham on fighting through the pain that is fall camp…
"I really feel like camp and the fourth quarter of the spring, you build your team. I think during camp, you build your spine and you build your character. Everybody else across the country is tired and sore too. Nobody cares. I don't care. We're out there to work. Let's work. That's it. There are days when I don't want to be out there too but guess what? I am out there. You weren't drafted here. You volunteered for this. Let's go work."
JOTTINGS
— The Des Moines Register's Randy Peterson brought up an interesting topic to Rhoads…Peterson asked the Cyclone head coach if he'd be interested in scrimmaging other teams before the season, much like basketball has done with Nebraska the past couple of years. 
"I would love to have a controlled scrimmage," Rhoads said. "You start to develop bad habits defending that same receiver and going against the same lineman. We've tried to counter that with more 1 vs. 2 and 2 vs. 1 as well as 1 vs. 1 so you get different looks, different tempo and things like that."
— I asked Burnham for an update on his two redshirt freshmen, Pierre Aka and Devlyn Cousin.
"What I'm seeing with Pierre right now is repeated mistakes," Burnham said. "I'm seeing the same mistakes. I want to see him eliminate his mistakes and move on. I'm tired of coaching the same thing with Pierre all of the time. With Devlyn, he does a good job with pad level. He comes off of the ball and has such great twitch and keeping his pads down. They've gotten better but it's just not going to happen fast enough for me."
— Rodney Coe says that for him, the key to getting better is patience.
"I'm not going to lie. There have been more than a couple of days where I found myself out there getting frustrated," Coe said. "I'm actually trying to learn the position and do all of the things that I can to help the team because I know all of the coaches are looking for me to have a big impact on the team. I try my hardest to give but I do find myself out there getting frustrated. I'm trying to be patient and not get down on myself and just stay positive."