AMES — Chances are, if you're a diehard Iowa State fan (which I assume you are if you're hanging out on this awesome website), you've had a conversation over the summer with a buddy regarding the 2013 Cyclones that went something like this.
Your buddy: Man, our running backs are going to be sweet this year. The offense needs to score more points in 2013 and I think there's a pretty decent chance they can do that. What do you think about the defense though? 
You: Yeah home slice (fine choice of wording there dude), I'm concerned about the defensive line. I mean, Walter Woods and Brandon Jensen as the defensive tackles on the two-deep? What's up with that? These guys have barley played. The guys behind them are all freshmen for the most part. This Rodney Coe guy looks the part but is a wildcard because we all know you can't trust junior college prospects right? I'm freaking out! I can't even sleep at night. HELP! 
Simmer down, bro. 
When Iowa State took the stage at the Big 12's annual media day in Dallas three weeks ago, Paul Rhoads dropped this gem on the hundreds of media members that were in attendance.
"I'd say the defensive line where we're going to have to play by committee, which is the way we've always done ‑‑ as I look at those guys, this is a group that has talent.  As we went through spring ball, we're probably the fastest, most athletic defense, if not team that we've put on the field, albeit it young.
I'd rather be coaching young talented guys than young slow guys or undersized guys.  So I think that position, where we have to replace tackles as well as ends, is a position, as the year unfolds, where we can maybe progress the quickest." 
That quote was interesting to state the obvious and it got me thinking that Rhoads must know something that the rest of us don't. Well, I would hope he does. He is the head coach after all.
When I interviewed defensive tackles coach Shane Burnham a little over a week ago, I sensed some quiet confidence about his position group. Not, "We're going to have the best line in the Big 12 confidence," but, "These guys are pretty darn talented. We'll see how they do on game day, confidence."
There is a difference. 
When Shane Burnham met the media after Iowa State's third practice of fall camp on Wednesday night, the following quote was as telling (to me) as any that I've heard all camp long regarding the 2013 Cyclones. 
"We've won games in my opinion playing with lesser talent," Burnham said. "It's just young talent. They are tough. They are eager. I'm excited about the future."
In fact, Burnham made that point twice during his five-minute interview. Let me add too that Burnham isn't a "coach speak" type of coach. Over the years, he's told it how it is time and time again. 
If you think about it, he's probably right. I mean, with all due respect, guys like Taylor Mansfield and Austin Alburtis weren't exactly what I'd call behemoths in the middle back in the day. 
That talent he's talking about has a lot to do with two redshirt freshmen, Devlyn Cousin and Pierre Aka (pictured below). 
"Devlyn Cousin is one of our strongest guys. If he plays at pad level, he can help us," Burnham said. "Pierre Aka is a big athlete. Two years from now, you guys will really think, 'He wasn't lying about these kids.' They are going to get better because they are playing earlier than anybody we've had but let me tell you, we've played around here and won games with a lot less talent inside. Now again, it's just potential and it isn't production yet."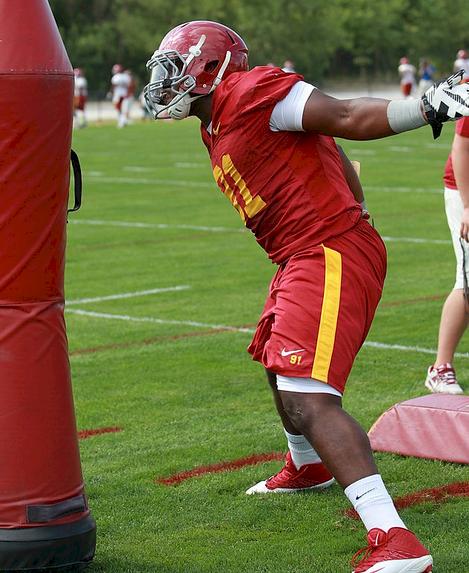 Now you obviously can't go into the Big 12 season relying on freshmen at defensive tackle. That's crazy-talk right there. This is where the upperclassmen, specifically junior Brandon Jensen come into play. He's a guy who in January, could very well be talked about as the most improved player on the roster from 2012 to 2013.
"Brandon is farther along than Jake McDonough was at the same point in his career," Burnham said. "He's played more football. He's got a little more athletic ability. I've been really pleased. He's got that nasty side that I kind of always talk about." 
Senior Walter Woods is never going to be a game changer, but he brings experience to the table. Burnham noted that he'd feel comfortable putting junior walk-on Austin Krick in the game as well.
And of course, there's Rodney Coe.
I'm not writing this blog today to build up unrealistic expectations regarding Iowa State's defensive line in 2013. I'm more writing it to provide you all with perspective as to where this quiet confidence from the coaching staff might be coming from.
It's a talented group that has hardly any experience at all. This thing could go multiple ways this fall, but it has to at the very least make a fan feel decent about the future of Iowa State's defensive line in 2014 and beyond.