With warm weather approaching, it is important to take care of your yard. Nobody does it better than A+ Lawn and Landscape. Call A+ today at 515-289-2020 and get your first treatment for FREE! A+ Lawn and Landscape is the exclusive sponsor of Cyclone Fanatic's spring football coverage.
Your guide to Saturday's Cyclone Gridiron Club Spring Game. Remember to tune into the Cyclone Fanatic/Wilson Toyota Spring Game Preview Show live from Jack Trice Stadium on Saturday from 12:45 to 1:45 on Des Moines' sports station 1460 KXNO. 
Watch this offensive unit…
Wide receivers – Because there are so many guys who we don't know much about that are going to get a ton of reps in this exhibition. Even Iowa State's No. 1 target for 2013, sophomore Quenton Bundrage, is a bit of a mystery. We saw glimpses of his talent last season but as promising young players often do, he left us all wanting more. 
From Tad Ecby to P.J. Harris to Dondre Daley, wide receiver is a giant group of mystery for the Cyclone Nation – an important mystery at that.
Year in, year out, Paul Rhoads preaches that he needs more big plays out of the offense. Other than Darius Reynolds, he's never really had a wide receiver capable of being that guy.
Is 2013 the year that this trend will change? Perhaps Saturday will give us a clue. 
Watch this defensive unit…
Linebackers – It would be easy to go with the defensive line here but spring games don't generally give much excitement to the big boys up front.
I am legitimately excited to see what Wally Burnham has in store for us at linebacker next season. Replacing Jake Knott and A.J. Klein was never going to be easy, but the trio of Jeremiah George, Jevohn Miller and Jared Brackens is confident that they will be a pleasant surprise to many. 
George could be on the verge of an All-Big 12 season. According to the coaching staff, Miller's "light" has finally come on and Brackens has been a natural at SLB after playing strong safety during his first two years on campus. 
Watch more than the just starting three though. How do redshirt freshmen Luke Knott, Darius White and Kane Seeley look? What about true freshman Alton Meeks, who graduated early just so he could participate in spring drills?
Iowa State has a lot of talent at linebacker but little to no experience. That's scary, and exciting. 
There is no doubt at all that the defensive line is the biggest question on this side of the football for next fall, but the linebackers should provide you the most enjoyment as a fan on Saturday.
Five underclassmen to watch…
Grant Rohach, Fr. QB – Who doesn't love to watch the quarterbacks? Like most signal callers, Rohach has been talked about a lot on this website. Now fans will finally get a look at No. 3.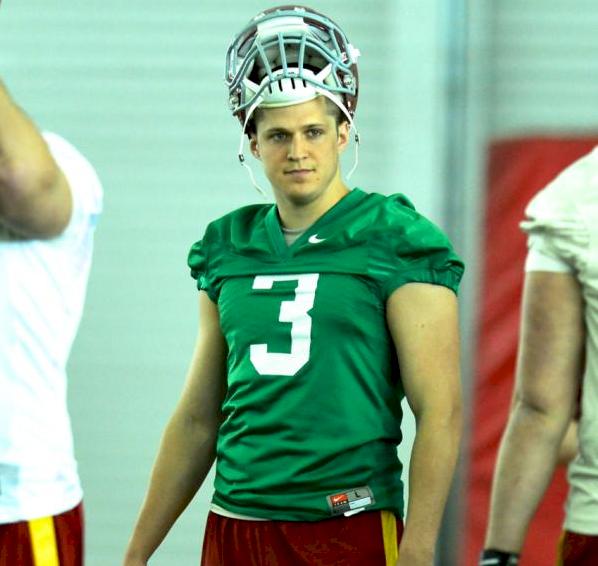 Dondre Daley, Fr. WR – Earlier this week, Rhoads pointed out that Daley has really come on towards the end of the spring. That is encouraging too when you factor in his impressive 6-foot-1, 191-pound frame. Daley is a guy the coaches have been high on since the day he stepped on campus and it shouldn't surprise anybody if he is a contributor next fall.
Charlie Rogers, Fr. CB – At 6-foot-1, 202-pounds, Rogers brings some much-needed size at cornerback to the Cyclones. Like Daley, Rogers appeared to be a good get from the day he arrived in Ames. If he grasps the mental part of the game, the thought of running Rogers out against Big 12 wide receivers isn't crazy at all.
T.J. Mutcherson, Fr. SS – Rhoads always seems to have good things to say about Mutcherson, who is often times referred to as a "football player." Playing behind senior Deon Broomfield, it is unlikely that Mutcherson will be required to see significant time with the ones this fall, but this is a guy who just might be the future in the secondary for Iowa State.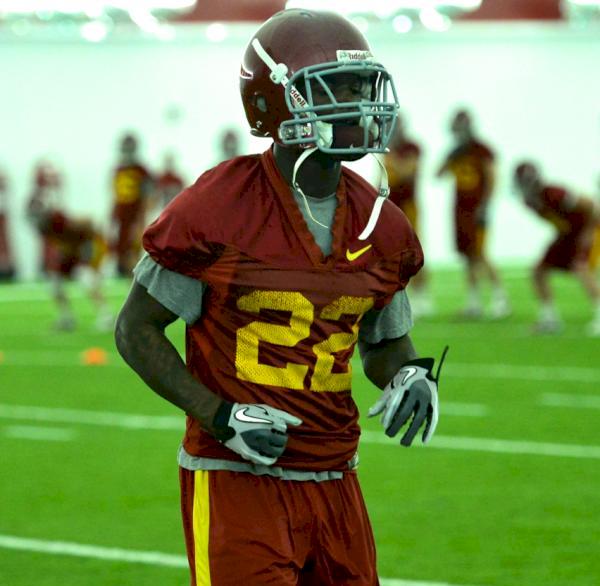 DeVondrick Nealy, So. RB – JuCo transfer Aaron Wimberly has gotten so much attention this spring, I feel like folks might be forgetting about Nealy, a guy who was highly-touted out of high school and showed flashes of being really good as a freshman. Nealy never really hit stride as a redshirt freshman due to that pink eye fiasco so I'm interested to see how he's grown during the offseason.  
Five upperclassmen to watch…
Jeff Woody, Sr. RB – He's been playing some tight end you know…
Aaron Wimberly, Jr. RB – A guy who has really been the talk of the spring. Wimberly, who won a JuCo National Championship at Iowa Western Community College last season, is one of the fastest players on Iowa State's roster. The hope is that he'll be that big play threat that Iowa State has desperately lacked over the years immediately in 2013.
Jacob Gannon, Jr. OL – Now that Shaban Dika's career has come to an end, where will Gannon take the majority of his snaps? He's played guard primarily during the first two seasons of his career but was listed as Iowa State's first string left tackle on the spring's depth chart. Will Dika's injury force Gannon back to guard or is somebody else like Jamison Lalk going to be that guy?
Cory Morrissey, Jr. DE – He's beefed up to 250 pounds. Has that "light" come on for Morrissey, who is listed as Iowa State's starting defensive end opposite of Willie Scott?
Justin Coleman, Sr. WR – This walk-on has received tons of praise from Rhoads over the last week and a half. The head coach even said that Coleman, a former UNO Maverick, would be a contributor next fall. He's supposedly had a big spring. This will be a fun guy to keep an eye on during the scrimmage. 
Other notables…
*** Of course we'll all be keeping a close eye on this "Pistol" offense…
*** How physical will redshirt freshmen defensive tackles Collin Bevins and Pierre Aka play?
*** Don't expect any two tight end sets on Saturday. Rhoads already shot that theory down due to the vast amount of injuries Iowa State has seen at that position this spring.
*** Rhoads called his kicking competition at "dead heat" on Tuesday. Will freshman Cole Netten or senior Edwin Arceo hold the edge after spring football concludes?