AMES — It is time to shift gears. It is that time of year in which we put March Madness (Iowa State basketball that is) in the rearview mirror and Iowa State spring football becomes the focus.
At 4 p.m. this afternoon, the Cyclones will unofficially kick of the 2013 Iowa State football season. Yee haw.  
Full disclosure – when I sat down to write this "five questions for spring football" column, I ran into a significant problem. I was able to come up with about 10 questions. Now don't jump to conclusions based off of that alone. By no means does the fact that there is a hole or two to fill on this roster mean that the Cyclones are doomed to go 3-9 next season.
But also realize that there are indeed significant holes to fill. Maybe that isn't a bad thing either? Maybe a handful of these underclassmen that we've never seen play before are poised to take Rhoads' program to a new level. Maybe 2013 will be a bit of a rebuilding season. Or maybe the Cyclones will finally get over that 6-6 hump.
Lots of questions – they are ample as the month of April looms. That is scary and it is also exciting at the same time.
I'll begin with the obvious…
Who is going to be the quarterback?
Your guess is as good as mine.
Sam Richardson has to be the clubhouse leader at this point but based off of Rhoads' history, I'd be surprised if he comes out and names a starter this spring. Maybe 2013 will be different though.
In three games last season, Richardson completed 58 percent of his passes and showed that he can run as well. Still, after debuting and throttling the lowly Kansas Jayhawks, awful weather and the stomach flu hindered the rookie against West Virginia and Tulsa in the Liberty Bowl.
When you consider the fact that we barley know anything about Grant Rohach, a 6-foot-1, 208-pound redshirt freshman, a wide-open quarterback competition seems imminent to me. 
Stay tuned.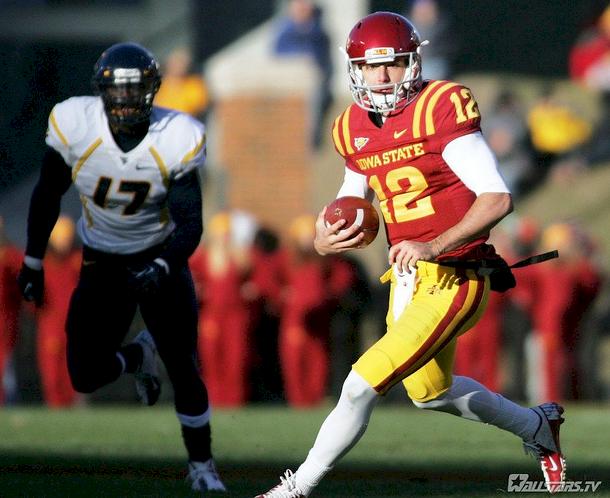 Where is the firepower?
Iowa State finished the 2012 season ranked 85th in scoring offense and with craters to fill on the opposite side of the ball this year, that absolutely cannot be the case again if the Cyclones want to go bowling for the fourth time in five years under Rhoads.
We've already established that there will likely be some sort of a competition at quarterback. But regardless of who will be taking snaps from Tom Farniok, that man has to have some weapons around him.
Iowa State had numbers at running back last season and that appears to be the case again in 2013, but not one Cyclone ran for over 600 yards during Rhoads' fourth season at the helm.
Shontrelle Johnson's health is a question that needs to be asked at today's press conference. We know that the senior had knee surgery in the offseason. Where is his health at as of today? 
For the most part, we know who Jeff Woody and James White are. Both very much serve their purpose but over the course of their careers, have not shown the ability to be true game changers. Neither has Johnson, but he has injuries as an excuse. We have still yet to see a truly healthy Shontrelle Johnson over the course of a full season while in an Iowa State uniform (other than as a true freshman when he was playing behind Alexander Robinson).
Last season, DeVondrick Nealy's (now a sophomore) game showed signs of real sexiness. Rhoads raved about him down in Memphis. We still don't know much anything about Rob Standard's future and where he fits into the program.
Along with Nealy, junior college (Iowa Western Community College) transfer Aaron Wimberly is the wildcard here and a guy I will keep a close eye on all spring. The coaches certainly seem high on him. On National Signing Day, Wimberly flirted the idea with lining up in the slot at times. At the very least, he should be an extra weapon for offensive coordinator Courtney Messingham and that is huge for an offense that has lacked them for nearly half a decade.
Wide receiver is always an interesting position come spring ball due to the fact that every roster has so many of them. Rhoads will only have two upperclassmen at this spot this spring, those men being Albert Gary (senior) and Jarvis West (junior). 
West showed some promise the second half of last season, as did soon-to-be sophomore Quenton Bundrage.
A guy I'm looking forward to seeing is redshirt freshman Dondre Daley. He could be a rookie that is ready to see some PT.
With questions at quarterback and receiver, tight end could be a position that Iowa State uses more in 2013 than we've seen recently. Ernst Brun, who tied Josh Lenz for a team-high six touchdown receptions in 2012, is back and he has help too in JuCo transfer Emmanuel Bibbs. 
Young quarterback, running struggles and questions on the offensive line make meet feel like a two tight end set here and there wouldn't be a bad thing. Bibbs can receive and block while Brun got better and better all throughout last season.
Will there be changes on the offensive line?
This happens every year but with new offensive line coach in Chris Klenakis in town, it's hard telling what changes might be made up front this year for the Cyclones. 
What will the defensive front-seven look like?
The Killer K's are a now a thing of the past. That massive security blanket known as the Jake Knott – A.J. Klein combination is taking itself to the National Football League.
It is time for Wally Burnham to start over and while I've spent the majority of this column prying into Iowa State's offense, it's the defense that really poses the most questions.
We'll dissect all of this quite a bit over the next month so I'll keep this as brief as possible.
On the defensive line, defensive end Willie Scott is the only Cyclone returning with much experience at all. David Irving, Cory Morrissey, Nick Kron, Walter Woods and Brandon Jensen all saw the field last season but I wouldn't say that any of them are proven starters in the Big 12.
Get ready for a youth movement.
Up the middle, redshirt freshmen Pierre Aka, Collin Bevins and Devlyn Cousins will all be expected to contribute in 20-13. They will have to.
A reinforcement in Rodney Coe will arrive in the fall. He could be place at either end or tackle – my guess being tackle.
The defensive line is really a bit of a crapshoot and that's okay. The bad news is that young and inexperienced guys are going to see PT in the fall. The good news is that these guys are incredibly talented and by the time they leave Iowa State, they could be thought of as some of the all-time greats to play in Ames. This group has that much potential.
At linebacker, go ahead and pencil Jeremiah George in as the leader of the group. He's a proven Big 12 player, recording 87 tackles as a junior.
Where to go from there?
Jevohn Miller is ready for his junior season. He'll be right in the thick of things to replace Jake Knott at WILL, as will Jake's little brother Luke among others. Kane Seeley and Darius White join Knott coming off of a redshirt year and true freshman Alton Meeks is on campus early and ready to play if needed.
Who will start at cornerback?
Iowa State has had lockdown corner backs in each of the last two seasons in Leonard Johnson and Jeremy Reeves. Now, both are gone but I fully expect senior Jansen Watson to carry that torch in 2013.
Who will start opposite of him though?
I don't know. 
One would expect Sam Richardson (the defensive back) or Kenneth Lynn to be that man but with the way Iowa State has been recruiting defensive backs over the last four years, who knows?
I've heard nothing but insanely good things about redshirt freshman Charlie Rogers. He will play in 2013. I'm not sure where and to what capacity, but he will play. Cliff Stokes is back for his senior year. Matthew Thomas and Damien Lawry round out the field at corner this spring.