I love this week. I've loved it all my life. When I think of "March Madness," I can't help but remember my high school days and asking to go to the restroom so I could run out to the commons and get a peak at the television to get a score update or two. Skipping class in college…Ah yes. The good ole days. 
You like hoops? If so then you love the next three weeks. It's heaven and even more importantly, this is all a heck of a lot more interesting when the Cyclones are relevant.
Iowa State enters this week's Big 12 Championship as the five-seed and of course, the Cyclones will duke it out with Oklahoma for the third time this season on Thursday at 11:30 a.m.
If you haven't noticed this yet, Iowa State is one of those "it" teams at this point in time. Not "it" in the sense that folks are picking the Cyclones as a National Title dark horse. Some might view me as a hack blogger but I'm certainly not delusional.
When I write "it team," I mean it in the sense that when you look ahead to the 2013 NCAA Tournament, there might not be a more under seeded team in the field than your Cyclones, depending on what happens down in KC of course.
Under seeded is fine and dandy, but it's also frustrating. Iowa State is in this situation due to its lack of ability to close out games this season. Should the Cyclones have held onto even half of those "what if" games and Iowa State could be looking at a four or five seed.
What if…
There's no need to play that game today though, especially with the Big 12 Championship only days away. 
What's cool about this team is the same scenario that Fred Hoiberg spelled out to us at the beginning of the season.
"This team has the ability to win every game on its schedule," said Hoiberg. "They team could also lose any game on the schedule."
November to now, more accurate words have never been spoken about this basketball team. When they are good, good night. When they are bad, good golly it can get ugly. 
As Thursday's tip approaches, the Cyclones are trending up. Iowa State has won two in a row including maybe its best win of the season and a road game to boot. Iowa State's opponent, Oklahoma, lost a head-scratching game to TCU over the weekend. Iowa State's potential game two opponent in Kansas City, KU, did the same at Baylor.
This thing is wide-open. 
More on Iowa State/Big 12 Basketball…
*** Here's a question for you…
Do you like the fact that Oklahoma and Kansas lost over the weekend or would you rather them have won those games? Or, does it even matter at all?
Personally, I think it is a wash but considering the men who coach those two programs, I'd rather those players be sky-high after wins. Do you really want to give Lon Kruger and Bill Self more reasons to motivate heading into the weekend?
Again, it probably doesn't matter though.
*** I have never, ever, covered an Iowa State victory in the Big 12 Tournament. 
Ever.
*** There is nothing more deflating to a traveling fan base than the one and done scenario – well, besides being manhandled by Tulsa in the Liberty Bowl with an 11-hour bus trip ahead of you of course.
Year in, year out, the Cyclone Nation flocks to Kansas City like cowboys to a George Strait concert. The Cyclone Nation loves Kansas City – just loves it. And year in, year out, excitement has quickly turned to gloom via a lackluster performance by the Cyclones.
Will this year be different?
For a few reasons, I have to believe it has a chance to be.
The first is that I love this match-up for Iowa State. The chances of Sam Grooms dropping 19 again on the Clones are slim-to-none. In addition to that, Iowa State's loss in Norman two weeks was probably its worst performance of the season. The Cyclones were hung-over from that Kansas debacle and while it was certainly a disappointing loss, can you really blame them?
Regardless, as I've written many a times on this site, Lon Kruger is one of the best coaches in college basketball. The Sooners will be ready with a trick or two up those crimson sleeves.
*** I think that the Big 12 nailed it by giving Oklahoma State's Marcus Smart Player of the Year honors. No doubt in my mind really. If you all told me that I had the first pick in a Big 12-only draft, I'd take Smart every time without thinking twice about it. Elite point guards who are built like that young man do not come around very often. Nor do 7-footers like Jeff Withey for that matter, but I'd still take the point guard with confidence.
*** And the individual upset of the year goes to…Baylor's Pierre Jackson not being named first team All-Big 12. What?
*** I'm pretty sure that back in October, I made some sort of hasty guarantee that Will Clyburn would end up as the Big 12's Newcomer of the Year, but who's keeping track?
Iowa State women playing for a championship
Bill Fennelly's team is in a good spot right now.
After that exciting comeback win a week ago over Oklahoma State, the Cyclones beat Kansas and Oklahoma by a combined 38 points over the weekend.
Iowa State will play Baylor in the Big 12 Championship game tonight at 7 p.m.
Let's keep it real here for a moment shall we?
The chances of Iowa State beating Baylor tonight are not high. The Bears have won 29 games in a row for crying out loud.
But…BUT…it definitely is encouraging to see Anna Prins playing so well right now. Iowa State's senior scored a career-high 32 points in yesterday's victory over the Sooners. If Iowa State is going to have any shot at all against Baylor, a big game by Prins is a must.
Despite the daunting task that is going toe-to-toe with Kim Mulkey's squad, tonight will be fun. It's always a good time when you're playing for a championship.
Matt Van Winkle and I will be hosting a little special edition Cyclone Fanatic game chat. CLICK HERE and join us during tonight's game.
THANK YOU
Last week, I changed things up a tad here on Monday Musings. I challenged the folks on this website to raise $5,000 for me to shave my head in honor of my little neighbor girl Ava, while donating to the St. Baldrick's Foundation.
You all blew me away. We raised that $5,000 in 12 hours and over $10,000 altogether. The effort and your generosity truly makes me choke up while writing this.
All in all, the event in Bondurant on Saturday night raised something like $130,000 (or more, final totals have not been added yet to my knowledge) with the help of the Lohse Family Foundation that matched everything up to $50,000.
It was a pretty awesome deal and again, thank you so much!
So yes, today, I am bald. 
Before Saturday night…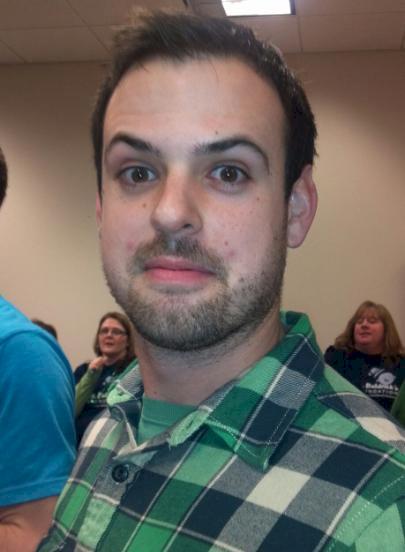 After Saturday night, with my good buddy Ava, the little girl who inspired us all to raise money for St. Baldrick's last week.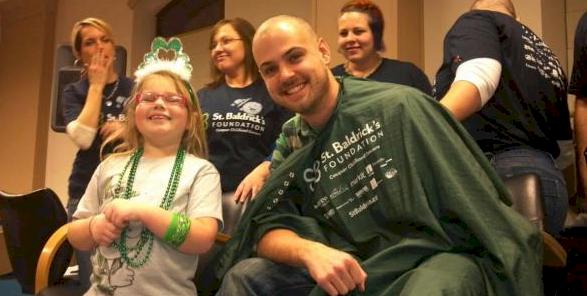 I'll see you all in Kansas City. Look me up in the Sprint Center. You won't miss the glare coming off from my head.