I woke up this morning to tweets from a group of students that camped out on the steps of Hilton Coliseum last night.
Whoooo-eeeeee.
It is Big Monday and you know what? I'm not sure this thing could set up any better for Iowa State.
Winners of three in a row, Iowa State is playing its best basketball of the season. The Cyclones followed up Wednesday's much-needed road win over Baylor by walloping lowly Texas Tech on Saturday by 20 (could have been worse). Melvin Ejim has been a mad man as of late. Korie Lucious is playing like an elite point guard in the Big 12. That Georges Niang guy is pretty good. Tyrus McGee is arguably the nation's top sixth man. Has Chris Babb ever looked better in an Iowa State uniform than he does right now? And there's always Will Clyburn, whose away-from-home disappearing acts are frustrating, but one can't deny that he's Iowa State's leading scorer, second leading rebounder and when he's "on," the team's best player. 
Those Kansas Jayhawks have some heavy hitters too. No doubt. This also sets up well from the opposition's standpoint.
Tonight's dinner partner, the ninth-ranked Jayhawks (who should be ranked higher by the start of tonight's game), bring with them all of the ingredients to avoid a Cyclone letdown (which you always fear leading up to a hyped game like this one). The high ranking is one thing (Iowa State needs another signature win to add to its NCAA Tournament resume). Kansas is on a four-game winning streak of its own, one that comes off the heels of dropping three straight to the likes of Oklahoma State, TCU (yikes) and Oklahoma.
But regardless, the Jayhawks are hotter than Kate Upton right now. Take last Wednesday's double-overtime win at Oklahoma State out of the picture and Kansas has beaten the other three opponents over this four game stretch by a combined 73 points. Kansas isn't just beating people right now. They're making dudes look horrible in the process. 
As you all know, the first two-thirds of Iowa State's Big 12 basketball season was highlighted by dominating home wins and heartbreaking (that's an understament) road losses. Road trips to Kansas, Oklahoma State, Texas Tech and Texas all stand out as nights in which if you're hanging out on this website, you probably didn't sleep very well. There are a lot of "what ifs" when you consider what has gone down with this team in 2013. It's frustrating but encouraging to a certain degree as well. Why? I promise you that I'm not crazy. Here is why.  
Because on Saturday, a new portion of the schedule began – the revenge portion. 
Iowa State took care of business without worry vs. the Red Raiders a couple of days ago and after the 20 point victory, Melvin Ejim mentioned that his team had circled the Tech game on the calendar after what was without a doubt Iowa State's most disappointing loss of 2013, a 56-51 defeat in Lubbock on Jan. 23. Immediately following that comment, like a pack of wild dogs at an abandoned campfire, the media pounced on this opportunity to hype tonight's game vs. Kansas.
It was at that point in which Ejim was asked if Kansas was circled as well. He smiled.
Of course tonight's game was circled! This game was circled the day that the schedule was released!
You know the awful taste you get in your mouth when you have the flu? That taste is likely comparable to what the Cyclones have lived with since Ben McLemore's fateful bank shot last January. Fred Hoiberg still hasn't gotten over that night. McLemore, a redshirt freshman, dropped 33 points in that contest. You think Chris Babb (Iowa State's elite defender) is cool with that?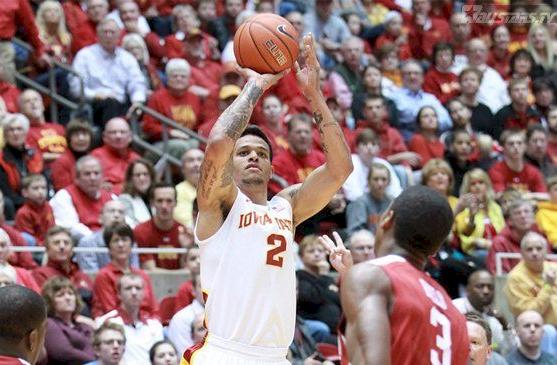 Let's move past tonight for a moment though. A road trip to Oklahoma looms on Saturday for Iowa State. Oklahoma State comes to town on March 6. So three of Iowa State's last five games are against teams it has circled due to stingers over the last two months.
It isn't like the Cyclones need extra motivation as March approaches. After all, this team has a lot to play for. But those extra reasons to focus sure don't hurt either. Take Saturday for instance – I have a hard time believing that Iowa State wins that game by 20 if it didn't lose to Tech in round one. It was a classic sandwich game but that little extra motivation just might have put Iowa State over the top.
And tonight, well tonight is huge for all sorts of reasons. It's Big Monday (Iowa State's first Big Monday appearance since 2006). It's Brent Musberger (the veteran broadcaster has never been to Hilton Coliseum). It's ESPN (da da da, da da da). It's Kansas (three National Championships, 14 Final Fours). It's a top 10 opponent. That revenge thing is going on (how many times will that shot get replayed during tonight's broadcast?)
It's Big Monday! 
It is an opportunity for Iowa State to legitimize itself as a Big 12 championship contender (regular season and tournament) while extending its 22-game home winning streak (third best in America) at the same time. 
Take a look at this photo (it was sent to me on Twitter by @Stu_hat).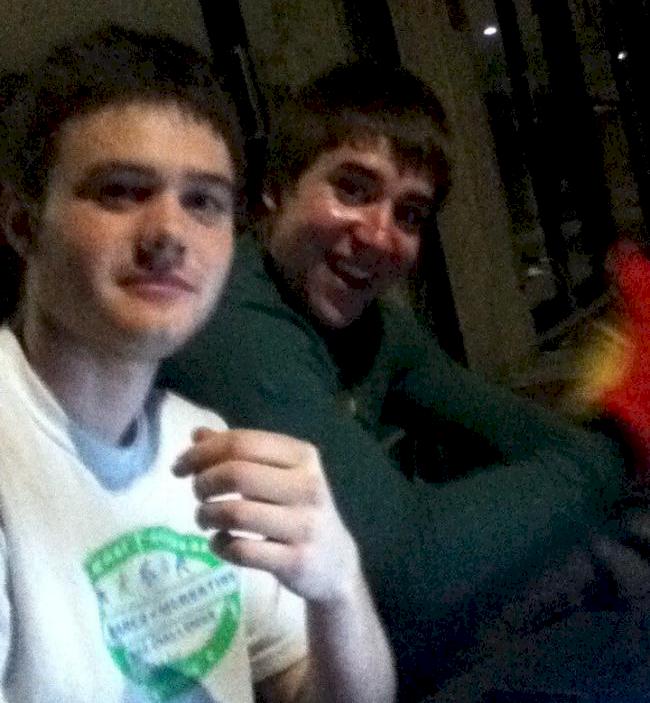 These guys slept at Hilton Coliseum last night. They want front row tickets. They are jacked up beyond belief for Big Monday in Ames. Are you? 
Beyond the hype…
Let's touch on the actual game itself shall we? 
It's a game that features the Big 12's best offense (Iowa State) vs. the Big 12's best defense (Kansas). The Jayhawks opened as a two-point favorite. KenPom.com has the same spread listed for tonight's tussle. 
When it comes to this specific Iowa State basketball team playing at Hilton Coliseum, here is the question I always ask myself before games: Can you imagine (insert team here) out-scoring the Cyclones in Hilton? All season long, my answer to that question has been no. 
Do I think that Kansas can out-score Iowa State tonight? In a shootout? No. No I don't. However, let's say that the Iowa State team that showed up against West Virginia or even Baylor (in which Iowa State went 4-for-24 from 3-point range) makes an appearance. Kansas would have won either of those basketball games in my opinion.
But if the Cyclones are rolling (like they normally do at home), you have to like Iowa State's chances tonight. 
Key to victory…
I already touched on it above. If the Cyclones are shooting well, watch out. But how can this team assure itself that it will get  open looks against the Jayhawks? Iowa State has to rebound the basketball. How do you rebound the basketball? Well for starters, Melvin Ejim HAS to stay out of foul trouble. He's the Big 12's leading rebounder and a man who has be in straight beast mode all conference season.
And the same goes for Georges Niang while we're at it. In Lawrence, Hoiberg used Niang to draw KU's Jeff Withey away from the basket. It worked. Niang can't do that if he is on the pine. Something tells me that Anthony Booker and/or Percy Gibson arne't going to do the trick you know?
To me, this is Iowa State's biggest hurdle heading into tonight's contest.