By Chris Williams, CycloneFanatic.com Publisher
Follow Chris on Twitter @ChrisMWilliams
"She's a race."
I love that expression.
That's how Paul Rhoads described his quarterback competition immediately following Saturday's spring game. Iowa State came into the spring with a three-man quarterback race. Iowa State will enter fall camp with a three-man quarterback race.
Kind of. Jared Barnett and Steele Jantz have a step up on redshirt freshman Sam Richardson, but Rhoads isn't counting anybody out just yet.
"I think we're right where we started off. Jared and Steele are clearly ahead of Sam just because of age and experience," said Rhoads. "I'm not going to say he's out of it and we'll just continue to groom him because a lot changes when you get to August. There's a difference in the sense of urgency. Even though at every position guys are competing, there's something inside that knows you're not playing until Sept. 1 that affects certain things."
So that's that. No more quarterback talk on this site until August okay? (Just kidding of course. Chat away. Our advertisers love page views.)
Quarterback isn't the only position that will host a competition when camp arrives in August though.
For instance, both defensive end starting spots appear to still be up for grabs. Senior Roosevelt Maggitt appears to have an upper hand (he rebounded from a knee injury quite well) and sophomore David Irving (below) entered the spring at the top of the depth chart, but a guy like Willie Scott playing his way into a starting role this fall isn't a crazy thought at all. After all, Scott did record 34 tackles (11th on the team) last season.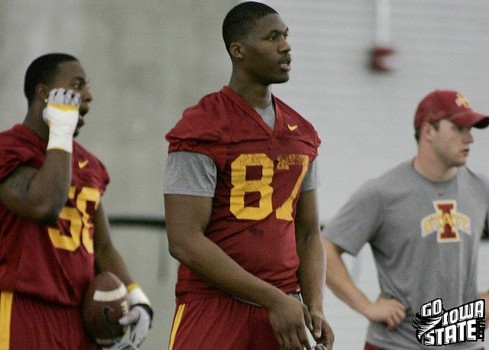 Elsewhere, junior Jeremy Reeves has one cornerback position locked up, but Jansen Watson will still have his hands full holding off the likes of Sam Richardson, Kenneth Lynn, Matthew Thomas and Clifford Stokes in the fall.
A few more questions…
— How will true freshman kicker Cole Netten react to the college game when he arrives on campus this summer? He'll have to be the guy in 2012, as Iowa State doesn't have another scholarship kicker on its roster.
— Will junior running back Shontrelle Johnson be cleared to play? If he is, will Iowa State choose to redshirt him next season?
— What will the status be of wide receiver Albert Gary, who has recently been going through some legal troubles?
More from spring football 2012…
WHAT WE LEARNED
There's never much finality when it comes to spring football, but the last three weeks did provide us with some clarity about next year. For instance…
— Jeremiah George should finally be ready to contribute to the defense. George, a 5-foot-11, 225-pound junior, recently told reporters that he learned more this spring than he did the previous two years of being in the program.
"We don't have awards in the spring. If we did, I would probably vote Jeremiah George our most improved defensive player for sure, if not our most improved player," said Rhoads. "He's always been physical. He's always been able to run. But if you're not running in the right direction, breaking down at the right time or have your eyes in the right location, you don't show up as much. He showed up."
While it's nearly impossible to imagine a scenario in which George could start next season, he'll still get reps at No. 2 behind A.J. Klein and can already be penciled in as the man for 2013 along with Jevohn Miller.
— As far as Iowa State's defense goes, it's wise to focus less on starters and more on depth. That's specifically the case at defensive end and cornerback. Regardless of who starts at those positions, Rhoads and his staff have been very clear that they will be manned by a committee in the fall. The goal is to go at least eight deep across the defensive line. Seeing four cornerbacks rotate wouldn't be much of a surprise at all.
— Entering spring ball, the battle to replace Ter'Ran Benton at strong safety was one to keep an eye on. While  sophomore Jared Brackens will likely have a shot to win the job this fall, all signs point to the fact that senior Durrell Givens claimed as spot as the front-runner at this position over the last three weeks.
—  As a whole, Iowa State's wide receivers should be better this fall than the three previous years of Paul Rhoads' tenure in Ames. Offensive coordinator Courtney Messingham and wide receivers coach Todd Sturdy will have more weapons to choose from at least.
"Those three freshmen receivers, (Tad) Ecby, (Quenton) Bundrage and (Ja'Quarius) Daniels will all be seeing playing time next fall. They are all good targets to find," said Rhoads. "That group has really progressed under Todd's (Sturdy) leadership and under the development of the program by getting them in here and getting them more numbers."
Heading into the spring, nobody really knew how Jerome Tiller (below) will do at wide receiver. After three weeks of practice, the former quarterback's stock is up.
"The one thing that he really showed us is that if he can leverage a defensive player, with his long arms and his long levers, he catches the ball well enough, he can make football plays for us," said Rhoads. "He does not have the athleticism that a number of our other receivers do. He is not going to create a lot of separation so we have to create that separation for him and he's got to do it by leveraging bodies off of him. He has proven for us in about the last five practices that he can be a contributing player for us."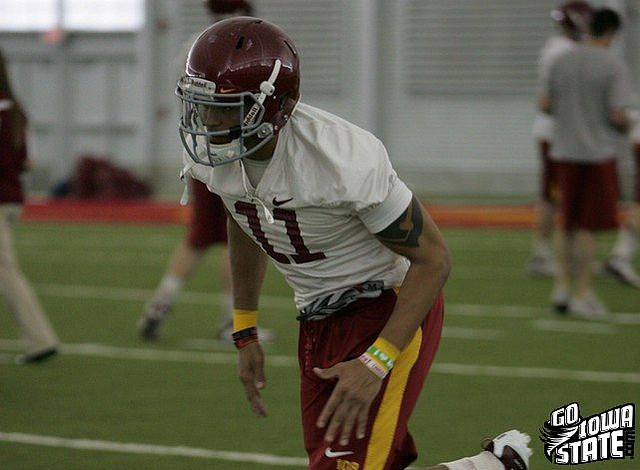 — In a non-newcomer wide receiver note, I've been told multiple times that senior wide receiver Josh Lenz just wrapped up the best spring of his career.
— Running backs coach Kenith Pope said a few times this spring that he feels like he can win with five guys next fall.