What: Iowa State (1-0) @ Iowa (1-0)
When: Saturday, Sept. 8 at 2:30 p.m. 
Where: Kinnick Stadium in Iowa City
TV/Radio: Big Ten Network – The Cyclone Radio Network
"In Jantz we trust."
"Man of Steele."
"Super Man."
Steele Jantz earned more nicknames in three weeks last year than most athletes do in a lifetime.
"Houdini" Jantz, as our football writer Ian Smith nicknamed the California kid, was a bit of a wildcard during his rookie campaign. He'd make you want to rip your hair out one moment and 10 minutes later, you'd slap hands with a buddy not believing the play that No. 2 just made.
2011 didn't end the way that Jantz wanted it to though. After showing so much potential early on, Jantz injured his foot in the third game of the season at UConn, struggled for weeks without much mobility at all and was eventually benched in place of then redshirt freshman Jared Barnett.
It all worked out though. Jantz got healthy. Iowa State went bowling. Jantz re-won the job this fall and the Cyclones are 1-0 heading into this weekend's tussle with the Iowa Hawkeyes.
It was last year's Iowa game where the legend of Steele really got its footing.
Jantz's 279 yards and four touchdowns in a triple-overtime victory wasn't what I'd call "legendary." In fact, his career as a whole has been far from it. But the guy has produced a handful of legendary moments in only a few starts. 
"It was like his highlight reel," said Iowa head coach Kirk Ferentz of Jantz earlier this week. 
Jantz has a knack for findind the spotlight. Last season he was like the character Ricky Bobby from Will Ferrell's "Talladega Nights" movie.
"If you ain't first, you're last."
Checkers or wreckers baby!
Fast forward to 2012. In a 38-23 week one win over a good Tulsa team, Jantz threw for a career-high 281 yards and completed an impressive 71 percent of his passes. By all means, it was the best game of his career.
He looked less like Houdini though and more like a poised game manager with a bunch of upside to boot. That's the type of quarterback you need to win in a place like Kinnick Stadium. Less sporadic. More consistent. 
This week – in a game where Iowa State appears to match up well with Iowa across the board, it should be no surprise to you that Iowa State's quarterback play will be a major story in Kinnick Stadium.
Here's your complete preview.
Iowa Will Win If…
…I asked my friend Jon Miller from HawkeyeNation.com to give me his No. 1 key to a Hawkeye victory in this one.
"To stop the run between the tackles."
He's right and I'll go a step further. Iowa will win if it slows down Iowa State's running game altogether – a running game that includes its mobile quarterback Jantz, who racked up 321 yards or total offense against the Hawks last year.
"Might be a good idea if we try to keep him contained a little bit," said Ferentz. "He's a very good athlete and with their scheme it makes it tough. It's easier to say that than do it."
Running quarterbacks have traditionally given the Hawkeyes problems. However word out of Ames is that if you're expecting Jantz to zig and zag all over Kinnick Stadium this weekend like he did last year in Ames, you're wrong.
"Based on how Tulsa bottled up Steele and that teams will prepare for his scrambling ability and his escapability, that part of his game that you saw a year ago, I don't think will be there," head  coach Paul Rhoads said on Monday. "He's not going to break contain. He's not going to go out of that pocket and create the things that he did a year ago. We're going to have to execute our offense. We're going to have to execute it very well to have an opportunity to stick around in this football game."
And how will Iowa State attempt to execute its offense all season long? By running the football.
Put yourself in Phil Parker's shoes. You like your chances in this game a lot more if you're forcing Steele Jantz to beat you with his arm. Stopping the run is a major key for the Iowa Hawkeyes.
The same goes for Iowa State with Iowa quarterback James Vandenberg. Get the type of pressure on the senior that Northern Illinois did last weekend and the bus ride back to Ames might be a whole lot of fun. 
Quotable: Paul Rhoads on Iowa's 18-17 week one win over NIU
"I take away that they won. Any time that you can win a football game, you walk away pleased with the result. With a victory comes confidence. It doesn't matter if you win by 15 or if you won by one. There's a lot to teach off. There's a lot to learn coming off of the opening game. I'm sure they went back with an energized football team on Sunday and came back ready to work."
Iowa State Will Win If…
…The offense lets the game come to it.
The chances of Phil Parker drastically changing what Iowa does defensively are slim to none folks. The Hawks will do what they do. Bend but don't break…Whatever you want to call it.
"I think there are more similarities than there are differences but there certainly are wrinkles that we'll have to be prepared for and some of those wrinkles we haven't seen yet," said Rhoads of Iowa's two new coordinators, Parker and Greg Davis on the offensive side of the ball. 
We're talking defense though and as is always the case when playing Iowa, Jantz and Iowa State's offense has to be patient in a raucous environment. The Cyclones need to take what Iowa will give them. Don't force the issue. 
To put it simply, don't turn the football over. Don't let Iowa lull you into a tempo you're not comfortable with due to its conservative defensive looks.
Turnovers are key in any victory. This game won't be any different.
Quotable: Kirk Ferentz on Iowa State's offense
"They are what you guys love. They throw the ball all over the place, left, right, down the field and they have got a little option, keep it, a quarterback can throw it and keep it. He's a dangerous runner and dangerous thrower. Three backs that are very, very effective, and their line has done a nice job, too. So to me they are a lot more proficient doing it now than they were a couple years back."
Key Match-Up: Iowa State's defensive line vs. Iowa's offensive line
It's what I think is the "key" match-up for the big game and probably the most intriguing one as well. All week long, we've talked about how Iowa State went 12 deep on the defensive line vs. Tulsa.
"To see Nick Kron get a sack. To see Rony Nelson end the game with a sack. To see Cory Morrissey causing a fumble. To see Ben Durbin apply pressure on the quarterback," said Rhoads. "These are guys that are three-deep on the two-deep. To be running them out there and keeping guys fresh and see Jake McDonough do the things he was doing to Tulsa's guards and Cleyon Laing go from end to tackle. It really helps your football team make steps forward to reach another level of play."
This is become a trend within Rhoads' program. Ever since the second half of last season, we've watched Iowa State's defensive line get better as the games go on. The theory is that when you're rolling 10-12 guys out there, your team will be fresher than the opposition's offensive line late in the third and into the fourth quarter.
"We wore their offensive line down last week because we had fresh legs and we had fresh stunts," said senior linebacker A.J. Klein of his teammates up front. "We had the athleticism up front to run some twists like we have been. We got pressure and it showed so hopefully we can get more pressure this week and get some more sacks."
Iowa ran the ball fairly successfully, especially early on last week against Northern Illinois when sophomore Damon Bullock equlipsed 150 yards. That's what Iowa State's defense is expecting of the Hawkeyes early and often this week too. Iowa's offense is the opposite of a box of chocolates. You always know what you're going to get. 
"They like to run the ball and they are good at running the ball. It doesn't matter what their running back depth is," said Klein. "I know that they are going to find some talent to put back there and handle the offense. Their offensive line is still physical."
The 12-deep defensive line strategy worked last week against Tulsa. What's going to happen against a quality Big 10 line away from Jack Trice Stadium?
If the Cyclones can at the very least slow down Iowa's rushing attack, you have to like Iowa State's chances in the second layer of the defense.
Quotable: Senior linebacker Jake Knott on Iowa State's defensive line
"They are fresh every time they go out there. Every time I went out there- there was a new four in front of me. When you can do that and you have complete trust in the guys that they are going to do their job and that they will be fresh in their job it makes a huge difference and they've got an extra step on the offensive linemen that can't get rotated in like our defensive linemen."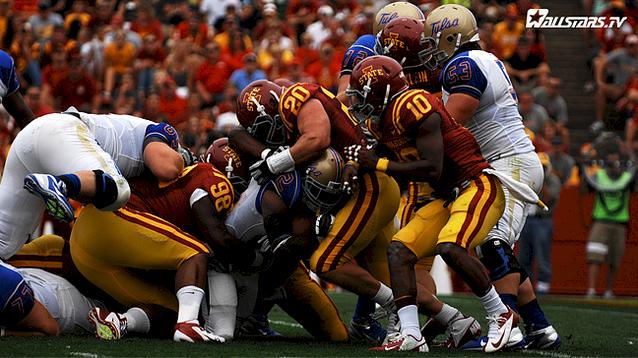 3 Keys to a Cyclone Victory:
Don't press offensively – We've already gone over this. Turnovers equal losing. Punting isn't always a bad thing. Jantz showed maturity when it comes to this key last week. Now can he do it on the road?
Tempo – Despite playing in a hostile environment, Iowa State needs to control it.
Special teams –This is more about kick coverage than it is field goals and extra points. Tulsa gained momentum midway through the first quarter last week due to blown assignments on kick coverage. Iowa State can't afford to give the Hawkeyes any cheap touchdowns in Kinnick Stadium. In a game this evenly matched, one meltdown on special teams could decide the outcome. 
Magic Number
This week's is 120. Iowa is 15-2 since the year 2010 when rushing for more than 120 yards in a football game.
More Cyclone Storylines:
*** For the most part, Iowa State is a healthy football team heading into Saturday. According to Rhoads, running back Jeff Woody (ankle) should be good to go. Besides that, there were no notable injuries that came out of the Tulsa game. All others were very minor in nature and shouldn't give the Cyclones any trouble.
*** Junior tight end Ernst Brun caught the first pass of his career last Saturday against Tulsa. It was for a touchdown. With what I expect to be a dink and dunk type of day for the Iowa State offense, dumping the football off to the tight end might be a popular move for Steele Jantz. If so, Brun or any other tight end could be a guy who has a big day for the Cyclones.
*** Nine Cyclones caught passes in Iowa State's week one victory. This will be a fun storyline to keep tabs on all season long, but will the love be spread around amongst this deep group of wide receivers? For instance, last week Albert Gary only caught one pass. Will his numbers go up this week? If so, does a guy like Chris Young (who caught seven passes last week) see his touches go down? Stay tuned.
*** James White is currently listed as Iowa State's No. 1 running back but Shontrelle Johnson was clearly the featured back last week vs. Tulsa. Johnson carried the ball 18 times to White's 10. Will that ratio stay the same or fluctuate in week two?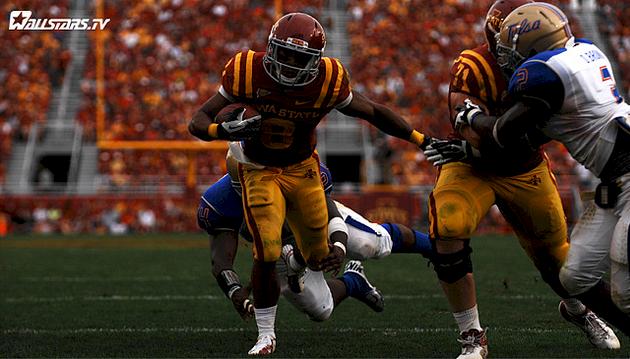 *** As is always the case at Iowa State, I'll be keeping an eye on the kicker position and junior Edwin Arceo. The walk-on didn't miss a kick last week but was inconsistent on kickoffs. By all means, Paul Rhoads has been happy with Arceo's play so far.
Notebook
*** Iowa holds a 39-20 advantage in the Cy-Hawk football game's long history. However, Iowa State has gone 8-6 vs. the Hawkeyes since 1998. Iowa State is 8-6 against Kirk Ferentz during his tenure in Iowa City. However if you flip those numbers around, Iowa has won 21 of the last 29 meetings vs. the Cyclones. Iowa is 23-12 against Iowa State in games played in Iowa City.
*** The Hawkeyes will be wearing throwback uniforms on Saturday in honor of Iowa's 1921 and 1922 teams.
*** Did you know: That Iowa State defensive back Darian Cottton has a brother who plays for Iowa, that being wide receiver Jordan Cotton? Their father, Marshall Cotton was a Hawkeye running back from 1985-87. 
PREDICTION
I hate putting so much pressure on one guy like I feel I'm doing to Jantz this weekend. It's a team game. The line has to block. Receivers have to catch balls. The defense has to keep the opposition out of the end zone.
But here's the deal. I really feel like Iowa State is the better football team heading into Saturday. It's the whole Kinnick Stadium factor you know?
If Jantz can handle that environment and be the poised game manager that he was in week one, Iowa State wins. I think that he will. 
THE PICK
Iowa State 24, Iowa 17