What: Iowa State (5-5, 2-5) @ Kansas (1-9, 0-7)
When: Saturday, Nov. 17 at 6 p.m.
Where: Memorial Stadium in Lawrence, Kan.
TV: Fox Sports Net
AMES — The last time that Kansas won a Big 12 football game was on Nov. 6, 2010 vs. the lowly Colorado Buffaloes. The last Big 12 win for Kansas vs. a team not named Colorado was on Oct. 10, 2009. That was a 41-36 triumph over the Iowa State Cyclones. 
Now I don't point this out in an attempt to bring bad memories to the surface of your deep thinking Cyclone-addicted brains. I bring this up to point out that since Oct. 10, 2009, Kansas' record vs. Big 12 opponents is 0-19. 
That's the good news if you're an Iowa State fan anticipating the Cyclones becoming bowl eligible for the third time in four years. But with most good news comes bad as well. This bad is the fact that the Jayhawks are close to getting over that hump. Damn close (pardon my English).
The combination of Kansas taking a good Texas Tech to double-overtime last week, Iowa State's anemic offense and a depleted defense has many within the Cyclone Nation extremely nervous about Saturday night's tilt and rightfully so.
Will the Cyclones take care of business and send their fan base somewhere warm for the holidays? Here's your preview.
The Jayhawks will win if…
…They keep running the football at such a blistering rate. Over the last month of the season, Charlie Weis' squad has found its identity. Kansas looked more like a service academy program than one belonging to the Big 12 Conference in that game last week, thrashing Tech's 18th ranked defense for 390 yards on the ground (the most rushing yards by a Kansas team since 1994). The Jayhawks are averaging 290 rushing yards per game in its last three contests, all losses to Texas, Baylor and the Red Raiders. With that running game comes ball control.
"They are number one I believe in time of possession at 32-plus minutes of the game," said Iowa State head coach Paul Rhoads. "We don't need to be on the field that long as a defense and we don't need to have our offense standing on the sideline and you've got to find a way to stop the run to be successful overall as a defensive football team."
Kansas running back James Sims is where it all starts. Sims currently is the Big 12's leading rusher at 125.0 yards per game. That number ranks him ninth in all of college football. It isn't all Sims either. Sophomore running back Tony Pierson actually out-gained Sims last week, racking up 202 yards including a 69-yard score. For three straight weeks, a Kansas running back has run for at least 100 yards in the first half alone. For comparison's sake only, Iowa State hasn't had a running back rush for 100 yards in a game since Shontrelle Johnson did so in week one vs. Tulsa.
The thing that's so impressive about this Kansas team, despite the 1-9 record, is the fact that it hasn't thrown in the towel on 2012. In fact, the Jayhawks appear to be showing up after every loss with more will than the week before.
"Great spirit in this football team. There has been plenty of fight and it's beyond that," said Rhoads of the Jayhawks. "It's being in football games in the fourth quarter, going to overtime and having a chance to win against quality Big 12 opponents."
Iowa State's players know this and aren't taking the Jayhawks lightly.
"It's just like another week," said sophomore center Tom Farniok. "It's not like were going to play a bad team. We're going to play a football game."
The Cyclones will win if…
…They can control the line-of-scrimmage, on both sides of the football. Iowa State is far from being a quick-strike offense. If Iowa State played football like Oregon then time of possession wouldn't be that big of a deal. But when your offense is going three and out as consistently as the Cyclones are, it's an issue. That's been the case for Iowa State the last two weeks. Texas won the time of possession battle last week 38:12 to 21:48. Oklahoma won it the week before 36:11 to 23:49. And folks wonder why the defense has been giving up so many yards.
Iowa State has shown some recent signs of improvement in its offensive running game. The Cyclones ran for 144 yards against Texas last week and that number could have been much higher had Iowa State not gotten down so early in the game. 
LINK: An in-depth breakdown of Saturday's game via the Cyclone Fanatic Call-In Show Podcast.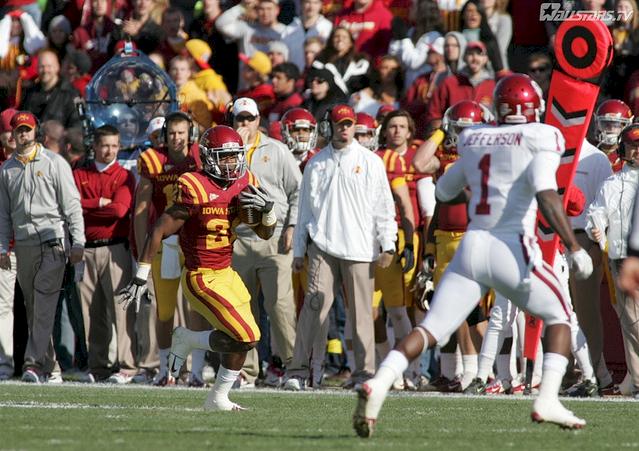 Key Match-Up: Iowa State's defensive line vs. Kansas' offensive line
The Jayhawks are as one-dimensional as they come. We've already covered that Kansas ran for 390 yards last week against Texas Tech. In that same game, freshman quarterback Michael Cummings completed only 6 of his 15 pass attempts for 29 yards. The point is, you know what Kansas is going to do. Run the football. Then they'll run it some more. And more. And more.
Look for Iowa State to stack the box and play more of its 4-3 defense vs. the Jayhawks. With Jake Knott being out, we can talk linebackers all we want. But against a good Kansas offensive line, the play of Iowa State's defensive line could be the difference in a win or a loss for the Cyclones.
Three Keys to a Cyclone Victory:
1 – Block out the atmosphere
This always scares me about road trips to Kansas. The place is more like a morgue than it is a football stadium. I'm expecting a great turnout of Iowa State fans in Lawrence. Our Cyclone Fanatic charter is taking three sold out busses down. But a handful of former players have told me about how shockingly sleepy it is to play inside of Kansas' Memorial Stadium. It's a factor that Iowa State will need to overcome on Saturday night.
2 – Run the football/time of possession 
As we've already covered, the two go together. These are both strengths of the Jayhawks and weaknesses of the Cyclones.
3 – Consistent QB play
Steele Jantz wasn't perfect in his last two games. The Oklahoma game was probably better than last week's trip to Texas. But at least he's trimmed the turnovers down. If Iowa State's signal caller can play a smart football game on Saturday night, I like the Cyclones to arrive back in Ames bowl eligible.
4 – Third down
I'm changing the game. Four keys to victory this week…
Texas and Oklahoma combined to go 17-for-28 on third down the last two weeks. By comparison, Iowa State went 8-for-26. 
Prediction
You know it's funny. All season long, I've been the guy preaching how dangerous of a game this is for Iowa State. Now don't get me wrong – I still feel that way. Rhoads even referred to the Jayhawks as "dangerous" earlier in the week. But I have a theory on this football game. I could be way off but here is what my gut is telling me. 
If you take the Jake Knott's and Josh Lenz's out of the lineup, it makes it very tough for Iowa State to compete with the talent that an Oklahoma and Texas bring to the table. When you throw in the loss of a Jansen Watson, James White not being 100 percent and other dings all over the depth chart, the task gets even taller. 
We've seen signs of progres over the last few weeks though. Iowa State's running game has slowly but surely improved. Jantz has cut down on the turnovers. We're in mid-November and Iowa State's defense has still held every opponent on the season to fewer points than it was averaging going into the game. 
We can all agree that Iowa State's offense will have to be better to win this one on Saturday night correct? What I see in Kansas is a defense that reminds me more of the Baylor's of the world than Oklahoma or Texas. The last few week's were far from being a level playing field in the talent department. 
I see Iowa State having a bit of a breakout game on the ground and winning this one by 10. 
The Pick
Iowa State 27, Kansas 17