There seems to be a different dynamic within this year's pick'em group.
Everybody appears to be a little more on the chippy side. This competition no longer appears to be friendly. It's not really personal, but the boys want to win this thing – specifically ABC 5 Sports Director Dave Zawilinski.
"Z" is like CM Punk's current character in the WWE. He is demanding respect. Maybe he'll actually earn respect by not finishing near the basement for the first time in his pick'em career in 2012?
Last week, Brent Blum and Bret Culbertson went 6-0. Shaggy is a good dude all the way around. I haven't heard a peep from him. But Blum? Blum was sending out boastful text messages on Sunday evening. His head is now larger than Alaska.
What's in store for week two? Enjoy. 
Current Standings
Brent Blum, 6-0
Bret Culbertson, 6-0
Adam Carper, 5-1
Chris Williams, 4-2
Dave Zawilinski, 4-2
Kirk Haaland, 4-2
Chris Hassel, 3-3
Bret Meyer, 3-3
Adam Gray, 3-3
Trevor Enerson, 3-3
Austen Arnaud, 2-4
Brent Blum, Cyclone Fanatic Columnist
ATS
Miami @ Kansas State (-7) – Fun Fact: Bill Snyder, Brent Musberger, Dick Vitale, Tom Harkin, Tina Turner and Mike Ditka were all born in 1939. That has nothing to do with this game. Wildcats 31 Miami 21.
Texas Tech (-17) @ Texas State – Quick question: What is Texas State's nickname?…….Bueller, Bueller? It is actually the Bobcats, but the judges are also accepting Fighting Armadillos as named in the 1991 film classic Neccesary Roughness. Kathy Ireland kicks a late field goal to cover. Texas Tech 38 Texas State 24.  
Nebraska (-5) @ UCLA – To quote Dumb and Dumber: "We've got no food, we've got no jobs, Taylor Martinez threw 5 touchdowns last week, OUR PETS HEADS ARE FALLING OFF!" Nebraska has too much for the Bruins with or without Burkhead. Nebraska 31 UCLA 20.
Straight up
Georgia @ Missouri – This is just strange. Watching this will be like going to an ex-girlfriend's wedding. I'm happy for you Mizzou, here's a $25 gift card to Target, have a nice life. Georgia 31 Mizzou 28.
Florida @ Texas A&M – As for you A&M, you can fly a kite. No gift card for you. Ten years from now you will probably be stalking the Big 12 with Facebook messages. "Hey Big 12, I made a mistake, I really want a divorce from the SEC. I was young, naive and jealous. Take me back? I'll even allow you to sleep around with the Longhorn Network." Texas A&M 27 Florida 21.
Iowa State @ Iowa – Iowa State appears to be the more complete team: better talent and more depth. However, Kinnick is a hornet's nest and a great equalizer. It's all on Mr. Jantz…if he takes care of the ball, the Cyclones get it done. Iowa State 24 Iowa 20. 
Bret Culbertson – Former Iowa State kicker, owner of Level 37 Sports Video (www.level37sports.com).  
Miami @ Kansas State (-7) – It took K-state three quarters to get into a groove last week before putting together a fourth quarter blowout.  They don't get away with that this week.  Miami keeps it close, and stays within the spread.
Texas Tech (-17) @ Texas State – Texas Tech threatened not to play this game if broadcasted on the Longhorn Network as planned.  I love it.  Tech throws all over Texas State and covers in a blow-out on ESPN 3.
Nebraska (-5) @ UCLA  – Martinez put on a show last week.  Even though there may be some questions with RB injuries, the depth chart is deep.  UCLA's QB did show well in his college football debut, but the cornhuskers cover the spread in Cali this week.
Georgia @ Missouri  – Welcome to the SEC.  Georgia wins.
Florida @ Texas A&M – We don't know what to expect from the Aggies defense and we don't know what to expect from the Florida passing game.  Florida continues the run game and the Aggies fall in their SEC debut coming in cold with no game last week.
Iowa State @ Iowa – We were all happy with the performance of Jantz last week, but should be looking for consistency in more than one game to solidify a re-found faith.  If he can pull together a game in Kinnick stadium, I'll ride the Steele Jantz train all year long.  Jon Miller has the cold sweats and Chris Hassel sheds a tear this week when the Cyclones come up bigger than people think in Iowa City.  All aboard!
Former Iowa State linebacker Adam Carper
Miami @ Kansas State (-7) – K-State went to South Beach last year and won a thriller.  Miami has revenge on their minds but Collin Klien and the Wildcats are too good.  K-State covers.
Texas Tech (-17) @ Texas State – Upset-minded Texas State can't do it two weeks in a row.  Tech covers. 
Nebraska (-5) @ UCLA – After week 1, it's apparent Taylor Martinez is no longer doing his best Fat Joe impression when throwing a pass by doing his "Lean Back". If this continues in Pasadena, the Huskers will be tough to beat.  Nebraska covers.  
Georgia @ Missouri – Missouri lost 5 games last year while in the Big 12….can't expect much improvement in the SEC.  Georgia rolls
Florida @ Texas A&M – With a new QB and first game of the season for the Aggies, it'll be tough to get the W even at home. Gator Nation prevails.
Iowa State @ Iowa – We haven't come out of Kinnick victorious since 2002 and this reason alone is why I'm reluctant to choose the Cyclones but I believe this is another trademark win for Coach Rhoads and the Cy-Hawk trophy remains in Ames for another year!!
Cyclone Fanatic Publisher Chris Williams
Miami @ Kansas State (-7) – Big 12 vs. the ACC. The Big 12 is at home. Bill freaking Snyder is coaching the Big 12 team. I'm a big Bill fan you know? Give me that Wildcats by two touchdowns. 
Texas Tech (-17) @ Texas State – This has "hornet's nest" written all over it for Texas Tech. What a horrible, horrible, horrible, scheduling job. Texas State covers and they might just win the thing too.
Nebraska (-5) @ UCLA – There's no way that Taylor Martinez does what he did last week in the passing game. No way. Even so, Nebraska is a lot better than a hapless UCLA program. Skerrrrzzzz cover. 
Georgia @ Missouri – I'm getting a little sick of this "welcome to the SEC" talk. The Big 12 is a pretty damn good conference too. Missouri beats an overrated Georgia team in its SEC debut.  
Florida @ Texas A&M – This former Big 12 school loses to an SEC power. Not playing in week one will really hurt the Aggies. 
Iowa State @ Iowa – Cyclones 27, Hawkeyes 24
ABC 5 Sports Director Dave Zawilinski
I admit. I was no good at this last year.  In fact, I finished second to last and was probably lucky to end up not in last. 
That being said CW completely disrespected me and my picks in week one. I can assure you I will never forget. NEVER. And I have taken the necessary precautions.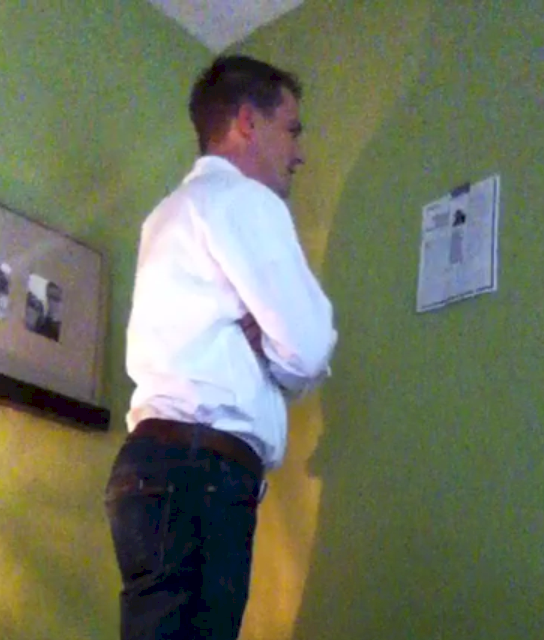 A closer look at what I'm staring at …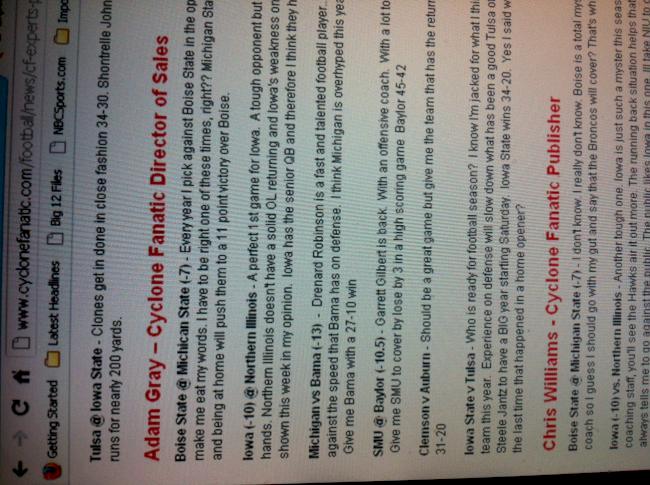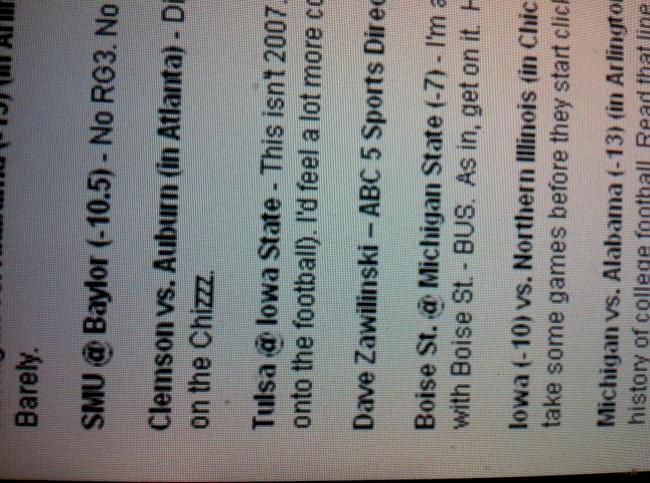 How come I didnt get the bold red name treatment CW?  HOW COME!?
Miami @ Kansas State (-7) – K-State won in Miami last year.  Give me the Wildcats and lay the points. 
Texas Tech (-17) @ Texas State – I'm picking against Tech every week until they prove me wrong. Oh by the way, Dennis Franchione is the coach at Texas St and they beat Houston last week. 
Nebraska (-5) @ UCLA  – Heard this stat earlier today. Since Penn St. joined the Big Ten in 1993, Big Ten teams have won five road games in PAC 10/12 stadiums. Huskers beware, even with Burkhead you're in trouble. I have UCLA. 
Georgia @ Missouri – Georgia is a legit SEC East title contender. Everyone is on Missou this week.  I'm taking the Bulldogs. 
Florida @ Texas A&M – Georgia is a contender, Florida is not. I'm not a huge believer in A&M but the gators subpar performance at home vs Bowling Green leaves me with little to no faith vs the Aggies. 
Iowa State @ Iowa – I said back in May the Cyclones would win this game outright (Hassel can attest to that). I saw nothing in week one that will change that opinion.  I'm taking the Clones and I think it's by multiple scores. 
Kirk Haaland from enCYCLONEpedia.com
Miami @ Kansas State (-7) – I've gotta go with the Wildcats here and everyone's favorite linebacker that plays quarterback, Collin Klein.
Texas Tech (-17) @ Texas State – So, Texas State pummeled Houston 30-13 in week one…I think they hang with Tech in this one and lose, but cover. By the way, why is Texas State's nickname the Bobcats and not the Fightin' Armadillos? 
Nebraska (-5) @ UCLA – I'm going with the favored Huskers on this one…not that I believe in Taylor Martinez after his opening week performance but I don't believe in UCLA, at all.
Georgia @ Missouri – There is some funky stuff going on with this line as it will not budge toward Georgia even though the vast majority of the money is being laid on the Bulldogs. With that, I side with Vegas because they are smarter than me.
Florida @ Texas A&M – Florida struggled with Bowling Green in week one and the Aggies were postponed due to that hurricane whose name I have already forgotten. I think the Gators nip the Aggies in College Station.
Iowa State @ Iowa – I picked this one as a win a couple weeks back and I think it still is the best chance for ISU to win in Iowa City since their last win in 2002. After last week a lot of people–even Iowa fans–think the Cyclones will win. That alone makes me queasy.  I think the ISU ground game will work well enough and the defense will do their job against Vandenberg who will play much better at home and hold on for the close win, 24-20.
WHO-TV 13's Chris Hassel
Miami @ Kansas State (-7) – Five words. Bill. Snyder. Family. Football. Stadium. Wildcats cover the spread.
Texas Tech (-17) @ Texas State – All I know about Texas State is that it's located in San Marcos. The only reason I know that is because I just looked it up on Wikipedia. Oh, and I see they beat Houston, last week. Hmmm. Okay. I'll take Texas State to cover.
Nebraska (-5) @ UCLA – Isn't UCLA just awful? How in the world is Nebraska only a 5 point favorite? Makes me think I should take UCLA — but I'm not going to. Huskers win big.
Georgia @ Missouri – It's going to be a rough welcome to the SEC for Mizzou. Dawgs spoil the opener in Columbia.
Florida @ Texas A&M – Florida looked miserable in its opener against Bowling Green. I like the Aggies at home.
Iowa State @ Iowa – I'm taking Iowa. Big surprise, right? I'm probably the only CF "expert" picking the Hawks. I can definitely see ISU winning this game and I won't be surprised if it happens, but I don't think it will. ISU hasn't won at Kinnick in 10 years, and James Vandenberg actually plays like a good QB at home.
Former Iowa State quarterback Bret Meyer
Miami @ Kansas State (-7) – I like K-State to cover at home. Close throughout, a late score puts the Wildcats on top for good, 24-14
Texas Tech (-17) @ Texas State – Lot of momentum with the TSU program after a big win at Houston.  I like Tech to win the game, but i'll take TSU with the points.
Nebraska (-5) @ UCLA – I like Nebraska to cover here with an improved Taylor Martinez allowing for a more balanced offensive attack.
Georgia @ Missouri – Missouri keeps it close, but I like Georgia to win in Columbia
Florida @ Texas A&M – Emotions will be riding high in College Station, that coupled with a new staff has me liking the Gators to win on the road.
Iowa State @ Iowa – Shontrelle Johnson and the ISU running game will be the difference. I like the Clones to win in Iowa City, 23-20.
Cyclone Fanatic's Director of Sales, Adam Gray
Miami @ Kansas State (-7) – I learned last year that you don't question Bill Snyder, even when his team doesn't appear to have the talent other teams do.  This isn't the same Miami team of a decade ago either, and so I'll take KState to win big!  45-20
Texas Tech (-17) @ Texas State – I know nothing about Texas State so I'm not going to pretend I do.  All I know is that they are playing a Big 12 team at home a week after whipping Houston.  Emotions will be high and I think they give TT all they can handle for 3 quarters.  They cover but lose 31-20
Nebraska (-5) @ UCLA – UCLA looked like they may be on their way back to respectability but I still think they are a ways off from Nebraska in terms of talent.  Tough road game but I think Taylor Martinez ability to finally keep a defense honest with his arm helps Nebraska win 38-17
Georgia @ Missouri – I don't know why but I think Georgia is going to have a hard time going on the road and winning a night game at Mizzou.  You know that will be a great environment.  Give me Mizzou 24-20. 
Florida @ Texas A&M –  Don't feel great about this, but I am basing it off how poor Florida's offense looked in week 1 against Bowling Green.  At A&M will be prove even more difficult.  Give me A&M 24-13. 
Iowa State @ Iowa – I really like this Iowa State team.  I don't like what they are walking into on Saturday.  Ferentz will have no problem getting his players attention this week due to their close win last week, and the fact it's their Super Bowl.  I kid.  Honestly though, I think Iowa State is the more experienced and deep team.  If they can get off to a good start or even keep it close the first half I think they will wear down Iowa in the 2nd half.  I'm banking/hoping for a good start.  Give me Iowa State 30-24
Trevor Enerson, the voice of the fan
Miami @ Kansas State (-7) – I don't think Miami is ready yet. That said, KSU isn't a team that is going to blow semi talented teams out of the water.I think Miami will struggle offensively. KSU -27-17
Texas Tech (-17) @ Texas State – I hate these. Mediocre teams giving big points to slightly less than mediocre. I'll take Tech to cover. Tech-45-24
Nebraska (-5) @ UCLA – This is interesting. Both teams looked pretty good in their opener. Is Jim Mora the real deal? I think so. UCLA covers but loses 21-24.
Georgia @ Missouri – Mizzou is going to get broken in right away. Georgia will play a brand of football they haven't seen yet. I think Mizzou can keep it close but in the end I think Georgia wins, 34-24.
Florida @ Texas A&M – aTm gets a much easier start to their SEC experience. This one will be very close and in the end I actually think aTm wins this in an absolute snoozfest, 21-17
Iowa State @ Iowa – ISU 45-10
Former Iowa State quarterback Austen Arnaud
Miami @ Kansas State (-7) – This is an interesting game but the Little Apple is a hard place to play and I think the touchdown edge is enough for K State, they cover.
Texas Tech (-17) @ Texas State – Texas State covers -17 in a game where they compete until the 4th quarter. The Texas State kids will be fired up for this one.
Nebraska (-5) @ UCLA – No Rex Burkhead… No Problem, Nebraska still wins by a TD at the Rose Bowl.
Georgia @ Missouri – Georgia goes into Columbia and puts the hurt on Mizzou 31-17.
Florida @ Texas A&M – This is a tricky one here, A&M is the favorite and UF is far from a finished product.  A&M simply lost too much last year, I am going with the Gators in a close one 23-20.
Iowa State @ Iowa – Clones get their first win @ Kinnick in 10 years and hold onto the Cy Hawk Trophy, 24-20.