What: Iowa State (6-6, 3-6) vs. Tulsa (10-3, 7-1)
When: Monday, Dec. 31 at 2:30 p.m.
Where: Liberty Bowl Memorial Stadium in Memphis, Tenn.
TV: ESPN
AMES — This really is a bizarre bowl match-up. Think about it…
Iowa State defeated Tulsa 38-23 on Sept. 1 in Ames. The two programs, which have only met twice in history, will tangle on Monday in the 2012 AutoZone Liberty Bowl, only to duke it out again on Sept. 21 of next season. 
That will be three meetings in 386 days for two programs with little to no history with one another.
Bizarre.
But that's old news. You all have been complaining about this rematch for a month now.
Happy about the opponent or not, this actually should be a pretty decent football game on New Years Eve in Memphis. It's your classic mid-major conference champ vs. a 6-6 BCS program. Who will win out?
Here's your breakdown.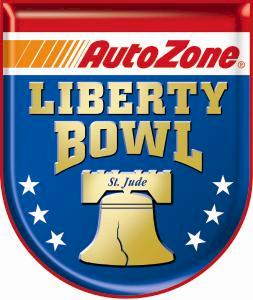 Tulsa will win if…
…It can get consistent play out of its quarterback position from former Nebraska Cornhusker Cody Green.
Not to dwell on the Cody Green aspect of this game, but he'll have to produce for Tulsa to beat Wally Burnham's Iowa State defense. We all know about Tulsa's three-headed monster at running back. Ja'Terian Douglas, Trey Watts and Alex Singleton have all accounted for over 1,000 yards in their careers. All three are averaging over 50 yards per game on the ground this season, with Watts leading the way at 70.92. All three men ran for over 760 yards this season.
But if you look back at Iowa State's regular season, you see a constant. Run-oriented football teams struggle against the Cyclones. Wins over Tulsa, TCU and Kansas all come to mind.
Iowa State will be prepared to stop Tulsa's 11th ranked rush offense that averages 240.23 yards per game. The question is, can Green, who completed 23-for-49 passes for 198 yards, two touchdowns and two interceptions against Iowa State in round one, beat the Cyclones with his arm?
"He's obviously gotten better," said Iowa State's injured All-Big 12 linebacker Jake Knott of Green. "He's a smarter guy that is making better decisions in the offense. We have to be ready for a more accurate quarterback."
Green completed 54 percent of his passes this season for 2,499 yards, 17 touchdowns and 10 interceptions. He ran for 225 yards and three touchdowns as well. Accuracy has been and always will be Green's Achilles heel but the fact remains when you go back to his career at Nebraska, he's 13-3 as a starting quarterback at the division one level.
"He's a big dude," said Knott. "I remember getting through the line-of-scrimmage one time and hitting him right after he threw the ball. I was like, 'Wow – I thought you were going to go down on that one.' It just looked like a little nudge on film. He's a big guy that can run. You have to bring it every time you try to tackle him."
Green doesn't need to be perfect for Tulsa to defeat Iowa State but his arm at least has to be a threat. A 47 percent completion rate (like he did in week one) won't cut the mustard for the Golden Hurricane. Tulsa ran for 160 yards (80 below its season average) in the first meeting but 77 of them came from one Trey Watts run. 
Iowa State will win if…
…Its offense consistently moves the football.
Iowa State ended the regular season as America's 36th ranked scoring defense. The Cyclones held every opponent they faced under its season scoring average gave up an incredible 23.33 points per game. What makes that stat even more impressive is when you consider how dinged up this unit was toward the end of the season. Of course All-Big 12 linebacker Jake Knott missed the last four games of the season but the losses of junior cornerback Jansen Watson and senior strong safety Durrell Givens were underrated. Others, like All-Big 12 defensive tackle Jake McDonough, were dinged up as well. 
Week in, week out, Iowa State's defense showed up in 2012. The offense did not but when it did, Iowa State won football games.
The Cyclones put up 441 yards of total offense in round one vs. Tulsa. Steele Jantz completed 71 percent of his passes and for the only time all season long, Iowa State had a running back rush for over 100 yards, that being Shontrelle Johnson (who will miss the Liberty Bowl with a knee injury) at 120.
"One of the things you've really got to do a good job with is making sure that you don't have the exact same game plan because they are going to have a new game plan as well," said Iowa State offensive coordinator Courtney Messingham. "We have to have to do some things differently. We obviously believe they will be ready for the quick screen game. We threw a bunch of quick screens against them last time. It's part of what we do because that's how we try to run the football and throw it at the same time as far as the quarterback's standpoint – it could be a run or a pass. I know they will be ready for it so we have to prepare for that." 
And that's where maybe, just maybe, Iowa State has an advantage heading into this one. Freshman Sam Richardson will get the nod for the Cyclones. Richardson, who completed 85 percent of his passes in a 51-23 rout over Kansas, used his legs to be effective in a 31-24 loss to West Virginia in the season finale. He led the Cyclones with 119 rushing yards, averaging 6.6 yards per carry in the loss.
Richardson has proven that he can beat you with his arm and his legs. If his newness has any affect on this game at all is still to be determined. But like with Cody Green, a large part of Iowa State's success on Monday will have to do with the quarterback position.
Key Match-Up: Iowa State's offensive line vs. Tulsa's defensive line
You help out your young quarterback by running the football effectively, which could be tough for Iowa State in the Liberty Bowl. Tulsa boasts the nation's 17th ranked rush defense at 121.23 yards per game. Two Tulsa defensive linemen, Cory Dorris (first) and Jared St. John (second) received All-Conference USA honors. Linebacker DeAundre Brown and safety Dexter McCoil were first-team selections as well.
Tulsa's defense broke school records with 48 sacks (ranked third nationally) on the season and 104 tackles for a loss (ranked fourth nationally). The Golden Hurricane held three of its opponents to less than 35 rushing yards and a total of five opponents under 100 yards. 
"They play with a lot of confidence," said Messingham. "Their defensive line has a lot of speed – all over the field but especially on their d-line. They've got a bunch of sacks this year and a bunch of tackles for a loss because of the speed that they play with."
The thing is, Iowa State won the battle of the trenches on both sides of the ball on Sept. 1. Should that be the case again and Iowa State will have a good shot to end 2012 at 7-6.
Iowa State will however get its first look at Tulsa's junior linebacker Shawn Jackson, who missed week one's meeting due to suspension. Since coming back, Jackson has averaged 7.9 tackles per game with 8.5 tackles for a loss.
"Their tendencies have stayed pretty similar as far as the amount of blitzes that they bring," said Messingham. "They've stayed pretty similar on the fronts that they run."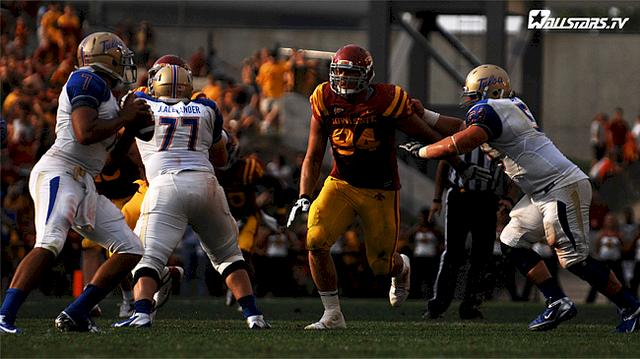 3 keys to a Cyclone victory…
Special Teams – If you think back to the first meeting between these two teams, Iowa State's poor kick return coverage gave Tulsa the ball in favorable field position multiple times in the first half. In fact, it's the main reason that the Golden Hurricane led Iowa State 16-7 at the end of the first quarter.
Turnovers – Sam Richardson has yet to throw an interception in his career (knock on wood). We've already covered Cody Green's accuracy issues. Should the Cyclones be able to limit Tulsa's rushing attack, Iowa State's secondary might have some opportunities in this one. 
Running game – I've spent so much time on the quarterbacks; I've barley mentioned Iowa State's running game. Shontrelle Johnson is out. James White, Jeff Woody and DeVondrick Nealy will all get their opportunities. Which one of the three is ready to capitalize?
Prediction
I don't buy into the "hard to beat a team twice in one season" theory. In fact, I see this rematch working against Tulsa for a few reasons. For one, the Cyclones will have plenty of confidence. Iowa State won the first meeting by 15 points, dominated the trenches and the Cyclones have improved since then (as has Tulsa of course). 
I also think that Iowa State learned something from its two touchdown loss to Rutgers in last year's Pinstripe Bowl. 
"They (Rutgers) changed almost everything with our reads because they knew that we read things in a certain way," Knott told me. "They did a great job of game planning for that. You just have to be ready."
And I think that the Cyclones will…Be ready that is – for just about anything.
"Go in with what you have right now – all of the film that you have from the year and if something changes, you've got to be ready to change with it and figure it out quick," said Knott. "If you don't, that's when you get left behind."
I think that scoreboard wise, this game will be closer than what we all witnessed in Ames on Sept. 1. But for me, it all comes down to this being a bad matchup for Tulsa's offense going up against Iowa State's defense. Cody Green just hasn't shown me over the years that he can beat you with his arm. For Tulsa to win, he'll have to do just that. If Iowa State's offense shows up at all, I like the Cyclones to bring the Liberty Bowl trophy back to Ames.
The Pick
Iowa State 31, Tulsa 21