By Chris Williams, CycloneFanatic.com PublisherFollow Chris on Twitter @ChrisMWilliams
It feels good to be back in Iowa.
Don't get me wrong now. My trip to New York City was a good one. In fact, the entire Pinstripe Bowl experience was 100 times better than I thought it was going to be.
Myth buster alert! Other than a sassy lady (You can ask my wife, this woman made me so mad that I declared her my mortal life enemy in only five minutes of interaction. She was the meanest person I've ever met) who refused to give me a Panda Bowl at the Panda Express on our way home at JFK, I didn't meet one rude New Yorker. Not kidding. I actually found our friends in the northeast to be very nice. I spent my New Years Even in a bar full of Cyclone fans drinking $3 beers. You can't beat that.
Despite Iowa State's lackluster performance vs. Rutgers, I give the Pinstripe Bowl rave reviews. It's as unique of a bowl experience as there is. To be honest, heading into this thing, I fully anticipated the New York Yankees organization to keep the bowl game down on their pecking order of things to do but that wasn't the case at all. The Yankees employees ran a first class bowl game. I've covered three bowl games in my career (Houston and Insight as well) and without a doubt, this New York experience was my favorite.
I took a ton of pictures and I will be putting together a video as well so stay tuned for more on the Pinstripe Bowl in the coming days here at CycloneFanatic.com.
MORE ON FOOTBALL
— Now that a few days have passed, I was hoping to be able to shed a little bit more light on what happened with Iowa State's two quarterbacks during Friday's bowl loss. Honestly, I'm still not quite sure what to think. I will say this though. I don't blame Paul Rhoads for going to Steele Jantz during the game. However, I'm surprised that he pulled the trigger and made the switch as early as he did in the game. But like I wrote after the game, Rhoads said that Jantz had been practicing very well. Combine that with the fact that Jantz is finally healthy and Jared Barnett was obviously struggling to do much of anything and the gamble wasn't terrible. The problem is, the gamble didn't pay off. But that's going to happen from time to time.
My biggest fear now is that Barnett, a freshman, has lost the swagger that he was starting to develop at the end of the season. The good news though is that Barnett is as bright of a kid as you can find. My assumption is that he'll bounce back and be better than ever when spring ball comes around.
What do you do with Jantz now? There's no doubt that he'll be in the mix at quarterback next season. But Steele had a shot to come in and make a statement last Friday. He didn't do much, if anything with it. He looked just like the Steele Jantz that we saw against the likes of Texas and Missouri.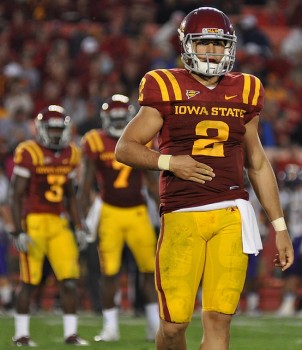 Regardless of who was in at quarterback, Iowa State's offense was stagnant. Here's where you need to give Rutgers credit. Greg Schiano's defense was coming at Iowa State from all over the field. Iowa State's offensive line looked as confused as me on my first subway experience in New York. Both Barnett and Jantz were forced to check down and change plays quite often on Friday. Not much good came from that either.
— What to watch for: Who will Iowa State's next offensive coordinator be? The answer to that question could dictate a lot as far as the quarterback question goes for next season.
— To wrap up all of this quarterback talk, let's all agree on this. Iowa State is in a much better situation right now than it was a year ago at this time. Last January, Rhoads and his staff were looking at a shaky candidate in Jerome Tiller, a redshirt freshman with no experience in Jared Barnett and a junior college transfer in Steele Jantz.
This time around, they'll have two guys who have proven that they can win big games and an ace freshman in Sam Richardson.
Let the competition begin!
— The NFL Draft should be fun for Iowa State fans in 2012. Kelechi Osemele is a lock to be first-rounder correct? In addition to the big man, cornerback Leonard Johnson's stock has skyrocketed over the last month of the season. Johnson held Rutgers' start wide receiver Mohamed Sanu to only six catches on Friday with little to no help from a pass rush. I actually think that the Pinstripe Bowl helped Leonard's stock for the draft.
— I had a great time traveling to and from New York City with members of the Cyclone Gridiron Club. These are some of the best people I know. If you're looking into traveling to a bowl game in the future, charter is the way to go. Trust me.
— My picks in today's bowl games with confidence points as well: Oregon (32) over Wisconsin. Oklahoma State (30) over Stanford. Georgia (19) over Michigan State. South Carolina (18) over Nebraska. Houston (7) over Penn State and Ohio State (4) over Florida.
ON IOWA STATE BASKETBALL
— So when I got back from the big city last night, I immediately sat down at my desk, fired up the DVR and caught up on what I had missed basketball wise since the end of last week. All I can say is wow. Ian Smith was a busy man with a couple of intense press conferences from Fred Hoiberg (The Mayor may or may not have broken the interview desk in the Pete Taylor Media Room inside of Hilton Coliseum) and Bill Fennelly. 
Hoiberg was as frustrated as I've ever seen him (and rightfully so) after Iowa State's two-point win over 1-11 Mississippi Valley State on Saturday. Here's a prediction for you. Assuming that Royce White recovers from the stomach flu and is good to go, the Cyclones will show up and give Texas everything they want and more on Wednesday night in Hilton Coliseum and they might just win the game.
What makes sense about this prediction is that it doesn't make any sense at all. You following me? It's just like what we've seen so far from the 2011-12 Iowa State men's basketball team. These Cyclones have plenty of flaws but they have shown the ability to bounce back from ugly performances quite well. The problem is, Iowa State has been able to bounce back against teams like Lipscomb, Prairie View A&M and Western Carolina.
The Longhorns are young and judging by Hoiberg's mood after Saturday's near loss, the Cyclones won't have any choice but to be focused on Wednesday.Who really knows though? Something tells me that it's going to be a very up and down winter for Iowa State basketball.
— Here's a positive from that win. Melvin Ejim's 15 points and 15 rebounds were a breath of fresh air. Ejim is a guy who Iowa State desperately has to get going if the Cyclones want to seriously compete in the Big 12. Ejim doesn't need to lead the Cyclones in scoring, but he does need to be relevant. Over his first year and a half in Ames, Ejim's identity (in my opinion) is that he's an extremely streaky basketball player. Hopefully he is finally out of his funk just in time for Big 12 play.
— I haven't had many opportunities to pat Anthony Booker on the back so far this season so here goes. The junior's five offensive rebounds from Saturday's win impressed me. As far as Booker goes, I'm convinced that whatever he brings to the table this season is a bonus. Those five offensive boards and 10 points off of the bench might have been the difference between a win and a loss. Iowa State's reserves saved the day and Booker played a big part in that. Good for him.