AMES — So you don't think that losing Jared Barnett will be a big deal in 2013 or beyond huh?
You might be right, but what if you're wrong?
Before the news came out last week that Barnett would be transferring away from Iowa State, Paul Rhoads was set to have three options at the most important position on the field heading into spring football. 
There was Sam Richardson, who we just were getting to know towards the end of the season. His relief of Steele Jantz and 85 percent completion percentage in a 51-23 win at Kansas was nothing short of brilliant. But after that, the defenses he saw got tougher (which is amazing considering West Virginia was one of them) and his production declined. Now I'll be fair to Richardson. His 13-for-31 performance against West Virginia was hindered by awful weather conditions. In a demeaning Liberty Bowl loss to Tulsa, he played with a severe case of the flu. 
The bright spots were blinding in that Kansas game but really, do we know exactly the type of quarterback Sam Richardson is and will be going forward? The answer is no. We think we know, but we all had a pretty good feeling about Barnett after that 2011 Oklahoma State game too. 
There's freshman Grant Rohach, who redshired last year. We've all heard fantastic reviews of this young gun-slinger but this is a redshirt freshman we're talking about here. Again – far from a sure thing.
Jared Barnett sure as heck isn't Andrew Luck (his career 49 percent competition percentage speaks volumes) but at least with this guy, you know what you're going to get if you put him on the field. That's poise, leadership and intangibles. Even if he wasn't going to win the starting job next year (which I don't believe that he would have), Barnett would have been a vocal leader in a room of young quarterbacks – not one being an upperclassmen. He would have been the only guy in the quarterback's room who had been there and done that and oh yeah, won the biggest game in Iowa State football history. 
Road wins at Texas Tech and TCU stand out to me when I look back at Barnett's career as a Cyclone. The win over Oklahoma State is a game that no Cyclone will ever forget. 
The lesson here? Say what you want about Iowa State's quarterback competition heading into next season – but Iowa State's situation at quarterback most definitely is not better without Jared Barnett in the mix.
On Iowa State/Big 12 Basketball…
I don't have a ton on my mind as I think I've written a dozen men's basketball stories over the course of the last three days. A few notes though…
— Fred Hoiberg held his weekly press conference today and to sum it up, Georges Niang is really good. Iowa State's true freshman forward was named the Big 12's Rookie of the Week after a career-high 18-point performance in a win over Texas on Saturday. But what about Wednesday night's overtime loss to Kansas?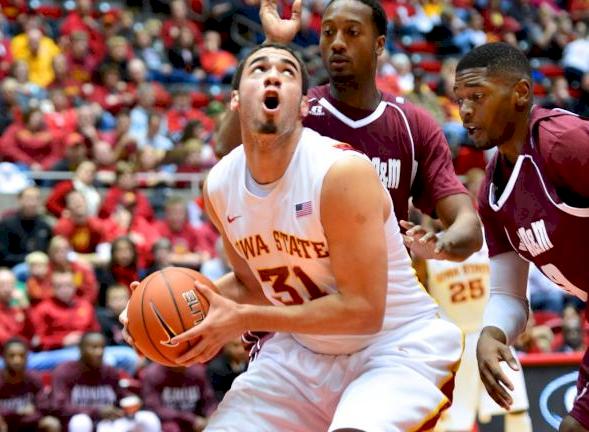 If I would have asked an outsider to take a look at Iowa State's lineup before that contest and tell me which Cyclone was most likely to struggle in Allen Fieldhouse, who would that person have named?
Probably the true freshman, no?
Niang went out and changed that game from the start. By hitting an early three, Kansas had no choice but to respect the rookie, which ultimately made America's top shot blocker Jeff Withey leave his cocoon in the paint. Niang scored Iowa State's first eight points and set the tone for his veteran team that nearly pulled off a shocker. 
If you're surprised by how well Niang, who is averaging 11.5 points per game, is playing, don't be. This is simply evidence of this Hoiberg staff doing its job on the recruiting trail. The caliber of freshmen entering the program now is higher than that of the past. You're seeing it now with Niang and you'll see it next year with Matt Thomas – and potentially Monte Morris too.
— Baylor travels to Kansas tonight on ESPN's Big Monday. On the surface, this one looks like a blow out right? I mean, Kansas is a top five team in America and Baylor struggled to beat TCU at home on Saturday. However, we all should know one thing by now. Baylor is Baylor is Baylor is Baylor. Just a gut here, but something tells me that the Bears will give an offensively challenged Kansas team a game, for a while at least, tonight in Allen Fieldhouse.
On Iowa State Women's Basketball… 
— Random here, but I'd like to write a Bill Fennelly biography some day. Would any of you buy it?
—Chelsea Poppens did what Chelsea Poppens does during Saturday's win over TCU. Twenty-four and 16 is a routine performance for this should-be All-American. After the game, Fennelly and the media got into a discussion about Poppens' ability to consistently produce. Rebounding – is it something you teach, technique or sheer will?
Most of us, including Fennelly, came to the conclusion that rebounding like that has more to do with self-motivation than anything. Poppens reminds me a lot of one of my all-time favorite basketball players, Dennis Rodman. 
There's something about a guy who goes out there and literally does not care how many points he scores but wants to be the best rebounder in the world that I like. Rodman might have been a little bit wacko, but there might not have been a more unselfish player in the NBA during his time. I like that. 
Rebounding is hard work. Poppens needs to be applauded for bringing it night in, night out. If I ever have a kid, I'll show him or her footage of Chelsea Poppens playing the game. She is relentless.
Randoms…
 — Talk of an ACC Network is picking up steam. The Big Ten already has one. So does the Pac-12. The SEC is currently working on one…
(Cough, Cough)
Big 12….HEY…BIG 12! I'm looking at you! What's the deal?
There are a lot of smart people running this league. By no means am I down on the league. I'm sure that there is a plan. Right? 
— Casey Pachall is back at TCU. Something smells like a quarterback controversy…