By Chris Williams, CycloneFanatic.com Publisher
Follow Chris on Twitter @ChrisMWilliams
There were ups. There were downs. There were certainly some uneasy moments as well. But as far as building momentum for the future goes, I think that 2011 was a banner year for Iowa State athletics.
Football and men's basketball ticket sales are at an all-time high. The volleyball program is now known as a national power. The Big 12 Conference appears to have its issues settled for the foreseeable future (knock on wood, knock on wood). Revenue and fan support are up. Doubt and fear of the unknown are down. Most importantly, the right coaches appear to be in place across the board at Iowa State.
Over the last two weeks, you fanatics have been voting for the winners of the inaugural Clonie Awards here at CycloneFanatic.com.
In this column, I'll post the results of those polls along with where my vote went and why.
WINNER: Jake Knott's tip/Ter'Ran Benton's interception to help seal the deal in Iowa State's 37-31 double-overtime stunner over Oklahoma State.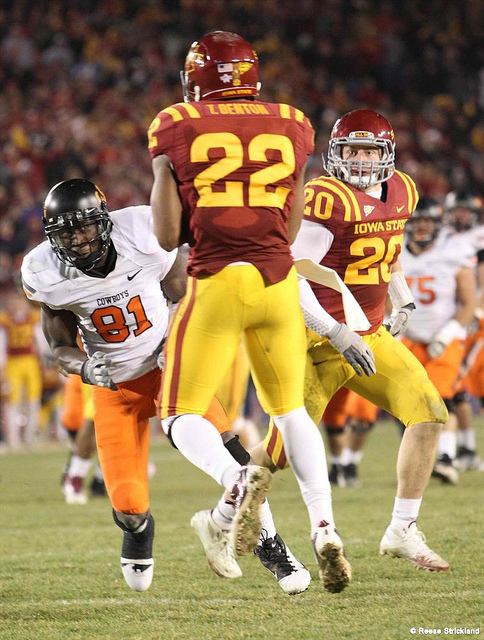 RESULTS:
– Knott/Benton INT vs. Oklahoma State: 54.76 %
– Steele Jantz to Josh Lenz vs. Northern Iowa: 20.18 %
– Josh Lenz's one-handed catch vs. UConn: 16.09 %
– Darius Reynolds' hurdle vs. UConn: 5.36 %
– Jamie Vanderbeken's buzzer beater vs. Creighton: 3.6 %
Chris' Take: When it comes to what a play might mean for the future of Iowa State athletics, I think that you fanatics nailed it here. But as far as one specific incredible play, my vote went to Josh Lenz for his one-handed grab in a 24-20 win over UConn on Sept. 16. Paul Rhoads has referred to it as one of the best catches he's ever seen. From a significance standpoint, yes, Benton's pick was massive and worthy of the Clonie. But as an individual play, Lenz's catch cannot be topped in my opinion. I would have voted Steele Jantz's touchdown pass to Josh Lenz on fourth down in the fourth quarter of a one-point win over Northern Iowa number two.
WINNER: Iowa State Volleyball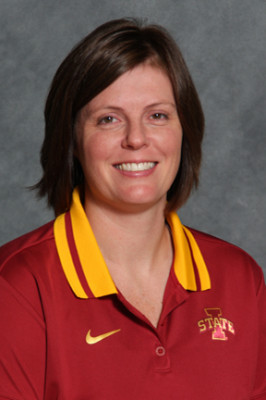 RESULTS:
– Volleyball: 60.9 %
– Football: 19.1 %
– Women's Cross Country: 18.59 %
– Women's Basketball: 1.41 %
Chris' Take: I can't argue with this one fanatics. Christy Johnson-Lynch has become a household name in the world of college volleyball. Her program has been steadily improving over the years and I truly believe that this season's Elite Eight squad converted a handful of casual fans into volleyball people. Even though the Cyclones lost, Iowa State's national television date with Florida State in the Elite Eight probably generated more attention to this program than any match in the history of the volleyball program.
The Clonie: Newcomer of the Year
WINNER: Jared Barnett, QB, Iowa State Football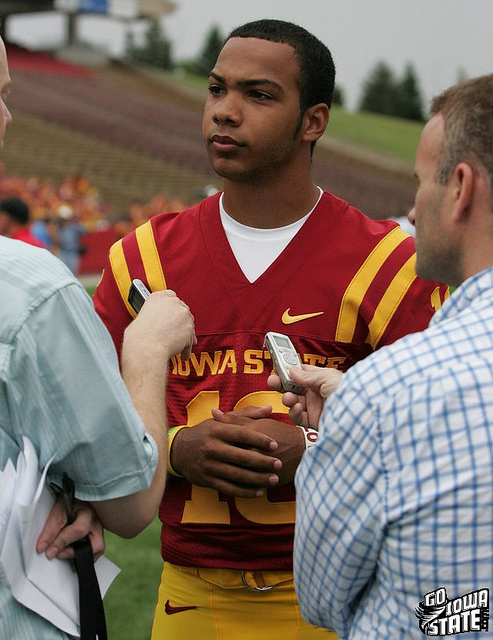 RESULTS:
– Jared Barnett: 51.61 %
– Tom Farniok: 22.8 %
– Jake Anderson: 11.35 %
– Aaron Horne: 5.56 %
– Hallie Christofferson: 5.01 %
– Melvin Ejim: 3.67 %
Chris' Take: Both Jake Anderson (basketball) and Tom Farniok (football) tempted me here, but I agreed with the Cyclone Nation on giving this award to Jared Barnett. During a conference opening four-game losing streak (Texas, Baylor, Missouri and Texas A&M), Iowa State's Tom Herman led offense looked anemic with a dinged up and ineffective Steele Jantz at the helm. After a 52-17 loss to Missouri on Oct. 15, Barnett replaced Jantz early in the Texas A&M game and stepped in admirably by going 3-0 (all Big 12 games) in his first three starts at Iowa State. Barnett's rookie season ended on somewhat of a sour note in a Pinstripe Bowl loss where he was benched, but Iowa State would not have gone bowling without the freshman quarterback and he's the most deserving athlete on this list.
WINNER: Football: Iowa State's 37-31 double-overtime upset over Oklahoma State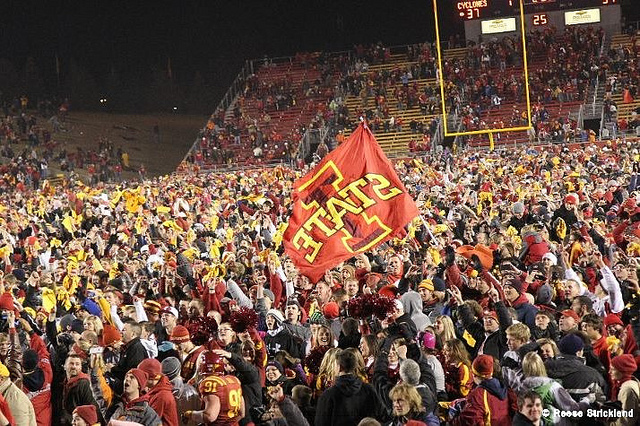 RESULTS:
– Football over Oklahoma State: 95.36 %
– Football over Iowa: 3.31 %
– Volleyball's Sweet 16 win over Minnesota: 0.83 %
– Women's basketball over Texas (White Out): 0.33 %
– Men's basketball over Iowa in Carver Hawkeye: 0.17 %
Chris' Take: Going into Clonie voting, I fully expected the biggest win in Iowa State football history to take the cake in this category and yes, this is the game that I voted for as well (duh). But think about this: How crazy is it that perhaps the best game in the history of Iowa State's rivalry with Iowa didn't win? That tells you how entertaining of a season 2011 actually was for Cyclone football fans.
WINNER: Conference realignment
RESULTS:
– Conference realignment: 44.16 %
– Paul Rhoads' new contract: 21.71 %
– Football attendance records: 20.81 %
– Bill Fennelly wins his 500th: 6.89 %
– Fred Hoiberg and the transfers: 6.44 %
Chris' Take: Once again, you fanatics nailed it. Paul Rhoads' new contract was a huge deal, as were the record-breaking football attendance numbers. But would Rhoads have signed a new contract if the Big 12 had blown up? Heck, the better question is, would Rhoads still be at Iowa State right now without the Big 12? Both of those questions are fair.
I'd like to think that Iowa State fans would still turn out in record numbers no matter what conference the Clones could have ended up in, but would they have? It's doubtful.
Without question, the conference realignment craze that made the Cyclone Nation so many sleepless nights last fall was the biggest story of 2011.
This round of conference realignment ended up being a positive one for Iowa State. As a result of the saga, the athletic department's revenue is going to go way up and I predict that more ticket records will be broken again in 2012.
But of course, we're talking realignment here. So stay tuned.
The Clonie: Individual Performance of the Year
WINNER: Jared Barnett's 460 yards of total offense vs. Oklahoma State
RESULTS:
– Jared Barnett vs. Oklahoma State: 48.18 %
– Steele Jantz's 4 TD's vs. Iowa: 36.96 %
– Scott Christopherson's perfect night vs. Drake: 8.58 %
– Scott Christopherson's 30 points at Iowa: 5.61 %
– Chelsea Poppens vs. Texas: 0.66 %
Chris' Take: You all were probably correct in voting for Barnett here, but I went with Steele Jantz's four touchdown performance in a 44-41 triple overtime win over Iowa on Sept. 10. After the way the season ended, it's easy to forget just how good Jantz was in that football game. Remember that Iowa State was down 24-17 in that game with 5:40 to play. That's when Jantz converted twice on 3rd and long (3rd-and-15 and 3rd-and-20) to keep things rolling. Jantz ended that game with 279 passing yards and four touchdowns, with 42 yards on the ground. While both were true team victories, a handful of guys stepped up and had big time nights against Oklahoma State. Jantz bailed the Cyclones out with superb individual effort a handful of times vs. Iowa. That's why I gave him my vote for this Clonie.
The Clonie: Cyclone of the Year
WINNER: Paul Rhoads
RESULTS:
– Paul Rhoads: 47.19 %
– Jamie Pollard, 23.28 %
– Christy Johnson-Lynch: 14.09 %
– Jon Reader: 8.91 %
– Diante Garrett: 4.84 %
– Kelsey Bolte: 1.72 %
Chris' Take: Voting on this category was like trying to decide which George Strait album is my favorite. The nominees for our most prestigious Clonie, Cyclone of the Year, were as one fanatic put it, very hard hitting in 2011. All six candidates have legitimate arguments.
There's Kelsey Bolte and Diante Garrett representing the basketball programs. These are two four-year starters who not only had successful careers on the court, but really represented Iowa State in a first-class manner throughout their time in Ames.
The wrestling program's Jon Reader was an undefeated national champion. You literally cannot get any bigger or better than that.
There's coach Christy Johnson-Lynch who as we've already touched on, is making random fans pay attention to college volleyball for the first time in their lives.
If conference realignment really was the biggest story of 2011, then athletic director Jamie Pollard should be in this conversation. Along with President Gregory Geoffroy, Pollard has been Iowa State's representative on the front lines of what is a nasty, ugly game of politics. Pollard's leadership should not be taken for granted.
When it came time for me to vote, I agreed with you fanatics for the Clonie, Cyclone of the Year. My vote went to Paul Rhoads and here's why.
I think that of anybody I've ever covered within Iowa State's athletic department (I've been in and out but at least somewhat involved in covering the Cyclones since 2004), Paul Rhoads represents this fan base better than any figure I've seen.
Rhoads' personality possesses intangible qualities that you just can't fake. When Rhoads sprints up to an official swinging his right arm in circles like a mad man looking for a positive spot, that's real. No show. That's Paul Rhoads. It's why his players love playing for him. It's why fans love Rhoads' brand of football. It's raw.
Under Paul Rhoads, Iowa State football is like Forrest Gump's famous box of chocolates. You really never know what you're going to get. A fake punt here. An onside kick there. You get the point.
There's that local angle that has been beaten like a drum, but its so true I can't leave it out of this column.  It's just so much easier for a fan base to make a connection with one of your own then for lack of a better comparison, an "outsider" like Gene Chizik (I write that fully knowing that had Chizik won games in Ames, the geography thing wouldn't have mattered one bit).
Paul Rhoads' famous YouTube locker room videos will not win Iowa State any games in the future, but that kind of exposure is priceless.
Most importantly, Paul Rhoads represents hope. Experts say that consistently winning in Ames is a next to impossible thing to do. That was once the case in Manhattan, Kan. as well. There's always a catalyst that kick starts a program into its next level. I think that a lot of fans believe that Rhoads just might be Iowa State's Bill Snyder. It's a feeling that I've never witnessed at Iowa State. Will that happen? Only time will tell. But Iowa State didn't upset teams consistently in the past like we've seen Rhoads do over the past three years. This time it feels different.
All of the above are reasons why Paul Rhoads is my choice for Cyclone of the Year in 2011.