By Chris Williams, CycloneFanatic.com PublisherFollow Chris on Twitter @ChrisMWilliams
Iowa State's 13-10 victory over the pesky Kansas Jayhawks didn't knock the socks off of the 51,575 fanatics who piled into Jack Trice Stadium on Saturday.
Last week's win in Lubbock was impressive. The Cyclones looked sloppy on Saturday. But is there really such thing as an ugly win in the Big 12? If its three points, 17, 78 or 142, Iowa State still got a "W" in the column.
With three games remaining, the Cyclones are now one victory away from spending the holidays somewhere warm (unless New York City comes calling).
Onto my postgame awards…
GAME BALL
Zach Guyer – Not only has Iowa State's senior kicker converted on six field goals in a row, Zach Guyer was 2-for-2 on Saturday, including a 42-yard make with 4:42 to play that turned out to be a game winner. For as much bad press as Iowa State's kicking situation has gotten this season (and rightfully so I might add), Guyer's season statistics are actually pretty decent. He's perfect on PAT's and is now 7-for-9 on the year.
A few weeks ago, I remember talking to my friend Ken Miller on 1460 KXNO about how I thought that Iowa State's kicking game would eventually cost the Cyclones a game this season.
On Saturday, an Iowa State kicker won the Cyclones a game.
That's refreshing.
I think that the last few weeks say a lot about the kind of person that Zach Guyer is. It would have been easy for the senior to hang up the cleats two years ago when it was apparent that Grant Mahoney was Iowa State's kicker of the future.
But Guyer kept plugging away. He kept grinding. After three years of not playing at all, Zach Guyer is the man in Ames. It's a pretty neat story really.
I'm ecstatic to give Zach Guyer my game ball from yesterday's win. That means that one of Iowa State's greatest weaknesses from early in the season is no longer the case (knock on wood, knock on wood.)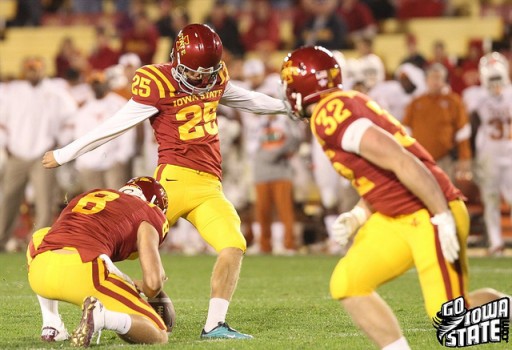 THREE UP
Bye week – Iowa State doesn't have a game next week and from where I'm sitting, that looks like a gift from the football God.
The Cyclones entered Saturday as a fairly healthy football team and left Jack Trice Stadium somewhat depleted.
Starting left guard Ethan Tuftee tweaked his knee during pregame warm-ups. Free safety Jacques Washington didn't play in the second half due to an apparent ab injury. The week off will give guys like Jake Knott, Kelechi Osemele, Hayworth Hicks, Steele Jantz, etc., who have been nursing nagging injuries all season long, another week to rest and get ready for the most critical three weeks of the season.
Oklahoma State is on deck for Iowa State and surprisingly, this schedule actually sets up quite well. After limping away from a dogfight (52-45) with Kansas State Saturday night, the Cowboys have to travel to Lubbock next week, before making the long, cold road trip to Ames on a short week for Nov. 18's Friday night out on the town with the Clones.
Jack Whitver, Brent Blum and I talked a lot about this on Cyclone Reaction after yesterday's game. I just find it hard to believe that the Cowboys won't slip up somewhere this season.
Keep an eye on the extended weather forecast. Pray for sub-zero temps, sleet, snow and the works in that bad boy.
Jared Barnett – Last week in Lubbock, Iowa State's freshman quarterback was as sharp as a tack. While that wasn't the case in Saturday's win, Jared Barnett was still the key for Iowa State's offense that tallied 426 yards. Barnett was the first Iowa State quarterback to run for over 100 yards (125) since Bret Meyer did so in the 2004 Independence Bowl vs. Miami (Ohio). Barnett's most important statistic is simple. He's 2-0 as a starting quarterback in the Big 12.
Youth movement – Think about Iowa State's offense in the first game of the season. Now, picture it in its current form. New quarterback. New starter at running back. Darius Reynolds didn't play against the Jayhawks due to a violation of team rules. Darius Darks and Josh Lenz were irrelevant in the win. Two starters were out due to injury on the offensive line.
Add it all together and right now, we're getting a pretty decent glimpse as to what the future of this offense just might look like.
Honorable Mention:
Attendance: The crowd of 51,575 set the following records for Iowa State football (from game notes):
— Most consecutive home crowds of 50,000+
— Most crowds of 50,000+ in one season (five)
— Largest crowed for a home game ever against Kansas
With the attendance numbers this football season combined with what we've seen in basketball season ticket sales, it's proof that there's never been more excitement among Iowa State's fan base.
THREE DOWN

Turnovers – Take away the three turnovers (one in the redzone) and it is likely that Iowa State would have put Kansas away a lot earlier on Saturday.
Personal fouls – Kansas' offense gained momentum and confidence early in Saturday's game thanks to two personal foul calls against seniors in Iowa State's secondary, Leonard Johnson and Ter'Ran Benton.
Offensive line – It's a hurting unit right now. There's no question about that. But Iowa State's offensive line made Kansas' 119th ranked rush defense looked pretty decent for three quarters on Saturday. Still, Iowa State wore the Jayhawks down and racked up 251 rushing yards on the day. The Cyclones were only averaging 174 rushing yards per performance heading into Saturday so that is a tough number to complain about. It's a patchwork line that will get better when it is healthy. Until then, young guys are getting a lot of experience for next year. That will only help when it comes to replacing Kelechi Osemele and Hayworth Hicks next season.
HELMET STICKERS
Jeff Woody – The display of running that we saw from Jeff Woody on Iowa State's final possession Saturday was just nasty. Woody was a human bowling ball. A really heavy, violent and mean one at that. Woody racked up a career-high 61 rushing yards in the win and showed once again why he is such a crucial piece to this offense's puzzle. A bruiser like that is nice to have.
Jake Knott – That was as healthy as Jake Knott has looked in weeks. Knott led Iowa State in tackles with 10 on the day.
A.J. Klein – As Paul Rhoads has talked about quite a bit lately, Knott's bash brother in Iowa State's linebacking crew has taken his game to a new level. Not only did Klein record nine tackles on the day, but he racked up a sack, a pass breakup and a blocked field goal as well.
Matt Tau'fo'ou – Might as well slap helmet stickers on all three linebacker helmets for Saturday's performance. Tau'fo'ou recorded eight tackles, a pass breakup and a quarterback hurry on the day.
Stephen Ruempolhamer – "Dutch" racked up a key sack on Kansas' final possession of the game. His final numbers were salty, with four tackles and a forced fumble as well.
Durrell Givens – In relief of Jacques Washington, the junior recorded six tackles and a forced fumble.
Jarvis West – Get this man the ball! Freshman Jarvis West has an uncanny ability to make you think he is going to score a touchdown every time that he touches the ball. Last Monday, Paul Rhoads told me that he wanted to increase West's work load. On Saturday, West caught three passes for 35 yards while averaging 27 yards on two kick returns. He's going to break one soon. It's only a matter of time.
Albert Gary – Set career-highs in receptions (5) and yards (57). Gary, a former running back in high school/JUCO, led Iowa State in receptions on the day.
Kirby Van Der Kamp – I loved Kirby's Mike Brandtner impression on a successful third quarter fake punt. Well done.
Aaron Horne – The junior gave some great individual effort while scoring Iowa State's only touchdown on the game. It was an 18-yard reverse in the second quarter. Horne also caught two passes for 19 yards.
Jake McDonough – Three tackles and a quarterback hurry. Solid.
Jeremy Reeves – Reeves gets a helmet sticker because he's an Iowa State defensive back that didn't get called for a personal foul in this one. He also chipped in with six tackles and a pass breakup.