By Chris Williams, CycloneFanatic.com PublisherFollow Chris on Twitter @ChrisMWilliams
If the entire 2011 Iowa State football season was one game, the Cyclones would have a 21-0 lead at the end of the first quarter.
So far, so good. Iowa State is off to its first 3-0 start since 2005 and we've seen a lot of great individual and team efforts along the way.
Today, I offer up my first quarter awards.
Best Team Stat: Obviously, being 3-0 takes the cake. Nobody outside of a handful of you fanatics saw this one coming.
— Honorable Mention — We've seen remarkable improvement from Iowa State's rush defense through the first three games of the season. Last year, opponents averaged 4.4 yards per carry against the Cyclones. This year, that number is down to 3.7. The Cyclones ended 2010 ranked 93rd nationally in rush defense, giving up an average of 186.33 yards per game. So far this season, that number is down to 158 yards. It's still early, but this trend is encouraging.
Best Individual Stat: Junior linebacker Jake Knott is averaging 11 tackles per game this season. That ranks him at a tie for 13th in America in that category. Knott has been doing it was a banged up arm that hasn't slowed him down a bit. If this surprises you, it shouldn't. Chuck Norris, I mean Jake Knott, is the best player on Iowa State's roster. Period.
— Honorable Mention — Sophomore punter Kirby Van Der Kamp has pinned the opposition inside the 20 eight times so far this season.
Worst Team Stat: This is EASY. Turnover margin. Iowa State is undefeated, yet finds itself ranked 113th nationally in turnover margin through three games at -1.67. Note that Iowa State is one of only seven teams in America (Florida, Kansas State, USC, Alabama, Arkansas and North Carolina) that is  undefeated, yet is in the negative when it comes to turnover margin. Winning football games when you're turning it over at the pace that Iowa State has this season is not an easy thing to do. The Cyclones have turned the ball over 10 times, compared to five by the three opponents.
Worst Stat Individual Stat:Steele Jantz has thrown six interceptions so far this season. A few weren't his fault. A few were UGLY. Jantz needs to clean the turnovers up as Big 12 play is right around the corner.
Strangest Stat: Defensive tackle Stephen Ruempolhamer leads Iowa State in interceptions. "Dutch" is the only Cyclone who has picked off a pass so far this season.
Team MVP: While Jake Knott certainly belongs in the conversation for this award, I'm going to go with junior wide receiver Josh Lenz for multiple reasons.
The first is consistency. Whether if it was his amazing catch for a first down against UConn or his average of 24 yards per kick return, Lenz can always be counted on to get things done. He's the opposite of a box of chocolates. With Josh Lenz, you always know what you're going to get.
In addition to his many individual efforts and standing out on special teams, Lenz has 12 receptions for 134 yards and two touchdowns to his name this season.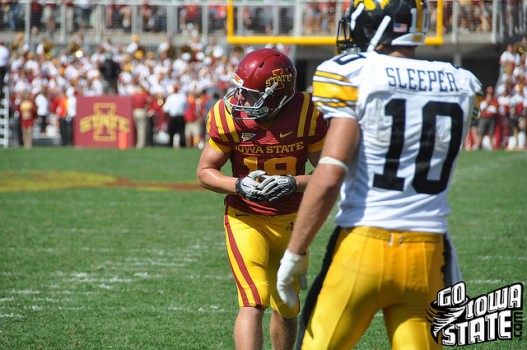 Biggest Surprise: If somebody would have told me in July that sophomore James White would lead Iowa State with three rushing touchdowns in the first three games of the season, I wouldn't have believed you. It's not that I didn't think White was any good. Paul Rhoads referred to him as the offenses most improved player during spring ball. White is legit. But to think that White is averaging a touchdown per game during the first quarter of the season is a massive surprise. He's been a positive shot in the arm for this offense in 2011.
— Honorable Mention —
I've got two of them.
— In his first 16 games as an Iowa State Cyclone, senior wide receiver Darius Reynolds caught two touchdown passes. In his first three games of 2011, Reynolds has caught four of them. That's all that you need to know.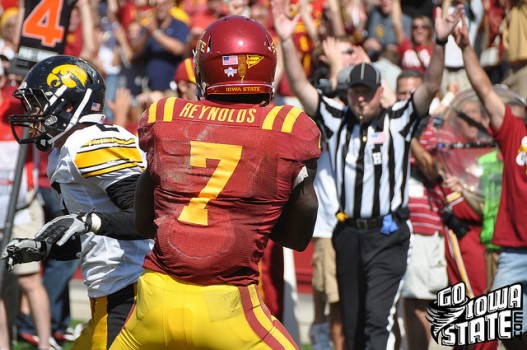 — I've written a lot about this guy already this year because he's impressed me that much. That's sophomore free safety Jacques Washington. He's currently second on the team in tackles with 24, while adding a sack and four pass breakups to his resume as well. Not bad JW. Not bad at all.
Needs to get better:Grant Mahoney. Iowa State's senior kicker is 1-for-3 on field goals this season.
He is who we thought he was: That's junior wide receiver Aaron Horne. Steele Jantz's junior college pal leads Iowa State in receptions with 14.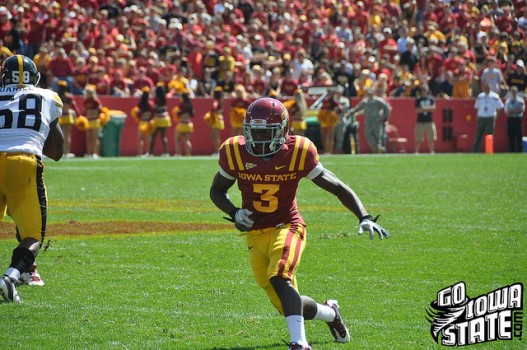 Coach of the Year: If you take field goal kicking out of the mix, its hard to argue against the job that Courtney Messingham has done with Iowa State's wide receivers and special teams units.