AMES — Iowa State's 27-21 loss to No. 6 Kansas State was disappointing but not devastating.
Collin Klein and the Wildcats are like that 70-year old man on the golf course. You constantly out-drive him by 75  yards but at the end of the day, his stone cold accuracy and consistent short game beat you every time.
"They execute it as good if not better than anybody in our league and that equates to the country when it comes down to it," Iowa State head coach Paul Rhoads told the Cyclone Radio Network's Eric Heft after the game.
Kansas State did what they do to the Cyclones. They are methodical. They rarely fire a kill shot. They just gut you like a fish for three straight hours. And that's why it stings so much when it's all said and done. 
Bill Snyder's Wildcats only turned the ball over once (on special teams) on Saturday. Kansas State did commit as many penalties in this one game as they had in the five previous games all season long (nine) but even so, still managed to walk into the largest crowd in the history of Jack Trice Stadium and win.
It was very, very impressive. That's a good football team that Iowa State lost to. Here's your recap.
Three Up
Could be worse – By no means am I playing the moral victory card here. This program is way past that. For the second home game in a row, the Cyclones let a colossal opportunity slip away – this one being larger than the last.
Having said that, I felt that the Texas Tech loss a few weeks ago was a bad loss. Iowa State committed four turnovers and basically handed that game to a team that appeared to be inferior at that time. 
I don't feel that way about this one though.
Kansas State is better than advertised and Iowa State still had multiple chances to win the game in the end. The Cyclones simply couldn't execute. As is usually the norm, Kansas State did.
The overwhelming majority of fans in attendance expected Iowa State to beat a top five team on Saturday. Expectations have risen. With six games remaining, there isn't one left on the schedule that I'd label as a "guaranteed loss." 
Linebackers – Iowa State's defense did everything that it could but when your offense only picks up only 12 first downs all day, giving up 364 yards to an offense like Kansas State's isn't bad at all
As expected, Iowa State's two All-Big 12 linebackers led the way. Jake Knott had 13 tackles (nine solo) and A.J. Klein recorded 11. Jeremiah George chipped in with nine of his own. These guys were all over the field all day long.
Collin Klein – Kansas State's quarterback was unbelievable. All week long, Paul Rhoads preached about how patient the senior is and all 56,800 fans in attendance on Saturday saw exactly what he was talking about.
"He lets all of the blocking schemes develop and hits the hole when he has to," senior defensive tackle Jake McDonough said after the game. "His size is big and his speed is deceiving."
Klein ran for 105 yards and three touchdowns while passing for 187 along the way. 
"I don't know where you stop: toughness, intelligence, efficiency, production. A tremendous football player who played a tremendous game," said Rhoads. "A lot of head coaches would take Collin Klein on their football team." 
Amen to that. He's not flashy and he plays in Manhattan, Kan. so Klein will never get the love he deserves, but this guy is a legitimate Heisman Trophy contender.
Three Down
First Downs/Time of Possession –These two stats go hand-in-hand. Kansas State picked up 25 first downs compared to only 12 by the Cyclones. It's why Kansas State wont he time of possession statistic 40:54 to 10:06.
"They just hold the ball as long as they can," said McDonough. "They want to establish the run. The way that they have that scheme set up makes it hard to stop them."
Offense – I already touched on first downs and time of possession but let's get to some specifics.
It's easy to point at Jared Barnett's 16-for-36 completion line. That's 44 percent and obviously not what you're looking for if you're Courtney Messingham. Barnett missed wide-open receivers all day long and that can't happen. But that's also bound to happen when you can't run the football.
Shontrelle Johnson averaged 1.9 yards per carry on nine rushing attempts. In the run game, nothing was there. Absolutely nothing. 
"You've got a game manager at quarterback and you can't run the football. That's a bad mix," said my Cyclone Reaction co-host and former Iowa State wide receiver after the game.
I couldn't have said it better myself Senator.
The passing game was bland. The running game was vanilla. What's it all mean? I sound like a broken record from the Tech game. This is an offensive problem. You can't just point at one guy or unit to boot.
Opportunity missed – You don't get too many chances to knock off top-5 programs. By no means is this an atrocious loss for Iowa State, but that doesn't mean it isn't tough to watch games like that slip away either.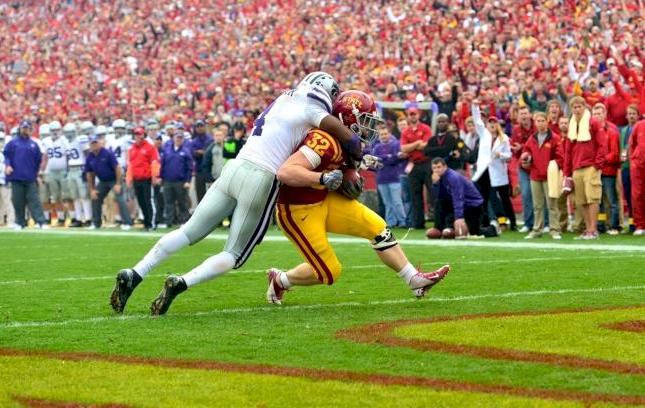 GAME BALL
Jake Knott – This one is a no-brainer.
As mentioned earlier, Knott led Iowa State with 13 tackles. Knott now has 57 tackles on the year, 41 being unassisted. Both of those numbers are tops on the team. Knott moved past Lester Williams (316, 1982-85) and Mike Schwartz (319, 1976-79) into 11th on ISU's career tackle chart. That was Knott's 17th 10-plus tackle game of his career.
HELMET STICKERS
A.J. Klein – Now has 50 tackles on the season. Klein now has 14 career games with double-digit tackles.
Jeremiah George – Matched a career-high with nine tackles (vs. Western Illinois).
Kirby Van Der Kamp – He was good again. Van Der Kamp's 53-yard bomb in the second quarter single-handedly forced Kansas State's only turnover.  
Jeff Woody – The big man scored his first touchdown of 2012 via a two-yard run early in the fourth quarter. Woody ended the day with only 13 yards. Woody's touchdown was the eighth of his career. It was good to see him back in the swing of things, especially when you consider the fact that James White is out for at least two weeks with a knee injury. 
Ernst Brun – Here's a guy who is becoming a legitimate threat in Iowa State's passing attack. Brun caught three passes for 41 yards including a 30-yard touchdown reception in the third quarter (that was one heck of an effort I might add). Brun now has four touchdown receptions on the season. He's the first Cyclone tight end to catch for touchdowns in a season since Al Dixon did it back in 1976.
Aaron Horne – This senior led Iowa State with seven receptions on the day and 84 yards. Those seven catches tied a career high (2011 vs. UNI).
Shontrelle Johnson – The junior didn't run the ball well. In fact, Johnson only picked up 17 yards on nine carries (1.9 YPC) but he did catch a touchdown pass in the second quarter. That was Shontrelle's first career touchdown reception.
Roosevelt Maggitt – He had six tackles and applied pressure on Klein all day long. 
Jacques Washington – Tack eight tackles onto his stat line this season…
Deon Broomfield – Gets one for that ridiculous "targeting" penalty that was called on him.