By Chris Williams, CycloneFanatic.com PublisherFollow Chris on Twitter @ChrisMWilliams
What: Iowa State (6-4, 3-4) @ No. 12/11 Oklahoma (8-2, 5-2)
When: Saturday, Nov. 26 @ 11 a.m.
Where: Norman, Okla.
TV/Radio: FX — The Cyclone Radio Network
Iowa State is on a three-game winning streak and is coming off of biggest win in Cyclone football history.
It's a great time to be a Cyclone. Unfortunately, Vegas doesn't care. The Cyclones are 29-point underdogs for Saturday's road trip to Norman, Okla.
Is that blatant disrespect or a harsh reality check for the Cyclone Nation?
Before you hammer oddsmakers, consider the following stats. Iowa State is 5-68-2 all-time vs. the Oklahoma Sooners. Oklahoma beat Iowa Stat by a 52-0 final in Norman only a year ago.
"The last time we went down there, we got drubbed, bad. We're returning to the scene of that crime," said Iowa State head football coach Paul Rhoads. "This is a team that has spent over half of the season as the No. 1 ranked team in the country. Is the 29-point underdog mark justified? Probably so, but we're actually going to go to work every day this week preparing to win the football game and we'll just have to see what happens in Norman."
BREAKING DOWN THE CYCLONES
Disciplined. Hard-working. Tenacious.
That's how Oklahoma views Iowa State.
"Iowa State just has that mentality that they never quit," said Oklahoma offensive lineman Lane Johnson. "They faced some adversity against Oklahoma State and they kept coming through and found a way to win the game. So, we know they're coming in and not going to fear us and we know that they are going to play hard. That's their mentality, they never give up."
While there have been a few bumps along the way, Paul Rhoads has done exactly what he said he was going to do during his introductory press conference as Iowa State's head football coach. For a trip down memory lane, take a look at this video.
"They are just good at what they do, and they take pride in what they do. I think that is the biggest thing that sets them apart from a lot of different teams, and what makes them a good team," said Oklahoma defensive back Jamell Flemming. "They work hard and execute every play. That is the biggest thing, if you can execute every play then you can beat anybody."
Those quotes represent respect. As this team proved last week, Iowa State is no longer an automatic "W" on the schedule for the big boys in the Big 12.
QUOTABLE

Bob Stoops on the Cyclones…
"They are a team that's very hot. When you look at the way they are playing in the last three games since they made the change at quarterback with Jared Barnett, they are 3-0. They are just coming off beating an excellent Oklahoma State team that had been undefeated. They are playing really well. They are a very disciplined football team that plays well together. It will be a challenge for us to pick ourselves up and make improvements this week. We need to give ourselves a chance to still compete for a Big 12 Championship. "
What to watch for:
— I'm anxious to see what the mentality of both football teams is like come Saturday morning. Iowa State is currently on an all-time high. After losing to Baylor for the first time in program history, Oklahoma is down in the dumps. Will the Cyclones be hungover or pick up right where they left off? Will the Sooners be sluggish or as fired up as ever?
— I'm still having a hard time comprehending the fact that freshman quarterback Jared Barnett threw 58 passes last Friday night against Oklahoma State. At 6-foot, 200-pounds, Barnett isn't a physically imposing individual. His completion percentage is currently a mediocre 50.6. But through his three games as Iowa State's starting quarterback, all Barnett has done is win. Can he keep the ball rolling as a 29-point underdog at one of the most intimidating venues in college football? Stay tuned.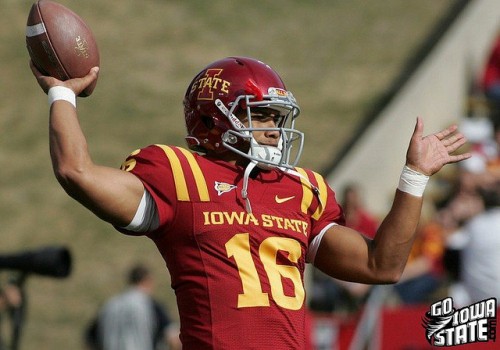 — How will Iowa State's offensive line play with the expected returns of Ethan Tuftee (LG) and Brayden Burris (RT) to the lineup? Note that neither big man is listed as a starter in Iowa State's latest depth chart, but when you're going up against a deep squad like the Oklahoma Sooners, the more bodies you have, the better.
Freshman Jacob Gannon has earned his starting spot at left guard over the last couple of weeks. Carter Bykowski and Kyle Lichtenberg have been handling right tackle duties.
I'm just curious to see how much Tuftee and Burris play on Saturday.
— Seven Cyclones caught more than one pass in last week's upset. For two games in a row, sophomore Albert Gary of all players has led Iowa State in receiving. Josh Lenz is dinged up and currently listed as day-to-day. The two Darius' (Reynolds and Darks) have been inconsistent. Jarvis West is seeing more touches by the week. Iowa State's wide receivers are a fascinating bunch. This is a story in and of itself every single week when the Cyclones take the field. The position has been a weakness throughout the Paul Rhoads era in Ames but when you factor the young talent on Iowa State's roster right now and some recruiting scenarios as well, this could very well be a strength in the coming years.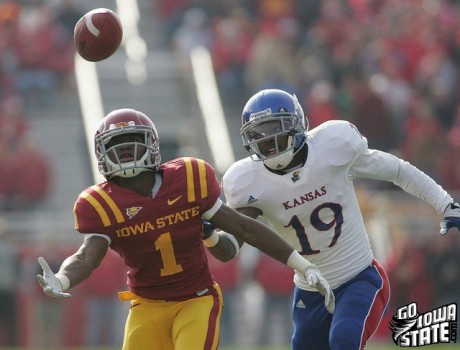 — How exactly will Wally "The Wizard" Burnham game plan for the nation's fourth ranked offense? I can only assume that much like Brandon Weeden last week, Iowa State will do everything in its power to make Oklahoma quarterback Landry Jones as uncomfortable as possible. After all, Jones did throw for 447 yards in last week's loss to Baylor. The Sooners have surprisingly dropped two games this season but Jones will still kill you if you give him time to pick a secondary apart.
— Oklahoma's version of the jet-tempo offense gave Iowa State fits last season. Will the Cyclones be more prepared this time around?
"We really felt the affects of that last year," said Rhoads. "I think that we got an appreciation and we have prepared for that better. That showed in the Texas Tech game. We prepared hard for this game a year ago for that part of it and did not answer and embarrassed ourselves at times in not being ready to play at the snap."
— This game will be nationally televised on FX. You know what that means? Gus Johnson (yes THE Gus Johnson) will handle play-by-play duties as the best color man in the business (that's only my opinion of course) Charles Davis will be by his side. With the wild man Tim Brewster working the sideline, this should be a fantastic broadcast.
CYCLONE NOTEBOOK
— This nugget from Iowa State's media guy for this game surprised me. Senior wide receiver Darius Darks is only nine catches away from cracking Iowa State's all-time top five list for receptions. Darks is sitting on 124 receptions heading into Saturday. Todd Blythe, Lane Danielson, R.J. Sumrall, Tracy Henderson, Ed Williams, Ottow Stowe, Marquis Hamilton and Jon Davis are currently ahead of Darks on the list.
— Iowa State's coaching staff has two connections to Oklahoma's program.
Running backs coach Kenith Pope was a defensive back for Oklahoma from 1971-73. Pope later returned to Norman as a coach from 1995-97.
Then there's Iowa State tight ends coach Luke Wells, who graduated from Oklahoma and was a student assistant for the Sooners from 1999-2001.
— Iowa State linebacker Jake Knott is currently the Big 12's second leading tackler, averaging 9.3 per game. Then there's last week's Big 12 Defensive Player of the Week, A.J. Klein, who is third in the league with an average of 8.6 tackles per game.
BREAKING DOWN THE SOONERS
Paul Rhoads' comments on Oklahoma were simple, yet effective during his press conference on Monday.
The question was this: What do you expect to see from the Sooners after last week's loss to Baylor.
"Anger," said Rhoads.
"Stoops looked very upset, especially during halftime," echoed senior strong safety Ter'Ran Benton. "I watched the whole game. At halftime and at the end of the game, he looked very upset. I'm pretty sure that they are going to practice really hard."
Stoops has a reputation for rallying the troops after a loss. A week after Oklahoma was shocked by Texas Tech on Oct. 22, the Sooners went into Manhattan and spanked the 11th (BCS) ranked Kansas State Wildcats by a 58-17 final. That might have been the best game that Oklahoma has played all season.
While a national championship is probably out of the picture, the Sooners still have a lot to play for on Senior Day.
"I think it is very simple for them. If they win their next two games, they are conference champions and on their way to a BCS bowl and who knows, maybe even still a chance at the BCS National Championship, said Rhoads. "They will be extremely focused and ready to play."
Iowa State is in for a fight with more than just a motivated football team on Saturday. Back in July, everybody who is anybody picked the Sooners as the front-runner to win the national title. Despite some setbacks and a handful of injuries, Oklahoma is still Oklahoma. The talent is there.
"They have a lot more talent than we do. There is no question about that," said Rhoads. "There has got to be an equalizer in there somehow, dropped balls, slipping on the turf, a missed tackle that leads to a big play. Those kinds of things will still have to happen. Some, you help create as a football team. Some just work out that way on any given Saturday."
QUOTABLE
Paul Rhoads on Oklahoma's offense without Ryan Broyles (WR) and Dominique Whaley (RB)…
"They have done things differently throughout the year with those guys. It's nothing that you would say is a noticeable change because of their loss. They are not without other weapons certainly. Landry Jones is a very gifted quarterback and he's got a number of receivers that he can throw to. I saw that on Saturday night as I watched that football game and their rushing attack is equally as potent as it was before. The moralizer with all of that talent is the speed with which they run."
More on the Sooners…
— There's no denying the fact that the loss of one of college football's top receivers, Ryan Broyles, is a major hit for this Oklahoma football team. But like Rhoads said, Jones still has plenty of weapons at his disposal. In last week's loss to Baylor, 10 different Sooners caught passes. Keep an eye on Jaz Reynolds and Kenny Stills as Oklahoma's top receiving options.
— Baylor's offense gave the Sooners fits last week. Quarterback Robert Griffin threw for 479 yards in the win. Will Iowa State try to follow Baylor's lead by throwing the football after establishing the run?
— Roy Finch is a Sooner who is due for a breakout game. Finch, a sophomore, has seen his role increase over the last few weeks due to Whaley's injury. Finch has yet to go over 100 rushing yards in a game this season, but he had 95 and 99 vs. Baylor and Texas A&M respectively.
PREDICTION
Vegas is calling for a blowout. By all means, the Cyclones should be due for a hangover and Oklahoma should be as focused as ever. I know all of these things but for some reason, I still feel like Iowa State will show up and make Saturday interesting.
As my partner Austen Arnaud has been preaching all week long, this Cyclone football team finally has an identity. Over the last month, Wally Burnham has Iowa State's defense playing as good (if not better) than any other in the Big 12.
The Cyclones are confident. The Cyclones are focused. Most importantly, I really feel like the Cyclones are hungry to be better than only 6-6.
I like Oklahoma to win this one at home on Senior Day, but I don't believe for a second that it will be easy.
THE PICK
Oklahoma 31, Iowa State 20