By Chris Williams, CycloneFanatic.com PublisherFollow Chris on Twitter @ChrisMWilliams
What: Iowa State (6-5, 3-5) @ No. 16/15 Kansas State (9-2, 6-2)
When: Saturday, Dec. 3 at 11:30 a.m.
Where: Bill Snyder Family Stadium in Manhattan, Kan.
TV/Radio: FSN — Cyclone Radio Network
——————————————————————————————————————————
BREAKING DOWN THE CYCLONES
In Iowa State's last four football games, the Cyclones have held their opponents to at least two touchdowns below their scoring average on the season.
Star linebackers A.J. Klein and Jake Knott have sure had a lot to do with it.
What about Leonard Johnson and Ter'Ran Benton? Oh yeah. Those studs in the secondary have been legit.
Lost in all of the numbers is potentially the most improved unit on Iowa State's football team – The defensive line. The difference? That has been depth. Iowa State has gone as far as 11 deep on its defensive line over the last couple weeks.
"It's a big part of it," said Iowa State head coach Paul Rhoads. "We played six tackles again this past game. We played five defensive ends. Guys nine, 10 and 11 aren't seeing significant snaps but they are seeing snaps. That is keeping guys fresh. That's important late in the second quarter. That's important late in the game. I think there is a relentless effort that they are giving."
Despite losing to Oklahoma by a 26-6 final, Iowa State's defensive push was evident during the game. That's not to mention what the Cyclones did to Brandon Weeden the week before. Oklahoma's Heisman Trophy candidate quarterback Landry Jones wasn't his usual sharp self. Jones threw two interceptions on the day.
"Even without sacks on Saturday, we hit him. We flushed him. We made him move and because of that, he was uncharacteristically inaccurate with some of his throws," said Rhoads. I think that relentless effort that they are all putting forth is what is allowing our defense to play better.
There's more to it than just that though. As Rhoads put it, after Iowa State's 52-17 loss to Missouri on Oct. 15, a light came on.
"I think that the understanding of our defense and more specifically, the understanding of every game plan and how specific it is to our success is really heightened right now," said Rhoads. "I think that we are tackling awfully well right now as a defensive football team. I think that our pursuit and speed of the football is really good right now."
***
And then there's Iowa State's offense…
The Cyclones only managed to gain only 245 yards of total offense last weekend vs. the Sooners. Obviously, four turnovers were critical in the lack of production, but Oklahoma's blitz packages clearly disrupted freshman quarterback Jared Barnett and the Cyclone passing game.
"On a number of snaps, they rushed two defenders. They rushed two defenders, they played another defender at the line-of-scrimmage. They spied with a fourth player, a great scheme to take his legs out of it on the pass game," said Rhoads. "Really made him (Jared Barnett) have to throw the ball out of the pocket if we were going to be successful in the pass game."
As a result, Barnett's final numbers were 13-of-28 for 125 yards.
As our Austen Arnaud pointed out in his five keys to victory in this game, Barnett is hardly the only Cyclone to blame for last weekend's offensive performance. Wide receiver separation was a major issue.
What to watch for:
—  How much playing time will sophomore running back James White see? White left last weekend's game in the first quarter after being a part of two fumbles. Rhoads later said that White had suffered a shoulder injury vs. Oklahoma State that had a lot to do with his lack of playing time. But even so, Jeff Woody is running the football as well as we've ever seen him do in a Cyclone uniform. Woody tallied 60 yards on 13 carries vs. a stout Sooner defense.
"I think that without a doubt, Jeff has elevated his game the second half of the season," said Rhoads.
Freshman Duran Hollis was also solid in last week's loss. How will the carries be split up on Saturday in Manhattan?
My guess is that if White is healthy, he'll get plenty of carries. Of the three, he's Iowa State's biggest threat to hit a home run. White has eight rushing touchdowns to his name on the season.
— The current weather forecast for tomorrow is calling for nasty wind chills with temps in the 30's. Rain is a possibility as well. Will that have any impact at all on this game?
— After not catching a pass during the first six games of the season, sophomore wide receiver Albert Gary has led Iowa State in receiving during the last three games. He's obviously Jared Barnett's favorite target out there. Will this recent trend keep up?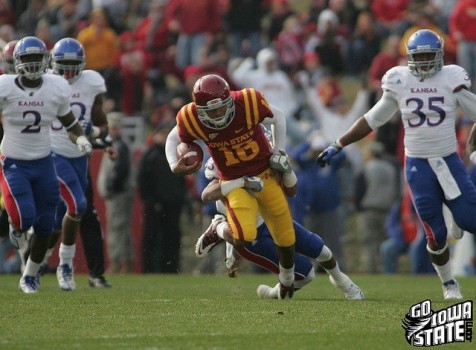 — If this turns out to be a close football game, something has to give. Eight of Kansas State's nine wins have been by a touchdown or less. Five of Iowa State's six wins have been by a touchdown or less. These are very similar football teams.
QUOTABLE – Bill Snyder scouts Iowa State…
"They play extremely hard. They play very sound football. They had some turnovers in that (Oklahoma) ballgame, but normally they are a pretty secure football team. They do not give up defensively an awful lot. They do not put themselves in jeopardy on offense. They are very sound, secure in the kicking game. I think fundamentally, they are a good football team. They finish ballgames. At no particular point of time in the course of a ballgame, regardless of what has taken place, do they not play as hard as they can."
BREAKING DOWN THE WILDCATS
KLEIN IS KEY: When it comes to big and tough quarterbacks in the Big 12, Oklahoma's Blake Bell was the appetizer.
Kansas State's Collin Klein is the main course.
Klein, a 6-foot-5, 226-pound junior, is Kansas State's offense and that's no overstatement. Klein has accounted for 1,013 yards on the ground and 1,587 through the air this season. Klein has run for 25 touchdowns and thrown for 11.
"I think he is a special cat," said Rhoads. "I think he is a really good football player and one tough kid."
Rhoads is right. Klein has accumulated an insane number of 267 rushing attempts on the season. The fact that he has remained healthy is somewhat remarkable.
"Shocked that he has been able to last in this league with the carries that he's gotten, the shots that he's had to take and not only survive but flourish," said Rhoads. "His productivity has been as good as anybody in this league."
As for the above Blake Bell to Collin Klein comparison, Rhoads elaborated on that during his Monday press conference.
"It was good preparation for a quarterback run style of offense. Certainly not all of the same plays but there is enough carry over with the extra gap created by the quarterback run game that it was good preparation for us," said Rhoads. "That power stuff that they did, obviously we used a specialized defense for it. We won't be able to just role that same defense out to stop what they do with Collin Klein at quarterback but good preparation nonetheless."
TOUGH UP FRONT: Kansas State's rush defense is ranked 27th in America so the Cyclones will have their hands full when it comes to running the football.
"They have a defensive front that are very physical. They take up space," said Rhoads. "They do a nice job of getting off of blocks and slicing through your offensive line."
As for Kansas State's 108th ranking against the pass, Rhoads believes that number is misleading.
"They've got a couple of corners who play very well and a couple of safeties who know this league and do their job very well also," said Rhoads. "When you defend the run as well as they do, teams have to try to throw the ball and because of that, they are going to have success."
QUOTABLE
— Paul Rhoads scouts Kansas State…
"Kansas State doesn't lose football games. They are very sound. They are very smart. They are tough to beat, even tougher to beat on their home field. As we continue to grow our program, there are a lot of things that I'd describe of Kansas State that I would like to hear people describe us in the same manner."
— Paul Rhoads on Bill Snyder
"He is one of the greatest. Many legends in this game would argue that the job he did in Manhattan, Kan. had never been done before at any other place. I still marvel at what he accomplished there. He is a great gentleman. He is a great football coach and I think he is one of the all-time greats in the profession."
PREDICTION
If this game was being played a month ago, I would have taken Kansas State by two or three touchdowns. But with the way Iowa State's defense is playing at this point in in the season, I think that the Cyclones have a legitimate shot to pull off this upset.
During the last two meetings between these two teams, the breaks have fallen heavily in favor of Kansas State. Something tells me that won't be the case tomorrow.
It's the final game of the regular season. Iowa State has nothing to lose. Let's get nutty.
THE PICK
Iowa State 20, Kansas State 17