By Chris Williams, CycloneFanatic.com PublisherFollow Chris on Twitter @ChrisMWilliams
What: Iowa State vs. No. 2 Oklahoma State
When: Friday, Nov. 18 at 7 p.m.
Where: Jack Trice Stadium
TV/Radio: ESPN – Cyclone Radio Network
Join Chris Williams and Tron Smith on Friday afternoon from 4 to 5 on Des Moines' sports station, 1460 KXNO for the CycloneFanatic.com/Wilson Toyota of Ames Pregame Show. Guests for Friday's program include: Cyclone Radio Network commentator Eric Heft, Kyle Porter from PistolsFiringBlog.com and former Iowa State quarterback Austen Arnaud. If you're not in central Iowa, feel free to tune in online at www.KXNO.com.



————————————————————————————————————————-
BREAKING DOWN THE CYCLONES
What is there to break down exactly?
The entire nation already has its mind made up about this bad boy. Vegas has the second-ranked Oklahoma State Cowboys tabbed as nearly a four touchdown favorite.
The Clones don't stand a chance.
Why even play the game?
"Anything is possible," said Iowa State head coach Paul Rhoads during his Monday press conference.
It's been a silly season long in the Big 12. Believe it or not, the very Texas Tech Red Raiders that have been outscored 159-33 over the last three weeks, once strolled into Norman, Okla. and upset the mighty Sooners (a once unthinkable task) back on Oct. 22.
Then there's Iowa State. The Cyclones, a 17-point underdog at the time, rolled to Lubbock the next week and beat the Red Raiders like a government mule.
As a 17-point underdog, the lowly Kansas Jayhawks nearly accomplished the impossible last week at home vs. Baylor. In the fourth quarter of that game, Kansas remembered that they were Kansas.
Rhoads is right though. Anything is possible. He's a man who would know too. Back in 2007, Rhoads was the defensive coordinator of a 4-7 Pittsburgh team that shocked national title contender West Virginia in one of the most memorable "Backyard Brawls" of all-time.
According to Rhoads, the anatomy of an upset is fairly simple. Don't turn the ball over. Force turnovers. Play your best and hope that the opponent is off a tick or two.
"You have to tackle extremely well," said Rhoads. "You have to take the ball away from their offense. You have to maybe get a defensive score or a special teams score. A lot of things have to happen in a game like this. But who's to say that they can't?"
So now that we've established the fact that upsets happen all of the time in college football and that an Iowa State victory on Friday evening isn't impossible, what are we going to see from the Cyclones in front of a national audience on Friday night?
Here's what I want to see: Flea-flickers, onside kicks, fake field goals, fake punts, two-point conversions, the Statue of Liberty and a Fumblerooski or two. I want to see a loose football team that is playing with a ton of emotion on Senior Night. Win, lose, whatever – I want Iowa State University to shine in the national spotlight against a really awesome football team in Oklahoma State.
Back to the trickery…Why not? I think that we all can agree that the chances of Iowa State lining up and going play-for-play with this offense and coming away with a win are slim. Correct?
Why not let loose? Get nuts. Go Boise State, 2007 Fiesta Bowl on the Cowboys. Live a little.
"You accept a scholarship in the Big 12 because you want to play against the best," said Rhoads. "You do that week in and week out but right now, you're playing against a team that has a great opportunity to play for a national championship."
Because of the position that Oklahoma State is currently in, literally the entire college football nation will have its eye on Ames, Iowa Friday night. There's no need to fear an incredible opportunity.
What to watch for:
— After throwing for 319 yards and rushing for 217 in his first two starts as Iowa State's quarterback, how will freshman Jared Barnett react to the national spotlight? Getting more specific, how will Barnett look coming off of a bye week? What has he learned over the last two weeks?
— While I sit here writing this preview, the high temperature for Friday is 58 degrees. That means that it will likely be in the 40's at kick time. That's really not too bad. Still, I don't recall ever experiencing a balmy November evening in Ames. How will the cool temps affect the Cowboys?
"I hope it doesn't affect us. They have to play in it too, so I don't think it will be a factor. We have to play well no matter what the weather conditions are. Hopefully they'll be nice," said Oklahoma State offensive coordinator Todd Monken.
How will the Oklahoma State coaching staff get their team prepared for an Ames November night?
"Just make sure the players get out there early, especially on a grass field, and make sure the cleats that you're wearing for the game can adapt to the field conditions to be able to keep your footing," said Monken.
The current weather forecast is calling for a windy evening.
— Special teams…Something tells me that Iowa State will need a kick or punt return to have a shot at winning this thing…
— Being that it will be Senior Night at Iowa State, the Cyclone Nation will see cornerback Leonard Johnson (among others) play at Jack Trice Stadium for the final time. Not that Senior Night has anything to do with this, but I find it hard to believe that Johnson and fellow bash brother Ter'Ran Benton won't be licking their chops against the likes of Oklahoma State standout wide receiver Justin Blackmon. I absolutely cannot wait to watch Johnson go one-on-one with Blackmon, a man who many (myself included) believe is the best receiver in all of college football.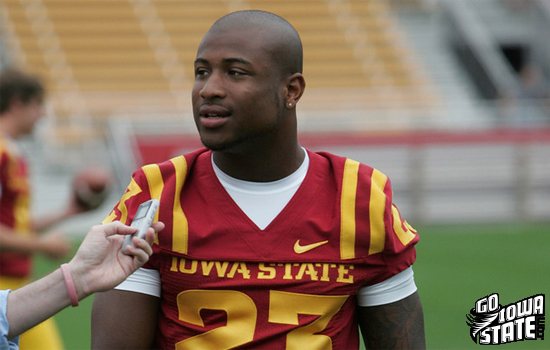 QUOTEABLE
Oklahoma State quarterback Brandon Weeden on the Cyclones…
"They do (play hard) and they're well coached. You look at the defensive side – they tackle well; they're never out of a gap; they're really gap-sound in everything they do. One thing that is for sure with those guys is they're going to play hard. They're going to fly to the football, they're going to do everything right. It's our job to take care of the football and do the small things, continue to get first downs, do all the little stuff that we can control and when we get into the redzone, we have to punch it in. We can't kick field goals, we have to score touchdowns. It's going to be a challenge. We're going to have to play well."
BREAKING DOWN THE COWBOYS
Like every writer who covers the Big 12, I could write a book about Oklahoma State's quarterback Brandon Weeden. He's a fascinating individual.
Instead, I'll leave it at this. He's good. Really, really, really, really (I want to add more really's but I think you get the point) good.
"He looks like an NFL quarterback out there," said Iowa State's All-Big 12 linebacker Jake Knott. "It looks like he's not even trying."
"Weeden can diagnose a defense in a split-second and put it only where his wide receiver can get it, every single time. I've watched probably six of their games from start to finish and have yet to see him throw a bad pass. The only bad pass I've seen him throw is if he meant to do it, out of bounds or something like that."
There's no doubt that Weeden, who is 28-years old, is an elite quarterback in college football. But his gaudy stats often overshadow the most underrated aspect of Oklahoma State's offense. That's the line.
"He (Weeden) got hit twice on Saturday," said Oklahoma State head coach Mike Gundy. "That is the most he has been touched in four or five weeks. They have protected him well. They play unselfish football. As long as they continue to do that we will be fine."
So let me get this straight. Weeden, who's thrown for 3,635 yards and 31 touchdowns so far this season, only got hit twice against Texas Tech? That's more than he's been hit in the last month?
Good golly. No wonder the guy is so good. When Jake Knott says that it looks like Weeden isn't even trying, he might be onto something! Weeden is barley breaking a sweat out there.
"Brandon Weeden is a phenomenal quarterback," said Paul Rhoads. "I don't see any weaknesses or blemishes to his game. This offensive football team is scary-explosive, maybe the best I've ever been a part of a staff that we've tried to defend."
There are no gimmicks with this Oklahoma State offense either. No tricks. Nothing. The Cowboys are as simple as a vanilla ice cream done. They're just a lot better at every aspect of the offensive game than most.
"The truth of it is that on both sides of the ball, they aren't overly complicated," said Rhoads. "They do on offense what a lot of folks are doing, they just do it so well that they have such great success."
From here, there's no need for additional Oklahoma State analysis. Just look at where the Cowboys rank in the following defensive categories.
Total Offense: 3 – 565.30
Scoring Offense: 2 – 51.70
Passing Offense: 2 – 394.20
Rushing Offense: 45 – 171.10
Paul Rhoads scouts Oklahoma State's offense…
"There are no weaknesses. They are exceptionally well-coached. The offensive line is a dominant group. Everybody is aware of their skill. Their quarterback, the receivers, their running backs. But their offensive line is as athletic of a group as you will see. They protect the quarterback. Nobody even breathes on their quarterback. They are deep and talented at wide receiver. They are running for 180 a game as well. Weeden does not miss throws. He puts every throw where it needs to be placed."
Paul Rhoads on Oklahoma State WR Justin Blackmon…
"I watched the first touchdown of that Oklahoma State/Texas Tech game and my boys and I got on the four-wheelers and the dirt bikes and I didn't want any part of that football game or him. It makes me shiver just thinking about him and watching any tape on him. You have got to find a way to get as many bodies around him and the other players as you can. So much of their success and so many of their big plays come because of a guy like him, catches the ball in the open field and makes one guy miss and makes one guy really look bad and then runs the length of the field with just grass to cover. Somehow we have got to minimize plays like that for them."
OSU on defense…
Oklahoma State is ranked 101st in total defense but that's about as skewed of a number as I've ever seen in college football. Trust me when I tell you that this is not the 101st best defense in the game. Because Oklahoma State's offense is so darn good, the defense is constantly on the field.
"They just give so many different looks on defense and they try to confuse you," said Iowa State quarterback Jared Barnett. "That leaves the quarterback back there, not knowing what is going to happen and you go into situations where a guy is there when you're not expecting him. You have to go into the game ready for that."
Oklahoma State's defense is the best in America at forcing turnovers. The Cowboys have recorded 34 takeaways so far this season. That's five more than the second best team in America (South Carolina and San Jose State are tied at 29).
"Even if they make a mistake, they are so fast and physical that a touchdown for another team is a five-yard gain against them because they are so fast and physical," said Knott. "When they come and hit you, they bring the hitting. That's how they get the turnovers. Those DB's are so fast and explosive that they get interceptions."
That turnover stat is a major problem for the Cyclones, who are currently ranked 110th in America in turnover margin.
PREDICTION
Vegas' line of 27 points seems a bit steep to me in this one. There's no doubt that Oklahoma State is a fantastic football team. But the Cowboys are playing off of a short week. Iowa State is coming off of a bye. I don't believe for a minute that Senior Night actually means that much when it comes to the outcome of a football game, but I do believe that with all of the little scenarios coming into this game, the Cyclones will be especially inspired to take the field.
I can't pick Iowa State to win this football game. I just can't. But I do think that the Cyclones will compete. Oklahoma State is in a tricky spot here. In my opinion, they are too good to lose this game but as I've written up above, don't completely overlook the Cyclones. Anything is possible.
THE PICK
Oklahoma State 45, Iowa State 24