By Chris Williams, CycloneFanatic.com PublisherFollow Chris on Twitter @ChrisMWilliams
What: Iowa State (1-0) @ Drake (1-0)
When: Tuesday, Nov. 15 at 8 p.m.
Where: The Knapp Center in Des Moines
TV/Radio: Mediacom/The Clone Zone — Cyclone Radio Network
Iowa State's roster will be more familiar with the Drake Bulldogs than any other team that it plays in 2011-12. And vice versa. That's all thanks to the YMCA Capital City League, where players from both schools go against each other and in some cases, team up during the dog days of central Iowa summers.
"I know that Chris Allen and Rayvonte Rice played on the same team. They got to be pretty good teammates. That was a pretty good team that had some pretty good firepower on it," said Iowa State head coach Fred Hoiberg. "I think those guys become friends in the summer league and this game probably does mean more because of it."
Iowa State forward Melvin Ejim agreed.
"It will make it more fun. These are good guys and we know them. I developed a relationship with Rayvonte (Rice)," said Ejim. "Will it impact the game on the court? No, I don't think so but it will be more interesting."
Iowa State's projected starters
G: Chris Babb, 6-5 Jr. – 10 PPG, 2 RPG
G: Scott Christopherson, 6-3 Sr. – 12.0 PPG, 4.0 RPG
G: Chris Allen, 6-3 Sr. – 10.0 PPG, 2.0 RPG
F: Melvin Ejim, 6-6 So. – 6.0 PPG, 3.0 RPG
F: Royce White, 6-8 So. – 25 PPG, 11 RPG
What to watch for:
— Iowa State creates all sorts of matchup problems for Drake. I'm curious as to how Mark Phelps will defensively attack the Cyclones. Zone up and Iowa State's many shooters could go bonkers. Man up and all 270-pounds of Royce White could be a major problem in the paint. Just ask Lehigh.
"They (Lehigh) were guarding Royce one-on-one in the post. Royce took advantage of that matchup. A lot of it will dictate on how teams play us," said Hoiberg. "What they (Drake) will do exactly defensively? I'm not sure. Coach Phelps has done a nice job over the years of mixing up his defenses. We have to be prepared for anything."
White scored 25 points and ripped down 11 rebounds against the Mountain Hawks in his first competitive basketball game since March of 2009. On Monday, White was named the Big 12's Rookie of the Week.
— It's only 45 minutes down the road and the Knapp Center will be half-full of good folks wearing the cardinal and gold, but how will the seven Cyclones who suited up in an Iowa State uniform for the first time last weekend respond to their first road trip?
"Drake is going to come out prepared playing in front of their home fans," said Hoiberg. "We need to come out of the locker room ready to roll, right from the jump ball. We need to go out and perform."
In my mind, that is Drake's one big chance to win this basketball team. If the Bulldogs somehow get off to a fast start, how will the Cyclones respond? This team has yet to face any sort of adversity. As always, a quick start is key, especially on the road.
— Melvin Ejim is due for a big game tonight. After going off for 26 points in Iowa State's exhibition win over Grand Valley State, the sophomore got into foul trouble and only scored six in Saturday's season-opener. In his one career game against the Bulldogs, Ejim went 7-of-8 from the field and scored 14 along the way.
NOTEBOOK
— Iowa State guard Chris Allen missed two days of practice last week due to a lingering hip pointer injury. Allen started Saturday's win over Lehigh and scored 10 points. Hoiberg said that after his first real competition since suffering the injury, Allen was sore, but okay on Sunday afternoon.
"Getting back out there, going full speed and having full contact was good for him," said Hoiberg. "He hadn't really had that in a week. He felt okay yesterday."
Hoiberg added that he plans on Allen being in tonight's starting lineup and that the Cyclones look forward to giving him more scoring opportunities going forward.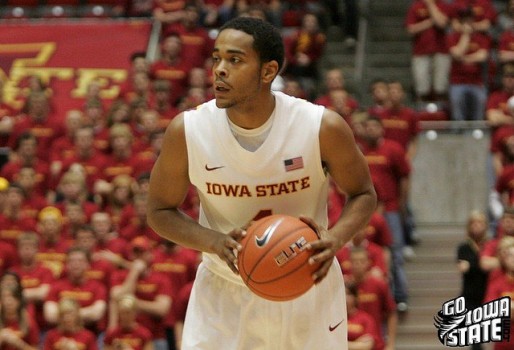 — Last year's Iowa State/Drake game made history. The Cyclones 91-43 rout (48 points) marked the largest margin of victory in series history. Scott Christopherson went 11-of-11 from the field and scored 29 points in the win.
— Oddsmakers have the Cyclones listed as a 3.5 point favorite in tonight's game.
— Iowa State leads the all-time series vs. Drake 106-64.
— Fred Hoiberg never lost to Drake as a player at Iowa State. He scored 32 points against the Bulldogs on Dec. 6, 1994.
— Tonight's game will mark the final game of Jordan Railey's two-game suspension for a violation of team rules. The sophomore center will be eligible to play on Sunday against Western Carolina.
LOTS O' LINKS
— The Des Moines Register'sMark Emmert offers up his preview for the game.
— Iowa State has had a ton of success shooting the long ball against Drake the last three seasons. I blogged about this yesterday.
— Ames Tribune sports editor Bobby La Gesse offers up some early season thoughts on the Cyclones.
THE DRAKE BULLDOGS
Projected starting lineup
G: Rayvonte Rice, 6-4 So. – Averaged 13.8 PPG as a true freshman
G: Kurt Alexander, 6-0 Sr. –
F: Ben Simons, 6-8 Jr. – 12 PPG, 5 RPG
F: Aaron Hawley, 6-8 Jr. – 23 PPG, 8 RPGF:
Jordan Clarke, 6-8 Jr. – 11 PPG, 8 RPG
Drake's best player, 6-foot-4 sophomore Rayvonte Rice, will return to the lineup against the Cyclones after missing exhibition action along with a 83-58 Bulldog win over Upper Iowa (D-2) on Saturday due to an arrest for shoplifting. Rice averaged 13.8 points and 4.8 rebounds during his freshman season.
"After a very solid freshman year, obviously you grow a lot from the end of that first year to the beginning of your second," said Hoiberg of Rice. "It looks like he has put on a lot of strength. It looks like his shot has gotten more consistent."
Think Rayvonte Rice…Think Lehigh's C.J. McCollumn. The two are similar and the Cyclones held the nation's returning leading scorer to only 16 on Saturday.
"It reminds me a little of that, to have a guy who can go out and get his own basket," said Hoiberg. "He can make a play for himself and he can make a play for a teammate."
Rice went 2-for-12 from the field and scored eight points in last year's game in Ames.
— The Bulldogs had five players in double figures in their season-opening win over upper Iowa. Forward Aaron Hawley led the way with 23 points and seven rebounds. Freshman Jeremy Jeffers was a pleasant surprise off of the bench, scoring 15 in the win.