What: Iowa State (7-3) vs. Drake (4-4)
When: Saturday, Dec. 15 at 4 p.m.
Where: Wells Fargo Arena in Des Moines
TV: Mediacom Connections 22
What once was only a rumor will finally come to fruition on Saturday afternoon. The Big Four Classic is actually going to go down at the Wells Fargo Arena in Des Moines.
When you look at the event on a surface level, any basketball fan in this state would be foolish to not be excited about its potential. Think about it: All four division one programs in our state (three of which that are potential NCAA Tournament teams this season) in one building for one ticket in one afternoon of hoops. What's not to love?
The event itself is fine. In fact, it's kind of exciting. A near sold-out Wells Fargo Arena will bring an economic boost to downtown Des Moines. I'm sure that the event will be run in a first-class manner. All of the above is good, if not great for the state of Iowa.
But with most good comes some bad. With this new setup, fans of basketball in the state get one awesome day of hoops but are left without Iowa State vs. Northern Iowa and the Bulldogs vs. the Hawkeyes.  
Iowa State will meet Drake for the 172nd time on Saturday. The two schools have played at least once every season since the year 1908. That will come to an end next season. Does that not bother anybody else?
I fully understand the other side to this debate. Iowa State and Iowa traveling to the Knapp Center or Cedar Falls do the two "big" schools in the state absolutely no good at all. Win, well yeah, you were supposed to. Lose and well, I assume you remember the epic meltdown on this very website when Iowa State lost to Drake a season ago right? What about the knockdown drag out after Northern Iowa's 69-62 victory at Hilton Coliseum?
In an era where the Big 12 is playing a round-robin schedule, non-conference games are at a premium, especially ones at home (it's all about the Benjamin's baby). When you do leave the friendly confines of your home arena, you want to expand your brand (UMKC – I know it is a stretch) or beef your NCAA Tournament resume (Cincinnati and UNLV).
My hope is that Saturday's Big Four Classic goes off without a hitch with lively crowds for both games and a great day of hoops to boot. That's what I anticipate will happen too. I'd just really like to find a way for these four institutions to play each other every year like we have seen in the past.
The guy who covers this stuff for a living totally understands why a change in the way things work in this state had to be made. However, the basketball fan in me is left wanting more. 
Breaking Down the Bulldogs
Mark Phelps' team enters this game at 4-4 and the mood doesn't appear to be what I'd call chipper on the Drake campus right now but here's the thing – did anybody really expect better than 4-4 out of the Bulldogs at this point in the season?
Drake's four wins have come over William Jewel (who?), Rice, Nevada and IUPU Fort Wayne. The four losses were to Detroit (85-79), California (73-70), Xavier (74-70 and St. Mary's (88-73) – all good teams that are capable of making the NCAA Tournament.
Back in November, I wouldn't have pegged Drake to beat any one of those teams. In fact, I would have had Drake starting at 3-5 with a loss at Nevada (good win) along the way. Other than the St. Mary's debacle (in which Mark Phelps kept the media waiting for 90 minutes after the game – not a good move), the Bulldogs played the rest of the three (that are all quality opponents) very well.
Note to the Cyclone Nation: Don't let Drake's early 4-4 record lull you into overconfidence heading into Saturday. As you all saw last year (and last Friday for that matter), if one team wants it more than the other, by gosh anything can happen.
It's no surprise that Drake's 6-foot-8 senior forward Ben Simons leads the Bulldogs in scoring at 15.5 points per game at this point in the season. Simons, who went 4-for-7 from 3-point range and led all scorers with 24 points against the Cyclones a season ago, is currently connecting on .404 percent of his 3-point attempts this season. He's consistently been a 42 percent 3-point shooter over the last two seasons.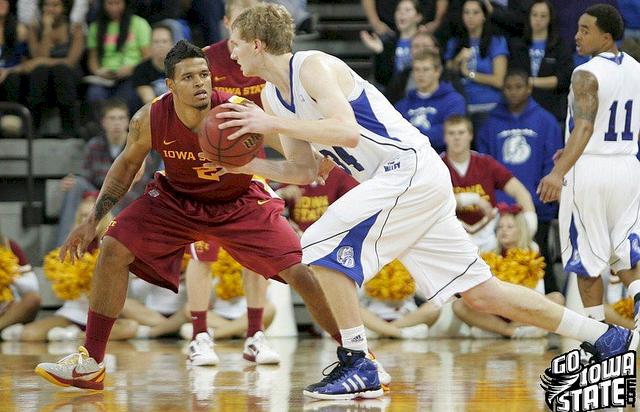 Drake is currently the nation's sixth ranked 3-point shooting team, averaging 9.4 long balls per game (Iowa State is currently ranked fourth at 9.6 per game).
Junior college transfer Richard Carter is currently running the show for the Bulldogs at the point. He's averaging 10.3 point and 4.4 assists per game. Carter led Drake in scoring with 16 in its biggest win of the season, at Nevada on Nov. 30.  Joining him in the backcourt is none other than a former teammate of Iowa State's Will Clyburn at Utah, Chris Hines, who is averaging 9.3 points per contest.
Drake has size and experience in the frontcourt. There's 6-foot-11 junior Seth VanDeest, who is averaging 10.3 points and 4.8 rebounds per contest. Senior Jordan Clarke is a beast in the paint. The 6-foot-8 senior is averaging 11 and leads the Missouri Valley Conference in rebounding with 9.8 per game on the season.   
Prediction
Drake's weaknesses seem to play right into Iowa State's strengths and that's why I like the Cyclones to avenge last year's loss.
The Bulldogs are currently the worst rebounding team in the Missouri Valley Conference at a margin of -4.4 per game. Iowa State currently leads the Big 12 in rebounding and ranks 11th nationally in the same statistic at +11.2 per contest.
And then there's defense, which Drake has struggled playing all season long. The Bulldogs are currently giving up an average of 72.8 points per game, ranking them dead last in the Valley.
One can only assume that Ben Simons will get a healthy dose of Chris Babb in this one, although seeing Will Clyburn assigned to him at times wouldn't be a shock either. Melvin Ejim, who held Thomas Robinson in check twice last year, will likely be the man assigned Jordan Clarke. 
Iowa State went into Sunday's win over Nebraska-Omaha averaging 16.5 turnovers per game. Against the Mavericks, the Cyclones only committed six turnovers. Was that a fluke or has this team turned the corner when it comes to taking care of the basketball?
What will the starting lineup look like on Saturday for Iowa State?
Add Drake's thumping of the Cyclones last season to the mix and this game certainly doesn't lack storylines. I think fans will see two good ones on Saturday and a Cyclone victory to boot. 
The Pick
Iowa State 76, Drake 70