By Chris Williams, CycloneFanatic.com PublisherFollow Chris on Twitter @ChrisMWilliams
What: Iowa State (3-0) vs. No. 17 Texas (3-0)
When: Saturday, Oct. 1 at 6 p.m.
Where: Jack Trice Stadium
TV: FX (Gus Johnson & Charles Davis)
Radio: Cyclone Radio Network
REMINDER: To tune into the CycloneFanatic.com/Wilson Toyota of Ames pregame show this Saturday. Due to the timing of the Northern Iowa game, our pregame show will air from 12 to 1 on 1460 KXNO and KXNO.com. Join Wilson Toyota's Tron Smith and me as we'll broadcast live, just north of the Jacobson Building outside of Jack Trice Stadium. Austen Arnaud and my Cyclone Reaction co-host Jack Whitver will stop by to break down the big game as well.

———————————————————————————————————————————————————
I don't have the exact quote on me, but after last season's 28-21 victory at Texas, Paul Rhoads told a packed Bergstrom Indoor Practice Facility crowd, "We want to get our program to the point where we expect wins like this."
I'm paraphrasing, but you get the point.
Rhoads wants the Cyclone Nation to expect his program to go on the road and defeat the likes of Texas, Oklahoma, etc. No big celebrations are needed. He wants to earn an 'act like you've been there' type of atmosphere around the Iowa State football program.
Last season's win in Austin was a major stepping stone. For the first time in history, the Cyclones punked the Longhorns.
This year, the stakes are much higher. If Iowa State can repeat that performance on Saturday, visions of national rankings and bowl games will dance in the Cyclone Nation's head.
For a more in depth look at what a win might mean for the Cyclones, I suggest reading Brent Blum's latest column.
A lot will be on the line come Saturday evening. Let's break this thing down.
BREAKING DOWN THE CYCLONES
This is a tough game to get a read on.
On one hand, you have the turnover bound and penalty prone Cyclones.
Then, there's the loaded with talent, baby face Longhorns (more on Texas' youth in a moment).
Point is, when it comes to this football game, guarantees are hard to come by. However, I've managed to dig one up for you.
Texas will not overlook the Iowa State Cyclones. Iowa State is 3-0. Iowa State embarrassed this proud program a year ago. Texas will be very alert on Saturday night in Ames.
Like the rest of America, Mack Brown respects Paul Rhoads to a great degree.
"He's a tough coach. He's an emotional coach, and he's put Iowa State on the map," said Brown earlier this week. "He is a risk taker, and especially in games like ours. He had the onside kick that was successful last year and will go for [it on] 4th down so you have to be ready for anything."
It isn't all Rhoads. Brown was also very complimentary of Iowa State's personnel during his weekly press conference as well.
"I think they've upgraded their speed so much," said Brown. "You used to be able to beat Iowa State because they couldn't run with you."
The play of Steele Jantz could very well determine the outcome of this contest. Iowa State's quarterback has been a mixed bag so far in 2011. Jantz worked his way into legendary status with his four touchdown performance in a win over Iowa. Yet, his three interception first quarter against UConn wasn't so dandy? Still, Jantz's ability to make big plays at crucial times has caught the attention of the rest of the league.
"He extends plays with his feet. He's big," said Brown. "Watching the Iowa comeback was unbelievable, because they've had trouble beating Iowa. And not only did he bring them back, but the play he made on the goal line where he runs up inside and bounces back out and sprints to the right and hits the guy to win the game in overtime was just an amazing play."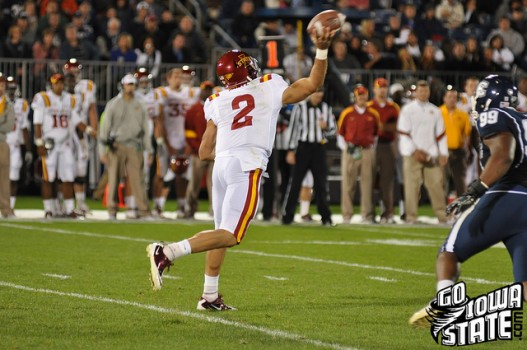 How Iowa State is 3-0 at this point in the season is somewhat incredible. The Cyclones are currently ranked 116th in the country in turnover margin. Iowa State has turned the ball over 10 times, compared to five by the three opponents. Add to it that Iowa State has given up twice as many penalty yards as the opposition and the Cyclone Nation should feel very fortunate to be playing in this big of a game on Saturday.
***CYCLONE NOTEBOOK***
— Steele Jantz is averaging just over 259 yards per game of total offense, which ranks him 39th in the country.
— Iowa State hasn't begun a season 4-0 since the year 2000.
— Steele Jantz has completed a pass to 10 different receivers so far this season.
— Iowa State received 21 votes in this week's AP Top 25. With a win against 17th-ranked Texas, the Cyclones would more than likely enter the rankings next week.
— Consider 24 the magic number for this football team. Iowa State is 13-1 under Paul Rhoads when the Cyclones hold the opposition to 24 points and 2-12 when the enemy scores more than 24.
— Senior wide receiver Darius Darks needs two receptions to crack Iowa State's all-time top 10 list.
BREAKING DOWN THE LONGHORNS
On offense…
Texas is the youngest football team in America. That's not hyperbole either. The following stat floored me. The Longhorns have played 18 true freshmen so far this season. Eighteen! To put that in perspective, Auburn has played the second largest amount of rookies at 13. According to Texas' media guide, Mack Brown has played 133 of a possible 323 true freshmen in his 14 seasons at Texas.
To a guy who has covered Iowa State since 2004 (a place where you rarely see more than three or four true freshmen play), that number is nothing short of insane.
It tells me a couple of things. It tells me that Texas' freshmen are talented as heck (duh). It also tells me that going on the road in the Big 12 for the first time is going to be a chore for this  team, especially when your two quarterbacks have thrown a combined 33 passes in their careers.
"They both can do different things," said Iowa State linebacker Jake Knott. "You think that they are scrambling and they end up throwing the ball down the field for an 80-yard touchdown or something like that. They are both dual-threat quarterbacks. It will be a challenge for our defense to contain them."
Sophomore Case McCoy will start the game for Texas, but expect true freshman David Ash to play as well. McCoy is 19-for-25 on the season, while throwing for 225 yards and two touchdowns. Ash is known as the more dual-threat quarterback of the two, although McCoy too can run the ball. Ash has gone 6-of-7 through the air for 68 yards so far this season.
Garrett Gilbert recently had surgery on his throwing shoulder and is out for the season.
The Longhorns have a three-headed monster at running back. Freshman Malcolm Brown is the workhorse. He's rushed the ball 52 times for 264 yards and a touchdown. Seniors Foswhitt Whittaker and Cody Johnson have combined for seven rushing touchdowns.
"Brown is a load. He is a tremendous football player to begin with," said Rhoads. "Overall as a team, they force you to be very assignment sound. They have a lot of movement going on across the formation. They can have movement going on with pullers, offensive linemen going in the opposite direction and forcing you to have to make decisions as individual defensive players. If somebody makes poor decision, there is grass to operate with."
Add receivers D.J. Grant and Jaxon Shipley to the mix and you've got a very respectable Texas offense that looks much different than it did a year ago.
"They aren't really a vanilla offense anymore," said Knott. "They are kind of hard to prepare for because of the formations and they use players in so many different ways this year."
Texas fans can thank new offensive coordinator Bryan Harsin (formerly of Boise State) for that.
"He does a tremendous job of mixing things up and using their strengths to their advantage," said Knott.
"They play fast offensively," said Rhoads. "There is a lot of movement to what they are doing. They are playing with great enthusiasm on defense and having some success with pressure and turnovers. Even without being in the stadium or hearing the sound, you can see the energy in their football team."
On defense…
Texas' defense is fast. Very fast. Six starters return from last year's group. In the first three games of this season, if you go strictly by the numbers, the Longhorns have been dominating their opponents.
Consider this: Texas is ranked 25th or better, nationally, in five different defensive categories. They boast the Big 12's top ranked pass defense. Add all of those facts together and it is clear to see that Texas has been making things awfully rough on opposing quarterbacks. The Longhorns have forced five interceptions in three games.
"Great speed overall with their defensive football team and pressure on the quarterback," said Rhoads. "You can see things that appear to be open in space for an offense to have success, and it closes quickly."
Take this to the bank. The Longhorns are going to make Iowa State beat them through the air. Up until now, Jantz and Iowa State's offensive line haven't reacted well to pressure. You better believe that this has been scouted. If Iowa State can somehow establish the run early on in this one, it will make Jantz's job much easier. The Cyclones ran for 199 yards in last season's win in Austin.
Thanks to all-conference defensive tackle Kheeston Randall, running the ball won't be easy either.
QUOTEABLE
Mack Brown comparing last year's team to this one…
"One of the major differences in us sitting here with this year's team as compared to the way we finished last year, is we're 13 in the country in turnover ratio, and at the end of last year we were 116. We had only eight interceptions as a team last year, and we already have five interceptions after three games. We're making a lot of progress in that area."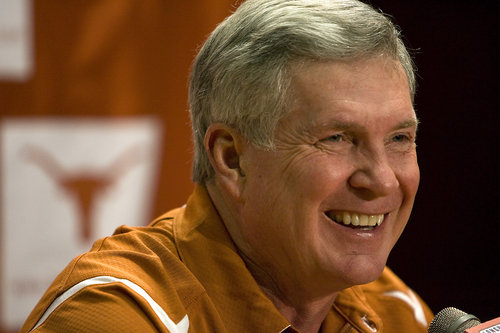 Paul Rhoads scouts the 2011 Texas Longhorns…
"Without a doubt, they have great talent. It's as good of talent as anybody in the country. They are playing with tremendous energy right now. With five new coaches on staff and two new coordinators, you have a different Texas team to prepare for than we did a year ago. They are executing well. They play a number of people on offense, including at the quarterback position who they are playing productively. It shows in their 3-0 record."
PREDICTION
This is a tough, tough game to predict.
Vegas has tabbed Texas as a 10-point favorite. As my friend Austen Arnaud pointed out in his keys to victory column, that means that the experts see the Longhorns as a two touchdown favorite on a neutral field.
This is a team that struggled mightily in the first half against Rice, barley beat BYU (who went on to lose to Utah at home by 44) and got a nice road win at UCLA.
Then there's Iowa State, who struggled against FCS Northern Iowa, beat a solid (not great) Iowa team and won on the road at UConn. The resumes are pretty similar.
Here's my question about Texas. The Longhorns weren't very good with Garrett Gilbert calling the shots. How will these freshmen quarterbacks play on the road, in the Big 12 for the first time?
My question for Iowa State is simple. Can the Cyclones play a clean football game? Up until now, they haven't.
I think that this thing is 50-50. My rule: If it's 50-50, go with the good guys.
THE PICK
Iowa State 20, Texas 17