By Chris Williams, CycloneFanatic.com PublisherFollow Chris on Twitter @ChrisMWilliams
What: Iowa State (3-4, 0-4) @ Texas Tech (5-2, 2-2)
When: Saturday, Oct. 29 at 6 p.m.
Where: Jones AT&T Stadium in Lubbock, Tex.
TV: FOX Sports Net
Remember back when Saturday's game at Texas Tech looked like one of the most winnable games on Iowa State's Big 12 schedule for the 2011 season?
Texas Tech 41, Oklahoma 38…in Norman. Wait…What?
Let's break this thing down.
BREAKING DOWN THE CYCLONES
Jared Barnett – It's your show young man.
The redshirt freshman out of Garland, Tex. will start his first career game as Iowa State's quarterback on Saturday after throwing for 180 yards in last week's 33-17 loss to Texas A&M. Barnett was adequate during his first opportunity at real playing time at last weekend. He showed some glimpses of being Iowa State's quarterback of the future. But still, it's way too early to know exactly what he can or cannot bring to the table.
Let's see how the rookie does on the road.
The same goes with Steele Jantz, the junior who lost his job to Barnett after leading the Cyclones to a 3-0 start to the season. Without Jantz's late game heroics against UNI and Iowa along with steady play against UConn, the Cyclones could be sitting at 0-7 right now.
Those who are writing an obituary for Jantz's future as a quarterback in Ames are jumping the gun in my opinion.
What to watch for:
*** Rhoads vs. Tuberville – After last season's 52-38 win over Texas Tech, Paul Rhoads is 1-0 against his former boss, Texas Tech head coach Tommy Tuberville. Rhoads was Tuberville's defensive coordinator at Auburn in 2008.
"He's a good football coach. He's solid. He understands players. He understands recruiting. He fits in up there, he's from there," said Tuberville of Rhoads. "He has done, and he'll continue to do a great job, but we'll have our hands full. He'll have them fired up and ready to play and try to bring the same scenario of what we did last week. You can win on the road. You've got to go play, you've got to play well, and you've got to play early. He's been around a lot of good football teams."
Tuberville is correct about the comparison to Tech last week and Iowa State on Saturday. The Red Raiders were 24 point underdogs to Oklahoma and they shocked the world. Iowa State is a 17.5 point dog heading into this contest.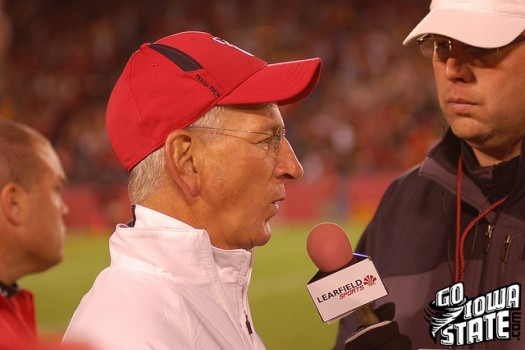 *** Will Texas Tech show up ready to play? I think that an argument can be made that Iowa State would rather travel to Lubbock under these current conditions as opposed to had the Red Raiders been blown out at Oklahoma. In between the win at Oklahoma and a road trip to Austin, the always-pesky Cyclones have become a potential trap game for Tommy Tuberville's bunch.
*** What happens if Jared Barnett goes out and struggles in this game? How loose is his leash when it comes to bringing Steele Jantz back into the picture?
*** After one of the worst games I've ever seen by a group of Iowa State wide receivers, how will this group respond to what I assume was a tough week of practice? Dropped passes left not only first downs, but big plays on the field for Iowa State in the Texas A&M loss. With a freshman quarterback making his first start, the wide outs have to do their job. That's catch the football.
*** Texas Tech ranks 15th in America in turnover margin. Can Iowa State's defense force a few? If so, can the offense capitalize?
More Cyclone football links…
— EXTRA POINTS: The zone-read, Tom Herman & more
— Blum: Big 12 Blitzkrieg
— enCYCLONEpedia: Relating stats to wins
BREAKING DOWN THE RED RAIDERS
— Seth Doege is the best quarterback in college football that up until last week, nobody had ever heard of. In Tech's upset of Oklahoma, the junior threw for 441 yards and four touchdown passes, snapping the Sooners' 39-game home winning streak along the way.
During his weekly press conference, I asked Rhoads if Doege was on his way to being a household name in college football.
"I think that he is heading in that direction," Rhoads said. "I think that the only reason he isn't already is because of the other quarterbacks and offensive stars in this league. From a defensive staff standpoint and our players' standpoint, we have been aware of him and we don't need any introduction to him. We know that he's a great player."
Doege is averaging 381.29 yards worth of total offense per game this season, which ranks him first in the Big 12 and second nationally behind Houston's Case Keenum. Doege has thrown 22 touchdown passes this season compared to only four interceptions.
"He is right up there with all of the top quarterbacks in the league," said Iowa State linebacker Jake Knott. "There are so many great quarterbacks in this league that I think he might have been overshadowed. Watching him play, throw, run and all of those things, he is one of the best quarterbacks in the conference."
Knott said that beside Doege's obvious physical tools, his ability to read a defense is really what makes Tech's quarterback tough to defend.
"He knows how to get through a defense and how to diagnose what a defense is," Knott said. "He makes really, really good reads. That's one thing. We'll have to make sure that everybody is doing the right thing because if somebody is covered, he's going to find the next guy who is open."
— Speed kills. Everybody has it in the Big 12, including Texas Tech. Would you believe me if I told you that Tech's offensive tempo is even faster than every other squad Iowa State has seen this year?
"Their offense is on a different level of fast paced compared to other teams," said Knott. "They try to get you out of alignment and make you make mental mistakes. That's the stuff that we are going to have to limit if we're going to be able to stay in the ball game."
"It's the way that they use their speed and the way that they make youmake tackles in space. Also, they run fast paced offense when can get a defense out of place and not ready."
— Tech's offensive production over the last two weeks has been impressive, especially when you consider that the Red Raiders lost starting running back Eric Stephens to a season ending knee injury in an Oct. 8 contest against Texas A&M. Senior Aaron Crawford and true freshman DeAndre Washington have stepped in admirably. The pair have averaged 119 yards per game in Stephens' absence. This is a team that doesn't run the football very much either.
— As they always do, Texas Tech has a handful of salty wide receivers on its roster. Keep an eye on junior Alex Torres. He caught four passes in last week's win over Oklahoma. Three of them were for touchdowns.
— Texas Tech might be 5-2 on the season, but it isn't because of stingy defense being played by the Red Raiders. Tech enters Saturday's game ranked 96th nationally in total defense and 105th against the run.
— Much like Iowa State was in its first three games of the season, the Red Raiders have proven to be a resilient bunch so far in 2011. Think back to Tech's Oct. 1 road trip to Kansas. The lowly Jayhawks jumped out to an early 20-0 lead over the Red Raiders. Tech ended up outscoring KU 45-24 the rest of the way.
— Having said that, Texas Tech is darn close to being 7-0 on the season. Tech's two losses came to Texas A&M and Kansas State by a combined 12 points.
— If the Cyclones let Texas Tech's offense in the redzone, it's pretty much a done deal that the Red Raiders are going to get at least something out of the trip. Tech is 36-of-39 on the season in redzone attempts. They've scored a touchdown 31 times.
PREDICTION
I think we'll see a similar Iowa State performance on Saturday that we saw last week against Texas A&M. In fact, I wouldn't be shocked to see the Cyclones take an early lead in this football game, much thanks to a hangover by the Red Raiders.
I expect Iowa State to attack Texas Tech's weak run defense and if the Cyclones don't turn the ball over, this could allow the game to stay close from a score standpoint.
Still, expecting Iowa State's offense to keep up with Texas Tech seems to be unrealistic at this point in time. The Cyclones have scored under 20 points in three of their last four games. With a new quarterback at the helm, I actually predict that to change on Saturday night. But my guess is that it won't be enough.
THE PICK
Texas Tech 38, Iowa State 24