Today's game preview is brought to you by our good friends at Fareway. CLICK HERE for creative tailgating ideas and recipes from www.Fareway.com.


What: Iowa State (5-4, 2-4) @ Texas (7-2, 4-2)
When: Saturday, Nov. 10 at 11 a.m.
Where: Darrell K Royal Stadium in Austin
TV: ABC Syndication/Longhorn Network
The last time that Iowa State football beat Texas – check that – the only time in history that Iowa State football has beaten Texas, a 28-21 stunner in 2010, was one of the most improbable upsets in program history. Iowa State was fresh off of a 52-0 blowout at Oklahoma the week before. The week prior, the Cyclones were embarrassed at home via a 68-27 thrashing from Utah.
Saturday's road trip to Austin has a much different feel to it. Iowa State's program by all means is heading in the right direction. The culture appears to have already shifted in Ames.
Example: After that win in 2010, hundreds of Cyclone fans met the team when it arrived back in Ames for a bit of a welcome home celebration. The event itself was a blast. The players appreciated it. It gave a fan base that had been starved for consistent success over decades an opportunity to soak in a victory over a program it had never beaten before – the mighty Texas Longhorns. 
However, if somehow Iowa State defeats Texas on Saturday, I don't see any gigantic welcome home celebrations being tossed this time around.
Iowa State might be a double-digit underdog in this one but things are different in 2012. From the top down, expectations are higher. The Cyclones expect to beat the Longhorns on Saturday at 11 a.m. 
Will they? Let's break it down.
Texas will win if…
…The Longhorns truly have woken up and smelled the coffee. This has been my fear all week long. You see only a month ago, Texas' arch-rival Oklahoma humiliated Mack Brown's team by a 63-21 final. It was one of those, "we're going to take your manhood away from you" type of games from the Sooners. Things got ugly folks. Oklahoma ran for 343 yards and six touchdowns on Texas' defense on that day. Meanwhile, Landy Jones chucked the football 37 times for 321 yards and two scores of his own.
At that point in the season, the Longhorns were a very shaky 4-2 and very easily could have been 3-3 after a controversial call gave them a win at Oklahoma State on Sept. 29. Mack Brown's job may or may not have been on the line. 
Up next were two games against the Big 12's two worst teams (Baylor and Kansas), in which the Longhorns won by a combined 10 points.
Even so, Texas did win those two football games. They had climbed back to 5-2 on the season with a true make or break game at Tech on Nov. 3. Texas didn't flinch, walking out of Lubbock with a 31-22 victory.
So here's the issue facing Iowa State on Saturday. By all means, it's safe to assume that Texas' worst football is behind it in 2012. It might have taken Brown and his makeshift coaching staff over half of the season to figure things out, but it appears that they might have done so while going 7-2 along the way. With the schedule that Texas has played, that's actually somehwhat impressive. Most pundits picked Texas to go 9-3 or 10-2 in the preseason. This team is right on schedule to do just that. 
Texas has five-star talent and all of the sudden, these blue chippers appear to be playing together. It's a scary spot to be in if you're the Cyclones.
The Longhorns are currently ranked 11th nationally in total offense at 40.33 points per game.
"They do a nice job with tempo. They do a nice job with formations," said Iowa State head coach Paul Rhoads. "They do a nice job of working to get you out of position and getting what I refer to as easy plays, where they are running in grass or throwing in space and getting yards simply."
On the other side of the ball, the Longhorns have been a mess for the majority of 2012. I already documented what happened in this year's Red River Shootout. But as Iowa State fans should know, Oklahoma's offense is pretty darn good. As are the offenses of Oklahoma State, West Virginia, Oklahoma and Baylor.
Sound familiar?
This is life in the Big 12 folks. 
The Longhorns are ranked 98th nationally in total defense but due to the league that it plays in, that's a bit deceiving. Case and point, Iowa State's defense is the strength of its program right now and the Cyclones are ranked 83rd in total defense.
Texas' defensive issues appear to be diminishing as the season rolls along. The Longhorns only gave up 22 points to Tech last week. Texas' rush defense that is ranked 104th nationally held the Red Radiers to 112 yards on the ground.
"Defensively, I think as they get more confident they are getting more aggressive right now in their nature and style of play," said Rhoads. "I don't mean pressure and attacking and bringing extra guys. I just mean being aggressive in how they are attacking the football, how they are attacking gaps, how they are playing fundamental defense."
By no means is this an unwinnable game on Saturday for Iowa State. Texas still hasn't proven that it's "back." In fact, it's not even close. But all indications point to this Longhorn football team coming together in hopes of making a longshot BCS game run should the cards fall the right way.
"Sometimes you hit that rhythm that I talk about at different points in the season and they had a couple of tough losses in a row against good football teams," said Rhoads. "They've bounced back and are now playing very well as 11 guys on the field in all of their phases and their units."
Quotable: Mack Brown on his team's defensive improvement as of late
"The biggest thing is stopping the run. We've done a better job stopping the run and the screens the last couple of weeks than we did at any point earlier in the year. Why we didn't do it earlier, I don't know. But if you allow somebody to run the football the way they throw the ball in this way in this league, they can be two dimensional and you've got no chance. Right now we're doing a better job at the line of scrimmage. Steve has gotten so much better. We don't know about [sophomore LB] Kendall Thompson this week, but he's improved so much. So our young linebackers are doing better. Our young safeties are doing better. But the fact is that we're stopping the run, and that is the key."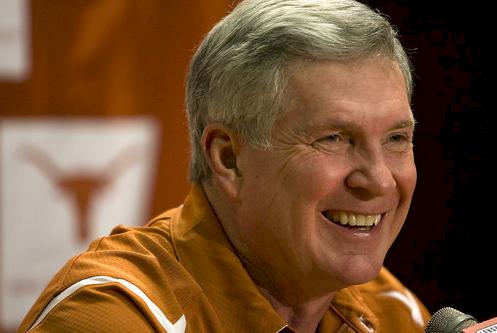 Iowa State will win if…
…Get ready for some classic, John Madden-like expert analysis fanatics…
The Cyclones will win this football game if they score more points than Texas. Now that's the type of information that you can't find anywhere else!
In all seriousness though, that's really what this game comes down to. Texas is going to score points. The way that I anticipate to play defensively combined with the fact that the Longhorns put points up in the board in large bunches, assuming that the Cyclones need 35 or more to win this one isn't irrational in my opinion. 
You know what? The thought of this being an breakthrough offensive game for Iowa State isn't crazy either. Above I outlined how Texas' defense had been showing improvement. Well we've seen the same thing from Iowa State over the last two weeks. 
Of course there was the 35-21 win over Baylor – but let's not focus on that due to the fact that it was against Baylor. 
Even last week…For the first time in his career, Steele Jantz went toe-to-toe with a GOOD defense and played mistake free football for the most part. He wasn't perfect, but he also wasn't that turnover machine that we've all gotten to know over the last year and a half.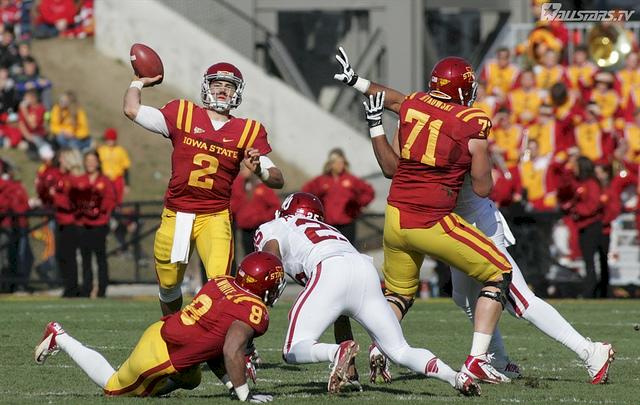 "Steele Jantz has improved so much from last year," said Texas head coach Mack Brown. "He can beat you with his feet and his arm. Those are the ones that scare you to death. He can beat you with offschedule plays. Steele will pull the ball down and take it and run with it without question. We've got to try to do a good job stopping the run, because Iowa State is a big, physical, offensive line and they like to run the ball."
And there you go. Take it from Mack Brown, not me. Run the football. Run the football. Run the football. That's how Iowa State can win this game.
Iowa State's 88th ranked rush offense has shown signs of life over the last two weeks.
"We found some space that we haven't found against other people and against teams that defend the run very well and as committed to stopping the run well as they play man coverage across it," said Rhoads. "I thought the offensive staff did a nice job of finding plays and as always the case, when we execute them it was bam, bam, bam. Blocks were made and the running back hit a crease and 18 yards, 20 yards, whatever those other plays were. Striking a balance with that and the throwing game is what allows you to stay in a rhythm. In the first half, we had three very critical drops that affected that rhythm and in the second half, errant passes and poor protection at times affected the other and that comes back to affect the run game."
Quotable: Paul Rhoads on what he remembers about last year's loss to the Longhorns
"That we got out-coached and out-played a year ago. We were a hot football team. We were 3-0. We had a chance with an open date to make some national noise against them and they came out in the first quarter and just put it on us. Two years ago, we went down there and played a very sound football game and executed well as a football team after playing poorly weeks before that. If you remember, that was most pleasing to me – that our kids responded from poor play and adversity to go down there and play a good football game. That's what we'll look to do again next week is go down and play a good football game and live with the results."
Quotable: Mack Brown on Iowa State's linebackers
"It's interesting. They have a great player in his place, which has also surprised us. I did send him a note of, "Sorry that you're going to miss some time here at the end, and also that I appreciate so much how you've played." The guy has been a great player in this league, and we've been able to see him a lot the last three years. But he is tough. He's smart. He's a great student. He's a tremendous team leader, and he may get back for their bowl game, but he'll be in the NFL. 

But [junior LB] Jeremiah George is a young guy, No. 52, that you all should watch this weekend. Watched in film yesterday and last night and he's unbelievable. He can fly. He's all over the field. He's from Florida. We had not noticed him very much because of the two great linebackers they've had. But give them credit. He jumped right in the middle of that Oklahoma team last week and played great. So circle No. 52 this weekend and watch him. He's fast, he's tough, and he's really good.

"
Key Match-Up: The trenches
On both sides of the football…
Iowa State's defense line has to find a way to put pressure on Texas quarterback David Ash because face it, with out Jake Knott in the lineup, the chances of Iowa State blitzing this offense much are slim.
Regarding Iowa State's offensive line play, expect a spirited performance, from center Tom Farniok at least. 
"They can pick any recruit they want literally," said Farniok of the Longhorns. "You know you are going to be playing against good players so for someone like me who wasn't supposed to be able to play at that level, it's always a fun game because you have that chip on your shoulder."
3 Keys to a Cyclone Victory
Third-down defense – Getting off the field on third-down has been a problem for Iowa State's defense all season long. Meanwhile, the Longhorns are ranked fifth in college football in offensive third-down efficiency, converting on 52.4 percent of their attempts.
Redzone offense – This plagued the Cyclones last week against Oklahoma. If Iowa State gets inside of Texas' 20, it's essential to turn those opportunities into touchdowns instead of field goals. Texas' defense has forced 15 redzone field goals so far this season, which is the most in college football. 
Turnovers – Steele Jantz just needs to keep on keeping on. He's in a good spot right now. In fact, one can argue that Jantz is playing the smartest football of his career right now. I wrote this last week and I'll write it again. If Jantz keeps playing this type of smart football, there's no reason why the Cyclones can't go 7-5 in the regular season.
Notebook
*** This will mark the 10th time that the Cyclones have met Texas in football. Texas leads the series 8-1 with that one Iowa State win coming in Austin in 2010. 
*** It looks like Texas' sophomore running back Malcolm Brown will return to the lineup against Iowa State on Saturday. Brown's replacement, Jonathan Gray has run for over 100 yards in Texas' last two games. 
*** Paul Rhoads labeled Iowa State's junior wide receiver Jansen Watson as "day-to-day" earlier in the week. Stay tuned. 
Prediction
I actually see this game going down a lot like last week's loss to Oklahoma. I think that the Cyclones will show up, force some turnovers and make things interesting but in the end, Texas' top-of-the line talent might just be too much. Not just that, but the fact that I think Texas is just starting to peak as a football team. It's a bad time to see the Longhorns on the schedule. I'm predicting an Iowa State loss on Saturday but if we keep seeing the same type of play from Steele Jantz and the injury report doesn't get any deeper, I like Iowa State to end the season with a 7-5 record.  
The Pick 
Texas 34, Iowa State 21