By Chris Williams, CycloneFanatic.com PublisherFollow Chris on Twitter @ChrisMWilliams
How goes it Cyclone Nation?
If you're like me, you somewhat look forward to weekends when Iowa State is off. It allows a guy to focus on everything else in the college football universe for a change! For the most part, I did that on Saturday. Although if you keep reading, you'll learn that my night was as eventful as they come.
I'm going to start this week's musings off with something new. Well, it's kind of new. It's new to Monday Musings, but not this site in general. Starting today, I'm going to start listing me weekend Three Up, Three Down. This is a formula that I use in all of my postgame columns here on CF. I used it to recap the weekends this summer in my Des Moines Register auto racing blog. I enjoy it. Just a quick heads up though. It isn't ALWAYS going to center around Iowa State and the Big 12. This is just kind of a "whatever" Three Up, Three Down, that sums up the weekend through my eyes.
Capiche?
THREE UP
Robert Griffin – Fact. Baylor's quarterback has thrown more touchdowns (13) this season that incomplete passes (12).
Charles Rogers – He's Iowa State's latest football commitment. Rogers, a 6-foot-1, 185-pound ATH out of Iowa City West (you read that right, Iowa City), committed to Iowa State on Friday morning. Later that night, Rogers threw for two touchdowns and ran for three in West's 63-14 rout of Cedar Rapids Jefferson.
T-Shirt – Props to the Iowa State University Bookstore for this bad boy.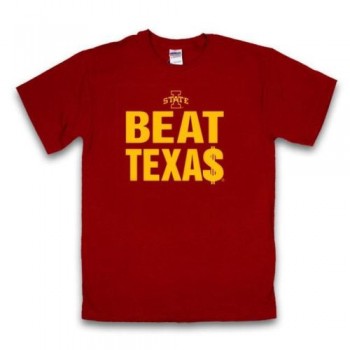 Honorable Mention: Geisler Farm – I took my nieces and nephew here on Saturday afternoon. They LOVED it! We went on a hayride, picked out some pumpkins, played with some corn, you know all of that good stuff. I highly recommend this place (located in between Ankeny and Bondurant) to anybody with kids. It is affordable and fun.
THREE DOWN
My Minnesota Vikings and Atlanta Braves – Need I write more? Thank God the Clones are 3-0.
Expensive carpet – Reports indicate that Iowa State University is about to spend $90,000 on carpet for the president's mansion. For real? This must be some kind of carpet.
My wife put it best the other night when she said, "They must not have shopped around."
Media.. – …That piles on the Big 12. We get it. You think that the league is going to die. You've thought that for two years and that's fine. I don't have a problem with people doing their jobs. I am in that business. I get it. But writing the exact same thing, over and over again gets old to everyone. Some enjoy kicking the little guy when he is down. That's obnoxious to me. If you're going to to keep calling for the league's death, I'm cool with that. Just please attempt to be a little more creative and refrain from using the word Armageddon 15 times a day.
Honorable Mention: Missouri – While they haven't been the center of attention over the last month of our conference realignment saga, the Tigers always seem to be a thorn in the Big 12's side and you never really know where they stand. After all, one can make the argument that Missouri did indeed start this mess. At the current time, every school in the league now appears to be cool, except for Missouri, which leads me to this week's thoughts on…
On conference realignment…
— Does the Big 12 want to lose Missouri? Absolutely not. Losing another quality university is the last thing that this league needs right now, when it's desperately attempting to show some solidarity. But here's the cold hard truth. Missouri, like every other school in the Big 12 not named Texas or Oklahoma, is expendable. Sad, but true. As long as those two schools are committed, there will be a Big 12.
Again – I absolutely, do not want Missouri to join the SEC. They're one of Iowa State's original rivals. To me, that still means something.
Why should Missouri stick around? There are a few reasons. The first is what I mentioned above. Leaving rivalries against Kansas, Kansas State and Iowa State in particular would be a sad thing. The second reason is a pretty obvious one in my opinion. Gary Pinkel has built that football program into a national power by heavily recruiting the state of Texas. Missouri in its current state is not a flash in the pan. This is a legitimate top 25 program we're talking about. If you stay in the Big 12, you're assuring yourself of a football program that can contend for conference championships going forward. Head to the SEC? Well, who really knows.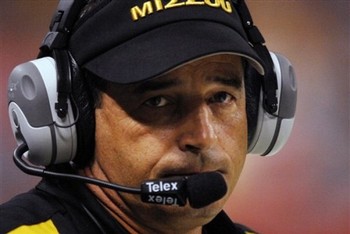 The good thing for Missouri is that when you factor in television sets, the Tigers will never be left out of a "super conference," should we ever get to that point.
The Big 12's biggest problem right now is trust. Who can you trust?
That's what I think that this week will be about. That's what this week should be about. It's been widely reported already that the Big 12's athletic directors will meet in Dallas this week to hash some things out, with a new commissioner leading the way. I have a hard time believing that progress won't be made. As they say, Rome wasn't built in a day. You cannot expect everything to be perfect within the Big 12, just a few days after last week's drama.
To wrap up my thoughts on Missouri, I'll leave it at this. I understand their frustrations with this league. Who wouldn't? In fact, if St. Louis and Kansas City were located in Iowa, Iowa State would be foolish to not consider its options as well. I know this.
But on behalf of everybody who actually wants the league to succeed, Missouri, if you're not in, get out. The last thing that the Big 12 needs moving forward is to have to look over its shoulder once a year.
— I found this tweet from Chuck Carlton of the Dallas Morning News to be interesting on Sunday night.
For those wondering about the Big 12 and AAU membership, lost of A&M leaves four members: Texas, Missouri, Kansas and Iowa State.     
On Iowa State/Big 12 football…
— I was surprised, but not shocked when Vegas released its line for Iowa State's date with Texas on Sunday afternoon. I've seen the Clones listed as 9 and 10-point underdogs, depending on where you look. On last Thursday night's call-in show, I had Texas tabbed as a 7-point favorite. If you were one of those fans who called into WHO-TV 13's Sound Off last night complaining about this, why waste your breath? Do you really want one of the most penalized and turnover bound teams in America to be a favorite against a program with as much talent as Texas? Who cares is people are overlooking the Clones? That's a good thing. Heck, I would have loved to see Texas as a 17-point favorite for Saturday night's showdown.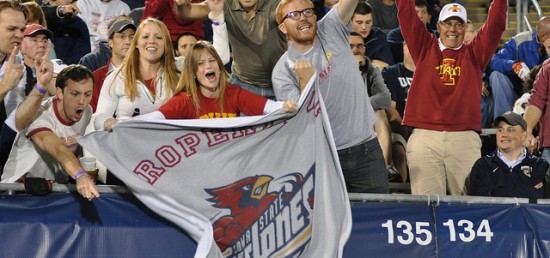 — Speaking of Saturday night, Jack Trice Stadium better be sold out. The Cyclone Nation has no excuse to not turn out in a big way.
— Mike Gundy out-coached Mike Sherman in Oklahoma State's 30-29 win over Texas A&M on Saturday. Brandon Weeden was better than Ryan Tannehill. Those are two big reasons why I've been preaching the Oklahoma State gospel since June. To me, this wasn't an upset. Oklahoma State is that good. Beware Boomer Sooner.
— This week's "tip of the hat" goes to our friends down in the "Little Apple." I thought that Kansas State would compete with Miami on Saturday afternoon. I knew that they'd cover the 11.5 point spread. I never thought that Bill Snyder's Wildcats would walk away victorious.
RANDOMS
— As most of you know by now (because I talk/write about her quite a bit), my wife is a veterinarian. She's a darn good one too.
While I was watching football on Saturday evening, my wife got a phone call. Her services were needed to perform an emergency C-section on pointer-mix, named Charlotte in West Des Moines. Problem was, it was Saturday night at like 7 o'clock. This was for a shelter and workers are limited at that time. At this point, my wife and Dr. Jen Mathis (from Family Pet Veterinary Center, my wife works there too – Here's a link to the clinic's website) had no choice but to go to to the bullpen.
When you perform a C-section on a dog, you need people to literally shake the puppies immediately after they are born. Because they are being born via a C-section, they don't experience the trauma from a regular birth. Essentially, there is a bunch of mucus that is stuck inside of the puppies and the goal is to work it all of the way out until they start breathing and eventually cry.
On Saturday evening, I didn't watch a snap of football. No, no my friends. On Saturday night, I was a puppy shaker.
Realize now that the sight of my own blood usually grosses me out. On Saturday night, I watched my wife cut open a dog and hold a uterus in her hand. All of the sudden, the thought of my finger being pricked at a random checkup doesn't seem so bad anymore.
Charlotte ended up having 10 puppies (yes, 10) and once again, the talents that my wife, Dr. Mathis and all veterinarians across the world blew me away.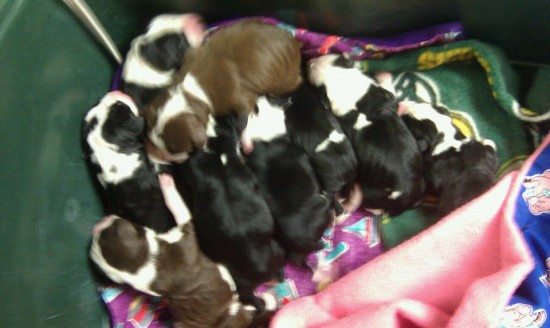 When you go into a doctor's office, you tell your doctor what is wrong. For the most part, all humans are put together the same way.
Think for a minute about what veterinarians have to do on a daily basis. I've never heard a cat say, "Hey doc, my tummy hurts." It doesn't end with dogs and cats either. Whether if it is spaying a rabbit or neutering a sugar-glider, the field of veterinary medicine fascinates me.
— This story leads me to something I've been wanting to start for a while now. I just told you Charlotte's story from Saturday night. Here's the back story to that. Charlotte, who was one of the sweetest dogs I have ever met, was found on the side of the road inside of a box last week week in West Des Moines. Correct. A human being left a pregnant dog in a box, to do nothing other than die.
Fact is, sick things like this happen every day to animals across the world. So going forward, I'm going to post the photo of my "Monday Musings Furry Friend of the Week" in this blog every Monday from now on. Why? We need to do what we can to give these animals homes. CLICK HERE to visit the Furry Friends Animal Shelter Facebook page, where the staff there does an outstanding job of updating it daily. Our first order of business is to find a home for Charlotte and her 10 puppies. If you're interested, contact Furry Friends or heck, shoot me an email to chris.m.will@gmail.com at anytime and I'll get you in touch with the right people.
Got a little windy today. My apologies Have a great week everybody!