By Chris Williams, CycloneFanatic.com PublisherFollow Chris on Twitter @ChrisMWilliams
On Iowa State football…
— Is it me, or was the overall reaction to Iowa State's plan to build a $20.6 million football facility a little bit bland last week? I thought that fanatics would go bonkers over this news. I realize that most fans have dreams of a bowled in south end zone, but this major facilities upgrade is more important for the program at this point in time. As Paul Rhoads put it during his speech at Saturday's Cyclone Gridiron Club event, this facility will help all sports. Iowa State's athletic department has outgrown the Jacobson Building. That's a good thing folks.
—In another note from Rhoads' speech on Saturday night (that you can watch by clicking here), the head coach discussed Iowa State's upcoming schedule in 2011. Rhoads said that it might be the toughest slate in the history of Iowa State football. Get used to this fanatics. This new nine-game Big 12 schedule is going to produce nothing but more of this in the future. That's especially the case when having to factor Missouri and Oklahoma State as upper-level programs now, which wasn't the case 10 years ago. Still, I think that this non-conference schedule of Northern Iowa, Iowa and @UCONN could be a lot worse. There's no doubt that Iowa will be a solid, bowl team in 2011, but UCONN has a ton of rebuilding to do. I'm actually going to write a blog about that later in the week. Sure, UNI always gets up for the Clones but this Iowa State program is way past the days of having to worry about being upset in that one. It's not going to be easy and the Clones will likely have to upset somebody along the way, but a bowl game is going to be reachable for this team in 2011.
— I think that the experts nailed it in Saturday night's Cyclone Gridiron Club's Coaches Cookoff. Shane Burnham's pork loin was fantastic. It was very moist and jam-packed with flavor. However, Bob Elliott deserved to be in the conversation. For those who weren't in attendance, Elliott served some sort of cherry sauce with his BBQ. It sounds weird but was nothing short of marvelous. Props to Elliott on his creativity. Props to Burnham for proving his doubters wrong. Shane finished dead last in the voting a year ago.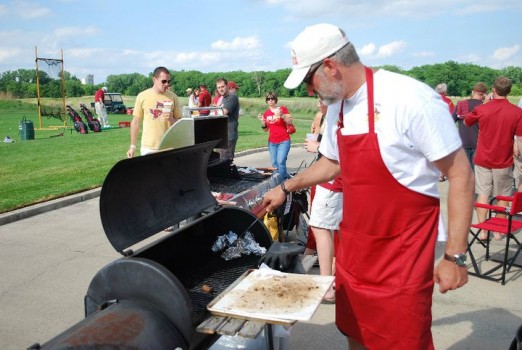 — On Sunday afternoon, Chris Nee of Rivals.com reported that Iowa State offered a scholarship to Dwayne Norman, a safety out of University Christian School in Jacksonville, Fla. It's notable that Norman is already committed to Duke. No, Norman isn't a basketball prospect. Duke plays football too.
— Rivals.com assigned three of Iowa State's 2011 commitments three-stars today. That stinks. I was hoping for five-stars. The fact that they only got three means that they will only be average for the rest of their lives.
Signed, Jesse Smith
On the YMCA Capital City League…
— The Des Moines YMCA Capital City League begins this Wednesday. I always enjoy going to this a few nights out of the summer, but the next month will be especially interesting. There are so many unknowns heading into Iowa State's 2011-12 men's basketball season. While the CCL, which is basically organized pickup basketball, won't provide many answers, we'll at least get a glimpse as to what next year's team might look like.
CLICK HERE for a complete league schedule, as far as rosters as well.
My early pick to win it all is team "Two Men and a Truck." Iowa State's very own Chris Allen, Percy Gibson and Bubu Palo will be joined by Drake's Rayvonte Rice.
Can you say "STACKED?"
RANDOMS…
—Terrelle Pryor recently hired Drew Rosenhause to be his agent. What a glorious combination…
— I'm pretty sure that besides "Homeward Bound" (that old dog gets me every time), "Marley and Me" is the saddest movie of all-time.
Last week was a rough one for my 11-week old golden retriever Pasiley and me. It all started when I got up early one day to take Paisley to the restroom (my wife calls this "potty" but I prefer talking to the dog like she isn't an idiot). As she normally is early in the morning, Paisley was in a playful mood.
She licked. She wagged that cute little tail. I could tell she was saying "I love you daddy" in doggy language (some say I am a dog whisperer). All was well. Then reality set in.
Paisley ripped my favorite pair of Iowa State workout shorts.
The dog meant nothing malicious by these actions. She doesn't have a mean bone in her body. But still, puppies can be as frustrating as Big 12 officiating inside of Hilton Coliseum. When I got into this puppy thing, I had no clue how much work a cute little dog could be. Since we got Paisley a little under a month ago, I've aged five years. That's no joke fanatics….Quit laughing at me…
Needing to gain perspective in a hurry, my wife and I opted to watch "Marley and Me" on Sunday afternoon. After that, it was all over. To say that Paisley got spoiled on Sunday night would be a massive understatement.
The last 20 minutes of that movie are agonizing. If you don't shed tears during that time, you seriously need to check your pulse. In fact, I'm starting to cry right now as I write this (not really, take a joke people).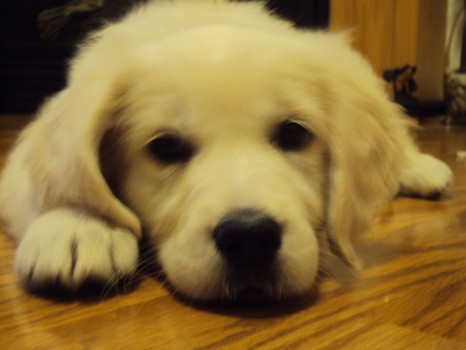 — I finally saw "The Hangover, Part 2" last Friday. It was good, but not great. I prefer the first one to the second. It wasn't bad. I didn't walk out of the theater thinking that I wasted two hours of my life by any means. It's just that the first one was so good, I think that my expectations were too high going into this. Scale of 1-10, I give it a 6.
— The GOP presidential candidates will have a debate tonight on CNN. This is horrible scheduling by everybody involved. Don't they realize that nearly everybody in America will be tuned into the Bachelorette? — Thank the Lord that Ashley kicked off that creepy masked man last week. What a whack job.