This 3-0 feels different…
Hear me out. Iowa State entered Big 12 play a year ago unbeaten but very, very shaken. That 3-0 was the result of three frantic comeback victories – one at home over an FCS opponent, a thriller vs. rival Iowa and one on the road against a pretty average UConn team. 
Don't get me wrong. 3-0 is 3-0. You take the wins any way that you can get them. But 2012's hot start has me much more convinced than the one I saw in 2011. 
There's the turnover issue but besides maybe a two or three minute span at the end of the game in Iowa City, I've never once felt that Iowa State was on the verge of losing a football game so far this season.
The Cyclones got down early against Tulsa but that was mostly due to a special teams meltdown and a fluke safety. Never once did Tulsa ever look like a better football team than Iowa State. The same can be said for week 2's victory over Iowa. The Hawkeyes had their moments but to anybody with a pulse, it was clear that Iowa State had the better team overall. As you all know, there's no need to analyze Saturday's spanking of Western Illinois.
So Iowa State is 3-0 and receiving votes in the top 25. Its next opponent, Texas Tech, is 3-0. Both programs have this upcoming weekend off. The showdown has been set for Sept. 29's 6 p.m. meeting in Ames.
*** Win a trip to the Big 12 Basketball Tournament in Kansas City from Minor Wreck Expreess. All you have to do is know a thing or two about college football. DETAILS HERE!!! *** 

On Iowa State/Big 12 Football…
Let's take a quick look at Texas Tech…
*** The Red Raiders have three wins over the likes of Northwestern State, Texas State and New Mexico – not exactly juggernauts. For instance, Northwestern State is 1-2. Its one win came over Arkansas-Monticello (who?). New Mexico is 1-2 with its one triumph over Southern U. Tech's 58-10 victory over Texas State actually impressed me, considering it was on the road and that Texas State traveled to and beat Houston 30-13 in week one.
*** Texas Tech, whose offense is currently ranked sixth nationally, has outscored those three opponents 151-30. Senior quarterback Seth Doege has thrown for 12 touchdowns.
*** There's no doubt that Iowa State's three wins have been more impressive than Tech's. The scores won't pop out on paper like that of the Red Raiders. But Tulsa is proving to be a pretty decent football team. The Golden Hurricane beat Tulane by 35 in week two and embarrassed Nicholls St. 66-16 on Saturday. Tulsa's offense is currently ranked 18th in America.
*** You can't just compare scores when breaking down Tech's road trip to Ames though. We all know that doesn't really work. Paul Rhoads has had Tommy Tuberville's number the last few years and my guess is that Iowa State might be a one or two point favorite if Vegas would put a number on this game today but who knows.
A few jottings from Saturday night's 37-3 win over Western Illinois…
*** I found it interesting that redshirt freshman running back DeVondrick Nealy is now back on kick return (with Jarvis West) in place of Aaron Horne. I assume this is an example of trying to get that playmaker some touches.
*** I haven't been able to re-watch the game yet but I did take a few notes on some "stuff" that Courtney Messingham appeared to be trying with a few wide receivers. First of all, Iowa State got Jarvis West involved in its running game early on in the game. I also noticed some different movement with redshirt freshman Quenton Bundrage, who caught the first pass of his career in the victory. 
Who knows how relevant these tweaks will be in the future. Texas Tech will have to account for them over the next two weeks though.
*** I wish Iowa State blew out more teams. There's nothing I love more than watching the Cyclones of the future. A few guys stood out to me on Saturday night.
The entire secondary did. I think that guys like Ken Lynn and Sam Richardson are going to be really good. 
On the defensive line, I really like what I've seen from sophomore Cory Morrissey, who will only get bigger and better with time.
*** Linebacker Jeremiah George just might go down as the greatest interview in Iowa State football history before it's all said and done.
A few things that stood out to me in the Big 12 on Saturday…
*** Oklahoma State lost its starting quarterback Wes Lunt during its first series to a knee injury. It didn't matter. The Cowboys set a school record with 742 yards of total offense in a 65-24 win over Louisiana-Lafayette without him. Oklahoma State is leading the Big 12 (and America) in total offense through three games with an average of 686.7 yards per game. West Virginia is second best at 612. If you like offense, circle Nov. 10 on your calendar. That's when the Mountaineers will pay a visit to Stillwater.
*** Iowa State's road trip to TCU on Oct. 6 is a very winnable game for the Cyclones. Don't let the "experts" tell you any differently. TCU's 20-6 win in Lawrence last weekend is nothing to laugh at. Winning on the road is hard and after losing to Rice the week before, the Horned Frogs should have expected nothing less than a spirited effort by the Jayhawks. Here's what I find troubling about that win though if I'm a TCU fan. Kansas passed for 303 yards against that nasty defense. Kansas only threw for 169 yards against South Dakota State and 144 the next week vs. Rice…
TCU will host Virginia and travel to SMU before Iowa State invades Fort Worth on Oct. 6.
*** I really enjoyed this zinger from my Cyclone Reaction co-host late Saturday night. We were going over the Big 12 scoreboard and I read that Texas had dropped 66 on Ole Miss.
"Texas fires Greg Davis and they're almost scoring 70 points against SEC teams," said a smug Whitver.
Well played. Very, very well played.
Randoms
*** I'm pretty sure that Iowa State has a better defense than the Minnesota Vikings. Big Vikings fan here okay…Honestly, I hope that they lose out. Yes – I'm that guy. Let's get another top five draft pick and build a championship team. 
*** If you've got a problem with that Nick dude keeping the money on the season finale of "Bachelor Pad," then you've got a problem with me. Don't hate the player, hate the game. Nick might be a dork – but he's a smart and very wealthy dork.
*** If one more person posts a stupid link to some high school yearbook site on my Facebook page, I'm going to scream.
*** My wife and Golden Retreiver Paisley went to Ames with me last Saturday. During our radio preview show, the Mrs. told me she was going shopping to find Paisley a dog jersey. When the two came to pick me up at the dealership a few hours later, I found this.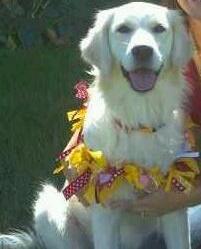 Not the most manly looking pup…Good thing she is a female dog. On the flip-side, the wife only spent six bucks at Hobby Lobby (or as I refer to it as the "seventh circle of hell") as opposed to 25 on a jersey somewhere else.
She's a resourceful one is Dr. Williams. God love her. 
*** I celebrated the 28th birthday of one Brent Blum on Friday night at Texas Roadhouse. Check out this little rascal on the horse. Saddle up city boy!