By Chris Williams, CycloneFanatic.com Publisher
Follow Chris on Twitter @ChrisMWilliams
Happy Thursday Cyclone fanatics. I've got a short mailbag on tap for you today. Let's start things off with a hoops recruiting question from Kentkel.
Kentkel writes: First, thanks for the time and effort you put into this website. I honestly spend way more time here than I do watching TV, movies, etc – this is largely because of the quality of this site! Now, for my question: You mentioned in another thread that you thought that Okoro may be the next commitment – gut feeling? Faith in the staff? Or inside sources indicating this? Thanks!
CW: First of all, thanks so much for your kind words. The entire CF team is glad that you enjoy the site so much. That's what it's all about!
Now onto Nkereuwem Okoro. Generally, when I write little hints like that, I have a pretty good indication that something is going to go down. In the recruiting world, nothing is ever official. There are so many variables (AAU coaches, family members, handlers, etc.) that can potentially impact a young man's decision. But I really feel that Matt Abdelmassih is doing an incredible job on this recruitment and have faith that the rookie assistant coach will get this one done.
00clone writes: Other than making it a 3-man race, does James Capello's departure do anything for the starting quarterback competition?
CW: Not really. I never believed that Capello was an actual player in the four-man competition. This will likely turn out to be a great move for Capello, as he'll be able to play immediately that the D-2 level next season. This also trims some of the fat for Iowa State and will allow guys like Jared Barnett and Sam Richardson to get more reps when fall comp rolls around in August.
I still think that this will come down to Steele Jantz and Jerome Tiller, with Jantz being my pick here in mid-May.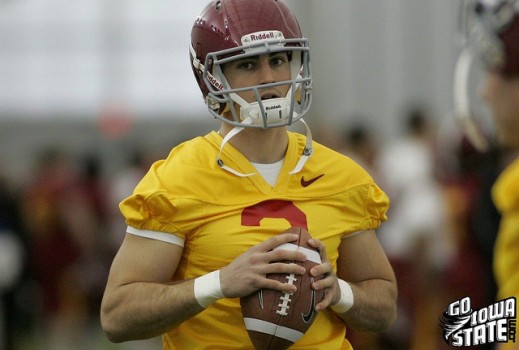 CyCrazy writes: Did you ever receive a Pony for a birthday gift as a child?
SEINFELD YOUTUBE CLIP
jj-cyclones writes: Watching the Dallas-Oklahoma City game right now. Who you have winning the NBA title? And while on the topic of the NBA, if your were a betting man, would you wager on DG getting drafted of not?
CW: I'm so torn on the NBA. The reason being is because I don't watch it enough during the regular season. I am a big Bulls fan, so I've enjoyed this year a lot. I've got a serious case of "fan goggles" going on right now with my Bulls. But the Heat played really well last night. I think that they'll win game 3 later this week and eventually take the East in seven. While Dallas is the favorite out West and already has a one game lead, my pick is Oklahoma City. "They're too young." Yeah, well people said that about the Bulls two months ago too. Even though Chicago had the league's best record, a handful of "experts" didn't think they'd escape the second round. I like OKC's young legs to outlast Dallas in seven. My pick is Miami in six in the NBA Finals. The Association is fun again and I'm loving it!
As for DG, I'd go with yes. I think he'll be a late second round pick for somebody.
Chadm writes: Any thoughts on a CF golf outing this summer?
CW: This topic seems to come up a lot and I appreciate the interest that many fanatics have in a potential CF golf outing. We've exhaustively looked into this in recent years and have had a tough time finding a way to make this work logistically. As you all know, CF is a free website. The only income we earn is through advertising alone. The point is that if we were to do an outing in the future, we'd have to be guaranteed to not lose our butts on it if you know what I mean. Do I see us having one of these in the future? Absolutely. That's the goal at least. We want to do it bigger and better than the other thousand outings that go on every summer in central Iowa. But it has to make sense for us and as our company continues to grow, we hope that some day it will.
Frak writes: With the June Board of Regents meeting scheduled for the 8th, we are going to see the plans for the new Football Training Facility sometime in the next three weeks. When do you see ISU releasing renderings? And who's name do you think will go on the building?
CW: I wish that I had some specifics on this topic but I just don't. I wish I was that well connected. Yes, I agree that something will be released but that's as far as I can go.