By Chris Williams, CycloneFanatic.com PublisherFollow Chris on Twitter @ChrisMWilliams  
Happy Thursday Cyclone Nation. It's mail time. Let's start today's mailbag with a question about the incoming basketball recruits from StevieISU23.
StevieISU23 writes: Give me 3-4 sentences on each of our 4 hoops freshman to be….
CW: Sir yes sir. Stevie — That was more of a demand than a question. I like your style though. You're a man who had a quality topic in mind and straight went for it. Props to you on that.
Georges Niang – He's the guy who I would consider the highlight of this class. He committed to Iowa State fairly early in the process. Had he not done that, larger offers would have come his way. In fact, I know that Billy Donovan (among other big time coaches) was sniffing around Georges for a while. Any school not named Duke, Kansas or Carolina or Kentucky would have taken Niang late in the recruiting process. Having said all of that, don't expect 20 points per game out of Niang as a freshman. He's what I call a garbage man. He does the stuff that others don't like to do. Niang is a true team-first guy and could be a four-year starter at Iowa State.
Nkereuwem Okoro – Think Curtis Stinson's toughness…Okoro has the potential to be an ace defender for Iowa State throughout the course of his career. He's not a great offensive player but the skills that he does have are underrated in my opinion. Okoro is a role player whose grit could make him a fan favorite over time.
Sherron Dorsey-Walker – He's the shooter of the bunch. I'm less familiar with Sherron's game compared to the other two but he'll fit in well with Fred Hoiberg's offense where the 3-ball is so important.
Naz Long – A very intriguing prospect in my opinion. His stock is probably higher now than it was the day he committed to Iowa State. He's a true point guard in a program that lacks depth at the position. The best thing for Long is that he'll have little to no pressure on him as a freshman playing behind Korie Loucious, who could see 35-40 minutes per game. At 6-foot-3, he's lengthy and looks a lot like Diante Garrett but lacks DG's overall offensive skills at this point in time.
KFitzy87 writes: Who are you most excited to see play in the Cap City League this year?
CW: I'd say Georges Niang for a couple of reasons. One – because big men usually dominate this league. Two – I've never seen Niang play in person before. Really, all of the newcomers excite me. That's half the fun of the Cap City League in my opinion. Of Iowa State's current players, I want to see more of Will Clyburn. 
IcSyU writes: Does Royce White have a spot in the starting 5 of the "Iowa State All Time Best" basketball lineup?
CW: If you're going from a pure talent perspective, I'd say absolutely.
Isulive2train writes: Why won't you tell us the big news with CF?
CW: I'm waiting for the perfect time to do this! Stay tuned.
Cystheman writes: With all of the talk of TCU and Baylor's new stadiums, obviously that again stirred up the south end-zone talk. What do you see as the next steps for Iowa State Athletics? Press box suite expansion? SEZ with a ton of suites between the two levels? Hilton concourse renovations?
CW: That's a really great question and one that I don't have all of the answers to. A couple of years ago, I was always and advocate of getting this football-only facility up and running (which is scheduled to happen in August). To me, that was more important than bowling in the south end-zone. Why? Because that's what Paul Rhoads wanted. If that was important to Rhoads, it was going to be important to anyone who is Iowa State's head football coach in the future too. That shows a commitment by administration to a winning football program at Iowa State.
So now that Rhoads is happy and has his new contract, we can focus on the south end-zone. Maybe…Last year's attendance numbers can't hurt the possibility of this happening in the future. I can only assume that this upcoming season's numbers will be the same, if not better than a year ago.
Having said all of that, something tells me that the south end-zone project is a ways away from happening. CLICK HERE to read quotes from Jamie Pollard from around a year ago when I interviewed him at the Big 12 football media days in Dallas. That project is the sexiest of all the things Iowa State can do with its newfound Big 12 wealth, but overall the athletic department appears to have more pressing needs.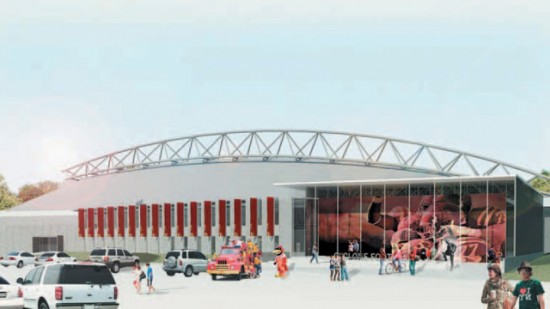 Zwclones51 writes: Any interest in getting into radio as well as running CF? I wouldn't mind listening to you yap from 4-7 in place of Jim Brinson!
CW: Two years ago, my answer to this question would have been "no" without having to think much about it at all. Don't get my wrong. I love radio. I really enjoy hosting the Cyclone Radio Network's football postgame show with Jack Whitver and I can't put into words how much I love working with Wilson Toyota's Tron Smith and Austen Arnaud during football and basketball seasons with our CF programing on 1460 KXNO. However the older I get, the more I'd probably consider something like this in the future. But I have way too much passion for building CF right now and there's no way I'd have time to do full-time talk radio with the current set up of our company. It wouldn't be fair to either party.
Plus, a station would have to want me first!!! Jimmy-B and Ken do a great job. You're better off with them from 4-7.
CysRage writes: What do you think of Coach Rhoads' handlebar 'stache?
CW: Two words: Awesome and awesome.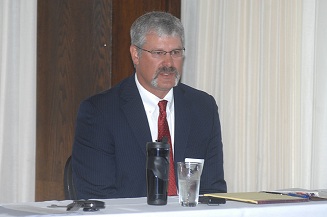 ISUKing writes: My wife and I are celebrating 5 years of marriage on Saturday. I need a recommendation for where to go eat. Where is your favorite establishment in the Ames/Des Moines area?
CW: Congrats on the anniversary!
How fancy are you talking here? Know in advance that my wife and I rarely go to fancy places so if Flemmings in West Des Moines is your thing, I won't be of much help. We're Buffalo Wild Wings/The Keg Stand type of people.
Ever been to Shogun in Ames? We love Japanese food. HuHot is awesome in Ankeny too. That's a Williams family staple. Ever been to Fong's Pizza in downtown Des Moines? Again, not a fancy joint but great food. Hopefully that helped a little bit…
MNCyGuy writes: As a first time season ticket holder this year, what's the best way to make friends with your neighbors and make your section a fun section?
CF: Yeah. Don't be the know-it-all guy. You all know who I'm talking about right? He's the guy who constantly rips on play-calling and acts like he knows that some third-string player is better than who Rhoads & Co. has in the starting lineup. I'm cool with blasting officials. That's fair game. But the know-it-all guy can ruin crowd morale like no other.