By Chris Williams, CycloneFanatic.com Publisher
Mail time. Let's start today's column off with an insightful question from InCytful.
InCytful writes: Usually the Cyclone recruiting class has at least one 4-star recruit. Is there anyone that's going to be that guy this year, who's yet to commit? Also, what about some of last year's best recruits (Young/George)? Are they going to be ready to push for playing time or starting spots?
CW: I've got a tip for all of you recruiting junkies today. I mean this from the bottom of my heart. I've spent time working for Scout.com and also freelancing for Paul Clark over at CycloneReport.com in the past. I've done the recruiting thing for a while now. Ready for that tip?
Don't worry about the stars brother. Just ask Sedrick Johnson. While you're at it, ask Jesse Smith or Jake Knott how many stars they had.
The star system isn't completely bogus…Just kind of. It does somewhat serve a purpose but hanging on the ratings that whoever at Rivals or Scout gives a certain prospect is unproductive. Trust your coaches. Do you think that Paul Rhoads will openly throw away scholarships? I don't.
One more time…Don't worry about the stars.
As far as Chris Young and Jeremiah George go, yes, I think that they'll both compete for starting spots at wide receiver and linebacker next fall. We all know how much help Iowa State needs at receiver. It will be more difficult for George to crack the lineup but hey, anything is possible. The staff didn't keep him from redshirting last season for a reason. The coaches obviously see some major upside with the young man.
IcSyU writes: As it is finals week at Iowa State, what classes were your most hated and easiest finals in college?
CW: Are you currently in college? If so, God bless. When your finals are over, you should seriously consider stopping by Es Tas for a Diet Coke. That's how I used to unwind. To be brutally honest with you, I really didn't study that much in college. I did during the early years. But once I got into my core major (journalism) classes, it was all pretty natural. I loved going to school. Journalism is my passion so it wasn't much "work."
The easiest final I ever took was for a class called "Life in Iowa." The course was an absolute joke. Our teacher was probably 80-years old. She was very sweet and full of life. However, the class was just a mess. For the entire semester, all we had to do was write three two-page, double-spaced papers on why we loved the state of Iowa. For the final, we had to watch a movie about some old guy who drove his lawn mower across the state of Iowa and then write an essay on it. Pure gold. You can't even make that crap up.
I did receive a minor in political science. My toughest final probably came via that group of classes. Fun question. Thanks.
Follow CycloneFanatic.com on Facebook!
CrossCyed writes: What do you think of Coach Tyler Otzelberger's start to the year?
CW: I thought that was ridiculous. I understand typos. Hell, I do that quite a bit. BUT, completely leaving Fred Hoiberg off of the program? Seriously? Tyler Otzelberger? Not only that, but Iowa's program misspelled the name of an assistant coach while getting Iowa State's record wrong. That's what made it so silly. I have a prediction. When the Cyclones come to town in 2012, the U of I will get Fred Hoiberg's name right. Just a shot in the dark.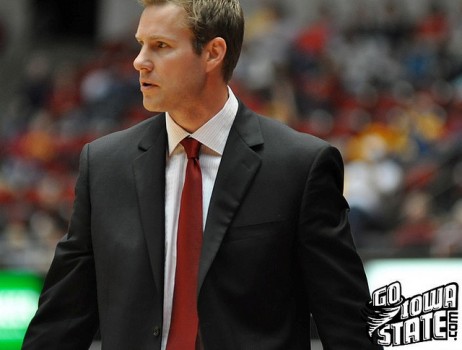 Clones 21 writes: Do you believe the Hawkeye coaches and players are "covering up" anything?
CW: I'm not close enough to that situation to comment. I haven't been covering the story. I've been sitting back and watching/reading just like you guys. I have no idea. Yes, I have opinions on the matter but I don't feel this is the place to elaborate.
Also, what do you think about Philly's 4 aces on their picthing staff now with Lee, Hamels, Halladay and Oswalt?
CW: I think that my Atlanta Braves are screwed. Have we traded Brooks Conrad yet?
GeronimusClone writes: How many questions are you taking on Matt P. and KXNO?
CW: Only one. This one. Next.
Timappelgate writes: If Henderson and English commit, what are your thoughts on a Lattimer, English, and Henderson D-Line for next year? Assuming we switch to the 3-4.
CW: I think that you are setting your expectations too high for Keithen English. CLICK HERE to read my most recent report on his recruitment. I believe that Cameron Henderson would have a chance to start next season. I think that we all can agree that Jake Lattimer will be in the lineup. The rest is really up for grabs. It should be a fun off-season!
FOLLOW Cyclone Fanatic on Twitter!
Wesley writes: Who do you think is our most accurate passer on the football team after recruiting Steele Jantz?
CW: I can't give you an honest opinion on this one. Of the quarterbacks on the roster, I've only seen Jerome Tiller play. All I will say is this. If the staff was 100 percent happy with Jerome Tiller, James Capello and Jared Barnett for next season, they wouldn't have gone the JUCO route.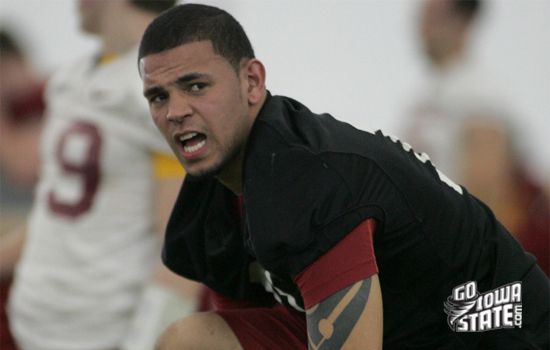 ItsCYence writes: What do you want Santa Claus to bring you?!
CW: Christmas is going to be weird for me this year. My wife is a fourth-year vet student at Iowa State and she'll be on call that weekend. Because of this, we obviously can't travel. Both of our families are going to be crammed into our two-bedroom apartment in Ames. Luckily, our families get along very well. I'm actually looking forward to it.
To the question…This will likely sound corny, but I just want my family to get here safely and for my wife to not have to work the whole time. That's what I want. A six-pack of Busch Light would be nice too.
Ajk4st8 writes: Which conference basketball game should we look forward to most?
CW: I'll go with Saturday, Feb. 19's home date with Missouri. The Tigers are currently 8-1 (loss to Georgetown) but they haven't overly impressed me so far this season. Of the "big dogs" in the Big 12, I think that Iowa State matches up the best with Missouri and Kansas State. That's another one to get tickets to. The Wildcats will come to town on Saturday, Feb. 5. We've seen that if Kansas State's guards are missing shots, anybody can beat them. Here's the deal folks. Iowa State will lose some games this year. We all know that. But this team has been dangerous enough from 3-point range, they can and I predict will upset somebody before the season is over.
AmesCloneFan writes: Kind of a stupid question but I feel it should be asked after an entire fan base pronounced it "E-jim" for months: Is it "Steel" or "Steelee" Jantz?
CW: AmesCloneFan, there is no such thing as a stupid question…Only the stupid people who ask them. Just kidding. Laugh now 😉
I believe it is "Steele." Don't quote me on that. I'll make a few calls. I will not let you down AmesCloneFan.
Cyman1189 writes: I was the one who started the thread about the Adam Emmenecker about a week ago… I almost finished but came up short.
How far do you believe you think you could get in 15 min on that bad boy?
Any football players you think could take it down?
CW: Back in my college days, I think that I could have dominated that monster. Now, I'd struggle to get halfway. I have nothing but respect for you my friend. I guarantee that Big Ben Lamaak could dominate one.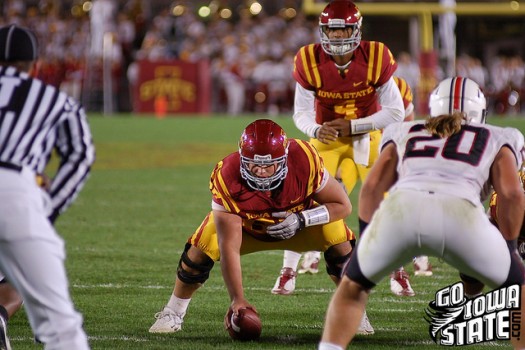 RING4CY writes: Should the Minnesota Vikings just man up for once, ditch the Metrodome roof instead of fixing it and play outdoor football?
CW: It isn't the Minnesota Vikings' problem. It is the state of Minnesota. The franchise needs a new stadium. What happened last Saturday night made that very evident. Don't want to spend the money? Fine. Just wait and see how much money your state loses when the men in purple are gone.