By Chris Williams, CycloneFanatic.com Publisher
Tune into the special edition CycloneFanatic.com/Wilson Toyota of Ames Spring Game Preview Show on 1460 KXNO on Saturday from 11-1. Tron Smith and I will be broadcasting live from the Cyclone Gridiron Club's tailgate, which will take place just north of the Jacobson Building. Booked guests include John Walters, Austen Arnaud and Ben Lamaak. Stop by and say hello! Remember that if you aren't in central Iowa, you can stream the program online at www.kxno.com.


Saturday, 2 p.m. @ Jack Trice Stadium
No TV
Radio: 1460 KXNO, 1430 KASI
Online: Audio streamed at www.cyclones.com.
For casual fans, the spring game isn't a big deal.
It's a good thing that this website is called CycloneFANATIC.com.
That's why I love you guys and gals who frequent this site. You care.
How important is the spring game itself? Not very. Spring football as a whole however is where the tone is set for the upcoming season. On Saturday, Iowa State fans will get their first glimpse of what the 2011 Cyclones will be all about. Here's your ultimate preview.
To blitz or not to blitz?
That is the question. On Tuesday, Jake Knott told me that Iowa State will blitz more in 2011. The All-Big 12 linebacker also warned me to not expect much of a change during the spring game.
As for what's been installed this spring, Knott is a fan.
"I like it more. When you're blitzing, you only have one thing to worry about," Knott said. "That is get back and make something happen. When you're on defense, you have to worry about if it is a run, a pass, who I have to guard if it is a pass and all that kind of stuff. When you blitz, you just go."
What's new?
"There are a lot of different pressures where we have three down linemen and we'll bring two from the outside or something like that," Knott said. "We'll do some things to utilize the speed that we have on the edges. With our defensive ends, I think it will help out our pass coverage a lot if we can get to the quarterback faster."
That's good news right? Speed kills baby.
Here's a quote from Paul Rhoads on how his team has adapted to this more aggressive style of defense.
"As I suspected, this group naturally brings pressure well. We are smaller at defensive end. When you are smaller at defensive end and you can operate on spaces and edges more, your speed and athleticism show up a little bit more. I have been pleased with the pressure that we've brought. We've brought more zone pressure, which we have the last two years as well, but we want to do it in a game setting."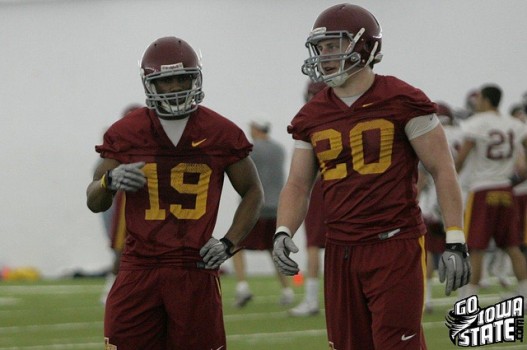 Follow @CycloneFanatic on Twitter for spring game updates.
Rabbit wants the football
When Iowa State running backs coach Ken Pope talks about Shontrelle Johnson, he glows. When Paul Rhoads discussed his group of four running backs during Tuesday's press conference, he beamed. While there certainly are plenty of questions surrounding Iowa State's offense heading into next fall, this group of tailbacks isn't one of them.
"It is a good, cohesive group," sophomore running back Jeff Woody said. "It's not one competing against the other. It is one competing with the other. We will joke with each other when somebody does something wrong, but we're always the first ones on the field to congratulate the next one."
With this much quality depth on the roster, Johnson knows that he is going to share the football some in 2011 and he's okay with that. Even so, standing on the sidelines and backing up Alexander Robinson last season was an experience that Johnson wasn't fond of.
"It was tough for me," Johnson said. "On the sidelines, you feed off of the energy but you are cold. After you get a couple of carries, you get a feel for the game. The more I carry the ball, the more I get a feel for the defense."
Look for Johnson to be all over the football field this fall.
"Coach mentioned that a lot. He said that I will be," Johnson said. I'll line up in slot positions and receiver at times. Just whatever it takes to get the ball in my hands."
And yes, as of now, Iowa State is working with Johnson at kick return too. On Tuesday afternoon, a reporter asked Johnson if he was worried about getting hurt returning kicks.
"It is part of the game. You can get hurt walking across the road," Johnson joked.
Man on fire
Running back James White was arguably the MVP of last year's Iowa State spring game.
According to multiple sources within the program, there's not a player on Iowa State's roster who has had a better spring than White.
"He has got maybe the highest top speeds on the team," said Woody. "This kid can flat out run. What he has that Shontrelle, Duck or I don't have is when James gets into the open field, you have to hold your breath. The guy can flat out sprint."
Rhoads referred to White as one of the most improved players on the team during Tuesday's press conference.
Jarvis West mania
For the record, I've never seen Jarvis West play football in my life. Why the hype? It's pretty simple actually. Because people keep talking about him. No matter who you talk to within the program, Jarvis West's name gets dropped as a potential impact guy for 2011.  In fact earlier this spring, Rhoads admitted that if it weren't for a late camp injury, West would have played last season as a true freshman.
Rumor has it, West has backed up the hype this spring.
"He is having a great spring. We are getting the ball to him in space and he is making things happen," said junior wide receiver Josh Lenz. "He is really elusive and isn't easy to tackle. He's everything that you look for in a receiver. If you get him the ball in space, he will make things happen."
Here's an example of how Jarvis West can make things happen from Paul Rhoads.
"Jarvis West caught a pass two yards behind the line of scrimmage and turned it into about a 50-yard game in Saturday's scrimmage," Rhoads said. "That is the kind of play we have been lacking."
Newcomer at center
This makes me a little bit nervous. Tom Farniok (pictured below), a 6-foot-3, 270-pound redshirt freshman will likely start at center for Iowa State on Sept. 3 against Northern Iowa. Farniok himself doesn't force me to lose sleep at night. I've heard nothing but positive  about this South Dakota native. It's the fact that Reggie Stephens and Ben Lamaak (two of the best OL this school has seen in the past decade) have anchored the position for the last two season and now there's a newcomer running the show. That makes me uneasy.
"I got to work with Ben Lamaak a lot last fall. I got to learn from him so that is a big advantage," Farniok explained. "I need to put in a lot more work. He was so smart and I need to pick it up quickly to try to get to his level mentally."
Paul Rhoads doesn't seem to be to concerned about his big boys up front.
"We have more depth there than we have ever had at that position," Rhoads said. "In the previous two years, I don't know if we have ever had more than six guys who we felt comfortable with if we had to put them out there who we could win with. I think that we'll end up with at least eight, if not 10 when the fall arrives."
"The offensive line group is playing better than it has the two previous years. I think that the word I would use to say why is 'toughness.' They just have a different look in their eye when they come to practice. Ethan Tuftee helps with that. Kelechi and Hayworth have been playing for a long time in that group."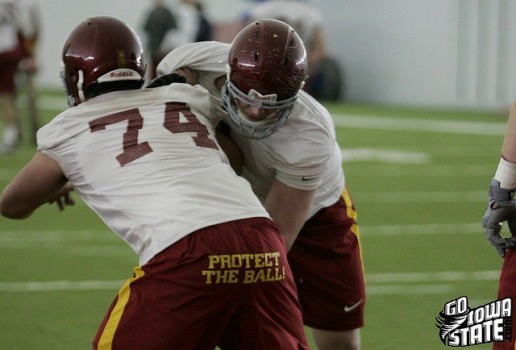 DEPTH CHART
Williams' 5 to watch on offense

1 – Steele Jantz, Jr. QB
2 – Jared Barnett, RS Fr. QB
3 – Jarvis West, RS Fr. WR
4 – Aaron Horne, Jr. WR
5 – Duran "Duck" Hollis, RS FR. RB
Williams' 5 to watch on defense

1 – Jevohn Miller, Fr. LB
2 – Adrian Bennett, RS Fr. LB
3 – Jacques Washington, So. FS
4 – Deon Broomfield, So. FS
5 – Jake McDonough, Jr. DT
INJURY REPORT
The following Cyclones will not play on Saturday due to injury. CLICK HERE for specifics.
Rony Nelson (DE), Jeremy Reeves (CB) and Sam Tautolo (C).
LINKS GALORE
– While you're reading, listen to the latest CycloneFanatic.com Podcast, where Austen Arnaud and I talk Iowa State football for a good 45 minutes.
– I co-hosted 1460 KXNO's afternoon program on Wednesday with ABC 5's Dave Zawilinski. The Voice of the Cyclones, John Walters joined us for a good chunk of hour number two.
– Wilson Toyota's Tron Smith has been to a few spring practices. He gives some opinion in this video.
– Jevohn Miller should still be in high school. After the spring game, he'll go to his senior prom. CLICK HERE for details.
– During Tuesday's press conference, Paul Rhoads said that he does NOT plan on platooning QB's this fall.
– Here's a video with a guy who is trying to win that spot, quarterback Steele Jantz.
– The Des Moines Register's Sean Keeler catches up with former Iowa State head coach Dan McCarney.
– Chris Cuellar from theIowa State Daily with his spring game preview.
– Kelly Beaton from the Waterloo Courier gives his take on Saturday's scrimmage.
– Luke Meredith from the AP on Iowa State's situation at running back.