By Chris Williams, CycloneFanatic.com Publisher
I have a confession to make today fanatics. I blatantly stole this column idea from Jon Miller and HawkeyeNation.com. Jon has been putting together what he calls his "Hawkeye Mashup" for the last couple of weeks and I've really enjoyed it. So now, I am stealing it and bringing it over to the good guys. Fanatics, introduce you to the "Cyclone Roundup." In it, you'll find a lot of links, opinions, information and more concerning your Cyclones and the Big 12 Conference. This will actually be a lot like my "Monday Musings," but obviously not on Monday. How often will I post these bad boys? It will depend on the day and what exactly is going on. The point is to put everything you need as a fan from around the web in one spot. Enjoy!
BIG 12'S NEW TV DEAL: The Big 12 hit a Pujols-like home run with its new television deal with FOX on Wednesday. Compared to what things looked like a year ago at this time, I'd say that Iowa State specifically hit a juiced up Bonds bomb. The league's Armageddon? As Lee Corso would say, not so fast my friend. How's $1.17 billion over 13 years sound to all of you doomsayers out there?
The best detail about this news for Iowa State fans is the fact that beginning in 2012, every Cyclone football game will always be on television. This is big on two fronts. One, rain, shine, home or away, you'll always be able to watch your Cyclones on the tube. But second and the most important in my opinion, because Iowa State will always be on TV (as will everybody else), the separation of television money from top to bottom will be significantly less than in the past, where Iowa State may or may not be on television on a given week. Sure, ABC will pay more than a cable game. But the weeks of making absolutely nothing are over in 2012.
Some more links on this landmark announcement…
– Jamie Pollard spells out what this means for Iowa State to the Des Moines Register's Andrew Logue.
– Des Moines Register columnist Sean Keeler gives his take on the new deal.
– The Kansas City Star's Sam Mellinger poses this question. Where will all of this money go?
– How good is this new television package? Blair Kerkhoff spells it out in this detailed report.
– Kerkhoff adds some additional thoughts to his initial report and believes that the days of poaching the Big 12 may be over.
RAILEY ARRESTED: Strike one happened on New Years Eve. Strike two occurred very early on Thursday morning. Iowa State basketball player Jordan Railey spent last night in jail for disorderly conduct after allegedly fighting in public.
"We are still in the process of gathering information surrounding an incident Jordan was involved in Thursday morning," Hoiberg said in a statement. "I am disappointed in Jordan's behavior, as it is his second offense. Jordan's immediate focus needs to be on his personal issues and academic work."
My take? Well, I  don't have all of the information regarding this case. At this point, neither does Hoiberg. But I do know that alcohol was involved in Railey's first run in with the law. He was out on Welch Ave. causing trouble after midnight in this incident. We don't know for a fact that booze was involved in this one. I don't believe that Railey is 21-years old. Piece everything together and this doesn't look good. It looks like somebody obviously didn't get the hint the first time.
Sean Keeler of the Des Moines Register agrees with me.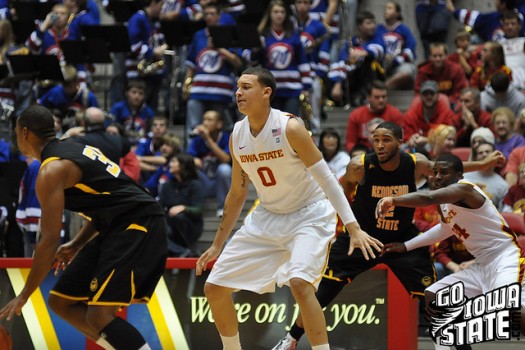 THE BIG APPLE = A HOOPS HOTBED: Trust me Cyclone fanatics when I tell you that Iowa State isn't anywhere close to being done recruiting New York. Tavon Sledge was the first of many NYC preps who will wear the cardinal and gold under Fred Hoiberg. The Des Moines Register's Rick Brown recently published THIS PIECE that looks at Hoiberg's efforts in recruiting New York, along with Iowa head coach Fran McCaffrey.
Why New York? As I reported earlier this week, Hoiberg is set to promote Matt Abdelmassih to assistant coach. As I told a friend of mine yesterday, Abdelmassih is a recruiting stud. Matt gets it. College basketball recruiting is a grind and Abdelmassih has the work ethic of a young T.J. Otzelberger. For those who don't know, Abdelmassih is a New York native who knows the Big Apple like I do rural southwest Iowa. Let me tell you, that is impressive.
With all of the transfers that Iowa State has acquired over the last year, the time to start landing some four-year players is in 2012. New York City's own Nkereuwem Okoro is at the top of the list.
WEATHER FOR SATURDAY: Earlier this week, the forecast for the 2011 Cyclone spring game looked dreadful. Now, WHO-TV 13 in Des Moines is calling for a high of 50 and a dry afternoon in Ames. I'll take that.
CF/WILSON TOYOTA PREVIEW SHOW: Join Wilson Toyota's Tron Smith and I from 11-1 on Saturday as we'll be broadcasting live on 1460 KXNO from the Cyclone Gridiron Club's tailgate that will be located just north of the Jacobson Building. Stop by and say hello. The Voice of the Cyclones John Walters is set to join us at 11:30. Austen Arnaud will be on hand and I'm hoping to book some more guests before then.
SASH/ARNAUD/O'CONNELL SIGNING AUTOGRAPHS FOR CHARITY: Don't have anything going on Friday night? Why not head to Oskaloosa's Penn Central Mall as Austen Arnaud, Mike O'Connell and former Hawkeye Tyler Sash will be signing autographs to raise money for Verlan "Fish" Eveland of Oskaloosa, a local cancer patient.
LOTS OF LINKS:
– My Thursday afternoon spring football chat for the Des Moines Register.
– Austen Arnaud and I touch on all of the important spring game topics in this podcast.
– Will Clyburn discusses Korie Lucious, his decision to transfer to Iowa State and more with the Ames Tribune.
– The Ames Tribune talks WNBA with one of the league's newest members, former Cyclone Kelsey Bolte.
– Why can't former Cyclone Curtis Stinson make the NBA? Mark Emmert of the Register investigates.
STAY TUNED: I spoke with nearly a dozen members of the Cyclone football team on Tuesday and I'll have a column (a lot like this) posted tomorrow morning sometime that will wrap up our pre-spring game coverage here at CycloneFanatic.com. Please do me a favor. Click on our website a lot and tell your friends! PEACE.