By Chris Williams, CycloneFanatic.com Publisher
Follow Chris on Twitter @ChrisMWilliams
Hello from Seattle Cyclone fanatics! If you hadn't figured it out by now, I have been out west since last Tuesday. Last Monday night, I made a spur of the moment decision night to come out here and visit my wife, who is currently completing an internship for her final year of vet school at Iowa State. She will graduate in May. I've got a lot on my mind today. Here we go!
–       I want to start things off  by congratulating Iowa State senior Jon Reader on his wrestling national championship at 174-pounds. I would love to be able to put together some big/insightful commentary piece on his accomplishment but there are two major obstacles that keep me from doing that. The first is that I don't know a lick about wrestling. The second is that it is impossible for me to have any clue of the type of dedication it takes for a guy to go 39-0, in arguably the most physicallyT taxing sport known to man. When you have my job, the biggest things that you have to worry about on a day-to-day basis are eyestrain and carpal tunnel. In what turned out to be a disappointing season for the Iowa State wrestling team, Jon Reader was perfect in 2010-11. PERFECT! Reader was untouchable. There aren't many people in the world who can say that about anything. Props to our national champion Jon Reader, who went from being an Iowa State great, to a Cyclone legend.
–       I want to add one more thing about the Jon Reader/wrestling conversation to this piece. Like I mentioned above, I would love to be able to write more about Cyclone wrestling. I guess I could do it but here is my issue. I am a diehard NASCAR fan (that's not the actual problem). I love the sport of racing in general and nothing drives me more nuts than somebody who commentates on that sport and doesn't know a lick about it. That happens more often than you'd think. My point is that wrestling fans, like that of racing, can see right through a phony. In the future, hopefully our FREE website will be able to hire somebody to cover Iowa State wrestling like we did with Ian Smith women's basketball. Ultimately, that is one of my long term goals with CycloneFanatic.com. But time and economics have kept us from doing this over the last year. It is nothing more than that and along with my admitted ignorance regarding the sport. NOTE:I recently received an email about this topic and wanted to address it, thinking that more people might have the same question on their minds.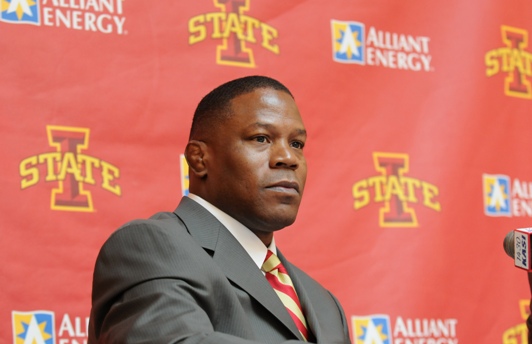 –       Hey basketball fans – I have a little bit of advice for you today. Keep a close eye on the coaching carousel that is currently going on within the Big 12 Conference. If you didn't know by now, former Texas A&M/Kentucky coach Billy Gillispie was recently hired to replace Pat Knight at Texas Tech. In other news, as every hour goes on, it is looking more and more like Mike Anderson will leave Missouri to become the next head coach at Arkansas. Also, Marquette head coach Buzz Williams is the hot name to replace Jeff Capel at Oklahoma. What does this mean for Iowa State?
o   From a short-term perspective, all of this is good news for Iowa State. Here's why. Talent wise, Gillispie isn't going to have the luxury to pick and choose during his first few years in Lubbock. Knight left him with table scraps to put it nicely. I don't care who Gillispie brings in, this setup makes it nearly impossible for him to win immediately in Lubbock. In a way, it is comparable to what Fred Hoiberg took over at Iowa State. Having said that, eventually this guy is going to win. That's what he does. From a recruiting standpoint, Gillispie owns the state of Texas. It might not happen over night, but Billy Gillispie will get the Red Raiders back to the NCAA Tournament within five years.
o   Short-term, long-term, whatever. If Mike Anderson leaves Missouri, that is major positive for Iowa State. His style of play, personality, mentality, etc., all make him a very dangerous recruiter in the Big 12. As long as Mike Anderson is in Columbia, that program will win basketball games and make NCAA Tournaments. If he leaves, I'm left asking myself two big questions. 1) What will the Pressey boys do? After all, Anderson was their father's roommate in college. Would they stick around or leave? If they choose the latter, that's a pretty big hole that will be left in Mizzou's lineup next year. 2) Who would be first in line to replace Anderson?
o   I still don't like Oklahoma's move to fire Jeff Capel. I understand that it was simply a business decision. Oklahoma fans were sick of losing (which is amazing considering the program played in an Elite Eight two years ago) and the administration didn't feel that they could sell Capel to the fans any longer. Here's the thing though. We know that he can recruit and I believe that Capel can coach as well. If I am N.C. State, Jeff Capel is the first guy I call in my attempt to replace Sidney Lowe. Capel is a North Carolina native, former Duke player and would win in the ACC. Whomever replaces him in Norman will likely see the same sort of uphill battle that Gillispie will face at Tech, even if Buzz Williams is that man.
o   To sum things up, the instability amongst Big 12 coaches is great for Iowa State, especially when most of us feel next season will be a peak year for the program.
–       Future Cyclone men's basketball player Tavon Sledge's senior season came to an end on Saturday in a four-point state semi-final loss to Mt. Vernon. Sledge went for 18 points, 10 assists and six rebounds in the loss, where I'm told he outperformed West Virginia signee Jabarie Hinds. STORY HERE.
–       If you're actually still upset about Harrison Barnes' decision to attend North Carolina, you need to get over it.
–       A few quick travel notes –
o   Here's a pet peeve of mine. If you've ever flown before, you'll know what I'm talking about. You know after your plane lands and it finally stops moving? It bugs the crap out of me how everybody immediately stands up to get their stuff from the overhead compartment and to eventually leave at the exact same time. Do people in the back of the plane not realize that they have to wait for everybody else to be able to move? This unnecessary congestion really bothers me.
o   I never realized how touchy of an issue shoe shining at the airport is. I threw out a wise comment about this on my Twitter feed last Tuesday and got blown up by some passionate shoeshine recipients. I don't care how expensive my shoes are or what meeting I need to get to, I don't believe that I'd ever sit down and pay for that service at an airport. Maybe the fact that I wear sneakers to work has something to do with this mindset. Wait a second…Did I really just use the word "sneakers?"
o   I spent the weekend in probably the most interesting town I have ever been to. Has anyone reading this ever visited Port Townsend, Washington? It is out on the Olympic Peninsula. We stayed at this 100-plus year old Victorian hotel. It reminded me of a place that you'd see the "Ghost Hunters" investigate on television. Fort Townsend is a beautiful place. Any time that you can mix mountains and the ocean, you're checking out some cool scenery. Last night, the wife and I boarded the ferry and headed back to the mainland. All I can say is while I love traveling; I love coming home even more. I'm really looking forward to returning to Iowa at the end of the week. Cornfields are good enough for me!
* Speaking of that Victorian hotel, take a look at this picture that was hanging right next to the bed in our room. Would this creep anybody else out? I could hardly sleep on Saturday night. This little girl was haunting me in my dreams…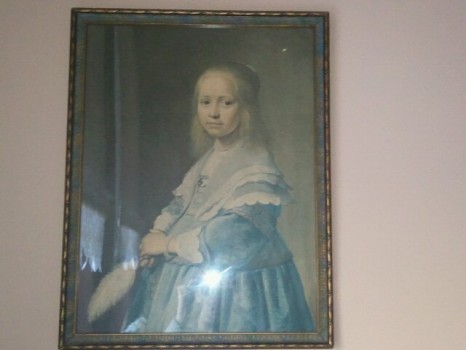 * Has anybody else become too dependent on their GPS? We had some interesting moments while driving in the middle of nowhere on Saturday. While trying to find her relative's place, (he runs a fish hatchery in Quilcene, Washington) Ashley and I hadn't seen another vehicle, or any signs of civilization in at least an hour. Our GPS was one ticked off piece of equipment. It had no idea where it wanted us to go or what it wanted us to do. The thing had a mind of its own. It was a total mess. Then, things got worse. The "maintenance required" light popped on our rental car's dashboard. While this generally isn't that big of a deal, when you're out in the sticks (driving up and down mountains) on a  peninsula with less than a half tank of gas left and little to no cell phone service, it gives you a cause for concern. The lesson that I learned? Mapquest folks. Mapquest. Always have a backup.