By Chris Williams, CycloneFanatic.com Publisher
Follow Chris on Twitter, @ChrisMWilliams
Welcome to week two of my Monday musings column here at CycloneFanatic.com. Here's what's on my mind today regarding the Cyclones, the Big 12 and whatever else currently happening in the world that we live in.
–       Missouri was mass-subbing in the first half. Ten players were in Mike Anderson's regular rotation all day long. In his wildest dreams, that's something that isn't a reality for Fred Hoiberg. What am I getting to? Despite its 1-11 conference record, this Cyclone men's basketball team plays really, really hard and Iowa State fans appreciate that. The faithful didn't fill Hilton Coliseum on Saturday up because of Iowa State's success during the 2010-11 season. They love gritty basketball and despite the losing, you fanatics continue to reward this basketball team. That's what Iowa State is all about. Props to everybody involved.
–       Here's a quick note to Anthony Booker and Royce White. Watch out gentlemen. Iowa State's three freshmen post players are gunning for playing time next season. Melvin Ejim is starting to get what Big 12 play is all about and ever since he came off of his recent three-game suspension, Calvin Godfrey looks like a future star. Ejim and Godfrey combined for 24 points and 17 rebounds (nine of them offensive) in Saturday's loss to Missouri. I like the toughness that I've seen out of Jordan Railey lately too. This trio might not have the talent level of Kansas' Morris twins, but I'm a lot more comfortable with the future of Iowa State's frontcourt after watching the last two games.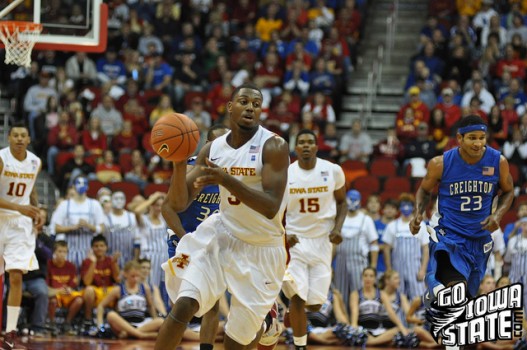 –       Future CycloneAnthony Odunsi recently had a tough week. Odunsi's Fort Bend Travis team will tip off its playoff season tonight (Texas 5A) and this future Cyclone won't be participating. That's because last week, Odunsi was involved in an on-court altercation with two of his teammates, the highly touted Harrison twins (Aaron and Andrew), whom are both sophomores. Think what you want, but the version of the story I've heard makes me like Odunsi's future as a Cyclone even more than I already did. I've heard from multiple sources that Odunsi was simply showing some leadership and the twins didn't take that very well. Want to know more about Odunsi? Think Melvin Ejim. Like Ejim, Odunsi is a fantastic student. The last I hear, he was darn close to being a 4.0 scholar. He's a well-spoken young man who frankly doesn't take a lot of snuff from anybody. I like that.
–       The more I think about it, the more I don't understand why former Michigan State guard Korie Lucious would pick Baylor over Iowa State. For one, there's the Fred Hoiberg argument. The dude knows everybody there is to know in the NBA. I can only assume that getting to the association is Lucious' goal. I've written about this before, but if you look at the progress that Diante Garrett made in one season under Hoiberg, you'd think that would make this a no-brainer for Lucious.
Here's an idea…If you don't already, I highly suggest you "liking" CycloneFanatic.com on Facebook. We would really, really appreciate it.
–       Elgin Cook going to prep school instead of Iowa State in the fall is a win-win situation for both parties. The young man gets an opportunity to get his academics and life in order. Iowa State doesn't have to run the risk of Cook not qualifying or something else of that nature. Plus, the Cyclone coaching staff can still recruit Cook, who originally committed to Iowa State in August of 2009. Cook would have had a hard time seeing the floor next season in Ames. He could use the year to grow.
–       Here are a few fearless predictions for the remainder of the Big 12 basketball season. Nebraska will lose out (vs. Kansas State, @ Iowa State, vs. Missouri and @ Colorado. Colorado will win three of four (@ Texas Tech, vs. Texas, @ Iowa State, vs. Nebraska) to make things interesting for Boyle's Buffs come Big 12 Tournament time. Texas A&M will get upset in the first round of the NCAA Tournament, Missouri will advance to the Elite Eight and Kansas State will be part of the field of 68. Call me crazy…
–       Twenty-year old Trevor Bayne winning the Daytona 500 is great for the sport of NASCAR. It was an incredible, storybook ending that wrapped up an overall terrible race. Bayne turned 20 on Saturday. He won the Daytona 500 in his second-career Cup start. That's a race that one of the sport's all-time greats, Mark Martin, hasn't been able to do in three decades. Rusty Wallace never won one. I could go on and on with that list. Bayne appears to be a bright, up and coming star that the sport desperately needs. Still, this new two-by-two style of drafting that we saw on Sunday was awful. I give the ending to the 2011 Daytona 500 a A-. The rest of the race gets a D. Rainouts get F's.
–       Saturday night's NBA slam dunk contest was sick (in a good way, for you old timers out there), although I do think that JaVale McGee deserved to win over Blake Griffin. McGee's mother agrees with me. CLICK HERE for more on that.
–       Finally, The Rock has come back to the WWE. I used to be a big pro wrestling fan. The vintage "Monday night wars" provided some of the finest television that an adolescent male could have ask for back in the day. Much to my surprise, I logged onto CycloneFanatic.com last Tuesday morning to see many of you chatting about The Rock's return to the ring. I felt like I was 16 again and yes, my DVR will be set to record Monday Night RAW this evening. Also, I will be purchasing Wrestlemania next month. Does anybody want to go in with Austen Arnaud and I to split the cost? And while you watch the video below, think about this. The Rock looks a lot like our Ben Bruns doesn't he?
–       Speaking of comebacks, I recently purchased Kenny Chesney's new "Hemingway's Whiskey" album last week. I've been critical of Chesney and those lame island tunes over the last few years, but he hit a home run with this new compilation. He's back baby! Let's all take a moment of silence to thank the country music Gods for getting Renee Zellweger out of this man's system…It took long enough!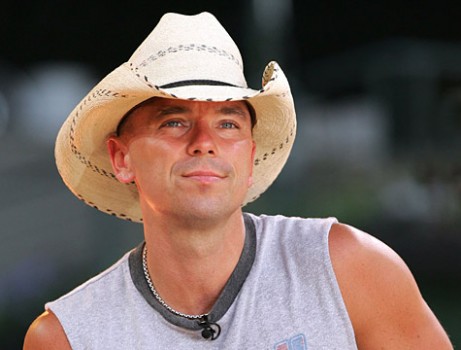 –       It was good to see former Cyclone/current NBA baller Craig Brackins hanging out around Ames this weekend. What does that tell you when a guy has one weekend off during the season and he comes back to Ames to see old friends? Iowa State University is a special place folks.
–       If you're a die-hard Cyclone football fan, you need to be at the Keg Stand in West Des Moines this Thursday night at 7. Trust me. Our second-annual CycloneFanatic.com recruiting party is going to be huge! Not only will members of the Iowa State coaching staff be in the house, we'll be giving away CycloneFanatic.com t-shirts for absolutely FREE. CLICK HERE for more details.
–       I've got a busy week on tap fanatics. Tonight, I'll be sitting beside Wilson Toyota's Tron Smith as we cheer on the Iowa State women's basketball team. They'll host Texas on ESPN 2's "Big Monday." As always, our Ian Smith will provide excellent coverage here on CF while I'm sucking down a Clone Cone! Tuesday night, Tron and I will be down at the Keg Stand in West Des Moines to watch the men's basketball team take on Texas. After the game, we'll broadcast the CycloneFanatic.com/Wilson Toyota of Ames Postgame Show on 1460 KXNO and KXNO.com. Then Thursday is the big recruiting party. I hope to see you there!