By Chris Williams, CycloneFanatic.com Publisher
Football junkies, your time has come. Iowa State's spring football season officially began on Tuesday in Ames. Below is a notebook from Paul Rhoads' opening spring press conference. I'll be posting a blog with some of my own thoughts later on tonight as well.
Coaching mix up

Rhoads surprised some by swapping the duties of two members on his coaching staff. Courtney Messingham will handle the wide receivers in 2011, while Luke Wells will be in charge of the tight ends.
"Sometimes you just look to create a little change," Rhoads said. "You hear things differently. You are coached in a different way. People respond to that."
Rhoads referred to the play of his wide receivers in 2010 as "average." I'll write more about this topic in a later blog.
Suspension update
Rhoads did mention defensive end Jacob Lattimer and tight end Ricky Howard in his opening statement.
"They will both practice beginning today," Rhoads said. "When timing becomes more appropriate, I will comment further."
Lenz injured
I'm not sure exactly what junior wide receiver Josh Lenz did over his spring break last week. The only thing we do know is that he sprained his ankle on it. Rhoads said that the team hopes to have Lenz back practicing by next Tuesday. This doesn't appear to be a big deal at all. By all means, Lenz is the most reliable returning receiver for Iowa State, with the departures of Jake Williams and Collin Franklin from a season ago.
Quarterback competition
After fielding nearly 27 ½ questions about his looming quarterback competition (that's hyperbole by the way), here is what you need to know about the ever so crucial battle for the starting job heading into spring practice.
–       As expected, junior Jerome Tiller is technically number one of the depth chart right now. However, Rhoads said that Tiller, JUCO transfer Steele Jantz and sophomore James Capello will all equally split reps at the position, in a wide-open battle to start against Northern Iowa on Sept. 3.
"If you look around the country, any program that is an upstart if you will, has a guy who is producing and performing at the quarterback position," Rhoads said. "We will be no different. We have to get better play out of the quarterback position as we move forward, if the program is going to move forward."
Rhoads didn't leave out redshirt freshman Jared Barnett, who will start the spring in the fourth spot.
"Jared is a little bit further behind, just because of his physical maturation process as well as the mental understanding of what we are trying to do as an offensive football team," Rhoads said. "He is going to get equal reps as we begin this first week of spring drills."
Rhoads also warned the media to not sleep on Capello in this race.
"He is a very confident kid. He knows that I have a lot of faith in him. He knows that he is right in the middle of the race."
Will this race be complete at the end of Iowa State's spring session?
"You'd like to leave the spring after 15 practices and three full scrimmages with a guy who you know is your number one," Rhoads said. "There won't be any panic if we don't."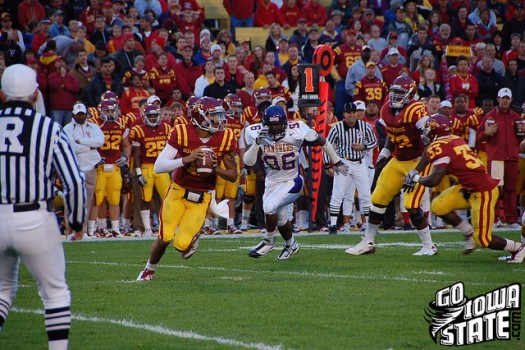 OTHER NUGGETS
–       Despite the fact that he'll have to replace the program's fourth all-time leading rusher in Alexander Robinson, Rhoads said that he believes his program will have more players who are capable of producing at the running back position in 2011 than he did in 2010.
–       Rhoads said that he plans on putting a little bit of pressure on Wally Burnham to practice blitzing more this spring.
–       It was refreshing to hear Rhoads single out Shontrelle Johnson as a team leader on the offensive side of the football. After all, "the rabbit" is only a true sophomore.